Breckenridge Ski Resort
Boasting the highest chairlift in North America, Breckenridge's 2908 acres (1177 hectares) that span across five peaks (numbered from Peak 6 to Peak 10) and 187 trails, sit there perfectly laid out and inviting, right above a true mountain town making Breckenridge not just a picture postcard resort destination, but a sensational one stop all you can eat smorgasbord of skiing and riding delights from wide open groomers to above the tree line high alpine.
Just about all the resorts claim something for everyone and Breckenridge is no exception and it delivers on the promise with it's vertical drop of 3,398 feet (1,036 meters), 600 acres of daily grooming, 1,061 acres of bowls and 25 acres of terrain parks, there literally is something for the whole family and everything seems to have it's place across all five peaks.
Once the skiing is done for the day, the focus and fun heads down to the town of Breckenridge, where Breck's seven-block historic Main Street has you covered with over 200 stores, shops and eateries in one of the largest historic districts in the state. You simply can't take a bad selfie, with a coffee or hot chocolate in had as you shop, grab a quick bite, settle in for some finer dining or simply grab a local micro-beer or three. The options and combinations are almost as endless as your imagination.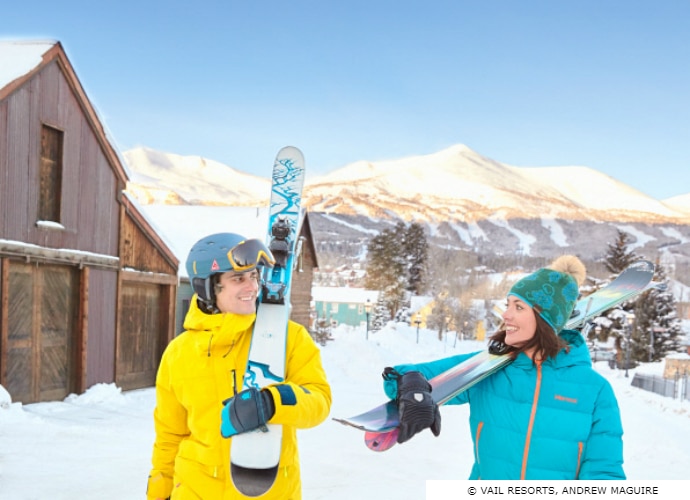 Breckenridge Ski Resort Mountain And Terrain
A ski holiday adventure for yourself or the whole family to Breckenridge feels like you are on top of the world. Partly because you are, with a base elevation of 9,600 feet (2,926 m) that rises via the 34 lifts to top out at a heart pumping, breathtaking summit elevation of 12,998 feet (3,963 m), from which you feel like you can see for miles, because you can. Adjusting to the dizzying heights can take a day or three to adjust, but the smile rewards at the end of the day makes a trip defiantly worth the effort.
Beginner Skiers And Boarders At Breckenridge. Your best bet is to head to Peak 9 for the best beginner terrain and never ever are extremely well catered for at the Breckenridge Ski & Snowboard School. Good news if you are new to the sport, and thinking or planning on heading to Breckenridge, the terrain across Peak 9 especially the bottom third of the Peak is quite frankly, some of the best beginner terrain on the planet, and for experienced skiers and boarders it's quite frankly – flat!
Intermediates Skiing & Riding At Breckenridge. It's hard not to fall in love with the wide-open groomers on Peak 7. If you are looking for that feeling of endless effortless skiing on moderate terrain, then Peak 7 has you covered with runs like Pioneer that follows the lift line. Once warmed up you can head across skiers left to Wirepatch all the way across to Monte Cristo.
Experienced skiers can jump on the Falcon Super Chair to access peak 10's thrilling expert terrain including groomed steeps, bumps, glades and tree skiing.
Experts skiers and riders heading to Breckenridge will surely find themselves tackling Imperial Bowl atop the Imperial Express Super Chair atop of Peak 8 and you can try the hike on Peak 6 for some double black and super steep terrain in Serenity and Beyond Bowls.
Terrain Park Junkies can choose from any of the four award-winning terrain parks and a 22′ superpipe. Breckenridge is known globally as one of the best spots in the world for skiers and snowboarders who prefer the park and the pipe over everything else.
How To Get To Breckenridge
Breckenridge is 104 miles (166km) west of Denver International Airport (DIA) and the transfer from the airport to the resort is around a two-hour drive.
Flying to Breckenridge
From Denver International Airport (DEN) – Breckenridge is 104 miles (166km) west of Denver International Airport. There are airport to the resort shuttle services.
From Eagle County Regional Airport (EGE) – Breckenridge is approximately 63 miles (102km) east of Eagle Airport.
From Colorado Springs Airport (COS) – Breckenridge is 110 miles (178km) away from Colorado Springs Airport.
Driving to Breckenridge
Breckenridge from DIA you take I-70 to exit 203 in Frisco, CO for CO-9. CO-9 South will take you directly into Breckenridge.
Breckenridge Snow Sports School
Breck has all of the lessons program you would expect from a world class ski and snowboard school for adults, teens and children including group and private lessons so they are definitely going to have a program to meet your needs. For those of you looking for something a little out of the box, Beck has a new offering called Breck Guides.
Under the Breck Guides umbrella, there are a handful of signature programs including Elevate, Explore and Go Beyond. Elevate offers one and three-day programs for skiers and boarders designed to elevate your skills will being guided around the mountain. You can learn Breck like a local on the Explore program designed to show you the ins and outs of the mountain. Breck Guides will also take you beyond your limits in their Go Beyond program that is a private one of a kind experience for you and up to five friends, where you'll see behind the scenes meet with ski patrollers and uncover powder stashes and get your heart pumping.
Breckenridge Things To Do, Activities, & Tours
Snowshoeing, Tubing, Dog Sledding, Snowmobiling up to the Continental Divide, Sleigh Rides, Ice Skating, Breckenridge Brewery and the Silverthorn Outlet Mall about 15 minutes from town. For the adventurous, you can ride 2,500 feet (762 meters) down the mountain on the Gold Runner Alpine Coaster at Breckenridge. Runs from first of March weather permitting.
Fun Things To Do After Skiing In Breckenridge
Après in Breck head straight to The T-Bar, located at the base of Peak 8, you won't be disappointed. Or you can soak in the atmosphere and charm with a leisurely walk down Main Street with more than 200 shops, restaurants and eateries.
Alpine Coaster
Location: The Gold Runner Alpine Coaster at Breckenridge
Description: Ride the twists, dips turns and that take you above and around the ski runs, as well as through the forest.
Ph: +1 (970) 453-5000
Pass Holder Appreciation
Location: Breckenridge
Enjoy demo days, First Tracks, free Epic Mix Racing, parties, live music, giveaways and more!
Ph: +1 (877) 725-8168 (US),  +1 970-496-4334 (INTL)
Women's Ski Week
Location Breckenridge Ski Resort
Includes: Women's Camp, Women and Wine, First Tracks & yoga.
Ph: +1 844-366-7646
Museums & Exhibits
Location: Breckenridge Ski Resort
Visit historic buildings, learn how Breck went from a gold mine frontier town to ski resort destination.
Ph: +1 970-453-9767
Guided Tours & Hikes
Location: Breckenridge Ski Resort
Expert guides share tales of Breckenridge's past. Gold mines, bawdy saloons, Victorian ladies to local ghosts.
Ph: +1 970-453-9767
Restaurants, Bars & Night Life in Breckenridge
Start the day off on the right foot at 63 years young Daylight Doughnuts with a heart-warming breakfast burrito or grab a coffee from Cuppa Joe or possibly an eco-friendly juice or wrap from Main Street's Lolo's Juice might be more your speed as you head to the slopes.
With 11 on mountain Breck dining options, you can leave your brown bag as home. Vista Haus located at the top of the Colorado Chair Lift on Peak 8 offers fresh food served fast as you enjoy the incredible views from the large windows. For a premier full-service dining experience, Sevens is located at the base of Peak 7 at 10,010 feet (3,051 meters) is the place to be. If you prefer more of a bar and grill, then the Tbar at the base of Peak 8 inside One Ski Hill Place for a great burger and a microbrew or soda.
For dinner book yourself in for a treat of the American inspired utilising fresh local produce 9600 Kitchen at the Double Tree at the base of Peak 9. If house-smoked meats is your thing, then Ski Hill Grill at the base of Peak 8 is a popular for locals and visitors alike. If you still have room for a microbeer or two, head to one of the oldest microbreweries in the state at Breckenridge Brewery and try one of the local favourites and Avalanche Ale or a Breck IPA.
9600 Kitchen
Location: At the DoubleTree by Hilton Breckenridge at the base of Peak 9
Food: Serving hearty, traditional dishes.
Bar: Yes
Ph: +1 970-547-5540
Pioneer Crossing (On-mountain restaurant)
Location: At the top of Peak 7. Ride the Independence SuperChair.
Food: Fresh dishes featuring Colorado lamb
Open: Breakfast & Lunch
Ph: +1 970-453-3210
The Sevens Restaurant (On-mountain restaurant)
Location: BreckConnect Gondola, at the base of Peak 7, inside the Grand Lodge.
Food: Handcrafted dish and cocktails.
Bar: Yes
Open: Breakfast, lunch, dinner
Ph: +1 970-496-8910
TBAR
Location: At the base of Peak 8 next to Ski Hill Grill
Food: Grill, microbrews and a full menu of sharable apps.
Bar: Yes
Vista Haus
Location: At 11,056 above sea level at the top of the Colorado Chair Lift on Peak 8
Food: Fresh, convenient, and quality food
Bar: Yes
Ski Hill Grill
Location: At the base of Peak 8, adjacent to the BreckConnect Gondola and adjacent to the Peak 8
Food: From low-and-smoked meat, sustainable products and local ingredients.
The Living Room Restaurant & Bar
Location: At luxurious One Ski Hill Place, a RockResort
Bar: Yes
Ph: +1 970-547-8869
Tenmile Station
Location: TenMile Station is located on Peak 9 at the top of the QuickSilverSuperChair
Food: Gourmet choices, served food-court style with local, organic ingredients
The Maggie
Location: The Maggie is located at the base of Peak 9, a short distance from the Quicksilver Chairlift
Food: Offering fresh breakfast options, signature appetizers and weekly specials
The Overlook
Location: Peak 9, accessible from either the Beaver Run SuperChair or the Mercury SuperChair
Food: Fresh soups, a house-made harvest pot pie and their signature rocky mountain ramen
Bar: Yes
The Park Avenue Pub
Location: At the base of Peak 9 at 605 S. Park Avenue. Just blocks from Main Street.
Food: Offers a variety of items including signature homemade chicken wings
Bar: Yes.
Apres
Location: 130 S Main St Breckenridge, CO 80424
Bar: Yes.
Phone: +1 970-423-6700
Blue River Bistro
Location: 305 N Main St Breckenridge, CO 80424
Food: American, Italian, Venues & Event Spaces
Bar: Yes.
Phone: +1 970-453-6974
Crepes a la Cart Kitchen
Location: 309 S Ridge St Alley Breckenridge, CO 80424
Food: Creperies, Desserts, French
Bar: Yes.
Phone: +1 970-771-3411
Shopping in Breckenridge
With 150+f shops to choose from you can shop till you drop. For the sports mad you'll find Breck Sports, Patagonia, Marmot, The North Face, Columbia and the Main Street Outlet all along Main Street.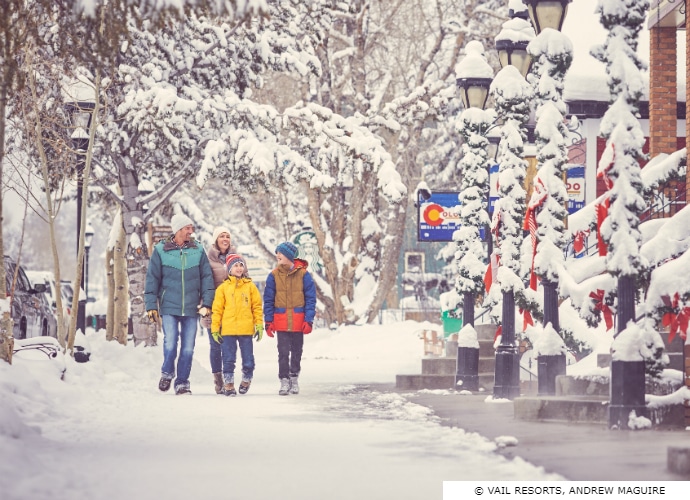 Mountain Wave Snowboards
Location: 600 S Park Ave Breckenridge, CO 80424
Shop: Bike Rentals, Sports Wear, Outdoor Gear
Ph: +1 (970) 368-3816
Alpine Sports
Location: 435 North Park Ave Breckenridge, CO 80424
Shop: Bike Rentals, Outdoor Gear, Ski & Snowboard Shops
Ph: +1 (970) 453-8100
Ridden
Location: 520 S Main St Breckenridge, CO 80424
Shop: Used, Vintage & Consignment, Ski & Snowboard Shops, Bike tours
Ph: +1 (970) 453-2055
Christy Sports Ski & Snowboard
Location: 213 N Main St Breckenridge, CO 80424
Shop: Bikes, Outdoor Gear, Ski & Snowboard Shops
You can book Christy Sports through Skibookings.com
Ph: +1 (970) 453-1451
Underground Snowboards
Location: 320 S Main St Breckenridge, CO 80424
Shop: Ski & Snowboard Shops, Skate Shops
Ph: +1 (970) 453-7400
Carvers Ski & Bike Rentals
Location: 203 N Main St Breckenridge, CO 80424
Shop: Bike Rentals, Ski & Snowboard Shops, Bike Repair/Maintenance
Ph: +1 (970) 368-5921
Blue River Sports Ski & Snowboard Rental
Location: 600 S Park Ave Breckenridge, CO 80424
Shop: Ski & Snowboard Shops
Ph: +1 (970) 760-0624
Base Mountain Sports
Location: 500 S Park Ave Breckenridge, CO 80424
Shop: Bike Rentals, Sports Wear, Ski & Snowboard Shops
Ph: +1 (970) 455-0260
Rocky Mountain Underground
Location: 114 S Main St Breckenridge, CO 80424
Shop: Outdoor Gear, Ski & Snowboard Shops, Beer Bar
Ph: +1 (970) 406-1209
Elevation Ski & Bike
Location: 324 N Main St Breckenridge, CO 80424
Shop: Bike Rentals, Bike Repair/Maintenance, Bikes
Ph: +1 (970) 453-2499
Breeze Breckenridge
Location: 645 South Park Ave Breckenridge, CO 80424
Shop: Sports Wear, Outdoor Gear, Ski & Snowboard Shops
Ph: +1 (970) 453-8996
Breck Sports – Crystal Peak
Location: 1891 Ski Hill Rd Breckenridge, CO 80424
Shop: Ski & Snowboard Shops
Ph: +1 (970) 547-7117
Craniologie
Location: 101 N Main St Breckenridge, CO 80424
Shop: Outdoor Gear
Ph: +1 (970) 423-6354
A Racer's Edge
Location: 114 Lincoln Ave Breckenridge, CO 80424
Shop: Ski & Snowboard Shops
Ph: +1 (970) 453-7600
AMR Ski and Board Shop
Location: 400 N Park Ave Breckenridge, CO 80424
Shop: Outdoor Gear, Ski & Snowboard Shops
Ph: +1 (970) 453-6921
Breckenridge Trail Maps
Explore Breckenridge trail maps to find your ideal place to ride, catch up with friends and more…