Chamonix Ski Resort
Chamonix is a tradition alpine town and is as different from any purpose built resort as you can get. It covers a large area – from Les Houches, the first village as you drive up from the valley to Argentiere at the far end is 21 kms. Each area has its own character and ski access but it is true to say that the ski area are less well connected than in many resorts.
This is a cosmopolitan town with incredible scenery – the mountains dominate with Mont Blanc (4,810m) towering over the south, and Le Brevent (2,525m) on the north of the valley. It is the home of Alpinism and you'll find monuments and statue to the heroes of climbing such as Balmat and Paccard who first climbed Mont Blanc in 1786.
The centre which is partly pedestrianised is vibrant and there are a plethora of shops, bars and restaurants. This is a town that lives and breaths sport so you'll see climbers, mountaineers, skiers, boarders and cyclists all year round – the place inspires you to want to do more.
Chamonix is only a short transfer from Geneva and Italy is just a drive away through the Mont Blanc tunnel so you'll notice elements of Swiss and Italian culture in the buildings and in the food.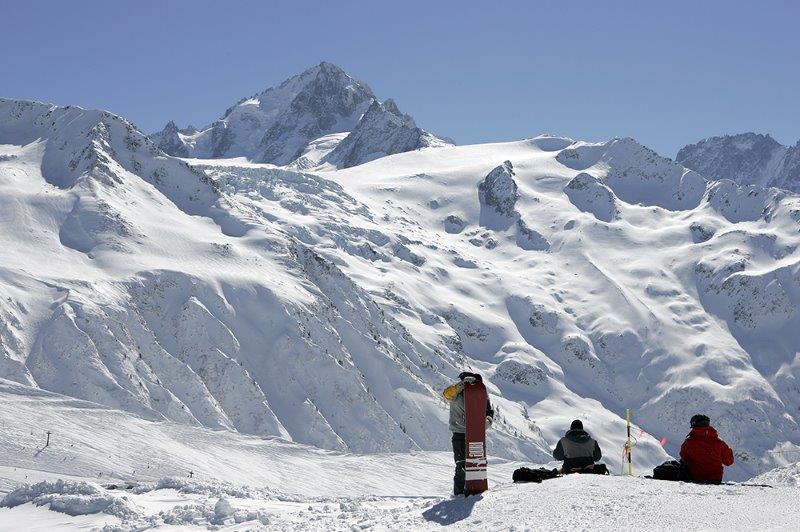 Chamonix Lodging, Accommodation & Hotel Options
Chamonix is a traditional working town that is very much a linear development along the narrow valley which runs from northeast to southwest, with Mont Blanc (4,810m) towering over the south, and Le Brevent (2,525m) on the north.
There are a number of hamlets or satellite villages around the valley of which the main ones are Le Tour (1,462m) at the head of the valley, through Argentiere (1,252m), Les Praz (1,060m), Chamonix (1,035m), Les Bossons (1,012m) to Les Houches (796m).
There is a regular bus service that links the different areas of the resort that is free with your lift pass.
Chamonix Ski Resort Mountain & Terrain
Chamonix's ski area is, unlike many other ski resorts, made up of five different ski areas, two of which are linked together with the rest separated along the length of the valley. Since the Chamonix valley is low and the ski lifts rise to over 3000m, there are plenty of opportunities to ski 2000 or more metres of vertical descent here.
The pisted ski terrain in Chamonix ranges in altitude from 950m to 3300m, whilst the off-piste skiing offers even more in terms of altitude, vertical descent and difficulty.
If you're coming here piste skiing, there are around 150km of pistes, accessed by a total of 67 ski lifts split between the main ski areas and the low mountain beginner zones. Chamonix also has two snow parks.
But Chamonix is not just for experts – you'll find lots of gentle slopes along the bottom of the valley with easy access for beginners. These areas are suited to complete beginners or those looking to get their ski legs back before heading up onto the higher mountain. Head for Le Tour or Les Planards areas. Once you're feeling more confident head for the runs on Les Grands Montets or Brevent where you find a much greater range of pistes for all abilities from confident beginners to expert skiers and snowboarders
Chamonix is much loved by expert skiers for its extensive steep terrain and impressively deep snow. Avoid the crowds  and take the Aiguille du Midi or Grands Montets cable cars to access the high off-piste terrain. It is worth hiring a guide in this resort not only to stay safe but also to get shown the resort's hidden gems. Also, advance skiers should check out the powder on the Lavencher bowl accessed by the Bochard lift – the location for the extreme freeride race, Red Bull Snowthrill.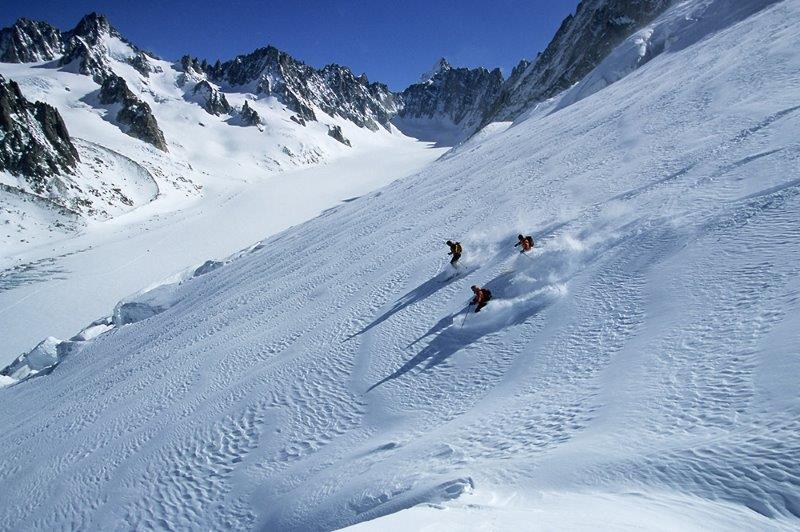 Chamonix Statistics
| | |
| --- | --- |
| Skiable Terrain | 119 km |
| Vertical | 2,233 m / 7326 ft |
| Top Elevation | 3,275 m / 10744 ft |
| Base Elevation | 1,042 m / 3418 |
| Intermediate Terrain | 36% |
| Advanced Terrain | 48% |
| Trails | 119 |
| Winter lifts Total | 67 |
| Gondolas Trams | 13 |
| Chair Lifts | 23 |
| Surface Lifts | 31 |
| Longest Run | 19 km |
| Snowmaking | 22 km covered |
| Season Opens | November |
| Season Closes | May |
How To Get To Chamonix Ski Resort
Flying to Chamonix
Geneva – 1 hr 10 mins
Lyon – 2 hrs 15 mins
Transfers to Resort
Minibus transfers to the resort operate from the airport, bus or train station.
Catching a Train to Chamonix
Although there is a small train station in Chamonix, it is for local tourist services rather than intercity travel. Train travel to the resort would involve a number of changes and is more complex than transfers from airports or self-drive.
Driving to Chamonix
There is a dual carriageway from the valley up to Chamonix and the roads up to resort are usually clear but can get busy with lorries and freight as this is also the road up to the Mont Blanc tunnel and over into Italy.
Chamonix Lift Pass Options
Chamonix is part of the Mont Blanc ski area and there are two ski passes to choose from –  the Chamonix Pass or the Mont Blanc Pass
The Chamonix Le Pass (CLP) covers the following area – Brevent-Flégère, Grands Montets, Balme (Tour-Vallorcine), as well as the beginner areas of La Vormaine, La Poya, Les Chosalets, Le Savoy and Les Planards.
The Mont Blanc Unlimited Pass (MBU) covers all of the areas above plus  Les Houches, Aiguille du Midi, Montenvers-Mer de Glace train, and the Tramway du Mont-Blanc. If you have a pass of more than 2 days duration it  also gives access to ski areas outside the Chamonix Valley including Evasion Mont-Blanc (accessed from Saint Gervais or Megève and  Courmayeur and the Skyway Monte Bianco in Italy. If you have a pass of 6 day + you can also get a discount on Verbier 4 Vallées pass.
All passes are hands-free and costs €3 (non-refundable, although you can recharge the card on subsequent use) and a photo is needed for passes of 10+ days duration.
Passes for children under 5 are free and there are discounted passes anyone over 80 years old – proof of age is usually required.  There are also discounts for families. Ski passes include free access to the Chamonix Bus valley bus services.
Chamonix Snowsports & Ski School Improvement Programs
There are a number of ski schools in the resort offering everything from group lessons to private tuition and guiding. Group lessons typically start on Sunday or Monday and run for 5 or 6 mornings. Most ski schools will offer children's ski lessons from age 4 upwards
Chamonix is home to the training school for all French qualified instructors (ENSA) as well as being the centre for all  High Mountain Guides.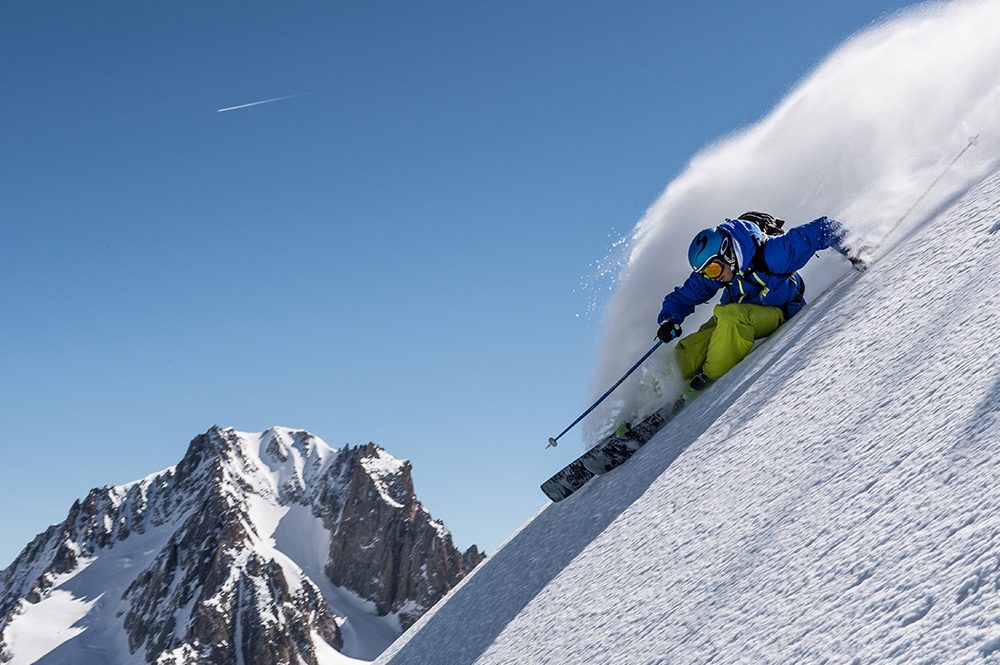 Chamonix Things To Do, Activities & Tours
Iconic Off-Piste Itinerary – Ski the iconic off-piste itinerary run and see the stunning glacier scenery. Access to the Vallee Blanche is via the Aiguille du Midi cable car and from there follows the off-piste glacier descent down to the resort. The full route is 24km and you have to hire a guide and you need to book in advance but it is all totally worth it.
Snowshoe – Hire raquettes and join a half or a full day tour exploring the valley on show shoe. There are also evening hikes up the mountain to an igloo where you can enjoy dinner before the walk down.
Discovery Walks – Chamonix has a host of marked walking tracks both in the valley and up the slopes. Get a map from the Tourist Office or join an organised walk with a guide for the more adventurous levels. You can join a 5-6 hr hike on a glacial walk on the Mer de Glace or join a professional photographer to see and capture the stunning scenery.
Climbing – Chamonix is the home of Alpinism so a perfect place to learn or perfect your climbing skills. Try the indoor climbing wall or for the more experienced have a training session for more adventurous climbs such as Mont Blanc
Paragliding – Take a tandem paraglide with a qualified instructor and get a bird's eye view of the valley. There are a number of different launch sites around the valley – Brévent, Les Grands Montets or even the top of the Aiguille du Midi for the ultimate flight. It is open to children although the Brévent is probably the best starting point for them.
Scenic Flight – Book an unforgettable helicopter flight and take in the awe-inspiring scenery of Mont Blanc and surrounding peaks.
Ice Skating – There are several ice skating rinks in Chamonix and surrounds – an indoor rink in Chamonix centre, which also hosts ice hockey matches and outdoor rinks in Les Houches and Vallorcine.
Luge Run –  There is a brilliant luge run in the centre of Chamonix opposite the Montenvers train station, next to Les Planards ski area. The track is 1300m long with jumps, turns and spins of 540°
Dog Sledding – Enjoy the scenery from the comfort of a sled or take control of the dogs and be your own musher. You'll have an instruction session on how to drive the sleigh and then set off in procession following a qualified guide.
Biathlon – Combine cross-country skiing and rifle shooting in this traditional Nordic sport.
Learn how to cross-country ski as quickly as possible, and race to a shooting range where your instructor will teach you how to shoot at a target with a laser rifle.
Glacier & Peak visits – Take the 20 min ride up the Aiguille du Midi cable car to a height of 3,842m and step out onto the glass viewing platform for a 360 degree view of the peaks. Or take the Montenvers train up to the glacier (la Mer de Glace) at 1,913m. The train has been taking visitors up to the glacier for 100 years and it is the longest glacier in France.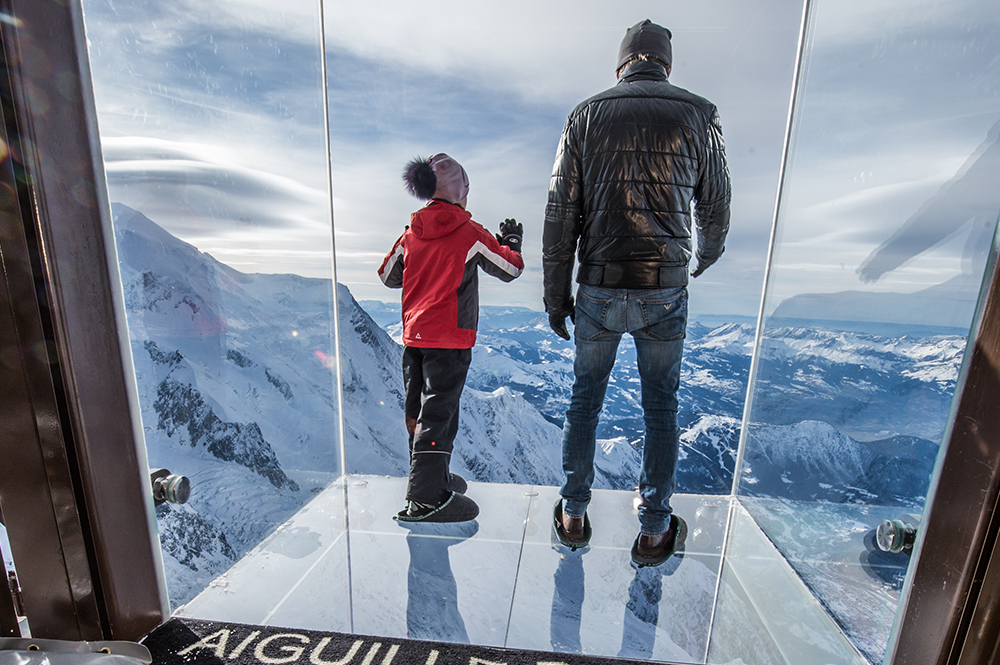 Museums – For non-skiers or if you have a day off the slope visit the local museums dedicated to farming and the traditional alpine way of life or to the Alpin Museum which is a celebration of alpinism, the history of climbing and Alpine exploration.
Ski Joering – Try the original form of back country skiing by combining ski and horses. Great fun and easy to learn. Remember to take you own ski boots – they will provide the rest of the kit.
Chamonix Heli Skiing
Although heliskiing is not permitted in France, due to Chamonix's proximity to Italy & Switzerland it is possible to arrange a day's heliskiing over the border.
There is an enormous range of off-piste and back-country skiing in the Chamonix ski area including the famous Vallee Blanche itinerary for which you do need a guide. Most of the ski hire shops have touring skis and off-piste equipment available for hire.
Chamonix Restaurants, Bars and Nightlife
As you'd expect from a resort the size of Chamonix, there is a great selection of restaurants and bars to choose from with everything from fine dining to burgers at a micro-brewery and from Savoyard specialities to Asian-fusion so you will be spoilt for choice. The biggest selection of restaurants are in the centre of Chamonix but that said there are some excellent options in Les Houches and Argentiere.
The selection of restaurants up the mountain could be better but this is largely because lots of people ski one area in the morning, lunch at resort level and then move to a different area in the afternoon. Our tops tips for the mountain restaurants are La Bergerie du Plan Praz which is at Plan Praz mid-station; Plan Joran in Argentiere, Le Chalet de Charmillon in the Le Tour area; Les Vielles Luges in Les Houches and for good food and amazing views go to Le 3842 at the top station of the Aiguille du Midi.
If you are looking to celebrate a special occasion or just a foodie who likes fine dining, then dinner at Albert Premier with its 2*Michelin won't disappoint. Others that come highly recommended are Le Bistrot in Chamonix centre and La Remise on the outskirts of Argenitere.
For something more casual there is the funky Rocky Pop Hotel in Les Houches where you can get a great cocktail and stone baked pizza or try MBC in the centre – a Canadian run micro-brewery with good beer and burgers. L'Impossible in the town centre beautifully combined French and north Italian cuisine and Le Café Comptoir in Vallorcine is a great choice for lunch or dinner but you do need to book as it's only a small restaurant.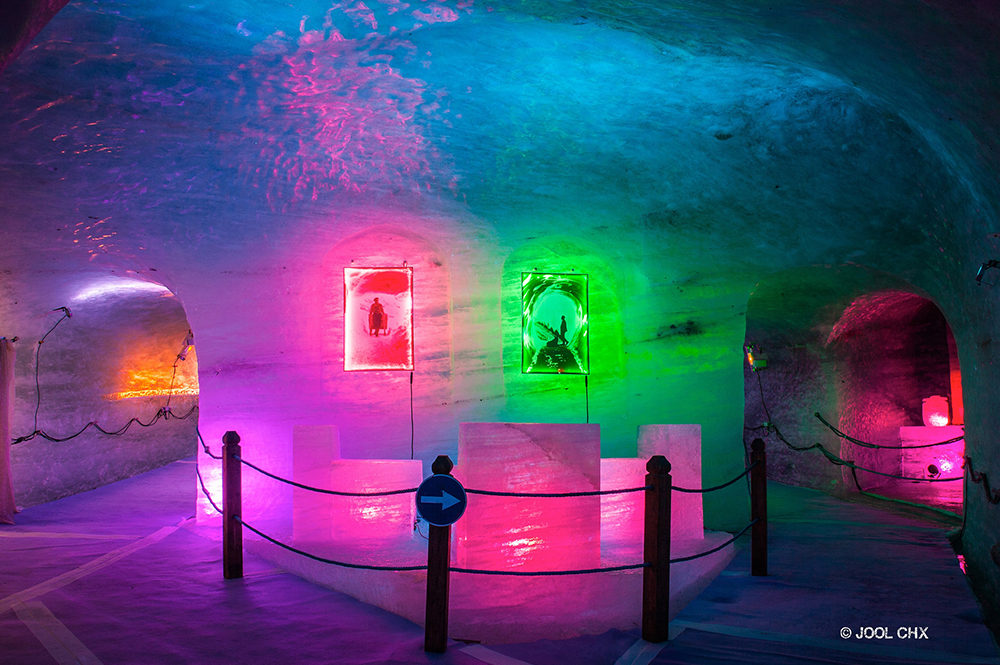 Chamonix Shopping
Unlike many ski resorts, Chamonix is a  working town with a year round population as well as both summer and winter visitors and, as such there are some great shops here. You will find the usual great array of sports shops catering not just for skiers but for all alpine sports but you'll also find great clothes shops with everything from designer wear through to leisure clothes.  Food shopping is well catered for with reasonable sized supermarkets and speciality delis offering local cheeses, dried and cured meats and a couple of very good chocolatiers.
You will also find some great furniture, interior design and antique shops that are perfect for browsing either after skiing  or on a day off. If you're looking for a souvenir of your visit to the French Alps, head to Arpin in the centre which sells woollen rug, throws and clothing made in the mill in the Tarentaise from local sheep wool.
There are also outdoor markets several times a week in Chamonix selling fruit & vegetables, local produce from France and Italy as well as clothes and craft items.