La Plagne Ski Resort
With 24,700 acres (10,000 hectares) of terrain and a 6560 mile (2000 meter) vertical drop, La Plagne is the most popular ski resort in the world – not bad for a destination created as a measure to stop the surrounding region's demise. At the time in the late 1950s, local mining and agricultural industries had virtually slowed to a halt and young people were deserting the region en masse looking elsewhere for work. The area's governing bodies got together to come up with a rescue plan which arrived in the form of a ski destination, and on the day before Christmas, 1961, La Plagne opened with two drag lifts and four slopes.
The rescue plan was a success from the start, La Plagne an immediate hit with skiers. Within a few years it was hosting competitions and feted by celebrities. Nowadays, La Plagne, located in the Tarantaise Valley in the Savoie region, attracts a heady 2.5 million visitors each year. What's more, it is linked with its neighbouring resort Les Arc and Peisey-Vallandry creating a formidable partnership that sits under the Paradiski banner.
La Plagne comprises of 10 villages, varying in style from functional, purpose built resorts to charming, traditional villages.   Plagne Centre has the highest concentration of shops and bars with more nightlife than is to be found in some of the other villages. It is functional, rather than a pretty resort much like Plagne  Bellecôte  and Plagne Aime 2000.  The villages of Plagne 1800, and Belle Plagne offer practical, ski in ski out accommodations though slight more aesthetically pleasing.
Plagne Soleil and Plagne Village are smaller and more modern though pleasant resorts.  Montchevan is lower in altude and offers an authentic alpine experience whilst Lec Coches is slightly higher and has more ski in ski out accommodation. Being below the treeline, they have a very different feel to the higher resorts and have traffic free centres.  They also offer good access to the link with Les Arcs.
Montalbert is a smaller village and further away from the main resorts however now has good links to the main bowl. Champagny is on the other side of the mountain and is at a relatively low altitude. It has a south facing aspect, and also is a fairly short car ride away from the Three Valleys and Couchevel.
As for the skiing, it seemingly goes on forever: there are 128 runs, 140 miles (225 km) of slopes, 95 lifts, 50 miles (80 km) of runs open for night skiing and an abundance of snow, about 20 feet (6 meters) each winter. The season generally runs from the first or second week of December through to the end of April. Beginner and intermediate runs make up almost 60% of terrain, while 26% is for the advanced and 15% for the experts.  One of the more unique and thrilling activities in La Plagne is the 4920 foot (1500 meter) Olympic bobsleigh run with 19 bends. Options for descent include a single-set speed luge and a four seat, self-braking and driving bob raft.
La Plagne Accommodation, Lodging & Hotel Options
La Plagne is made up of a number of villages which are linked by road and ski lifts. There are X6 villages at altitude which are connected by frees shuttle bus as well as by ski lifts accessible to non-skiers and which stay open in the evenings. The 4 lower villages are connected into the ski area but road/pedestrian connections are more difficult.
Altitude Villages:
Plagne 1800 –  Chalet style architecture  with a relaxed atmosphere and easy access to nursery slopes.
Plagne Centre (1970m)  & linked Plagne Village – Plagne Centre is the original 1960's village and has a good selection of shops & restaurants. Plagne Village is more recent and is mostly residential.
Aime La Plagne (2100m)  is the highest and has high-rise apartment accommodation
Plagne Bellecôte (1930m) is residential and has selection of shops & restaurants
Belle Plagne & Plagne Soleil, located at 2050m, are the newest villages built in more traditional Savoyard style.
Lower Villages
These are more traditional and 'villagy' in style and were developed from existing settlements. They are linked via skiing and lifts but road links are longer and more difficult,
Champagny-en-Vanoise (1250m) is a more traditional mountain village in a pretty, wooded setting and is fantastic for cross-country skiing as well as linking into Paradiski area.
Montchavin la Plagne (1250m) & Les Coches (1450m) are neighbouring villages which retain a traditional, alpine feel. Both have traffic-free centres and are ideal for families.
Montalbert (1350m) has chalet-style architecture and is built around a Baroque chapel, bordered by forest and is ideal for walking or dog-sledding as well as skiing.
La Plagne Statistics
| | |
| --- | --- |
| Skiable Terrain | 225 km, 35,558 acres |
| Vertical | 2050 m (6,725 ft) |
| Top Elevation | 3250 m (10,662 ft) |
| Base Elevation | 1200 m (3937 ft) |
| Average Snowfall | 5.2 m (206 in / 17 feet) |
| Intermediate Terrain | 52% |
| Advanced Terrain | 41% |
| Trails | 128 |
| Parks | 2 |
| Winter lifts Total | 95 |
| Gondolas Trams | 11 |
| Chair Lifts | 63 |
| Surface Lifts | 21 |
| Longest Run | 6 km (3.7 mi) |
| Snowmaking | 798 acres / 35 km |
| Season Opens | December |
| Season Closes | April |
La Plagne Ski Areas, Mountains & Terrain
La Plagne is often called 'intermediates' paradise' and it true to say that the ski area has an enormous choice of wide cruisy blues and manageable red runs but that said there is some excellent challenging  piste skiing as well as vast off-piste potential so its ashamed that it sometimes gets overlooked in favour of its more high-profile Tarentaise neighbours. The proximity  to the slopes of most of the accommodation makes it a good choice for families or beginners.
The resort has six designated nursery or beginner areas (which you can read more about below) 9 green pistes, 67 blue pistes and five free beginner lifts, giving you ample space to practice and develop your skills and confidence.
In 2003 the Vanoise Express, the biggest cable car in the world opened lining La Plagne's 225km of local slopes with Les Arcs to make the giant 425km Paradiski area. La Plagne's ski runs are 80% above 2,000m and reach up to the Glacier de Belle Côte (3,250m) so are above the treeline at the top.
Each of the villages has a ski school, most with a nursery for younger children and designed beginner area with min free lifts so the resort is an excellent place to learn  to ski.
Once you graduate to blue runs most of the resort is open to you and you can ski down from the top of the Grande Rochette and Les Verdons to Plagne centre or even from the top of the Belle Cote (3,417m) down to Belle Plagne via the Roche de Mio.
Good skiers have access to a vast off-piste ski area and we do recommend that you hire a guide , not just for the off-piste but also to get the most from the pistes as they will know the quietest spots with the best snow. Whether it is on the north face of Bellecôte (3,200m), on the strikingly beautiful descent of the Cul du Nant glacier or in the forests that lead down to the villages of Bozel and Macot.
A good circuit to start with is around the summit above Plagne Bellecôte, the Mont Saint Jacques. Start from the top of the L'Arpette ski lift, pass the Tête d'Arpette on the left hand as you face it. You will then arrive at the col between it and the Mont Saint Jacques. From there the descent of the Combe du Grand Clapier gives you excellent snow and a fine view of Mont Blanc. Continue down through the pine Forêt des Frasses to the La Roche ski lift at Aime La Plagne, a descent of 650 metres.
In La Plagne the black runs are not all routinely pisted so it is a great place to try out your off-piste skills still in the security of a monitored area.  A great one to try is the  longest run in the resort which is the  black/red Mont de la Guerre slope. It is 7 kms from the top of the Les Verdons through some of the La Plagne's most beautiful powder slopes right down to Champagny.
Boarders and freestylers are well catered for – there is a Snowpark just above Belle Plagne, which is divided into 4 zones to cater for different ability levels and includes rails, table , waves and a figure S as well as a half-pipe, super half-pipe and a bordercross course. In addition, there is the Freestyle Park Initiation Fun Zone in Plagne Montalbert I which is the perfect place for young beginners and has bumps, a bordercross track, rails, tables and the chance to try slalom in parallel.
How to Get to La Plagne
Flying To La Plagne
Chambery – 1hr 30 mins
Grenoble – 2hr 30 mins
Lyon – 2 hr 40 mins
Geneva 2hr 30 mins
Transfers to Resort
Minibus transfers to the resort operate from the airport
Trains To La Plagne
The villages of La Plagne are is 20-45 minutes by road Aime station.
International trains connect Aime to Paris Charles de Gaulle airport or from Paris-Gare-de-Lyon on the TGV service, which takes around 4-5 hours.
Driving To La Plagne
There is a 19 km winding road from Aime to La Plagne – snow tyres and/or snow chains are required, bus or train station.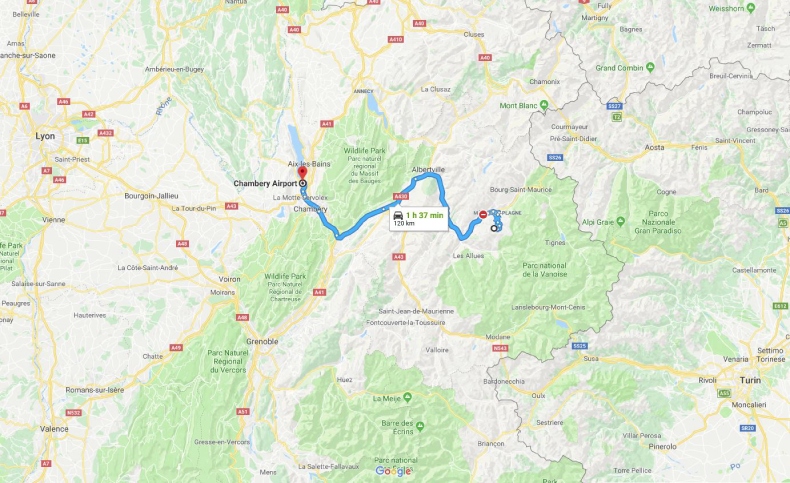 La Plagne Lift Pass Options
The area has two main types of lift pass: the full area Paradiski Pass and the local La Plagne Pass. The Paradiski Pass links to neighbouring resort of Les Arcs, giving you access to an enormous ski area of  425 kms. The La Plagne Pass covers the various villages and pistes on the La Plagne side of the ski area only and is works well for beginner skiers. The Paradiski pass, is the more popular as it allows you to explore the area and the neighbouring resorts without having to worry if you've 'crossed a border'.
Children under 5 years and adults over 75 year are free but you will need to show proof of age to get these passes. These passes need a photo (though this can be taken at the lift office counter) and there is a 3 euro charge for the 'hands free card'. There are discounts for families based on 2 adults and a minimum of 2 children and for 2 or more passes bought for 6 days+ for the same ski area.
In Plagne Bellecote and Belle Plagne you will find nursery slopes with magic carpet lifts that don't require a lift pass. These areas are signposted as the beginner area and are sloped at a nice, gentle gradient to help get you started. There are also five free lifts in Montchavin Les Coches.
There are pedestrian lift passes which are available from single journeys to seven days. The seven-day La Plagne pedestrian passes doesn't include access to the Vanoise Express.
For most of the cross country skiing you don't need a lift pass although you may need to use the shuttle bus to get to the trail areas. There is one track where you will need a pass – the Champagny track which is the longest and hardest track in resort.
You can add ski insurance to your lift pass to cover you in case of accidents but you do need to check against your holiday insurance to see if you need this additional cover.
La Plagne Snowsports & Ski School Options
There are a number of ski schools in the resort offering everything from group lessons to private tuition and guiding. Group lessons typically start on Sunday or Monday and run for 5 or 6 mornings.
The ESF (French Ski School) offer a ski club and ski lessons from age 3 upwards.
La Plagne Things To Do, Activities & Tours
La Plagne has a lot of activities to offer when you're off the slopes although many are still on the mountain so will still need your warm ski clothing. In addition to the usual snow shoe outings, winter walking trails and tandem paragliding which you will find in all French ski resorts, La Plagne offers some more unusual non-ski activities.
Olympic Bob Sleigh – La Plagne was the venue of the bob sleigh events in the 1992 Winter Olympics and the track is still used for International competitions but it is also available for either solo runs reaching speeds of 90 kmh or piloted runs in a 4 man bob going up to 110 kmh.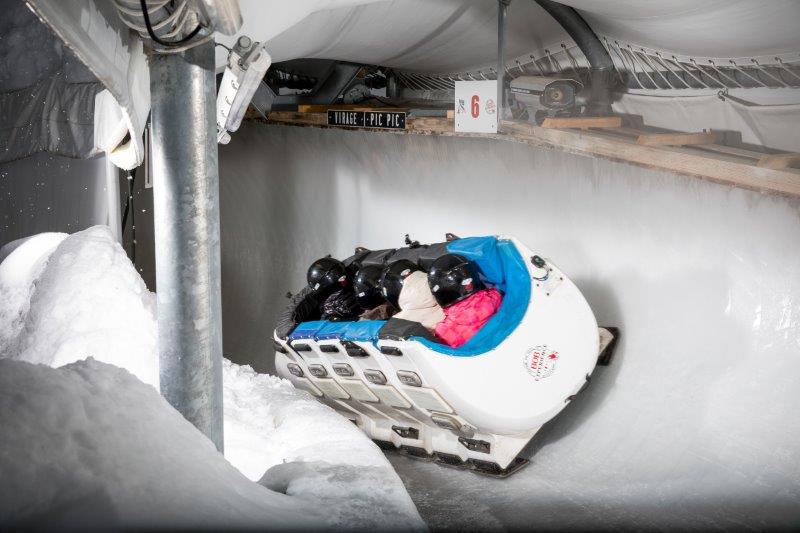 Ice Climbing – There is an artificial 22m frozen waterfall in Champagny where you can learn to ice climb with ropes and crampons
Ice Skating – There is an open air ice rink at Bellecote with a cordoned area for children and beginners.
Outdoor Heated Pool – A heated (30°C) swimming pool with saunas and lovely views of the mountains in Bellecote, just by the chair lift. The main Sports Centre with gym and climbing wall is in Plagne Centre.
Glacier Walking – Visit the ice cave and ice carvings at the top of Bellecote and book a guide to go walking on the glacier. You can also have a meal under the stars and spend the night in an igloo for the complete ice experience.
Ski Joering – Combine horses and skis and that gives you an idea of ski joering. It is available for you to try in the lower village of Montalbert.
Drive a Piste Basher – Go up the slopes after the ski day and learn more about the ski grooming that happens every night. You even get the change to drive one of the enormous piste bashers – and get a diploma to prove it !
Bowling Alley – There is a bowling alley and Sports Bar in Belle Plagne
La Plagne Heli Skiing
Although heliskiing is not permitted in France, due to La Plagne's proximity to Italy it is possible to arrange a day's heliskiing over the border.
There is some great  range off-piste and back-country skiing in La Plagne & the Paradiski area which has the reputation of taking longer to get skied-out than some of the neighbouring more 'macho' resorts such as Tignes. It is definitely worth spending a day with a guide exploring the areas inaccessible by lift. Most of the ski hire shops have touring skis and off-piste equipment available for hire.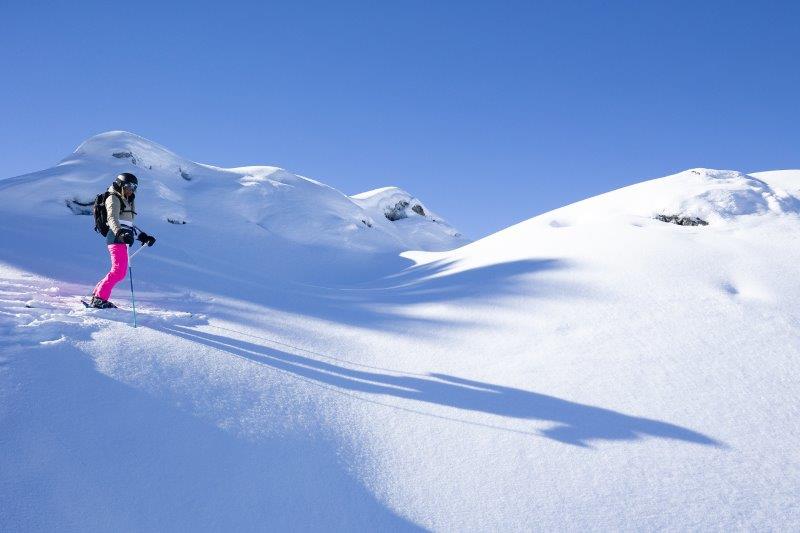 La Plagne Restaurants, Bars and Nightlife
La Plagne offers a great choice of places to eat both on the slopes at lunchtime and in the evening. The emphasis is on casual rather than fine dining and you will find some excellent restaurants serving Savoyard specialities as well as great, friendly pizzerias.
At lunchtimes, most restaurants will offer a well-priced 'Plat du Jour' (dish of the day), which is usually a course  of locally-sourced meat, potatoes and a salad or seasonal vegetables. French puddings are renowned but if you're feeling too full (or can't decide which delicious option to go for ) then have a Café Gourmand which is a coffee (usually an expresso) plus a selection of mini-desserts.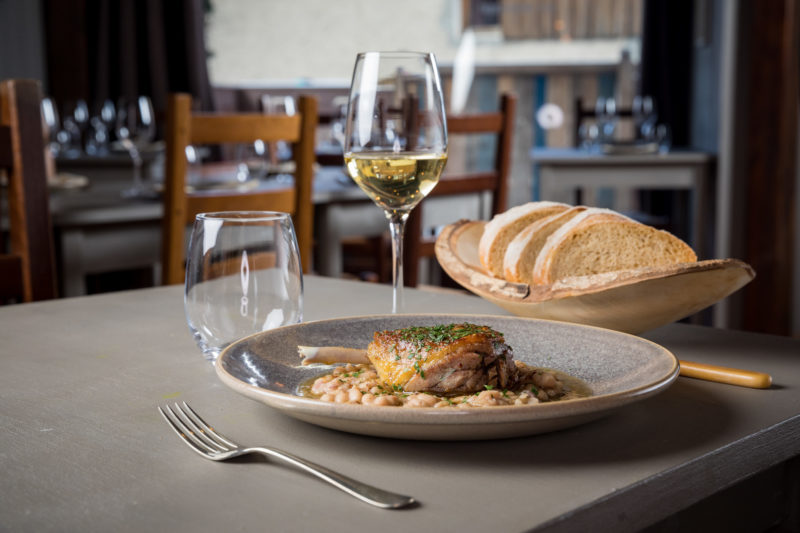 Particular favourites include the family-run restaurant, Le Loup Blanc, in Plagne 1800. It  serves traditional Savoyard cuisine in a cosy setting with lots of wood carving and Savoyard-heart shaped decorations and creative art designs made from French wine bottle corks on the ceilings. A great choice of lunch or dinner
Le Panoramic and L'Arlequin in Aime 2000 both serve traditional French Savoyard cuisine and have the friendliest, warmest greeting in the Alps. Produce is all locally sourced and the views of Mont Blanc for the aptly names Panoramic.  For a special treat try some French fine dining, at the  Hotel Carlina in Belle Plagne where there is a lovely piste side terrace if you want to lunch in style. Or head down to  Montchavin to Les Cavagnes  where you'll get an excellent lunch at a very excellent price and to try their soup dish which is served in an edible bread bowl. In the evening if you're looking for a pizza head to  La Cantine in Plagne 1800 – thin crust and stone-baked and very delicious!
The resort is not famed for its après, but Belle Plagne is the liveliest of the villages with the popular late-night disco Le Saloon and all of the villages have a good bar or two where you can mull over the day's skiing with a beer or two. The Tourist Office does hold regular events and they publish a weekly guide to what's on in the resort which will list any DJs and live music.
La Plagne Shopping
There are mini-markets and grocery shopping in all the villages that make up La Plagne as well as ski hire and ski equipment shops. Plagne Centre, Belle Plagne and Belle Cote have small shopping malls where you'll also find shops selling local specialities and craft items as well as a small number of shops that offer après-ski and leisure wear.
But while there is plenty of selection for 'ski shopping', the resort is not a mecca for retail therapy and doesn't have the selection of Val d'Isere or Courchevel.