Alta Ski Resort
One of the very few skier's only destinations left in the world, Alta is renowned as a powder chaser's dream. The small historic hamlet surrounded by towering peaks receives a whopping 42 feet (13 m) each season thanks to a location deep within Little Cottonwood Canyon. Along with its neighbor Snowbird with which it is linked, Alta gets pummeled, leading to descriptions of the pair as powder capitals of the world.
Alta started out as a mining town, established in 1865 and flourishing during the industry's ascendency. However, in the 1880s the forces of nature struck a double blow when both an extensive fire and catastrophic avalanche destroyed virtually the entire town.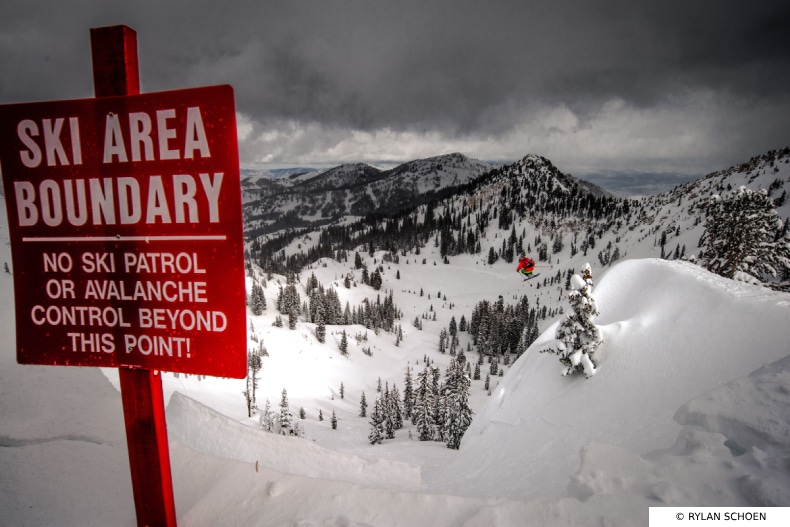 In 1935 the US Forest Service sent a Norwegian-American ski jumping champion Alf Engen to tramp into the area to determine its suitability for skiing. His reports were more than positive. Alta opened its first lift in 1939 – a single ride on the chair was available for 25 cents – and the subsequent ski school took Engen's name.
Alta is one of the oldest ski resorts in North America, the third to open a ski lift after Sun Valley and Timberline Lodge on Oregon's Mt Hood. These days there is no town as such but a settlement of cozy lodges, chalets, and condominiums.
Both the resort and the road leading to it are avalanche prone and while every modern technology and technique is employed to manage the risks, visitors can sometimes be confined indoors for a short period of time while ski patrol work to control the conditions.
Alta Mountain & Terrain
Along with fellow Utah resort Deer Valley and Mad River Glen in Vermont, access is limited to skiers only. Lifts rise from two separate areas, Albion and Wildcat, with a bi-directional rope tow linking the two so as to avoid the arduous task of having to pole along the flat valley floor.
The terrain is 25 percent beginner, 40 percent intermediate, and 35 percent advanced. Alta has legendary steep terrain including the renowned High Rustler which drops down a central spur of the main spine between the ski fields' two major bowls. Everyone wants to say they have skied this one. There are 10 lifts (including the conveyor on the valley floor) serving 2200 acres (890 hectares) of terrain, and rising from an 8,530 feet (2,600 m) base to a top elevation of just over 10,500 feet (3200m).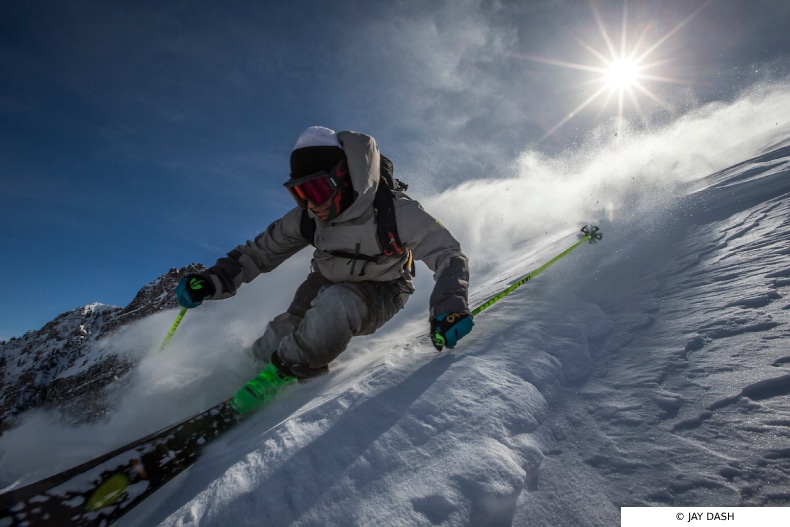 The Wildcat base is aptly named, with the Collins and Wildcat lifts accessing a huge variety of black diamond runs, including the ones for which Alta is most famous such as High Greeley, Lone Pine, and the Rustler selection of steep drops. These two lifts also access a smattering of blue slopes
Intermediate and beginner skiing is concentrated above the Albion Base area. Here the slopes a prettily wooded, the groomers wending their way through the forest as well as large open expanses. Families are well-catered for with programs like Ski After 3 which gives children access to the rope tows for just $10, and the Alta Childcare Centre which can take those as young as six weeks and up to 9 years of age.
Thankfully there is no possibility of coming across anything beyond a skier's ability as black and double black diamond terrain and a few blue runs are confined directly above, accessed only by either the Supreme and Sugarloaf lifts and as mentioned, over on the Collins and Wildcat lifts which are advanced to expert only.
Alta Statistics
| | |
| --- | --- |
| Skiable Terrain | 2,200 acres (890 hectares) |
| Vertical | 616 m (2,020 ft) |
| Top Elevation | 3,216 m (10,550 ft) |
| Base Elevation | 2,600 m (8,530 ft) |
| Average Snowfall | 1305 cm(514 in/42 ft) |
| Beginner Terrain | 25% |
| Intermediate Terrain | 40% |
| Advanced Terrain | 35% |
| Trails | 116+ |
| Winter lifts Total | 10 |
| Chair Lifts | 6 |
| Surface Lifts | 4 |
| Longest Run | 2 km (1.3 mi) |
| Snowmaking | 140 ac (56 hectares) |
| Season Opens | December |
| Season Closes | May |
How To Get To Alta
Alta Ski Area is located about a 45-minute drive from Salt Lake City International Airport via State Route 210 which leads into Utah's Wasatch Mountains and the top of Little Cottonwood Canyon. If driving from downtown Salt Lake City or the airport, head east on I-80, then south on I-215. Take the 6200 South exit (which turns into Wasatch Boulevard) and follow the signs to Alta. Alta is about two minutes drive past the exits to Snowbird.
Flying To Alta
The Salt Lake City International Airport (SLC) is the closest airport to Alta and the drive from the Salt Lake City International Airport to Alta is approximately 45 minutes.
Alta Airport Shuttle Transfers
There are private companies that provide ground transportation from the airport to Alta.
Driving To Alta
If you are driving from downtown Salt Lake City or from the airport, go east on I-80, then south on I-215. Take the 6200 South exit (which turns into Wasatch Boulevard). Follow the signs to Alta.
Alta Has Free Parking
For day skiers, the Wildcat Base parking area is well suited for intermediate and advanced skiers. The Albion Base parking area provides great access for beginners and families.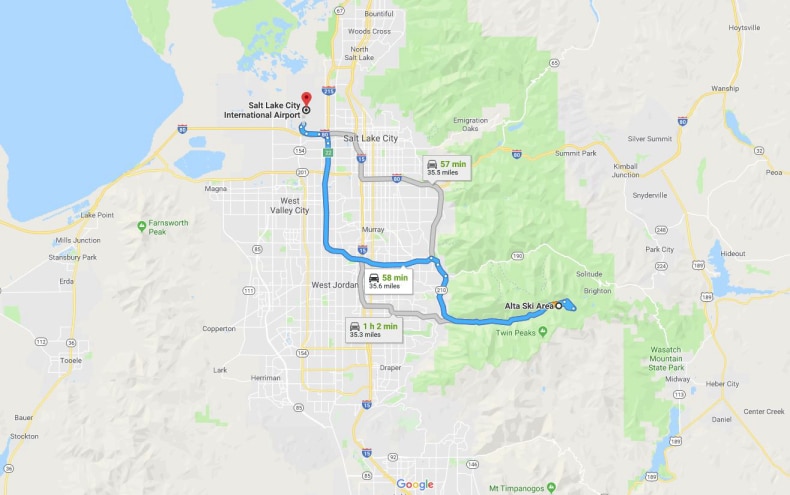 Alta Ski & Snow School
Alta's Alf Engen Ski School has adult, child, and beginner group lessons and a number of clinics. Being such a snowy place there are also First Tracks clinics and off-trail off-terrain workshops of almost three hours for the advanced to expert skier. Multi-day ski specialty programs are available for adults of all skill levels, including performance and breakthrough camps.
Alta Activities, Tours & Things To Do
Alta has a series of backcountry options from skiing to climbing. Grizzly Gulch Snowcats offers five-run days' with a guide into the powdery untracked surrounds of the resort. Utah Mountain Adventures offers year-round climbing and backcountry guiding services with an instructional emphasis.
Tour with a Ranger provides the chance to join a naturalist ranger from the Cottonwood Canyons Foundation to learn about the wildlife, geology, and ecology of the area. Go heli-skiing with Utah's Powderbirds operation, or if you're fit and a strong skier,  join the Utah Interconnect's Six Resorts In A Day tour which departs from neighboring Snowbird on Thursdays and Saturdays.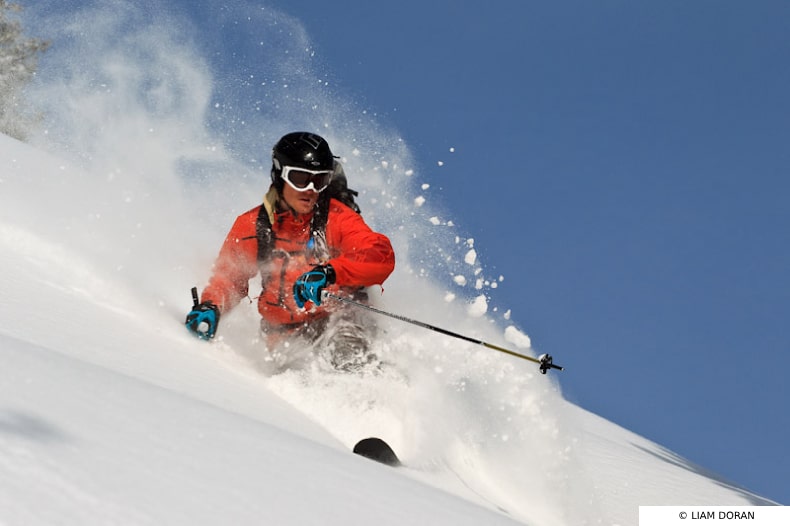 Alta Snowcat Skiing
Location: Albion base
Ride from 10,500 feet down to 9,000 feet across 375 acres of incredible bowl skiing.
Open: ( depends on the weather and availability)
Phone: +1 801.799.2271
Six Resorts In A Day
Location: Deer Valley
Experience Utah's Wasatch backcountry by skiing up to six resorts in one day.
Phone: +1 801.534.1907
Alta Town Race Series
Location: Sunnyside Race Arena
Alta Town Race Series – Slalom and Giant Slalom events.
Phone: +1 801.799.2278
Recreational Racing
Location: Sunnyside Race Arena
Go for the gold!
Phone: +1 801.359.1078
Special Events Racing
Location: Alta Ski Area
Put together a group as the Race Arena is available for rent.
Open: (for rent, you can use it depending on availability)
Phone: +1 801.799.2278
Heli-Skiing
Powderbird Heli-Skiing Services 80,000 Acres of Diverse Backcountry Terrain.
powderbird.com
Alta Restaurant & Bars
On the mountain, the Albion Basin amid Alta's family and intermediate skiing offers a modern cafeteria called the Albion Grill serving hearty skier food. There is indoor and outdoor seating and the cafeteria has fabulous views. For a quick caffeine fix ski to Alta Java's window for specialty coffee and espresso. Alf's restaurant at mid-mountain at the base of Supreme and Sugarloaf lifts also has indoor and outdoor seating, and is the place for hamburgers and grilled sandwiches.
Watson Shelter is the biggest facility, a three-storey building located mid-mountain off the Collins Lift. The entry-level houses Watson Shelter and Baldy Brews for hot drinks, beers, and chocolates. The Watson Cafe on the middle level is famous for excellent grass-fed beef burgers while the top floor Collins Grill is a fine dining, full-service European mountain bistro-grill-style establishment with first-class wines and spirits plus a 'young skier' menu on request.
The aforementioned Goldminer's Daughter is a favorite apres ski destination and serves local beer and generous serves of pizza and beer. Great atmosphere. Grab a quick snack at Slopeside Cafe and Joe. As the lodges include dinner in their packages most people eat where they are staying, although of course, it is possible to book into the surrounding lodges should you want to try something different.
Alf's Restaurant
Location: on-mountain at the base of Supreme and Sugarloaf lifts
Food: sandwiches, burgers, Soup & chili
Bar: Yes/beer only
Phone: +1 801.799.2295
Watson Café
Location: on-mountain closest to Collins lift
Food: Pizzas and soups, Deli sandwiches and salads
Bar: Yes/beer only
Phone: +1 801.799.2296
Collins Grill
Location: on-mountain closest to Collins lift 3rd floor of the Watson Shelter
Food: European mountain bistro-grill
Bar: Yes
Phone: +1 801.799.2297
Baldy Brews
Location: on-mountain closest to Collins lift 1st floor of Watson Shelter
Food: espresso with fine chocolates, baked goods
Bar: Yes/beer only
Phone: +1 801.799.2296
Albion Grill
Location: Main level of the Albion Day Lodge
Food: Grab & go snacks, Deli sandwiches made with sustainable meat made to order
Bar: Yes
Phone: +1 801.359.1078 x 710
Alta Java
Location: Located at Albion Base
Food: pastries and coffees
Bar: No
Phone: +1 801.742.261
Shallow Shaft
Location: 10199 E. Highway 210, Alta
Food: American cuisine
Bar: Yes
Phone: +1 801-742-2177
Rustler Lodge
Location: Alta's Rustler Lodge
Food: American cuisine
Bar: Yes
Phone: +1 888.532.2582
Top of the Lodge Restaurant at Goldminer's Daughter
Location: 3rd Floor in the Goldminer's Daughter
Food: European cuisine
Bar: Yes
Phone: +1 801.742.2300
Alta Shopping
As Alta is a collection of lodges more than anything else, shopping is rather limited to ski gear and the usual fare of souvenirs and gifts. The Alta Store within the Alta Lodge offers probably the widest range of wares, including resort branded clothing, toys, hats, photos, and much vintage memorabilia as well as ski gear and logo items.
Powder House Ski Shops have three locations among the lodges and offer rental and demo packages for alpine skiing, with custom boot fitting plus retail and ski tuning. Alta Sports has Rental and demo packages for Alpine and Telemark skiing, with custom boot fitting. Retail and ski tuning is also available.
Alta Sports
Location: Albion Day Lodge
Shop: Rental and demo packages, outdoor and sports apparel
Phone: +1 801.742.3110
Alta Peruvian Lodge
Location: Alta Peruvian Lodge
Shop: ski equipment
Phone: +1 801.742.3000
Deep Powder House
Location: Alta Lodge
Shop: outdoor and ski equipment
Phone: +1 801-742-2400
TheAltaStore.com
Location: Alta Lodge
Shop: gift items, toys, photographs
Phone: +1 801.413.9901
Alta Trail Maps
Explore Alta trail maps to find your ideal place to ride, catch up with friends and more…
Photo Credit: © ERIK HOSTETLER