Snowmass Ski Area
Snowmass is the largest of the four resorts that make up the Aspen Snowmass ticket with 3332 acres (1348 hectares) of mild to wild terrain. In fact, the resort is so enormous that it is billed as the kind of place where you can spend your entire trip skiing and riding without descending the same run twice, and is sometimes nicknamed Snowmassive. The ski area is blanketed in almost 16 feet (5 meters) of snow each winter, with a longer than average season running from the last week in November to the last week in April.
Snowmass is famous for long, blissfully wide blue cruisers that seem to go forever and are perfect for big wide turns. The lengthiest run is 5.3 miles (8.5 kilometres). Beginner facilities are particularly impressive, too, as are the 3 terrain parks designed to suit all levels. But don't be fooled – the double black diamond terrain here packs a punch, the steepest pitches are up to 40 degrees and there are many thrilling glades off several ridges.
Adding enormously to Snowmass's appeal is that 95% of accommodation is ski-in ski-out. Condominium-style apartments line the lower reaches of the main slopes, and some of the best hotels in ski country are represented here including The Viceroy and The Westin Snowmass Resort.
There is huge variety in the way of on-mountain dining at Snowmass. With an area this big it is important to ensure visitors cannot possibly go hungry. From High Altitude Pizza, to find food and French champagne at Elk Camp Restaurant, to a casual grab-and-go to intimate restaurants, all are part of the mix of Snowmass' 7 eateries.
Snowmass keeps the excitement going on the activity side: Elk Camp Restaurant is a centre of night time activity with Ullr Festivals every Friday night, an indoor-outdoor event with live music, food, bonfire, tubing and snow biking. The Breathtaker Alpine Coaster is located right next to Elk Camp Restaurant, an exhilarating roller-coaster-style ride that travels at speeds of up to 28mph (45 km/hr) through the forest.
Snowmass Mountain & Ski Terrain
Snowmass covers 3332 acres (1348 hectares) criss-crossed by 96 trails that total 147 miles (237 kilometres) in length. Its 21 lifts include the the 8-passenger Elk Camp Gondola.
Snowmass is built for intermediates and newbies – its seriously good blue groomers and impressive beginner facilities make it one of the best places to learn, build confidence and progress. Turkey Trot, Cascade, Creekside and Lunkerville are some lovely long runs to seek out.
When it comes to black diamond terrain, Snowmass has some beauties to test your technique to the max. Steep trees such as Hanging Valley Glades, Frog Pond Glades, Baby Ruth and The Edge are among those that can result in thrilling heart-in-mouth moments. On another ridge, names like Free Fall and Hang On's say it all.
The Cirque is the highest point on Snowmass – 12,510 feet (3612 meters) – and has some tricky drops off the High Alpine traverse. The Headwall and Hanging Valley offer cliff jumps and chutes. A word of advice: don't be fooled by the flat terrain at the entry to The Cirque's poma lift. While it looks enticingly benign, the Experts Only sign at the entry to the poma lift is there for good reason!
There are 3 terrain parks for all levels. There's a Superpipe at the Snow Park Technologies-designed Snowmass Park, a quarterpipe at Makaha Park and easier rails to learn the basics in Lowdown Park.
Snowmass Statistics
| | |
| --- | --- |
| Skiable Terrain | 3,362 acres (1360 hectares) |
| Vertical | 1,343 m (4,406 ft) |
| Top Elevation | 3,810 m (12,510 ft) |
| Base Elevation | 2,470 m (8,104 ft) |
| Intermediate Terrain | 47% |
| Advanced Terrain | 17% |
| Trails | 94 |
| Parks | 3 |
| Pipes | 2 |
| Winter lifts Total | 21 |
| Gondolas Trams | 2 |
| Chair Lifts | 15 |
| Surface Lifts | 4 |
| Longest Run | 8.5 km (5.3 mi) |
| Mountain Restaurants | 38 |
| Snowmaking | 657 ac (266 hectares) |
| Season Opens | 22 November, 2018 |
| Season Closes | 21 April, 2019 (Estimated) |
How To Get To Snowmass
Snowmass is located in the Roaring Fork Valley in west-central Colorado. Visitors fly into either Denver International Airport (DIA) from where there are numerous shuttle services from to Aspen Snowmass via I-70 and Colorado Highway 82, or into Pitkin County Airport just 3 miles from Aspen and 6 miles from Snowmass. Aspen is 220 miles (355 km) from DIA.
How To Transit Between All Four Mountains
The RFTA or Roaring Fork Transit Authority (which locals simply call "Rafta") connects riders with all the important points in the valley including between the four ski resorts via it's 4 Mountain Connector.
For the latest information and timetables – https://www.rfta.com/routes/4-mountain-connector/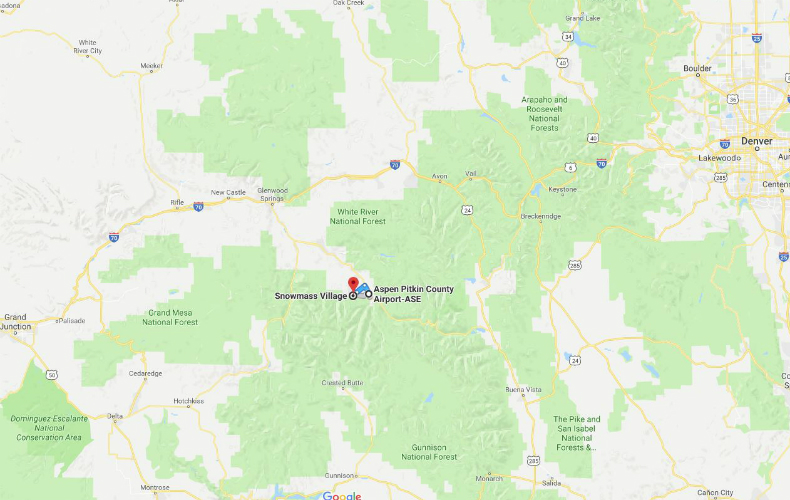 Snowmass Snowsports & Ski School
The award-winning Aspen Snowmass Ski & Snowboard School prides itself on having created specific programs designed to foster people's love of skiing while helping them progress. There is an abundance of lessons options suiting skiers and riders of all abilities, and terrain is suited for all abilities and lesson types, giving instructors the flexibility to take group and private lessons to the right runs to suit your comfort level.
TheTreehouse Kids' Adventure Center offers licensed childcare.
Snowmass Things To Do, Activities & Tours
The Breathtaker Alpine Coaster is a thrilling downhill descent on a toboggan-like sled affixed to a steel track, and suitable for all ages. On-snow entertainment is a big feature of an evening in Snowmass. Elk Camp Restaurant is the hub of night time activity with Ullr Festivals every Friday night, an indoor-outdoor event with live music, food, bonfire, tubing and snow biking. There are snowcat dinner rides to the Lynn Britt Cabin, which also serves lunch.
First Tracks
Location: The information desk in the Snowmass Ticket Pavilion
Early-morning, first run of the day on freshly groomed snow or powder.
Ph: +1 970-923-0560
Aces Ski Tour
Location: Wapiti Wildlife Center at the top of Elk Camp lift
Take a free tour and learn about our high-alpine environment — wildlife in winter, tracking, avalanches, winter habitats.
Ph: +1 970-925-5756
Aces Snowshoe Tour
Location: top of the Elk Camp Gondola
Explore spruce and fir forests along a babbling creek in the Snowmass Ski Area on this two-hour guided snowshoe tour.
Ph: +1 970-925-5756
Ambassador Tours
Location: Top of the Village Express Lift
Ambassadors lead tours every day on Snowmass. Ambassadors are at your service.
Ph: +1 970-925-5756
Breathtaker Alpine Coaster
Location: Located adjacent to the Elk Camp Restaurant
Riders will wind their way through over a mile of forest on an elevated track at speeds of up to 28mph.
Ph: +1 866-857-8769
Snowmass Restaurants, Bars & Nightlife
Snowmass has 7 on-mountain restaurants and dozens in the Snowmass Village. On the ski area, Elk Camp is one of the most frequented, and where if you really want to treat yourself (you are in Aspen anyway) the cafeteria's beverage compartment is known to stock French champagne alongside the American beer and soft drink. On the other side of this enormous ski area sits Sam's Smokehouse, one of the best places to sample classic American fare such as pulled pork and crispy fried green tomatoes. Huge plates of food here.
Base Camp Bar & Grill is one of the first places you see coming off the slopes and inevitably end up for an apres drink and plate of nachos or artichoke dip. Most of the restaurants here are kid-friendly, whether they be upmarket or not.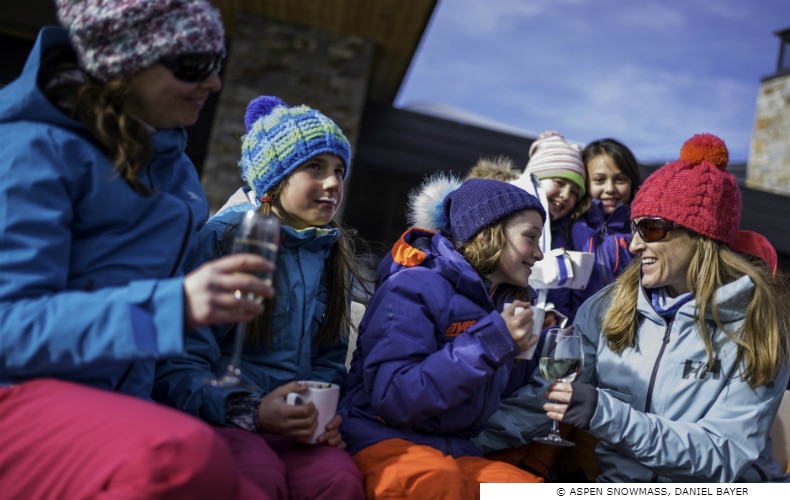 Elk Camp
Location: Snowmass, top of the Elk Camp Gondola.
Food: New American market style, grab and go breakfast
Bar: Yes
Open: Breakfast & Lunch
Phone: +1 970-923-0450
Lynn Britt Cabin
Location: Snowmass, just below the midway loading station of the village express lift at the end of Velvet Falls.
Food: Modern American
Bar: Yes
Open: Breakfast, Lunch & Dinner
Phone: +1 970-923-8715
Ullrhof
Location: Snowmass, base of Big Burn Lift
Food: American
Bar: No
Open: Breakfast & Lunch
Phone: +1 970-923-5143
Sam's Smokehouse
Location: Snowmass, top of Village Express lift
Food: Barbecue
Bar: Yes
Open: Breakfast & Lunch
Phone: +1 970-923-8686
Gwyn's & Gwyn's High Alpine
Location: Snowmass, atop the Alpine Springs lift
Food: Continental
Bar: Yes
Open: Breakfast, Lunch & Dinner
Phone: +1 970-923-5188
Up 4 Pizza
Location: Snowmass, top of Big Burn lift
Food: Pizza, Salads, Soups And Cookies
Bar: No
Open: Lunch
Phone: +1 970-925-1220
Two Creeks Café
Location: Snowmass, Base of Two Creeks lift
Food: American
Bar: No
Open: Breakfast & Lunch
Phone: +1 970-923-8636
Snowmass Shopping
There is a huge variety and high number of ski clothing and equipment stores in Snowmass so there's no problem if you lose a glove or have the urge to buy the latest skis or snowboard. Boutiques, a spa, fine food and wine, souvenirs to sunglasses – all the shops and luxuries are living the Snowmass Village mall.
Base Village At Snowmass
Location: Next To Elk Camp Gondola
Shop: Includes A Great Selection Of Accessories Such As Helmets, Goggles, Sunglasses, Beanies, Gloves, Lip Balm, Hand Warmers Etc.
Phone: +1 970-923-0430
Elk Camp
Location: Top Of Elk Camp Gondola At Snowmass
Shop: Selection Of Accessories Including: Goggles, Sunglasses, Beanies, Gaitors, Gloves, Lip Balm, Hand Warmers, Etc.
Phone: +1 970-923-0480
The Treehouse Children's Adventure Center
Location: Base Village At Snowmass
Shop: Clothing For Ages 0 To 14 Years
Phone: +1 970-923-8700
Rocky Mountain Chocolate Factory
Location: Snowmass Village Mall
Shop: Gift Items And Tasty Treats Including Assorted Chocolates, Packaged Items, Dreyers Grand Ice Cream And A Selection Of Drinks
Phone: +1 970.923.2875
Snowmass Sports
Location: 100 Elbert Lane, Unit 108 Snowmass Village
Shop: Snowboard Retail & Rental Services
Phone: +1 970.923.3567
Anderson Ranch Arts Center
Location: 5263 Owl Creek Road Snowmass Village
Shop: Artworks Store
Phone: 970.923.3181
Grain Fine Food
Location: Snowmass Village Mall
Shop: Grocery & Liquor
Phone: +1 970.923.4100
Daly Bottle Shop
Location: Snowmass Village Mall
Shop: Liquor
Phone: +1 970.923.4100
Quiksilver
Location: 100 Elbert Lane, Unit Dm117 Snowmass Village
Shop: Fashion & Apparel
Phone: +1 970-710-7562
The North Face
Location: 100 Elbert Lane Unit M111 Snowmass Village
Shop: Fashion & Apparel
Phone: +1 970.923.0673
Ajax Supply
Location: 16 Kearns Road, Suite 210 Snowmass Village
Shop: Hardware & Tools
Phone: (970) 429-4329
81615 T-Shirt & Gift
Location: Snowmass Village Mall
Shop: Fashion & Apparel
Phone: +1 970-429-8305
Gorsuch
Location: 49 Village Run Cir. Snowmass Village
Shop: Fashion & Apparel
Phone: +1 970.923.9673
Accent On Wildflowers
Location: 100 Elbert Lane Snowmass Village
Shop: Souvenirs & Gifts
Phone: +1 970.923.4562
Local Color/Local Rebels
Location: Snowmass Village Mall
Shop: Souvenirs & Gifts
Phone: +1 970.923.6058
Stay Tuned Ski & Sports
Location: 16 Kerns Rd #114 Snowmass Village
Shop: Ski Retail & Rental Services
Phone: +1 970.429.4908
Enjay Boutique
Location: 5 Village Sq. Suite 212 Snowmass Village
Shop: Fashion & Apparel
Phone: +1 970.923.9268
Sunglass Panache
Location: Snowmass Village Mall
Shop: Sunglasses
Phone: +1 970.923.5886
Sundance Liquor & Gifts
Location: 16 Kearns Rd. Snowmass Village
Shop: Grocery & Liquor
Phone: +1 970.923.5890
Snowmass T-Shirt Company
Location: Snowmass Village Mall
Shop: Fashion & Apparel
Phone: +1 970.922.0404
Surefoot
Location: Snowmass Village Mall
Shop: Snowboard Retail & Rental Services
Phone: +1 970.923.2131
Snowmass Trail Maps
Explore Aspen's Four Mountains' trail maps to find your ideal place to ride, catch up with friends and more…