Hakuba Valley Ski Resorts
With steep slopes, 9,842 feet-high peaks (3000 meter) and some of Japan's longest vertical, the Hakuba Valley is the one area in Japan most often compared to the European Alps. It is located on Japan's main island Honshu and filled with rugged mountains flanked by 10 resorts sporting over 200 runs, all of which are accessed with one ski pass. The region is blessed by more than 32 feet (10 metres) of snow and being so vast, it offers a huge variety in every aspect from lodging to restaurants, activities and cultural experiences, and even a helicopter skiing operation. The Genki-Go shuttle bus service connects the entire Hakuba Valley. Options for eating and drinking are numerous, spanning everything from quick snacks to casual to a la carte. Natural hot springs are in abundance and there are plenty of day trips and activities available outside of skiing and snowboarding.
Hakuba lies in the heart of Nagano Prefecture, home to Hakuba Happo One which hosted many of the skiing events for the 1998 Nagano Winter Olympics. This famous resort has 3,635 feet (1,180m) of vertical and is ranked among the best ski areas in the world for its demanding slopes and breadth of skiing and snowboarding terrain. It still hosts many FIS World Cup events earning it the reputation as a world-class ski resort. Each year sees several international ski jumping, alpine ski and snowboarding, cross-country and biathlon competitions events. Plus, Hakuba is now also a regular stop for the Freeride World Tour.
Skiing started in the Hakuba Valley in 1911 when visiting Austrian officer Theodore Van Lech introduced the sport to the local population. It was not until 1928 that skiing officially started when Hosono ski club was formed and Happo ski resort became the centerpiece of the valley.
In more recent times Hakuba has attracted much attention from Westerners who have established businesses and hotels to cater to the area's growing popularity with tourists and skiers, yet its authenticity and infectious appeal remains firmly intact.
Hukuba Mountain & Terrain
There are 10 snow resorts that make up the Hakuba Valley and each offers something special however most of the resorts are small and can be explored in just one day. Jiigatake Snow Resort, Kashimayari Ski Resort, Hakuba Sanosaka Snow Resort, ABLE Hakuba Goryu, Hakuba47 Winter Sports Park, Hakuba Happo-one Snow Resort, Hakuba Iwatake Snow Field, Tsugaike Kogen Snow Resort, Hakuba Norikura Onsen Snow Resort, and Hakuba Cortina Snow Resort.
Jiigatake Snow Resort is small and great for families. Gentle uncrowded slopes with views from the top of views over Azumino Toroika on a sunny day.
Kashimayari Ski Resort is closest to the Matsumoto and Azumino area with 15 different runs to challenge including a 3 mile (5km) downhill with a great view of Aoki Lake.
Hakuba Sanosaka Snow Resort is surrounded by beautiful woodlands with picturesque views of Aoki Lake. With 80% of the ski slopes for beginners and intermediates, it's a popular spot for families. If you like your bumps, be sure to check out the mogul course.
ABLE Hakuba Goryu has 3 areas of mostly intermediate alpine skiing to enjoy Alps-daira, Tohmi, and Iimori and offers the largest night skiing.
Hakuba47 Winter Sports Park has a half-pipe, kicker, and various features in the park to play and enjoy. You can access Hakuba Goryu from the top of the mountain.
Hakuba Happo-one Snow Resort you'll need more than a few days to get to know this resort, as it is the biggest resort in the valley with a longest run of 5 miles (8km) and endless terrain options to enjoy epic turns and fun.
Hakuba Iwatake Snow Field has a 360℃ panoramic view of the Hakuba mountain range after a gondola lift ride to the top. Wide open gentle and challenging slopes and is also well known for the snow park and cross-country ski trails.
Tsugaike Kogen Snow Resort offers a stunning backdrop of the North Alps and gets plenty of powder snow. The powder zone is known as "Tsuga-Pow DBD" it also has an area for kids and beginners with a long course and onsen.
Hakuba Norikura Onsen Snow Resort is located in the northernmost part of the North Alps. The wide ski slopes are beginner-friendly and offer families a chance to ski together. The steep course is at 38 degrees, and a mogul course offers a variety of abilities a chance to try out the bumps.
Hakuba Cortina Snow Resort receives lots of powder snow, the most in the region. The snow along with the amazing tree skiing in powder conditions makes it very popular with the locals.
Lodging, Accommodation & Hotel Options
The most popular place to stay is in Hakuba Happo-one as it offers ski in ski out as well as the most accommodation options, bars, and restaurants. The accommodation ranges from western and Japanese-styled hotel rooms to pensions, with a small number of western-styled self-contained accommodations.
How To Get To Hakuba
Hakuba Valley is located on the main island on Japan in Honshu, about 270km northwest of Tokyo. The town of Hakuba is located around an hour's drive from Nagano in the Nagano Prefecture.
Shuttle Bus (5- 6 hours). Shuttle busses operate from both Tokyo airports to Hakuba ski resorts. Best to book flights to arrive mid-day and book your departure flights as late as possible as it's quite the bus ride.
Shinkansen Bullet Train (2.5 hours) is the fastest way but will require you to carry and manage your bags. Make your way to Tokyo train station and catch the Hokuriku Shinkansen to Nagano. At Nagano train station find bus stop number 26 and buy a ticket to Happo bus terminal in Hakuba.
Private Taxi (4 to 6 hours) depending on traffic.
Lift Pass Options
All the resorts can be skied on the one pass plus Hakuba Valley is part of the EPIC pass program which includes 5 consecutive days of unrestricted skiing with no blackout days.
Hakuba Snowsports & Ski School Improvement Programs
There are two main ski school choices in the Hakuba Valley. The Evergreen International Ski School is one of the oldest and largest international ski schools in Japan employing highly skilled foreign and domestic ski and snowboard instructors.
Hakuba Snow Sports School is the other option that delivers a full range of private, group and specific clinics. The school is located at the Imori Ski Resort and has one of the best areas for terrain in Hakuba for the development of skiing and snowboarding.
Things To Do, Activities & Tours
The Nagano area is rich in culture and history and there are many activities to do in and around the Hakuba Valley including a visit to the Snow Monkeys, Zenkoji Temple, Matsumoto Castle, Matsumoto Art Museum, relax in an Onsen, Sake Brewery Tour, Kimono Experience and Tea Ceremony, Snowmobiling Tour, Chausuyama Zoo (Nagano), HakuBounce, True Players and a trip to the Togakushi Shrine.
Hakuba Heli Skiing
During March and April there is helicopter skiing out of the Tsugaike Resort that takes you into the Hakuba backcountry. This can be a great introduction to the Japan Alps, for intermediates and after a big storm it's recommended for expert skiers.
Restaurants, Bars and Nightlife
There are many options in the quaint villages to sample the local food, bars and nightlife. Echoland is your first stop as it has the most choice followed by a stroll around the Happo Village. In peak times you may need to book. The Tsugaike village has a few Japanese ramen bars and bars. Goryu village has a low number of restaurants. Norikura and Cortina dining is isolated to the hotels and pensions. You can also catch the Genki-Go bus into Hakuba town for a more authentic Japanese experience.
Hakuba Shopping
There are plenty of quality ski and boar stores in Hakuba. The Boarding Co, near Hakuba Station, Rapie's in Hakuba Village, Patagonia, The North Face, Central Snowsports have 3 stores across Hakuba, Rhythm Snowsports at the Wadano Visitor Center has an extensive range of snow sport equipment.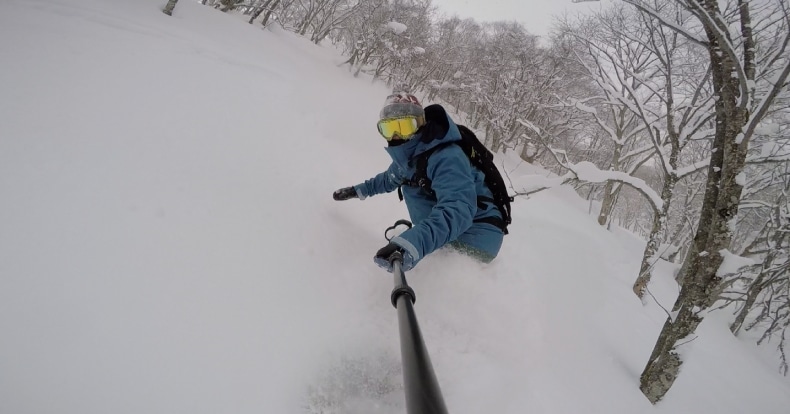 Hakuba Valley Mountains and Ski Terrain
A total of 135 ski lifts, including five gondolas, lead to over 200 runs some of which offer the longest vertical in Japan. From the complete novice to the expert, there is something to please everyone – the gentlest of green slopes to challenging steeps, long bump runs and even longer groomers plus plenty of powder stashes.
The size of the Hakuba Valley means lift queues are virtually non-existent. There is also a substantial amount of side country and backcountry skiing to be explored. Taking a guide is highly recommended: expert backcountry guiding operations include Hakuba Powder Tours run by Australian Winter Olympian and former World Cup racer Steven Lee.
Hakuba's 1998 Nagano Winter Olympics' events location Happo-One has the largest ski lift network (33 lifts) of all the valley's areas. The other resorts  are Jiigatake, Kashimayari, Sanosaka, Goryu, Hakuba47, Iwatake, Tsugaike, Norikura Onsen and Cortina. Each ski area has a mix of beginner, intermediate and advanced slopes ensuring levels are catered for as equally as possible no matter where people ride. Here is an individual snapshot of what each resort has to offer.
Happo-One Mountain and Terrain
The long vertical of Happo 3,513 feet (1,071m) makes it one of the 'go to' places to ski and ride the epic powder on the large scale slopes and you'll need more than a day to get to know Happo and all that it has to offer.
Beginners Skiers and Riders
The bulk of the beginner runs are at the bottom of the mountain and are well serviced by a number of smaller ski lifts. Sakka lifts 2 and 3, Shirakaba 1 and 2 are a great option to find your feet and get back into the skiing and riding grove. Laps on Sakka 3 are near the Snow Plaza Sakka, which is a great option if you need a pit stop or to refuel. For the more confident beginner, there are easy trail and cat-track options that wind done skiers left and right from the top of Panorama and Kokusai 3 chair lifts. Skies left feeds you back into the Sakka area and skier right will see you end up in the Nakiyama area.
Intermediates Skiers and Riders
The good news is Happo hosted many of the Olympic runs for a reason because of it's fantastic selection of open, groomed, and fall-line superhighways. Head straight to the Gondola Adam and lap the Riesen Slalom Course and remember to cut back skiers left before the bottom of the run to link back with the Gondola or cut skiers left at the top of the lift for the Panorama Course, which drops you back at the Gondola. Another red run favorite is lapping off the Kurobishi Quad chair.
Advanced Skiers and Riders
There is a lot to like Happo for advanced skiers. Warm up on Olympic Course 2 or the Central Course on the Adam Gondola and then head high a low and you'll find great terrain across the mountain. If you head up Kurobishi 3 you can drop into Urakuro or head skiers right down the double black into the black Skyline 2 and double black Kitaone Course and you are guaranteed thrills and heart pumping action.
Happo One On A Powder Day
Just get to where you want to go as quickly as possible as it's all fabulous on a powder day and as you would expect the majority of inbounds skiing will track out fast. You can also access the backcountry from Happo but it is strongly recommended you go with one of the guiding companies as the terrain is extremely avalanche prone and so it best to wait until conditions are stable and go with experts who have a better chance of keeping you safe (and alive).
Goryu and Hakuba47 Mountain and Terrain
Goryu and Hakuba47 have the steepest runs, up to 40 degrees in places, plus quality intermediate slopes. Hakuba47 is the freestyle capital of the valley and home to large, impressive terrain parks and a superpipe. The resorts are both fairly small, but they are interconnected at the top, which opens up much more terrain possibilities. The snow quality remains high in the area especially in Hakuba 47 thanks to it's northerly aspect so the skiing goes late into the season. Hakuba47 is 3 miles (5km) from Happo and it's a 2 mile (3km) fide between the village at Hakuba47 to Goryu's Iimori ski base village.
Beginner Runs at Goryu
Your best bet is to head to Gory and hit the Tohmi and Iimori slopes as they are ideal for beginners, kids and families. It also has a large night skiing area, if you really want to exhaust the kids.
Intermediate Runs at Goryu
On Goryu a warm up in the Iimori is excellent and then head into the Alps-Dara Zone and be sure to take a run on Panorama into Super Course into Champion Dynamic Course into Woody Course and make sure you head skiers left into Woody Course or you'll find yourself in the double black Champion Expert Course.
Advanced Runs at Goryu
There are some open tree riding off the skiers right towards the bottom of the Champion Expert Course, however you'll need to be there quick as there are only a handful of lines available as the area is quite small.
Powder Skiing Day at Goryu
It's all good! Just be sure to stay inbounds and out of the closed areas if you want to keep your ski pass.
Hakuba47 Beginner Runs
The best tip is to ski Goryu, but if you have to you can catch the Gondola you can lap Route 7 which is a gentle cat track and later you can cut skiers left down Route 6 to the Quad Lift Line C hair and up the Panorama Course Alps 1St Chair and enjoy a top to bottom ride along Route 8 into Route 7 and go from there.
Hakuba47 Intermediate Runs
Route 1 offers some open terrain and some open tress sections so lap it up and enjoy the pow.
Hakuba47 Advanced Runs
The Adventure Couse into Snow Diving Course like the names suggest on a powder day will have you coming back for more. Route 2 and 3 are the top pics to get your turns in although they are shorter runs Route 3 will drop you back at the top of the terrain park.
Hakuba47 On A Powder Day
Off Route 3 there are some open tress available to anyone and there are also some open trees you can access if your register. Head to the ski School and sign up, it's free, for the "Double Black Diamond Ski Run Club" and you'll receive a bib that allows you to access these areas.
Tsugaike Mountain and Terrain
Tsugaike is a groomer's paradise with a wide-open bottom area that offers a fabulous experience for beginners and intermediates. It also has terrific off-piste for those powder days. Plus, you can register to ski their breathtaking tress. It's a large ski area compared with many other resorts in the valley and is usually less crowded and the best part is you can get to the top via their 3 mile (5km) gondola ride. This is also where helicopter skiing operates, usually from early March.
Tsugaike Beginner Terrain
Everything in the lower third of the mountain offers an excellent beginner terrain skiing and riding experience that is well serviced by a handful of ski lifts.
Tsugaike Intermediate and Advanced Terrain
Laps on the gondola give you the best value for hitting some great top to bottom runs.
Tsugaike on a Powder Day
Tsugapow DBD offers spectactular tree skiing. You will need to watch a short safety video and then collect your DBD pass, so ski patrol know you have done the safety course. You can access the tress from 4 gates off the black Uma-no-se Slope and from there it's strap in and hang on as the tree skiing in Tsugapow DBD will not disappoint.
Iwatake Mountain and Terrain
Iwatake has loads of easy wide terrain and is also a good place to take shelter on storm days thanks to its location. On clear days however, the highest points offer jaw-dropping 360-degree views of the region. It has the lowest top elevation in the valley 4,229 feet (1,289m) and is the first to be impacted by warm weather. Iwatake does offer some of the most varied terrain of all the resorts in the valley.
Iwatake Beginner Terrain
It's not really a beginner's mountain, best to go to Tsugaike or Goryu but if you are there your best bet will be the Sawa Course.
Iwatake Intermediate Terrain
There are lots of options off the Gondola that takes you to the top. A great warm-up is Gozan into Paradise. From there it's another ride up to the top and you can spread out from there.
Iwatake Advanced Terrain
Head into the Iwatake Back Bowl and lap the view runs. View A is a large natural gully and the most fun. To get into the area head straight off the gondola and keep the bakery on your right and you can't miss it.
Iwatake's DC Terrain Park is one of the best parks in the Hakuba Valley. It is a great progression Park with a variety of features.
Iwatake on a Powder Day
The area is great for intermediates so you will find great skiing and riding in every direction you decide to take.
Sanosaka Mountain and Terrain
Sanosaka is a freestylers hang out, and has cruisy trails as well, and is best for stronger beginners and intermediate skier and riders.
Cortina Mountain and Terrain
Cortina is known for receiving some of the lightest driest powder in the area. It was one of the first to open up its tree skiing and it's steep, up to 42 degrees in some areas, and world class but you would want to be at least a strong intermediate to make the most out of the, at times, tight tress and steep terrain. There is also a backcountry "no hike" gate at the top but you will need to know what you are doing, have all of the avalanche gear and this is only recommended for highly experienced backcountry skiers.
Cortina Beginner Terrain
There is good beginner skiing and riding at the bottom of the mountain Ikenota Gelande is the pick.
Cortina Intermediate Terrain
There is some great intermediate skiing and riding off the No. 3 Quad Lift including Rabbit Course and Kamoshika Course.
Cortina Advanced Terrain
The rest of the mountain is there for the taking. Best to ski and ride with someone that knows the area as you are responsible for yourself in the trees and the tree skiing is world class.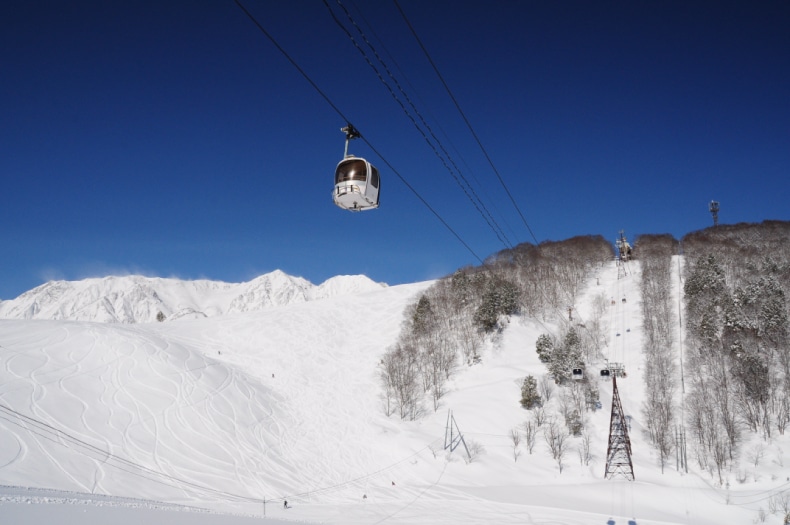 Hakuba Statistics
| | |
| --- | --- |
| Skiable Terrain | 543 acres (220 hectares) |
| Vertical | 1071 m (3513 ft) |
| Top Elevation | 1837 m (6007 ft) |
| Base Elevation | 760 m (2,493 ft) |
| Average Snowfall | 11 m (36 ft) |
| Intermediate Terrain | 50% |
| Advanced Terrain | 20% |
| Trails | 13 |
| Winter lifts Total | 22 |
| Gondolas Trams | 1 |
| Chair Lifts | 21 |
| Longest Run | 8 km (5 mi) |
| Season Opens | November |
| Season Closes | May |
How To Get To The Hakuba Valley
Hakuba Valley is located on the main island on Japan in Honshu, about 270km northwest of Tokyo. The town of Hakuba is located around an hour's drive from Nagano in the Nagano Prefecture.
Direct Shuttle Bus Transfer From Narita International Airport and Tokyo International Airport (Haneda Airport)
Shuttle busses operate from both Tokyo airports to Hakuba ski resorts. This is the most stress-free way to travel. Once you are on the bus, you can sit back and relax. Best to book flights to arrive mid-day and book your departure flights as late as possible as it's a long bus ride. Shuttle Bus takes 5- 6 hours.
Train Transfer From Narita International Airport and Tokyo International Airport (Haneda Airport)
From either airport you'll need to make your way to the Tokyo train station and catch the Hokuriku Shinkansen to Nagano. The Shinkansen Bullet Train is the fastest way but will require you to manage your bags at each connection. It['s recommended that your ski bags and travel bags have rollers for easier transfer. At Nagano train station you'll need to find bus stop number 26 and buy a ticket to Happo bus terminal in Hakuba. The total trip is less than half the time at around 2.5 hours and the smooth ride of the Shinkansen Bullet Train at high speed is something to experience in your lifetime.
Private Taxi
Chuo Private Taxi (4 to 6 hours) depending on traffic is another option and can be cost effective depending on the number of travellers.
Traveling Between Resorts In The Hakuba Valley
The resorts are interconnected, and timetables change throughout the season. The trickiest part is ensuring you can get from your accommodation to your ski school location on time, especially if you have kids in lessons for the day. We can help you with that, so be sure to contact us and we can ensure things flow smoothly for you.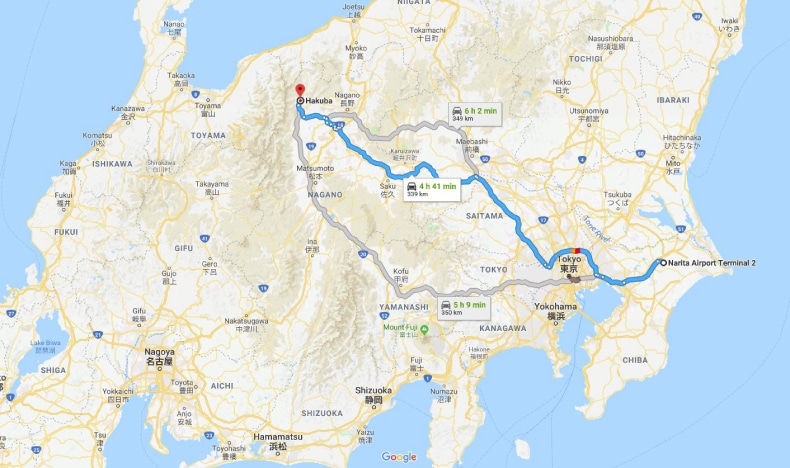 Hakuba Lift Passes
All 10 resorts can be skied on the one ski pass. . Jiigatake Snow Resort, Kashimayari Ski Resort, Hakuba Sanosaka Snow Resort, ABLE Hakuba Goryu, Hakuba47 Winter Sports Park, Hakuba Happo-one Snow Resort, Hakuba Iwatake Snow Field, Tsugaike Kogen Snow Resort, Hakuba Norikura Onsen Snow Resort, and Hakuba Cortina Snow Resort.
Hakuba EPIC Pass
The resorts of the Hakuba Valley is part of the EPIC pass program which includes 5 consecutive days of unrestricted skiing with no blackout days.
Hakuba Valley Snowsports & Ski School
There are 4 English language international snow sports schools in Hakuba.
Evergreen International Ski School (EISS)
EISS operates in four Hakuba ski areas including Happo-one, Iwatake, Tsugaike, and Cortina. It was established by a Canadian ski instructor and backcountry specialist in 2000 and has grown to employ 130 staff. It was the first English language ski school in Hakuba and employs a number of highly qualified ski and snowboard instructors from around the world. Programs are available for beginner to advanced levels, children and adults. Evergreen also runs a backcountry guiding service.
Hakuba Snow Sports School
The Hakuba Snow Sports School teaches group lessons from beginner to expert at Iimori Snow. However, you can book a half or full day private lesson with one of its multi-lingual instructors, to be taken at any resort in the Hakuba Valley. The team stive to make your skiing and snowboarding experience as enjoyable as possible and their instructors will give you all the information and training you need to have the time of your life on the slopes. So whether you are an absolute beginner or a freestyle guru that have a well-trained, friendly and professional instructor for you.
​Happo-one Ski and Snowboard School
Happo-one Ski and Snowboard School has been traditionally teaching snow sports since 1949. Teaching methods are continually adapted and improved to comply with new trends and developments. The ski school offers top quality service and provides unlimited pleasure in complete safety. They have put together a dynamic, friendly team that offers you a new skiing/boarding experience with their fully qualified instructors with years of teaching experience. Lessons are in English and Japanese.
Hakuba47 Ski & Snowboard School
Hakuba47 Ski & Snowboard School offers group and private lessons (ski & snowboard lessons) from first time to tree riding / park experience. Hakuba47 Ski Academy International is located at School Centre, the base area of Hakuba47, right in front of the bus stops. Learn to ski & snowboard for all ages above 4 & all abilities. Their lessons are in in English, however, their instructors also speak Chinese, French, Dutch, Danish, German, Italian, and Greek.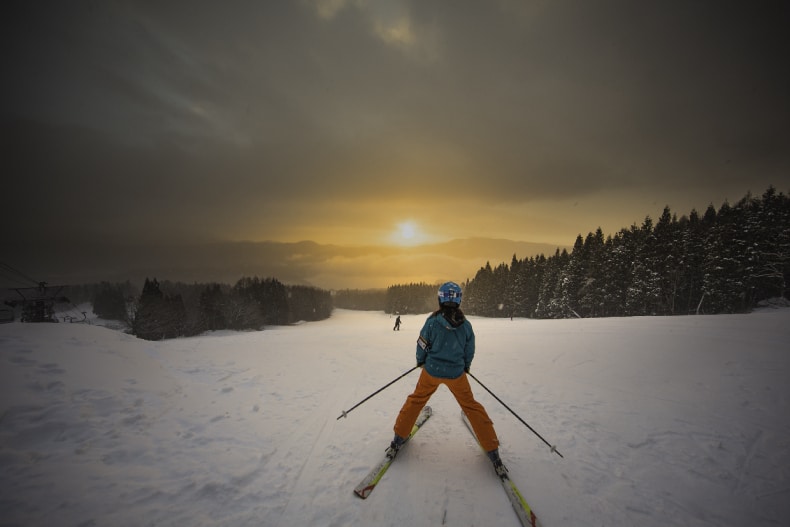 Activities, Things To Do, and Tours
Well-established in Hakuba are a variety of operators in cross country skiing, snowmobiling, snowshoeing, snow rafting and heli-skiing. Hakuba is also one of the Japanese destinations that offers immersive cultural experiences for tourists such as learning how to make soba noodles, do origami, wrap oneself correctly in a kimono, and attend a Japanese tea ceremony.
Hakuba Ski Jump area
Thanks to the legacy of the Olympics, you can look down the barrel of a genuine Olympic ski jump at the Hakuba Jumping Station: take a chair lift and elevator to the top of the 90 meter and 120 meter jumps, walk out on the start gates and imagine what it would be like to descend on skis and enjoy a splendid view of the Hakuba Valley.
Matsumoto Castle
A national treasure, the Matsumoto castle was completed at the end of the 16th century, and is the oldest castle still-standing in Japan. Surrounded by cherry trees, a backdrop of the Japanese Alps, and stunning traditional architecture, Matsumoto Castle is a must see experience.
Zenkoji Temple
The Zenkoji Temple is the site of the first buddhist statue ever brought to Japan. Zenkoji is Nagano City's main attraction with 1400 years of history. Each year 6 million people visit this famous Buddhist temple. Rebuilt in 1707, this huge structure is a masterpiece of Buddhist-influenced architecture.
Obuse and Suzaka
The historic town of Obuse, a terrific place to go for lunch, culture, shopping and sake. Obuse was once home to the world-renowned wood-block artist Katsushika Hokusai and is famous for both his art and delicacies made from the local specialty, chestnuts. Neighboring Suzaka is full of traditional architecture. One can get a sense of old Japan by walking its streets lined with white-walled 'kura' storehouses.
Jigokudani Wild Monkey Park
The famous Jigokudani Monkey Park where visitors can see wild macaques bathing in outdoor natural hot springs is a popular day trip from Hakuba. Jigokudani is a wonderful sight on a snowy winter day.
Hakuba Valley Restaurants, Bars  & Nightlife
The influx of overseas investors has significantly impacted on the winning and dining scene, to the point where Hakuba ranks among Japan's top ski resorts for apres and dining. Visitors to Hakuba can find small authentic Japanese restaurants serving local, fresh ingredients, as easily as they can Western-style restaurants in the style of steakhouses or pasta and pizza outlets. There is also plenty of choice in fine dining. Many higher end hotels have employed overseas chefs and their wine lists include top French, Australian, and New Zealand wines.
There are plenty of options in the valley for casual eating out with small Izakaya and restaurants serving handmade soba noodles and local pub-style tucker. The Japanese drumming and sake night with buffet and show is renowned as one of Goryu's best nights out. Those with adventurous palates should seek out the Wasabi Farm for wasabi ice-cream and wasabi beer.
Echoland is a renowned go-to area for apres ski and nightlife. Located between Hakuba 47 and Happo ski area, it has the highest concentration of bars and restaurants offering huge variety. The Korean-style charcoal grilled barbecue here is popular for its cook-your-own fare, as is Snow'd Inn, a small sports bar serving a range of dishes.
Happo Village
Blizzard is a great place for live music and wood-fired pizza served piping hot by an Italian team direct from tossing pizza in Naples.
Jack's Bar
Jack's Bar throws epic parties and is a great live sports bar with fireside après and nightly live music during dinner.
Unjaune
Across from the Adam Gondola, you can grab a huge burger and after hours several nights a week it transforms into a rave dance party.
Marillen Hotel — Bernd's Keller
Known as the best place to après location, the Marillen has indoor and outdoor seating with and extensive wine, cocktail local and imported beers list with live music and weekend DJs.
Hakuba Valley Shopping
Hakuba is particularly good for equipment shopping. Between Rhythm Snowsports and Central Snowsports you can source high quality ski and snowboarding equipment across demo, rental and retail. Central Snowsports has three locations – Happo-One, another closer to Wadano and Sakka and one at Goryu. The store is a go-to for one of the widest ranges you will find anywhere of powder snowboards, skis, the largest demo fleet in the valley plus Masterfit boot services.
Souvenir stores about throughout the Hakuba Valley and grocery stores and convenience stores are easy to find.