Keystone Resort
Keystone Resort is located in Summit County, Colorado, around 90 miles (144 km) from Denver International Airport, and is an ideal resort choice for families looking for that epic mountain experience.
With over 3,000 acres of skiable terrain from gentle beginner slopes up to expert terrain across three peaks and an in-bounds cat-skiing operation, five above tree-line bowls combined with rocking night skiing, there is truly something at Keystone for the whole family.
Families arriving at Keystone are greeted with free designated family parking and complimentary red wagons to transport the little ones back and forth to the slopes.
On the hill, kids will revel in the world's largest snow fort, and the daily free Kidtopia programs will on the ski hill and the village keep the kids entertained and coming back for more.
Plus, when you factor into the budget that kids 12 and younger ski free with two or more days of booked lodging through the resort, it's easy to see why Keystone is so popular with families.
Why Choose Keystone Resort?
Keystone Resort Is Family Friendly
Kids Under 12 Ski Free
The World's Largest Snow Fort For Kids
Designated Family Ski Areas
Largest Night Skiing In Colorado
Central Village With Giant 5 Acre Skating Lake
Keystone Key Statistics
Beginner Runs 12%
Intermediate Runs 39%
Advanced Runs 49%
Summit Elevation 12,408 Ft / 3,782 m
Ski Area 3,148 Ac / 1249 ha
Keystone Lift Passes At A Glance
The best value lift passes for Keystone Ski Resort is one of the EPIC lift pass options. You can learn about the various EPIC Lift pass options to ski and ride Keystone here.
You can purchase EPIC and Keystone 1 -7 day ski passes through us.
Top 5 Things To Do In Keystone
Skiing & Riding 3,000+ Acres Of Immaculate Groomers, Glades and Power Runs
Guided Cat Skiing Tours
Night skiing – Keystone Resort has the largest night skiing in Colorado, available on most weekends and holidays.
Snow Tubing
Ice Skating At Keystone Village
On-Mountain Dining At The Alpenglow Stube
Estimated Ski Season Opening Dates
November 6th and Season Closing April 11th.
Keystone Ski Area Mountain & Terrain
As the largest ski area in Summit County, Colorado the Keystone Resort's skiing and riding experience spans across three peaks—Dercum Mountain, North Peak, and the Outback.
With all your terrain wishes having been granted, from green open groomers, cruisy intermediate runs, steep bump runs, fun gladed terrain, five fun-filled bowls, and an award-winning mega A51 Terrain Park, you will find something for everyone when you choose to holiday in Keystone.
With a vertical drop of 3,128 ft (953 meters) and 128 trails serviced by 20 lifts across three distinct peaks plus a host of fantastic, on and off-snow activities for the whole family like ice skating in picture-postcard surrounds on giant lakes and specialty areas like Dercum Square a snow holiday adventure to Keystone should be on everyone's 'must visit' list.
The resort, Keystone definitely offers delightful skiing and on mountain adventures for the whole family no matter your skiing or riding ability level.
Keystone Ski Resort Statistics
| | |
| --- | --- |
| Skiable Terrain | 3,148 acres / 1249 hectares |
| Vertical | 3,128 ft / 953 m |
| Top Elevation | 12,408 ft / 3,782 m |
| Base Elevation | 9,280 ft / 2,829 m |
| Average Snowfall | 235 in / 19 ft / 597 cm |
| Intermediate Terrain | 32% |
| Advanced Terrain | 49% |
| Trails | 135 |
| Parks | 1 |
| Winter lifts Total | 20 |
| Gondolas Trams | 2 |
| Chair Lifts | 10 |
| Surface Lifts | 8 |
| Longest Run | 3.4 mi / 5.6 km |
| Mountain Restaurants | 5 |
| Snowmaking | 662 ac (267 hectares) |
| Season Opens | 7 November* (*estimate) |
| Season Closes | 7 April* (*estimate) |
How To Get To Keystone
Keystone Ski Resort is located 90 miles (144 km) west of Denver International Airport (DEN) and 72 miles (115 km) from downtown Denver, Colorado.
Flying into Denver International Airport (DEN)
Denver International Airport offers over 750 daily flights from 180 destinations, 20 of which are international, and is a nonstop destination for over 21 national and international carriers.
Flying In From Eagle County Airport (EGE)
Eagle County Airport is 65 miles (104 km) west of Keystone, Colorado and offers non-stop flights from: Atlanta, Chicago, Dallas, Denver, Houston, Los Angeles, Miami, Newark, New York/JFK, Phoenix, Toronto, and Washington D.C.
Driving To Keystone From Denver
Travel west on I-70. Take exit 205 toward Silverthorne/Dillon, Colorado. At the end of the exit ramp, turn left (east) onto Highway 6. Travel 6.2 miles (10 km) to Keystone Resort.
If you do drive to the resort Keystone, once there, you can take advantage of the free in-resort transportation system.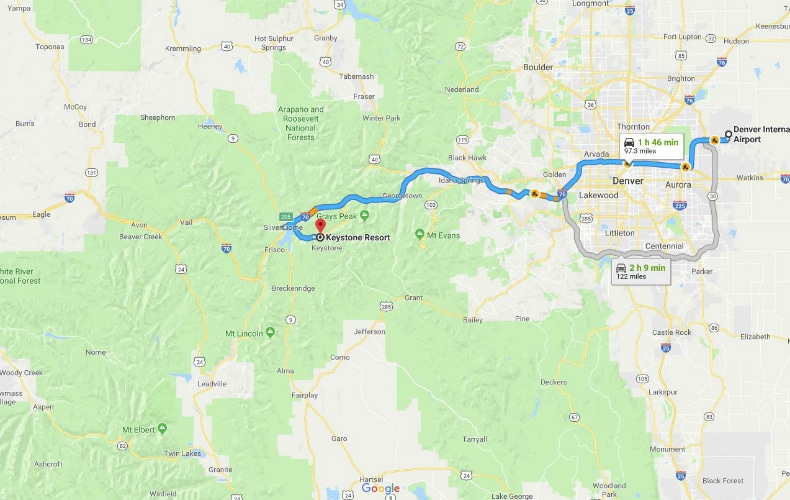 Lift Passes Options At Keystone Resort
The best value for lift passes is to get in early and order one of the EPIC Pass options that meets your needs to ski and ride at Keystone Ski Resort. The key to saving money is to invest in one of these non-refundable season pass type products as the walk-up window prices in season is one of the most expensive in the US, so you have been warned.
EPIC Pass – Unlimited access with no blackout dates
This is your season pass and is the best value if you plan on skiing as much as you can this winter.
EPIC Local Pass – Offers Access All Season With Holiday Blackouts A Limits On Days At Some Partner Resorts
This is your value pass if the limits at some partner resorts and the holiday blackout days don't affect you.
EPIC Day Pass – With our without holiday restrictions
The Epic Day Pass is a non-refundable season pass product offered in advance of the season that provides a discount of up to 68% off of lift ticket window prices. The Epic Day Pass allows you to customize your pass by choosing exactly the number of days you want, from 1 day to 7 days, and whether or not to add holiday access. Days do not need to be used consecutively. When purchased with holiday access, the Epic Day Pass allows guests to ski and ride any day(s) throughout the season and can be used at any of Vail Resorts' North American owned and operated resorts.
Keystone Snowsports & Ski School Improvement Programs
Keystone Resort has all of the lesson options you would expect from a highly rated market leading ski school including private and group lessons for adults, kids, and teens. The Keystone Ski and Snowboard School operates two meeting areas at the bottom of the River Run Gondola and the bottom of the Argentine Lift.
Keystone Adult Private Lessons
Adult (15+ year) private lessons are often the very best learning experience because of the individualized coaching. You also get to ski and learn on the specific terrain and areas you want' across Decrum, North Peak and the Outback Mountain Peaks, plus you can pick up lots of local knowledge on the best spots and when to hit them along with the benefit of skipping the lift lines.
Keystone Adult Group Lessons
Adult (15+ year) group lessons operate out of the base area for skiers and boarders. They run for a half-day with small group sizes. There is the option of a morning half-day or an afternoon half-day lesson. Group lessons do not include a lift pass, so you will need to arrange this separately.
Keystone Child Private Lessons
Children have fun with their highly trained kids ski instructor who know how to turn any day into a fun day. Plus, Keystone is well set up to add extra thrills thanks to their Kid's Adventure Zones and that includes the world's largest fort. Private lessons operate out of Keystone Village for skiers and boarders of all abilities. Jump the lift lines and explore the whole mountain subject to the child's ability.
Keystone Child Group Lesson
Make new friends and you improve your skills and be taken on an adventure around the slopes is just some of the magic when it comes to a group lesson at Keystone for the young ones. Child group lessons operate out of Keystone Resort for skiers and boarders of all abilities.
Children age 3-4: one-on-one, one-hour lessons
Children age 5-6: maximum class size of four
Children age 7+: maximum class size of six
Keystone Family Private Lesson
Explore all that Keystone has to offer with family and friends in group sizes up to six students. Share the memories and the fun and watch everyone improve or you may prefer to book a family private to jump the lift lines and get to the action before anyone else. Family private lessons operate out of Keystone Village for skiers and boarders of all abilities.
Activities, Tours & Things To Do in Keystone
Snow Tubing at Adventure Point
Location: On-mountain
The world's highest tubing hill awaits with multiple lanes of adventure.
Ph: +1 970-496-4386
Mountaintop Family Adventure Tour
Location: On-mountain
Mesmerizing scenic views of the Gore Range, Continental Divide, and Ten Mile Range.
Ph: +1 970-496-4386
Snow Biking at Adventure Point
Location: On-mountain
Snow biking. Lessons also available for all levels, including beginners – if required.
Ph: +1 970-496-4386
Kidtopia Snow Fort
Location: On-mountain
At the top of Dercum Mountain lies the World's Largest Snow Fort! Fun for the whole family.
Ph: +1 970-496-4386
Ice Skating
Location: Lakeside Village
There is a five acre lake that freezes in winter and is serviced by a Zamboni making the ice skating smooth and fun for the whole family.
Ph: +1 970-496-4386
Snow Shoeing
Location: On-mountain
Scenic views and fresh air. Fun for the whole family.
Ph: +1 970-496-4386
Keystone Restaurants, Bars & Nightlife
Ski Tip Lodge
Location: 0764 Montezuma Road ~ Keystone, Colorado 80435
Food: Soups, Salad or Appetizer, Dessert
Ph: +1 (970) 496-4950
Der Fondue Chessel
Location: Top of North Peak Mtn Keystone, CO 80435-7821
Food: Cheese Fondue, Caesar Salad, Traditional Raclette
Ph: +1 (970) 496-4386
Keystone Ranch
Location: 1437 County Road 150 Keystone, CO 80435
Food: Soups, Salads, Main Course, Dessert, etc.
Ph: +1 (970) 496-4161
Alpenglow Stube
Location: Top of North Peak Mtn Keystone, CO 80435
Food: Appetizer, Soup & Salad
Ph: +1 (970) 496-4386
Bighorn Bistro & Bar
Location: 22101 US Highway 6 Keystone, CO 80435-7821
Food: American Food, Seafood, Soups, Salad, Dessert
Bar: Yes
Ph: +1 (970) 496-4386
Sleigh Ride Dinner
Location: 22101 US Highway 6 Keystone, CO 80435-7821
Food: A delicious meal & experience.
Ph: +1 (970) 496-4386
Three Peaks at Mountain House
Location: Mountain House
Food: Handmade pizza, burgers, salads, and sandwiches
Ph: +1 (970) 496-4386
9280' Taphouse
Location: River Run Village
Food: Nachos, Margaritas
Ph: +1 970-496-4333
Edgewater Café
Location: Lakeside on the second floor of the Keystone Lodge & Spa
Food: Seasonal soups, salads, and sandwiches
Ph: 970-496-4955
Lakeside Deli
Location: Keystone Lodge & Spa, Lakeside Village
Food: Hot and cold sandwiches, paninis, bagels, baked goods, Starbucks coffees, and specialty drinks
Nordic Soup Bistro
Location: West Keystone, Nordic Center
Food: Soups, fresh-baked bread, snacks, and beverages
Labonte's Smokehouse BBQ
Location: On-Mountain, between Dercum and North Peak (bottom of Mozart/Diamondback)
Food: BBQ, house-smoked meats, and cold beverages
Summit House
Location: On-Mountain, Summit of Dercum Mountain, top of River Run Gondola and Montezuma Express Lift
Food: Snacks, pizza, burgers, make-your-own noodle bowls, and a full bar
Mountain House
Location: Mountain House base area, bottom of Peru Express lift
Food: Burrito, Starbucks coffee or specialty drink, burger or salad
Timber Ridge food court
Location: On-Mountain House on North Peak, across the Outback Gondola
Food: Fresh soups and chili, hand crafted pizza and a bountiful salad bar
Where To Shop At Keystone
Gorsuch Keystone Mountain
Location: 100 Dercum Sq, Keystone, CO 80435
Shop: Sports Wear, Women's Clothing, Men's Clothing
Ph: +1 (970) 262-0459
Arriesgado Clothing- Keystone
Location: 195 River Run Rd, Keystone, CO 80435
Shop: Women's Clothing, Men's Clothing, Accessories
Ph: +1 (970) 368-6454
Surefoot
Location: 195 River Run Rd, Keystone, CO 80435
Shop: Sports Wear, Shoe Stores, Outdoor
Ph: +1 (970) 468-6466
Shirt Off My Back
Location: 195 River Run Rd, Keystone, CO 80435
Shop: Fashion
Ph: +1 (970) 262-3723
The North Face
Location: River Run, Keystone, CO 80435
Shop: Outdoor Gear
Ph: +1 (970) 760-0570
Amazonia's Sweaters
Location: 195 River Run Rd, Keystone, CO 80435
Shop: Women's Clothing, Accessories
Ph: +1 (970) 262-6655
Rockin R Ranch
Location: 195 River Run Rd, Keystone, CO 80435
Shop: Souvenir Shops, Convenience Stores
Ph: +1 (970) 496-4631
Christy Sports Ski & Snowboard Rentals
Location: 219 River Run Rd, Keystone, CO 80435
Shop: Outdoor Gear, Ski & Snowboard Shops
Ph: +1 (970) 513-4647
Christy Sports Ski & Snowboard
Location: 23080 US 6, Keystone, CO 80435
Shop: Outdoor Gear, Ski & Snowboard Shops
Ph: +1 (970) 468-5775
Norski Sports
Location: 70 River Run Rd, Keystone, CO 80435
Shop: Bike Rentals, Ski & Snowboard Shops, Outdoor Gear
Ph: +1 (970) 468-1475
Keystone Sports Tune Shop
Location: 100 Dercum Square Buffalo E-16, Keystone, CO 80435
Shop: Sports Wear, Outdoor Gear
Ph: +1 (970) 468-0403
Caamano Loft
Location: River Run Rd, Keystone, CO 80435
Shop: Accessories, Leather Goods, Women's Clothing
Ph: +1 (970) 468-1999
Keystone Resort Logo Store
Location: 0140 Ida Belle Dr. Silvermill F-17, Keystone, CO 80435
Shop: Sports Wear, Outdoor Gear
Ph: +1 (970) 468-3569
Loveland Pass Liquors and Market
Location: 22869 US Highway 6, Keystone, CO 80435
Shop: Beer, Wine & Spirits, Grocery, Tobacco Shops
Ph: +1 (970) 468-0262
Keystone Sports – Mountain House
Location: 1195 Keystone Rd, Keystone, CO 80435
Shop: Sports Wear, Outdoor Gear
Ph: +1 (970) 496-4924
Keystone Ski Resort Trail Maps
Explore Keystone Ski Resort Trail Maps to find your ideal place to ride, catch up with friends, and more…