Steamboat continues to offer up truly memorable Colorado skiing experiences and adventures across its unique range of mountain peaks and Steamboat's world-famous Champagne Powder.
From Mount Werner, Sunshine Peak, Storm Peak, Thunderhead Peak, and Pioneer Ridge to Christie Peak there is a diversity of terrain with 165 trails for all levels of ability across 2,965 acres of ski terrain.
Steamboat is a genuine Colorado mountain town surrounded by ranches, horses, and cattle and remains steeped in tradition. The town folk are real, genuine, and friendly just like skiing and riding and they form a big part of the rich community feel and ranching heritage.
Each February, cowboys, and cowgirls race their horses down Lincoln Avenue and tow young skiers behind them on ropes, as part of the Winter Carnival, in a tradition that has brought the Steamboat Springs community together, which began in 1914.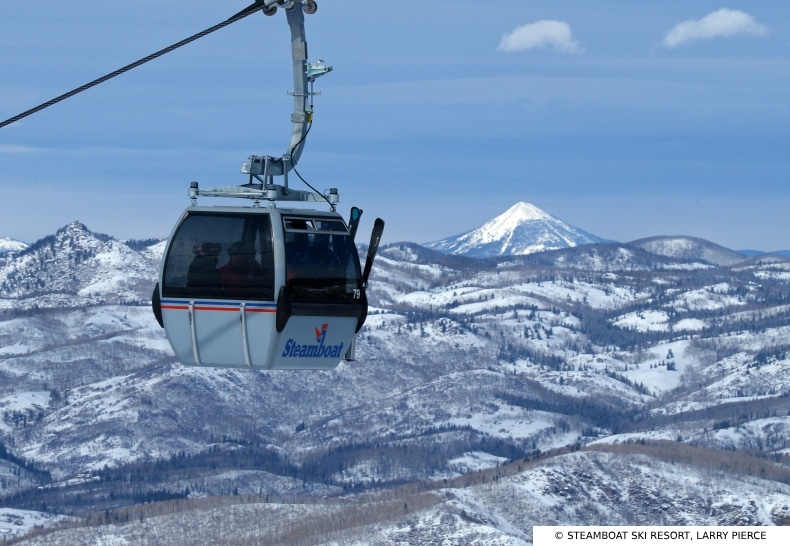 Known as Ski Town USA, there may be something in the Steamboat water, having produced 98 Olympians and 19 medals and still counting. In 2018 they sent 15 athletes to the games. Steamboat is one of the only ski towns in the world where you can rub shoulders with so many locals, who also just happen to be Olympians.
With a base elevation of 6,900 feet (2,103 meters) and a vertical rise of 3,668 feet (1,118 meters) the slightly lower elevations, as compared with Steamboat's front range neighbor resorts makes arriving into Steamboat a really great option as it's easier to acclimatize to the elevation, especially if you are flying in from sea level.