Winter Park Ski Resort
Three mountain peaks and seven distinct territories across 3,081 skiable acres (1246 hectares), make up a fun family friendly experience that is a ski trip to Winter Park. Located in Grand County, Colorado, Winter Park is 90-minutes' drive from Denver, and sits at a base elevation of 9,000 feet (2,743 meters).
The Winter Park's seven territories kicks off with the Winter park Territory that offers family friendly groomers and long cruisers and allows for families to ski together. Plus, skiers right off the Eskimo Express allows parents to also ski a black diamond or two. The Mary Jane Territory is legendary for its bumps, bumps and more bumps and tree skiing. You can recharge throughout the day at the Lunch Rock that sits atop Mary Jane. The Lunch Rock services five of the seven territories and be sure to try the Mary Jane Ale, especially if you have finished for the day, it's a local's favourite.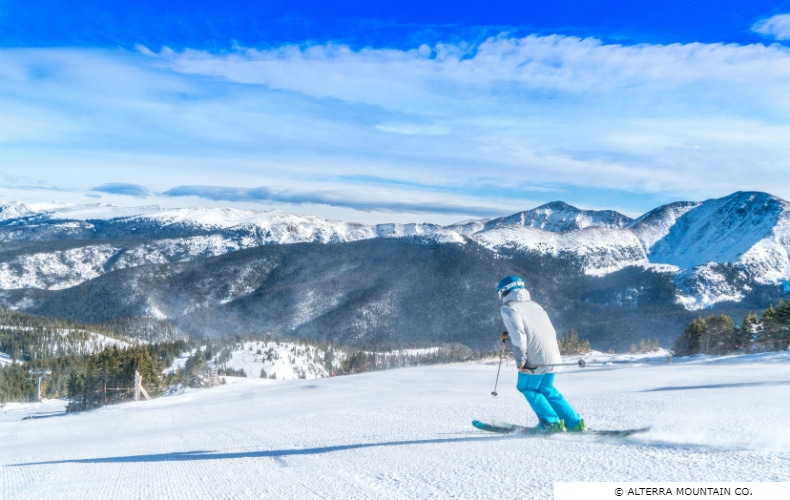 Winter Park Mountain & Ski Terrain
Parsenn Bowl with is breathtaking 360-degree views offers great wide-open bowl skiing and is intermediate friendly. Lapping the bowl on the aptly named Panoramic Express is a real treat. Vasquez Ridge is a little off the beaten track and gets you out into the Colorado wilderness. This area seems to hold onto its intermediate and advanced powder sashes for the longest time. Step even further into the wilderness at Eagle Wind on the side country black terrain that feeds and winds you into forest and glades.
The Cirque Territory is Winter Parks most challenging terrain of 339 acres of double black diamond terrain. The Cirque is made more accessible with the Cirque Sled. A 48-passenger sled that's pulled by a snow cat, where previously you had to hike. For $20 this will cover you for the season.
With vertical drop of 3,060 feet (932 meters), Winter Park has the goods when it comes to a we laid out skier friendly resort.
Winter Park Statistics
| | |
| --- | --- |
| Skiable Terrain | 3,081 acres (1,247 hectares) |
| Vertical | 932 m (3,060 ft) |
| Top Elevation | 3,840 m (12,600 ft) |
| Base Elevation | 2,743 m (9,000 ft) |
| Average Snowfall | 940 cm (370 in/31ft) |
| Beginner Terrain | 8% |
| Intermediate Terrain | 18% |
| Advanced Terrain | 19% |
| Trails | 143 |
| Winter lifts Total | 25 |
| Gondolas Trams | 1 |
| Chair Lifts | 19 |
| Surface Lifts | 5 |
| Mountain Restaurants | 11 |
| Snowmaking | 313 ac (126 hectares) |
| Season Opens | November |
| Season Closes | May |
How To Get To Winter Park
Winter Park Resort is located in the Rocky Mountains 67 miles (107 km) northwest of Denver. Winter Park Resort is the closest major destination resort to Denver International Airport.
Flying To Winter Park
Denver International Airport (DEN) Is A 90-Mile (144 km) Drive From The Airport To Winter Park  And Is Served By Most Major Airlines.
Driving To Winter Park
From The Denver Metro Area, Via I-70 West And Us Hwy 40, A 75-Mile Drive To Winter Park.
Train To Winter Park
Amtrak's California Zephyr Between Chicago, Il To Oakland, Ca Makes A Stop In Fraser. Once Daily Eastbound, Once Daily Westbound.
Local Shuttle
There Is A Free Community Shuttle, With "The Lift"!
Winter Park Things To Do, Activities & Tours
Guided Mountain Experience
Location: Winter Park Resort
Perfect For Intermediate To Expert Skiers And Riders Looking To Get The Most Out Of Their Vacation
Phone: +1 (970) 726-1554
Cirque Sled
Location: The Cirque
There Now An Easier Way To Access The 399 Acres Of Spectacular Off-Piste Terrain In The Cirque Territory. The Cirque Sled Is A 48-Passenger Sled Pulled By A Snowcat.
Phone: +1 (970) 726-1564
Tube Park
Location: Tube Park At Winter Park Resort
The Tube Park Features Four Individual Lanes, Exciting Banked Curves, A Covered Conveyor Lift Ride Back To The Top And The Comfortable Hill House Warming Lodge.
Phone: +1 (970) 726-2349
Dog Sled Rides
Location: Winter Park Surrounding Activity Area
Winter Dog Sled Rides Are Rides Where The Dogs Pull The Sled Around Winter Park Private Trail System.
Phone: +1 970-387-8326
Fat Biking
Location: Winter Park Surrounding Activity Area
40 km Of Fat Bike Groomed Trails Reserved Exclusively For Bikes.
Phone: +1 (800) 979-0326
Ice Skating
Location: Winter Park Resort Ice Skating
Outdoor Village Ice Rink, Located In The Heart Of The Village
Phone: +1 (800) 979-0326
Tuesday Broomball
Location: Winter Park Resort
Watch Or Participate As You Slip And Slide Across The Ice.
Phone: +1 970-726-5514
Thursday Kids' Night Out
Location: Winter Park Resort
Kids Night Out With Our Professional Caretakers.
Phone: +1 970-726-5514
Nordic Skiing
Location: Winter Park Surrounding Activity Area
Nordic Ski At Many Locations Throughout Grand County!
Phone: +1 (800) 979-0326
Friday Mini Rail Jam
Location: Winter Park Surrounding Activity Area
Little Jibbers Practice And Show Off Their Tricks Every Friday.
Phone: +1 (800) 979-0326
Scenic Snowcat Tour
Location: Winter Park Surrounding Activity Area
Explore The Resort Terrain In A Loop Tour That Travels Across Beginner, Intermediate, And Expert Trails.
Phone: +1 (888) 221-1806
Ski Bike Tours
Location: Winter Park Surrounding Activity Area
Description: Day Ski Bike Tours (Ages 14+)
Phone: +1 (888) 221-1806
Sleigh Rides
Location: Winter Park Surrounding Activity Area
A Horse-Drawn Sleigh Ride Through Snow Covered Meadows.
Phone: +1 (970) 887-1999
Winter Park Restaurants, Bars & Nightlife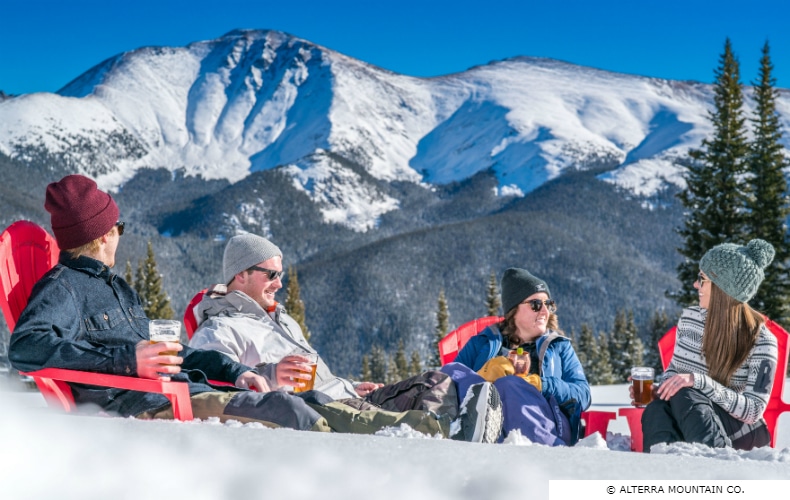 Sunspot Mountaintop Lodge
Location: Located Atop Winter Park Mountain At 10,700' Above Sea Level
Food: American
Bar: Wine Only
Phone: +1 (970) 726-1446
Lunch Rock
Location: Located Atop Mary Jane Territory
Food: French Dip Au Jus/Slow Roasted Butternut Squash Soup/Lunch Rock Caesar Salad/Ratatouille Pizza
Bar: Yes
Phone: +1 (970) 726-1628
Snoasis
Location: Located Between The Base Of The Eskimo And Prospector Lifts
Food: Grilled Cheese Sandwich/Grilled Ham And Cheese Sandwich/Homemade Tomato Basil Bisque/ Corned Beef Ruben/Piglet
Bar: Yes
Phone: +1 (970) 726-1440
Sundance Chili Hut
Location: Located At The Top Of The Pioneer Lift In Vasquez Territory
Food: Hot Dog/ Chili Cheese Dog/ Pulled Pork Sandwich/ Frito Pie
Bar: No
Phone: (970) 726-1564
Pepperoni's
Location: Located At The Base Of The Jane
Food: Pizza
Bar: Beer Only
Phone: +1 (970) 726-1564
Mary Jane Market Café
Location: Located At The Base Of The Mary Jane Trail
Food: Chicken Pot Pie/Eagle Wind Beef Stew/Mary Jane Signature Panini/Buffalo Brat/Cirque Burger
Bar: Beer Only
Phone: +1 (970) 726-1564
Derailer Bar
Location: Located At West Portal Station Next To The Children's Center
Food: Frickles/Bourbon Brisket Sliders/Sorensen Philly/Winter Park Burger
Bar: Yes
Phone: +1 (970) 726-1438
Doc's Roadhouse
Location: Located At The Base Of The Mountain
Food: Pro Shop Tacos/Pot Roast Grilled Cheese/Doc Susie's Salutation/Fried Chicken/Doc's Ravioli
Bar: Yes
Phone: +1 (970) 722-5450
Moffat Market
Location: Located At The Base Of Winter Park
Food: Braised Pork Street Tacos/Italian Salad/Winter Park Burger
Bar: Beer/Wine
Phone: +1 (970) 726-1564
Coffee And Tea Market
Location: Located In Balcony House At The Base Of Winter Park Mountain
Food: Home Baked Sweets
Bar: Yes
Phone: +1 (970) 726-5095
Vertical Bistro And Tap
Location: Winter Park Resort Village
Food: American Bistro-Style
Bar: Yes
Phone: +1 (970) 363-7053
Goodys Mountain Creperie
Location: Winter Park Resort Village
Food: Classic Home-Cooked Food
Bar: Yes
Phone: +1 (970) 726-2030
Lime
Location: Located At The Base Of Winter Park Ski Resort
Food: Mexican Food
Bar: Yes
Phone: 970-726-5463
Pizza Pedal'r
Location: Winter Park Resort Village
Food: Pizza
Bar: No
Phone: +1 (970) 726-5944
Starbucks
Location: Located On The Zephyr Mountain Lodge
Food: Hot Breakfast/Lunch Sandwiches/Pastry Items/Caffeinated Beverage
Bar: No
Phone: +1 (970) 722-5400
City Pop
Location: Located In The Center Village At Winter Park Resort
Food: Gourmet Popcorn/Caramel Apples/Chocolates
Bar: No
Phone: +1 844-City-Pop
Waffle Cabin
Location: Winter Park Resort Village
Food: Belgian Sugar Waffles
Bar: No
Hill House
Location: Winter Park Resort Village
Food: Fresh-Baked Cookies
Bar: No
Club Car
Location: Winter Park Resort On Mountain Dining
Food: Vasquez Ridge Queso/Poutine/Bison Ruben/Cuban/Triple Diamond Burger
Bar: Yes
Phone: +1 (970) 726-1442
Five Mountain Tavern
Location: Located Next To 5 Mountain Tavern And The Vintage Hotel
Food: Fish & Chips/Stuffed Chicken Marsala/Grilled Tenderloin Tips/Churchill Sliders
Bar: Yes
Phone: +1 (970) 726-8801, Ext 2
Winter Park Resort Shopping
Mountain Adventure Center
Location: Located Just Steps From The Zephyr Lift At The Winter Park Base
Shop: Salomon, Rossignol, Head, Dynastar And K2
Phone: +1 (970) 726-1673
West Portal Outfitters
Location: Located Under The Moffat Market In The West Portal Building
Shop: Winter Park Logo Apparel, Souvenirs, Kids And Adult Ski Apparel And Helmets
Phone: +1 (970) 726-1666
Burton Store
Location: Winter Park Village Shops
Shop: Apparel, Goggles And Helmets
Phone: +1 (970) 726-2347
James And Parry's
Location: Winter Park Village Shops
Shop: Chic Mountain Fashion, Accessories, Winter Park Logo Wear And Souvenirs
Riverside Spirits
Location: Winter Park Resorts Retail Shopping
Shop: Service Liquor, Wine, And Beer Shop
Phone: +1 (970) 726-3002
Trail's End Mercantile
Location: Located In The Zephyr Mountain Lodge At The Base Of Winter Park Mountain
Shop: Groceries, Ski Accessories, Gifts And Souvenirs
Phone: +1 (970) 726-5854
Treeline Treats
Location: Located In The Riverside Building Of The Zephyr Mountain Lodge
Shop: Candy, Snacks
Phone: +1 (970) 722-5455
Shirt Off My Back
Location: Winter Park Resorts Retail Shopping
Shop: Resort Apparel, Ranging From Classic Pullover Hoodies To Functional On-Mountain Gear
Phone: +1 (970) 726-5581
Showcase Snowboards
Location: Located At The Base Of The Mountain
Shop: Ride, Salomon, K2, Bonfire, Nikita, Vans, Smith, Volcom, And Much More
Phone: +1 (970) 726-1674
The Columbia Store
Location: Located At The Base Of The Cabriolet
Shop: Columbia Apparel
Phone: +1 (970) 726-1676
The Jane Shop
Location: Winter Park Resorts Retail Shopping
Shop: Skis, Apparel, T-Shirts, Hoodies
Phone: +1 (970) 726-1670
Photo Credit: © ALTERRA MOUNTAIN CO., CHRISTOPHER D THOMPSON