Myoko Kogen Ski Resort
Myoko Kogen, an hour north of Nagano, is an authentic and rustic traditional Japanese mountain town famous for receiving copious amounts of snow – over 45 feet (14 m) each winter providing an average 13 foot (4 m) base. The area is one of the top three destinations (some say the best) for riders alongside Nozawa and Hakuba on Japan's main island Honshu. Myoko is so highly regarded that the Japanese Imperial family often stay at the ski-in ski-out Akakura Kanko Resort & Spa where they can watch the sunset over the valley from an infinity-edge onsen.
Myoko offers skiing from mid-December to mid-April across 5 main resorts from three distinctive bases, with two more accessible to the east on Mt Madarao. The Myoko Mountain range lies close to the Japan Sea and includes several high summits, including Myoko (the tallest at 8000 feet (2454 m), Mitahara, Akakura, Kurohime, Mae, and Maru.
These peaks and their surrounding slopes are blanketed in deep powder snow all winter and it is not unusual to wake up to 3 feet (30cm to a meter) of fresh powder.
There are several villages along the valley floor at the base of the ski area lifts –  Suginosaw Onsen, Ikenotaira Onsen, Shin-Akakura Onsen, Seki Onsen, and Akakura Onsen, with Myoko Onsen a little further afield. All are linked by the low-cost Myoko Shuttle bus which runs continuously during the day. The towns are steeped in local custom and culture and filled with many traditional Japanese ryokans, pensions and lodges, and large and small hotels. An increasing number of Western-owned and Westernised businesses have opened here yet authenticity remains.
Myoko is also renowned for its numerous onsen and beautiful scenery, from sunrises over Mt Myoko to volcanoes, Lake Nojiri, and views to the Sea of Japan on clearer days. Such extraordinary natural assets see the area consistently voted one of the most beautiful ski areas in Japan.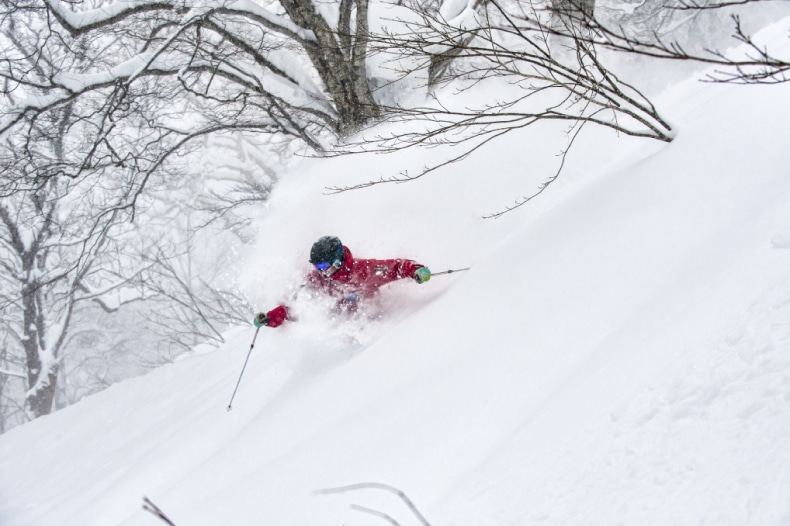 Myoko Kogen Accommodation
Lodging across Myoko ranges from beautifully appointed resort-style hotels to cozy family-run pensions and ryokan. Some are even run by descendants of the same families who established them as far back as the Edo Period of 1603 to 1868.
Akakura Kanko Resort & Spa Hotel is the leading five-star facility. It was built by Baron Okura after he chose the area around it for a ski resort. The hotel dates back to 1937 and is still the centerpiece of the region. Other popular places to stay are the Akakura Hotel and Oyado Furuya.
Myoko Kogen Mountain & Ski Terrain
From deep powder to long scenic slopes, mogul runs to excellent backcountry, there is something for everyone in Myoko across its expansive, uncrowded slopes. There is a total of 35 lifts and gondolas serving 54 runs with a top gradient of 38 degrees. At 3690 feet (1124 m) the vertical drop here is among the longest in Japan. The terrain is weighted in favor of novices, with the split 45% beginner, 35% intermediate and 20%.
Myoko's ski terrain comprises Akakura, Seki, Suginohara, and Ikenotaira Onsen as well as the smaller Kyukamura and Myoko.
Myoko lays claim to Japan's longest continuous run which is found at Suginohara, a 5.3 mile (8.5 km) run from the shoulder of Mt Myoko to the base area almost 3600 feet (1100 m) below. There is a wide variety of tree skiing across the resorts, with many glades of thick beech and aspens spreading out from Myoko's upper slopes which run along the top of the forest line.
The family-friendly slopes are found at Kyukamura and Myoko Ski Park. The least crowded slopes tend to be in Seki, the smallest ski area located right on the boundary at the northwestern end of Mt Myoko.
Ikenotaira is the go-to for those new to tree/powder skiing because the snowfall here is a little less than at other areas, which means not having to tackle waist-deep powder when still figuring out the boot deep stuff. The pitch is also fairly mild.
Akakura Kanko is a more modern resort, Akakura Onsen is more laid back and old school. Backcountry skiers are encouraged to pay close attention to the weather and avalanche signs. The heavy snowfalls bring dreamy deep powder and can also create tricky conditions.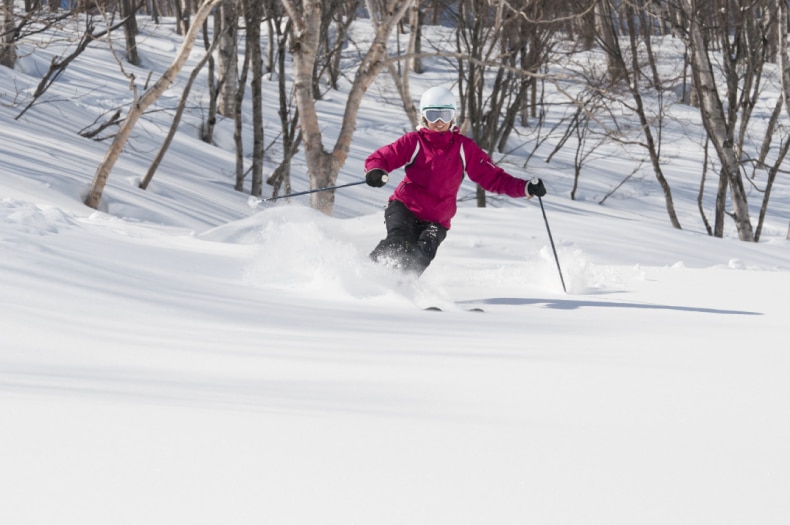 Myoko Kogen Statistics
| | |
| --- | --- |
| Vertical | 1124 m (3687 ft) |
| Top Elevation | 1855 m (6085 ft) |
| Base Elevation | 731 m (2398 ft) |
| Average Snowfall | 1300 cm (511 in/42 ft) |
| Beginner Terrain | 40% |
| Intermediate Terrain | 40% |
| Advanced Terrain | 20% |
| Parks | 1 |
| Pipes | 1 |
| Winter lifts Total | 6 |
| Longest Run | 4.5 km (4.79 mi) |
| Season Opens | December |
| Season Closes | April |
How To Get To Myoko Kogen
Myoko is easily accessible from Tokyo, Osaka, and Nagoya.
The fastest and most popular way to get there from Tokyo is via a one-hour 50 minute trip on the Nagano Shinkansen (or bullet train) to Nagano, then changing trains in Nagano and taking the Shinetsu train line to Myoko. Shuttles take guests from the station to Myoko's main accommodation centers, including Akakura Onsen, about 10 minutes away. Nagano Snow Shuttle also runs direct services from Tokyo's airports to Myoko.
Myoko Shuttles can also be booked for transfers between Myoko and Nagano Station, Hakuba, and Nozawa.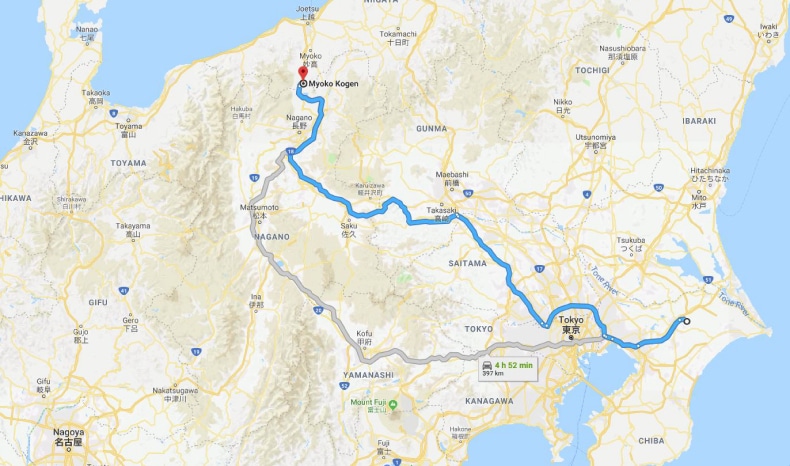 Myoko Kogen Ski Schools & Snowsports
There are two ski schools – Myoko Snowsports, a ski school as well as high-quality ski and snowboard retail, and The Akakura Yodel Ski School. Myoko Snowsports is also the place to go for professional snow photography and special children's programs. All staff have overseas instructing experience, are internationally qualified, and speak native or fluent English.
The Akakura Yodel Ski School has been established for more than 50 years and is one of the oldest and longest-running businesses in Myoko let alone on the mountain. Yodel has a menu of private ski and snowboard lessons, kids' private and group lessons, freestyle clinics, multi-resort programs, as well as ski and snowboard rentals and photography.
Myoko Kogen Things To Do, Activities and Tours
Dancing Snow is the main backcountry outdoor adventure center for both international and Japanese guests. Here you can find bilingual guides to take you on several hour tours up the majestic peaks for great descents through the Myoko forests.
Also available is snow hiking into the Akakura woods on light telemark skis or on snowshoes, with a hot lunch prepared by your guide. Overnight hut tours and bespoke tours can be arranged.
Dancing Snow is based in Shin-Akakura and the tours described above are run throughout all areas. The telemark ski lessons are held at Akakan Ski Area. Backcountry gear rental is also available.
Bilingual guides take snowshoe tours through the forest giving guests the opportunity to see rabbits, tanuki raccoons, foxes, and numerous birds.
On-mountain childcare is available should you want to spend the day skiing with your partner.
Myoko Kogen Restaurants, Bars & Nightlife
Myoko is full of gastronomic delights – think the best and freshest seafood from the nearby Sea of Japan served up with local mountain vegetables – and sensational sake. Try local homemade soba noodles, sasazushi – a unique style of sushi using bamboo leaves – plus delicious Western and Chinese cuisine. Myoko's three breweries produce particularly fine sake made by pain-staking old-fashioned methods, while locals make wine from the area's wild grapes.
Akakura is the center of Myoko's apres-ski and dining scene. Typical of Myoko's homely, family-run restaurants is Syokudo Shibatain on Akakura Onsen's main street. This is your traditional Japanese style restaurant specializing in ramen noodle dishes and yaki-niku (grilled thin meats). Other places to try include sophisticated wine bar Panorama to the pub-style Lamber Jack and Skate Bar.
One of the most upmarket dining establishments is the French restaurant in the ski-in ski-out Akakura Kanko Resort & Spa. For a simple, less pricey snack try the cakes at the resort's patisserie and enjoy them on the sun terrace.
Myoko Kogen Beer Hall, or Alpenblick Tatra, is located in Ikenotaira near Hotel Alpenblick. The place is huge, seats 400, and aims for a Swiss ski lodge atmosphere decked out in international flags and beer steins.
Akakura Restaurant Shibata
Location: main street of Akakura Onsen
Food: Japanese, Barbecue
Bar: Yes
Phone: +81 0255-87-2936
Asagao
Location: 476 Akakura, Myoko
Food: Japanese, Western cuisine
Bar: Yes
Phone: +81 255-87-2922
Dorane
Location: inside Hotel Mumon
Food: Japanese style
Bar: Yes
Phone: +81 255-87-2266
Harumi
Location: main street next to Aoyama Sports
Food: Japanese
Bar: Yes
Phone: +81 255-87-2384
Hunter
Location: near the main t-junction in Akakura Onsen
Food: Japanese, Asian
Bar: Yes
Phone: +81 255-87-2247
Koyama
Location: main street opposite the 7th Door Ryokan Koyama
Food: Japanese style food
Bar: Yes
Phone: +81 255-87-2792
Miyoshiya
Location: located at street level on the corner of the Akakura t-junction
Food: Japanese
Bar: Yes
Phone: + 81 255-87-2068
Myoko Kogen Shopping
Souvenir and most other kinds of stores proliferate both in and around the Myoko Kogen train station and Akakura's main street. Akakura is also where you will find a few convenience stores and a pharmacy plus many others selling everything from light-as-air cakes to chopsticks and homewares. Ski and snowboard equipment stores are few with many outlets focussing on rental only.
The substantial base facility at Suginohara is a good place to pick up ski accessories such as gloves and goggles along with snacks.
If you are looking to truly shop, head for Joetsu City a short distance by bus or train from Myoko Kogen, and indulge in retail therapy at the Wing Market (Jusco)_ shopping area for retail therapy.
Open Market "Rokusai-ichi"
Location: near the Ichi Shrine
Shop: fresh vegetables, fruits, fish, wild plants, flowers and much more
The Rice and Sake Warehouse of Wonder
Location: 867-1 Sanwa-ku in Joetsu City
Shop: liquors, Japanese rice, and sake
Phone: +81 025-532-4189
Kawakami
Location: 1223 Kitagata, Joetsu City
Shop: wines
Phone: +81 0255-28-4002
St. Cousair Winery
Location: near JR Mure station
Shop: gift shop and winery
Phone: +81 026-253-7002
Shinano Brewery
Location: Kurohime Heights
Shop: souvenir, liquors
Phone: +81 026-255-6633
The Myoko Kogen Beer Hall
Location: near the Hotel Alpenblick
Shop: liquors
Phone: +81 0255-86-2600
Photo Credit: