Kicking Horse Mountain Resort
Kicking Horse Mountain Resort is a spectacular winter playground for skiers and boarders who enjoy big mountain skiing, lift access extreme terrain, easy access hiking to extreme and bowl ski terrain in the self-proclaimed champagne powder capital of Canada. Riding up the golden eagle express gondola, you literally feel you been dropped at the top of the world with spectacular 360° views of hell ski mountain ranges.
With the vertical drop of 1260 metres (4,133 feet) and over 2800 skiable acres of upper mountain heli-ski like to terrain that includes 85 inbound open bowls, steeps, chutes, trees 'runs' that feed down the mountain into a network of 120 more traditional groomed and bump runs that eventually feeds you down to the Gondola, which can then get you back to the top of the mountain in under 12 minutes – to do it all again if you dare!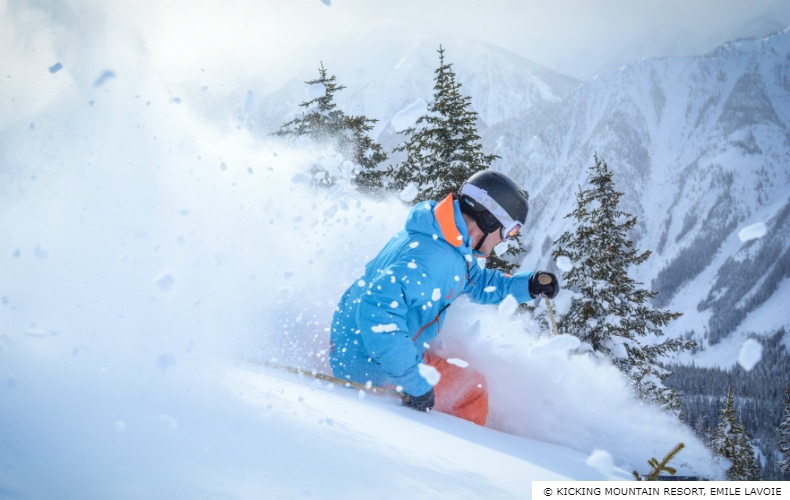 Kicking Horse Lodging & Accommodation Options
There are multiple on mountain options for you including many ski in ski out including the Glacier Mountaineer Lodge at the Gondola Base the upscale Palliser Lodge plus there are also town homes on offer. If you really want to treat yourself, the Eagle's Eye Suites are atop the mountain with spectacular views of the Town of Golden, Columbia Valley, Rocky, Purcell & Selkirk Mountains.
Your other option is to stay in the small town of Golden, 17 minutes (14 km / 10 mi) down from the mountain and choose from the Travelodge, Best Western and the Prestige Inn.
Kicking Horse Mountain & Ski Terrain
Riding up the Golden Eagle Express Gondola takes you to the top of the mountain to 2,450 metres (8,033 feet) . If you take a glance at the trial map while riding the gondola, you will see predominantly black and double black diamond options that lay ahead via four alpine bowls. So it's no wonder Kicking Horse is one of the stops for the Freeride World Tour. There is one green trail that makes it way from top to bottom and some gentle blue terrain in Crystal Bowl but otherwise, you need to be a strong skier and boarder.
Lower down there are options for blues and greens, but right now from the top of the Eagle Eye Gondola and Restaurant, here are your options. There is Super Bowl that's the farthest inbounds area that's skiers right and to access it requires a high traverse (through Bowl Over) and you are hiking and it's requires lots of extreme skills to get there. Or straight from the gondola, there is gladded skiing as you jump into Bowl Over that feeds into the blue run valley of Sluiceway.
Heading skiers left from the top of the gondola, and you can hit the double blacks of CPR ridge or take the green cat-track into Crystal Bowl where you can do some laps on Stairway to Heaven taking advantage of the gladded trees. Or you can head out into the fourth bow, the farthest on skiers left and into the double black playground of Feuz Bowl.
When skiing at Kicking Horse Mountain Resort if you go beyond the ski area boundary, you will find yourself immediately in an extremely dangerous and life-threatening backcountry wilderness areas where each year multiple involvements with avalanches occur, some resulting in loss of life. If you do leave the patrolled area, you need to be properly trained and equipped for self rescue as mountain rescue is not available.
For those of you looking for less heart and adrenaline pumping action and more moderate blue intermediate skiing, you'll find yourself enjoying laps on the Pioneer double chair or the Catamount quad chair that also opens up the majority of the green cruising and learning terrain as well.
Kicking Horse Statistics
| | |
| --- | --- |
| Skiable Terrain | 2,750 acres (1,112 hectares) |
| Vertical | 1,260 m (4,133 ft) |
| Top Elevation | 2,450 m (8,033 ft) |
| Base Elevation | 1,190 m (3,900 ft) |
| Average Snowfall | 7 cm (275 inches/23 ft) |
| Intermediate Terrain | 20% |
| Advanced Terrain | 45% |
| Parks | 1 |
| Winter lifts Total | 5 |
| Gondolas Trams | 1 |
| Chair Lifts | 3 |
| Surface Lifts | 1 |
| Lift Capacity | 5,500 |
| Longest Run | 9.9 km (6.2 mi) |
| Mountain Restaurants | 5 |
| Snowmaking | 516 ac (208 hectares) |
| Season Opens | 6 December, 2018 |
| Season Closes | 14 April, 2018 (Estimated) |
How To Get To Kicking Mountain Resort
Kicking Horse Mountain Resort is a three-hour drive (292 km / 181 mi) from Calgary International Airport. It's a one-and-a-half-hour drive from Banff (145 km / 90 mi). It is around a four-hour drive from Kelowna, a five-and-a-half-hour drive from Edmonton, a five-hour drive from Kalispell, and a six-hour drive from Spokane.
There is a shuttle service that runs between Kicking Horse Mountain Resort in Calgary International Airport, however it doesn't run every day of the week.
Kicking Horse Snowsports & Ski School
One thing you'll notice that's a little different about Kicking Horse Mountain Resort Winter Sports School is they offer of a Big Mountain program, as well is the traditional Adult lessons, Kids lessons, daycare and multiweek improvement programs.
The Big Mountain program is where you get to immerse yourself in the local mountain culture and maximise your day or half day with lift line priority where you get to push yourself to a whole new level as you explore the seemingly endless steep and deep Kicking Horse Mountain Resort terrain. As a side note, you can also participate in Avalanche Safety Training, when you stay at Kicking Horse Mountain Resort.
The rest of the snow school program offering is similar to what you'll find at other Canadian ski resorts, however your coaches having chosen to live and work on a mountain that offers such easy access steep and very steep terrain, that you will find your coaches will be predominantly strong and knowledgeable big mountain skiers and boarders.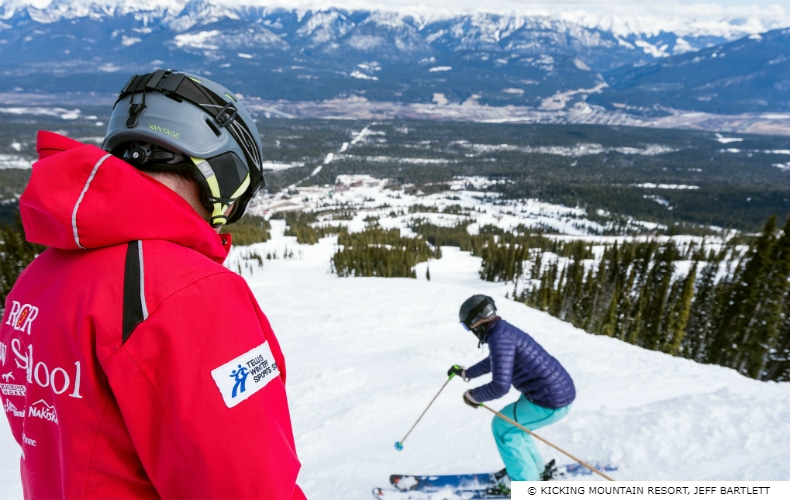 Kicking Horse Things To Do, Activities & Tours
The winter activities at Kicking Horse Mountain Resort include Heli skiing, snowmobiling, cross country, tubing, snowshoeing, telemark skiing and ice-skating. Kicking horse Mountain resort is also a stop for the Freeride World Tour in 2018.
Purcell Heli-Skiing
Location: Golden, BC
A massive heli skiing tenure and abundant powder of approximately 590 inches (15 metres) of snowfall per season.
Ph: + 1 250-344-5410
Rocky Mountain Riders Snowmobile Tours
Location: Bases South of Golden and at Kicking Horse Mountain Resort
Ride trails to Wiseman Lake, Quartz Creek or Gorman Lake to open powder play areas and views.
Ph: +1-877-950-7533
White N' Wild Snowmobile Tours
Location: Located in Golden, BC
Smooth-riding snowmobile on the beautiful, snowy mountain trails.
Ph: + 1-800-668-9119
Cross Country Skiing
At the scenic Dawn Mountain Nordic Centre less than 1 km from the base of Kicking Horse Mountain Resort
Gentle beginner loops to the more stamina-testing outer loops with challenging uphills and exciting downhills.
The Tube Zone
Location: In the heart of the Kicking Horse Plaza
A family fun activity where an individual rides on top of a tube.
Ph: +1-866-754-5425
Snowshoeing
Location: At the Dawn Mountain Nordic Centre less than 1 km from the base of Kicking Horse Mountain Resort
Walk on flat or rolling ground wearing snowshoes.
Telemark Skiing
Location: Kicking Horse Mountain Resort
Free your heels for a fun day on the slopes.
Ph: +1.866.754.5425
Ice Skating
Location: The Village Rink ice surface at new Learning Centre
Bring your skates and enjoy the natural ice surface.
Ph: +1 (800) 258-7669
Gondola Sightseeing
Location: At Kicking Horse Mountain Resort
Sweeping valley views and breathtaking vistas
Ph: +1.866.754.5425
Kicking Horse Restaurants, Bars & Nightlife
Kicking Horse Mountain Resort offers you Canada's most elevated dining experience at the Eagle's Eye Restaurant a top the Eagle's Eye Gondola. Spectacular views of endless heli ski mountain ranges. Open for lunch every day, dining is available during the winter season on Friday and Saturday nights and includes the gondola ride with your reservation. Bookings are recommended +1 (250) 439 – 5425.
The Whitetooth Grill in the day Lodge, is named after the original ski hill and serves home-made comfort food during the day from full breakfasts to gourmet burgers and pizza for lunch and après menu at the end of a great day skiing.
Open Friday, Saturday Sundays and holidays is Heaven's Door Yurt located at the base of Stairway to Heaven chairlift and offers soul food with international influences.
Village dining includes Winston Bar and Bistro, Peaks Grill a Kicking Horse hotspot, Double Black Café and Copperhorse Steakhouse for casual Rocky Mountain cuisine.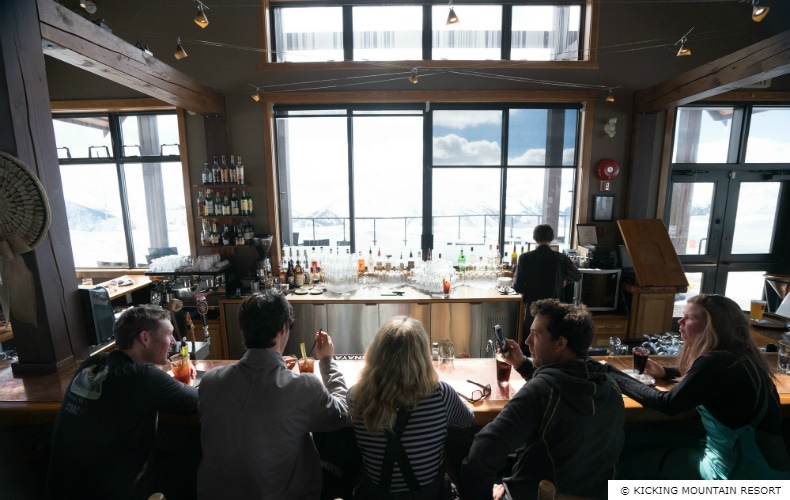 On Mountain Restaurants
Eagle's Eye Restaurant
Location: Located at 7700 feet; the Summit of Kicking Horse Mountain
Food: Apres-Ski, Mountain Top Caesers, Bacon, Cocktails, Dessert, Wine, Coffee, Beers & Coolers, Appetizers, Sandwiches
Bar: Yes
Ph: +1 (250) 439-5425
Whitetooth Grill
Location: Day Lodge
Food: Homemade Food, Gourmet Burger, Signature Pizza, Cooled Beer, Special Apres.
Heaven's Door Yurt
Location: Located at the base of Stairway to Heaven chairlift
Food: Hot Lunch, Sandwich, Hot Chocolate
Ph: +1 250-439-5425
Kicking Horse Saloon
Location: 1593 Cache Close in the Winston Lodge
Food: Canadian Pub Style Food, bottled beers, Micro brew draught beers, wines and spirits,
Bar: Yes
Ph: +1 (250) 344-2772
Peaks Grill
Location: Located in the heart of Kicking Horse Mountain Resort Village
Food: Appetizers, Salads, Burger, Sandwich, Desserts, Fish N Chips,
Bar: Yes
Ph: +1 250.344.4950
Double Black Cafe
Location: At the foot of the Kicking Horse Mountain Resort gondola
Food: Coffee, Ale, Pizza, Salad, Burger, Soup, Smoked Salmon
Ph: +1 250-344-2214
Corks Restaurant – Copper Horse Steakhouse
Location: Copper Horse Lodge
Food: Elk, beef and pork, Wine and Beer
Bar: Yes
Ph: +1 250-344-6201
Kicking Horse Shopping
The small mountain village offers rentals and endless branded ski gear and outerwear from Kicking Horse Outfitters located in the heart of the Plaza. Selkirk Sports have you covered for your equipment needs. In the town of Golden, Higher Ground Sports have you covered for all your winter outdoor adventure gear.
Kicking Horse Outfitters
Location: Located in the Heart of the Plaza
Shop: Branded Outwear, Sweater, Local Arts & Crafts
Ph: +1 (800) 258-7669
Higher Ground Sports
Location: Only store in the heart of rugged mountain culture in Golden, BC
Shop: Ski, Splitboards, Climbing Gear, Tents & Camping Accessories, SUPs, Bike & Bike Equipments, Summer & Winter Technical Clothing, Rentals
Ph: +1 (250)344-7980
Selkirk Sports
Location: Base of Kicking Horse Mountain Resort
Shop: Ski gear, bootfitting, ski tuning
Ph: +1 250-344-2925
Kicking Horse Purcell Heli Skiing
Purcell Heli Skiing has been taking people heli skiing and boarding from their base in Golden British Columbia since 1974. Surrounded by the Canadian Rockies, the Purcell and Selkirk Mountains there is vast wilderness powder skiing glades, trees, open bowls and everything in between to explore. Founded by Rudi Gertsch and now in partnership with his son and lead guide Jeff Gertsch the family run operation offering single-day and flexible multi-day packages.
Kicking Horse Trail Maps
Explore Kicking Horse trail maps to find your ideal place to ride, catch up with friends and more…