Telluride Ski Resort
Welcome to one of the most visually spectacular and unique high altitude resorts in North America. Nestling at the end of a stunning box canyon surrounded by the highest concentration of 14,000 foot (4300 metre) peaks in Colorado, Telluride ski area and its charming former mining town in the state's south-west corner are well worth making the effort to visit. It is picturesque to the extreme, with colourful Victorian homes, redstone buildings and a quirky character that draws thousands of visitors a year including such super celebrities as Jerry Seinfeld and Tom Cruise who have long owned homes here. Among Telluride town's many claims to fame is being 45 minutes from the nearest set of traffic lights.
The ski area receives almost 26 feet (8m) snowfall per season and caters extremely well for experts as well as intermediates and beginners. Telluride is also up there in the elevation stakes: town sits at 8,750 feet (2,667 metres), its airport is the highest in the US, (2764 metres) and the resort's Gold Hill at 3815 metres is one of the highest lifted points in Colorado. Hike-to terrain rises to 4060 metres on Palmyra Peak.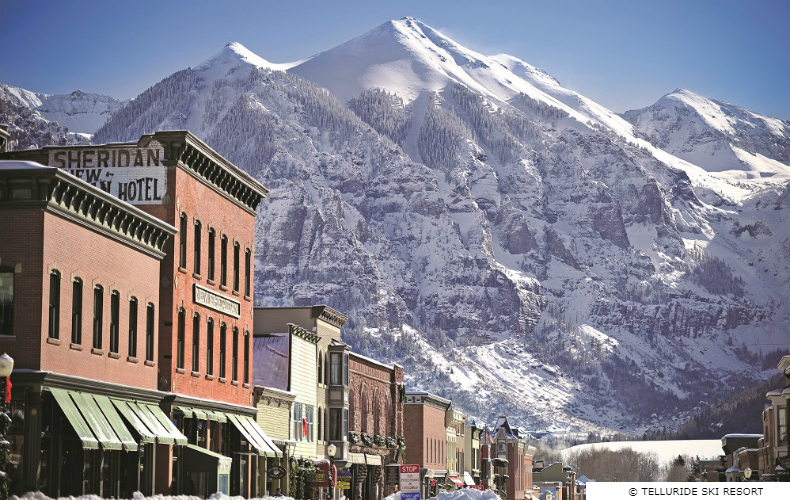 A stand-out feature of Telluride is the free pedestrian gondola, the only one of its type in the US, linking the historic town, slopes and modern Mountain Village on the opposite side of the ski area. The Mountain Village is Telluride's second community, offering a good deal of ski-in ski-out accommodation and luxe lodging arranged around an attractive pedestrian mall teeming with restaurants, cafes and shops. The gondola negates the need to drive or taxi between town and village while affording spectacular views of town and the surrounding alpine scenery. It runs daily from 7am to midnight, and is used by all – from riders to diners heading for San Sophia Station's lovely Allred's restaurant and bar overlooking the town, and locals – often with dogs.
Telluride started life as a gold mining town in the 1880s, quickly becoming a thriving hotbed of new wealth. This soon caught the attention of Butch Cassidy who chose to commit his first bank robbery here: on June 24 1889, Cassidy and co. robbed the San Miguel Valley Bank of the equivalent of about $500,000 before fleeing to a hideout in Utah.
Telluride Lodging & Accommodation Options
Visitors are spoiled for choice. Select from plush condos, self-contained apartments, immaculate vacation homes, cosy bed and breakfasts in Victorian cottages, hotels in beautifully renovated historic buildings, upscale modern hotels, or a large scale affair such as The Peak, well known for its stunning spa facility. Mountain Village is home to a range of especially sumptuous hotels and condominium complexes such as the Hotel Madeline, Telluride Mountain Lodge, Lumiere and the Inn At Lost Creek. In town, one of the best known historic hotels is The New Sheridan while The modern Camel's Garden Hotel is popular and located on the edge of town just steps from the lifts.
Telluride Mountain & Ski Terrain
Telluride's terrain covers just over 2000 acres (810 hectares), with 148 runs accessed by 19 lifts. Queues are rare. Telluride long ago quashed its reputation as an experts-only mountain by adding considerable amounts of intermediate and beginner terrain, and now this sector comprises 60% of all runs. What's more, at least one intermediate run is accessible from every lift on the mountain.
The best known intermediate run is See Forever from where the view stretches as far as Utah's La Sal mountains, while for a paradise of blue cruisers you cannot go past The Polar Queen Express.
Advanced to expert skiers have plenty to test them here and may even find their limit. Expert terrain in Telluride, along with that in Jackson Hole and Crested Butte, is considered some of the country's most challenging. Many slopes are also particularly good for bump lovers.
Most of Telluride's most famous steeps dropping away from the top of Lift 9 are wall-to-wall, top-to-bottom, cannot-escape-them moguls. Dive into Kant-Mak-M, Spiral Stairs, Mammoth and much of Plunge and be prepared to turn. The exception is Boomerang, a long steep black diamond run groomed daily to perfection. Experts should also seek out North Face, Joint Point and further down, Mine Shaft and Jaws which lead all the way to town. Try them if you dare.
Beginners can range across the Meadows area, and there is even a magic carpet for adult learners. Big Billie's family friendly restaurant serving south-western and American cuisine sits at the base of the beginner area.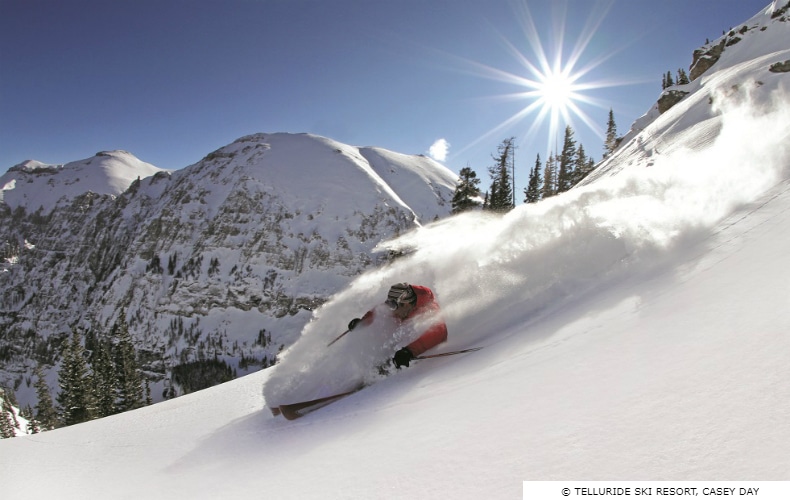 Hike-to Terrain
Let's get physical – and serious. Hike-to terrain here is extensive and challenging. Only the most confident experts should tackle these runs some of which are so steep it's possible to see only a few turns ahead. There are four main areas, Bald Hill, Black Iron Bowl, the chutes on Gold Hill numbered one to 10, and Palmyra Peak. On average the hikes take 20-30 minutes with the exception of Palmyra Peak which holds what is considered some of the most spectacular in-bounds terrain in North America. Depending on fitness and weather conditions, boot-backing up the ridge can take from an hour to 90 minutes to access Palmyra Peak's 197 acres 80 hectares of runs, some over 1968 feet (600 vertical metres).
Telluride Statistics
| | |
| --- | --- |
| Skiable Terrain | 2,000 acres (810 hectares) |
| Vertical | 1,349 m (4,425 ft) |
| Top Elevation | 4,010 m (13,150 ft) |
| Base Elevation | 2,659 m (8,725 ft) |
| Average Snowfall | 838 cm (330 in/27ft) |
| Intermediate Terrain | 36% |
| Advanced Terrain | 41% |
| Trails | 127 |
| Parks | 3 |
| Pipes | 1 |
| Winter lifts Total | 19 |
| Gondolas Trams | 2 |
| Chair Lifts | 12 |
| Surface Lifts | 5 |
| Lift Capacity | 22,386 |
| Longest Run | 7.4 km (4.6 mi) |
| Mountain Restaurants | 12 |
| Snowmaking | 220 ac (89 hectares) |
| Season Opens | November |
| Season Closes | April |
How To Get To Telluride
Telluride is an easy and scenic six hour drive from Denver. Telluride is located in San Juan Mountains of southwest Colorado between Montrose and Durango along a stretch of the San Juan National Scenic Byway.
Flying To Telluride
When flying to Telluride, you can choose from the following options:
Montrose-Telluride Regional Airport (MTJ) – 75 minutes to Mountain Village
Grand Junction Regional Airport (GJT) – 2 1/2 hours to Mountain Village
Durango-La Plata Regional Airport (DRO) – 2 1/2 hours to Mountain Village
Shuttle Transfer To Telluride
There are daily shuttle services between Telluride and the three regional airports in Western Colorado: Montrose-Telluride Airport (MTJ), Grand Junction Regional Airport (GJT) and Durango-La Plata County Airport (DRO).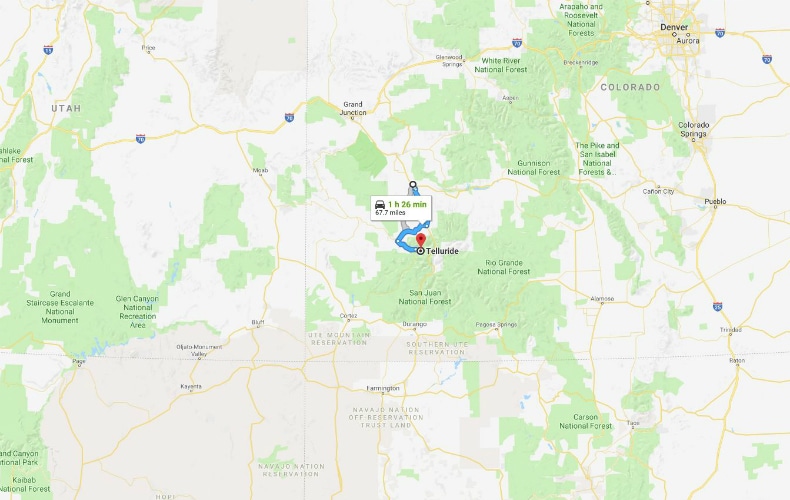 Telluride Snowsports & Ski Shool
Telluride ski school has a large range of options with an emphasis on classes that take advantage of the ski area's exceptional terrain features. For instance, sign up for Making Friends With Moguls and your technique will certainly go through the roof as Telluride's aforementioned mogul runs are not to be trifled with. The mogul clinic is one of 9 specialty camps offered alongside the regular ski school classes and are well worth considering to fast-track improvement. Choose from the Women's Week camp, which was the first women-only ski program established in Colorado, a Ski Biomechanics Camp led by an orthopaedic surgeon doubling as a ski school instructor, a Heli-Ski Camp, and the SheRide Women's Snowboard Camp. The newest addition is Silver Skiers Camp for the over 50s. The Development Squad is a 7 session ski and snowboard program for children and teens.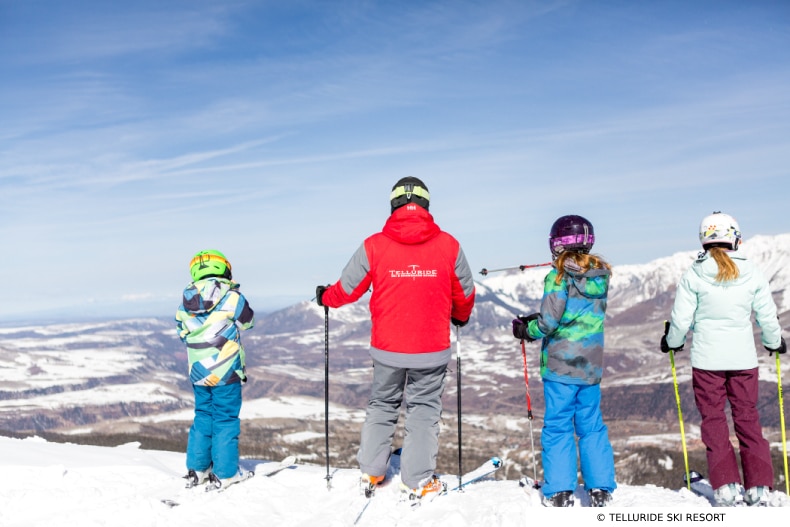 Telluride Things To Do, Activities, & Tours
Snowmobiling, snowshoeing, sledding, dog sledding, ice skating and fat biking are among activities most accessible to all. More specialised and adventurous pursuits are taking a class in ice climbing and helicopter skiing with Telluride's Helitrax. Helitrax has packages for both first time heli-skiers through to the experienced.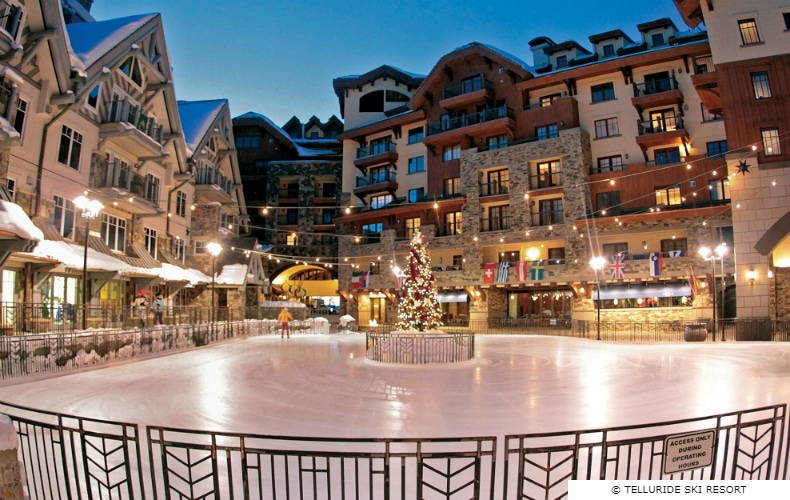 NASTAR
Have fun with your family and friends on their world-class NASTAR course.
Telluride Historical Museum
The Museum's permanent collection of artifacts from the region's Ute heritage, robust mining history, and ski and festival history.
Tel: +1 (970) 728-3344
Heli-Skiing
Helitrax offers single and multi-day heli-ski and snowboard trips, custom heli-ski tours, backcountry ski tours and more.
Tel: +1 (970) 728-7433
Snowmobiling
Explore Telluride's alpine beauty on snowmobile.
More Info
Tel: +1 (970) 728-7433
Snowshoeing
Explore the hidden places and parts of Telluride Ski Resort.
Tel: +1 (970) 728-7433
Nordic Skiing
Located at the Top of Lift 10, the TopAten Snowshoe and Nordic Area offers 10 kilometers of groomed, rolling trails that lead nordic skiers and snowshoers through high alpine forests and magical open meadows.
Snowbiking
Fun and challenging.
Tel: +1 (970) 728-7300
Backcountry Skiing
Experienced skiers can join a guide on a backcountry ski tour in the San Juan mountains.
Tel: +1 (970) 728-7433
Ice Climbing
Telluride is renowned for excellent ice climbs out west.
Tel: +1 (970) 728-7433
Telluride Restaurants, Bars & Nightlife
Telluride is furnished with over 60 eating and drinking establishments with a mind boggling array of cuisines. From a food truck hot dog piled high with all the toppings to an a la carte romantic French meal in one of Telluride's oldest restaurants, visitors can find virtually anything they desire. Coffee lovers are pandered to with hip cafes and places like Coffee Cowboy serving brews out of an old horse trailer parked in the heart of downtown. Enjoy Telluride's only fondue restaurant Alpinist and the Goat tucked away above an art gallery on Main Street, American steaks at the New Sheridan Chop House, and pastries, cakes and pizza from Baked In Telluride.
There's good choice on the mountain, with Gorrono Ranch the closest thing Telluride has to an on-mountain cafeteria and one of the most popular places to eat on the slopes. At the top of Lift 9 Giuseppe's offers the highest altitude Italian food in the US, while further up the mountain towards Gold Hill, Alpino Vino is the highest fine dining restaurant in the country.
Apres ski options are many and varied and particularly lively. Must-visits are American style bars The Last Dollar Saloon and New Sheridan, both part of Telluride lore.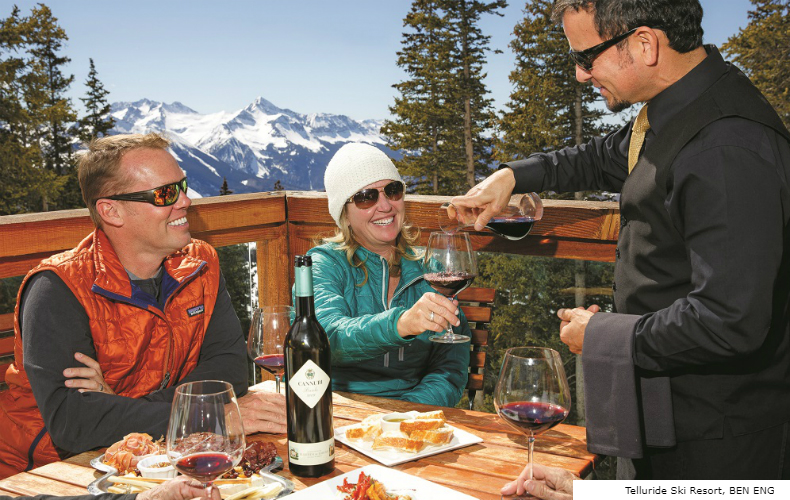 Allred's Restaurant
Location: Station St. Sophia at the top of the Free Gondola
Food: soups and salads, wild-caught alaskan halibut, columbia river king salmon, etc.
Bar: Yes
Ph: +1 (970) 728-7474
Tomboy Tavern
Location: Mountain Village Core, 562 Mountain Village Blvd
Food: Carnitas Plate, Shrimp Tacos, Chicken Pot Pie, Soba Noodle Bowl.
Bar: Yes
Open: Lunch and dinner
Ph: +1 (970) 728-7467
Siam's Talay Grille
Location: 119 Lost Creek Lane, Mountain Village, CO 81435
Food: Asian Tapas & Seafood
Bar: Yes
Ph: +1 (970) 728-6293
Altezza At The Peaks
Location: Mountain Village – The Peaks Resort & Spa
Food: Creative American
Bar: Yes
Ph: +1 (970) 728-2525
Alpino Vino
Location: Hearthstone Lodge
Food: Italian Delicacies
Bar: Yes
Open: Lunch – 11am – 3pm
Ph: +1 (970) 728-7560
Crazy Elk Pizza
Location: Mountain Village Core, 565 Mountain Village Blvd, Suite A
Food: Fresh hand-made pizzas, salads and sub sandwiches
Ph: +1 (970) 728-7499
High Camp Warming Hut
Location: Located at the top of Prospect Express (Lift 12)
Food: Sandwiches, Soups, Snacks
Bar: Yes
Ph: +1 970-728-6900
Bon Vivant
Location: Located at the top of Polar Queen Express (Lift 5)
Food: Cassical French country cuisine
Open: Lunch 11am – 3pm
Ph: +1 (970) 728-7570
Gorrono Ranch
Location: Located on Misty Maiden trail under Village Express (Lift 4)
Food: Burgers, BBQ, Chili
Ph: +1 (970) 728-7578
Giuseppe's
Location: Located at the top of Plunge Lift (Lift 9)
Food: New Orleans-Inspired Fare
Bar: Yes
Ph: +1 (970) 728-7503
The Bean Café
Location: Mountain Village – The Peaks Resort & Spa
Food: Coffee drinks, protein shakes, fresh baked pastries & squeezed juices, breakfast burritos, paninis and fast grab snacks
Bar: Yes
Ph: +1 (970) 728-6800
Big Billie's
Location: Located at the base of Chondola (Lift 1)
Food: Family Dining
Bar: Yes
Ph: +1 (970) 728-7556
Telluride Shopping
Main Street in town is lined with shops and boutiques selling knick knacks, upscsale artworks, fashionable labels and a good share of outdoor and sporting equipment. Telluride's longest standing retail store is Telluride Trappings and Toggery, which once served as the town's only grocery store.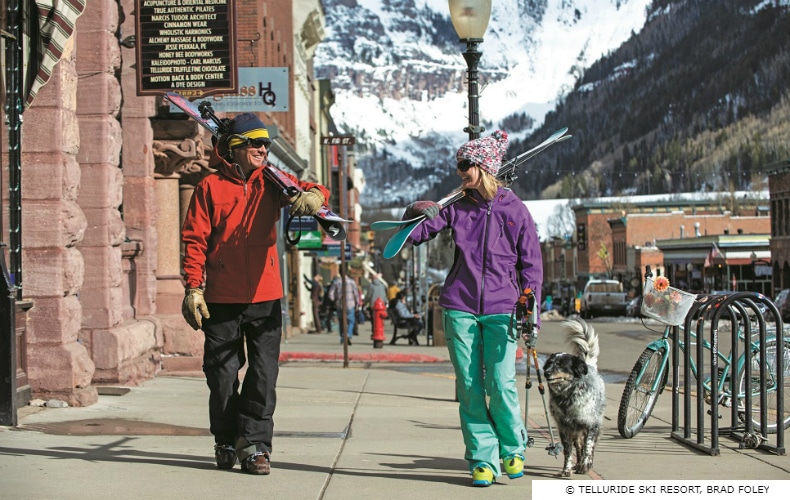 Heritage Apparel
Location: Franz Klammer Hotel Mountain Village
Shop: Men's Women's and Kids' apparel, as well as Sunglasses, Jewellery and gifts
Ph: +1 (970) 728-7340
Telluride Naturals
Location: Franz Klammer Hotel Mountain Village
Shop: Local and regional gifts
Ph: +1 (970) 728-7357
Telluride Resort Store
Location: Gondola Plaza, Mountain Village
Shop: Apparel, souvenirs and gifts
Ph: +1 (970) 728-7358
Neve Sports
Location: The Madeline Hotel, Reflection Plaza, Mountain Village
Shop: Sports and gift items
Ph: +1 (970) 728-5722
The North Face
Location: Heritage Plaza Mountain Village
Shop: North Face brand performance apparel, equipment, and footwear
Ph: +1 (970) 369-0332
Burton Telluride
Location: Heritage Plaza, Mountain Village
Shop: Demos and Retail, boots (& custom boot fitting), bindings, Anon helmets & goggles
Ph: +1 (970) 728-6138
Patagonia
Location: 200 W Colorado Ave Telluride
Shop: Outerwear and sportswear from the legendary Patagonia brand
Ph: +1 (970) 728-4303
Telluride Sports (The Peaks Resort)
Location: 136 Country Club Drive Mountain Village
Shop: Skiing & Snowboarding equipment and outerwear
Ph: +1 (970) 239-0339
Telluride Sports (Main Street)
Location: 150 West Colorado Telluride
Shop: Skiing & Snowboarding equipment and outerwear
Ph: +1 (970) 728-4477
Telluride Sports (Franz Klammer)
Location: Franz Klammer Mountain Village
Shop: Skiing & Snowboarding equipment and outerwear
Ph: +1 (970) 728-0364
Telluride Sports (Gondola Plaza)
Location: At the base of the Gondola Mountain Village
Shop: Skiing & Snowboarding equipment and outerwear
Ph: +1 (970) 728-8944
Telluride Sports (Camel's Garden)
Location: Camel's Garden Telluride
Shop: Skiing & Snowboarding equipment and outerwear
Ph: +1 (970) 728-3134