Welcome to one of the most visually spectacular and unique high altitude resorts in North America. Nestling at the end of a stunning box canyon surrounded by the highest concentration of 14,000 foot (4300 m) peaks in Colorado, the Telluride ski area, and its charming former mining town in the state's southwest corner are well worth making the effort to visit. It is picturesque to the extreme, with colorful Victorian homes, Redstone buildings, and a quirky character that draws thousands of visitors a year including such super celebrities as Jerry Seinfeld and Tom Cruise who have long owned homes here. Among Telluride town's many claims to fame is being 45 minutes from the nearest set of traffic lights.
The ski area receives almost 26 feet (8m) of snowfall per season and caters extremely well for experts as well as intermediates and beginners. Telluride is also up there in the elevation stakes: the town sits at 8,750 feet (2,667 meters), its airport is the highest in the US, 9068 feet (2764 m), and the resort's Gold Hill at 12516 feet (3815 m) is one of the highest lift points in Colorado. Hike-to terrain rises to 13320 feet (4060 m) on Palmyra Peak.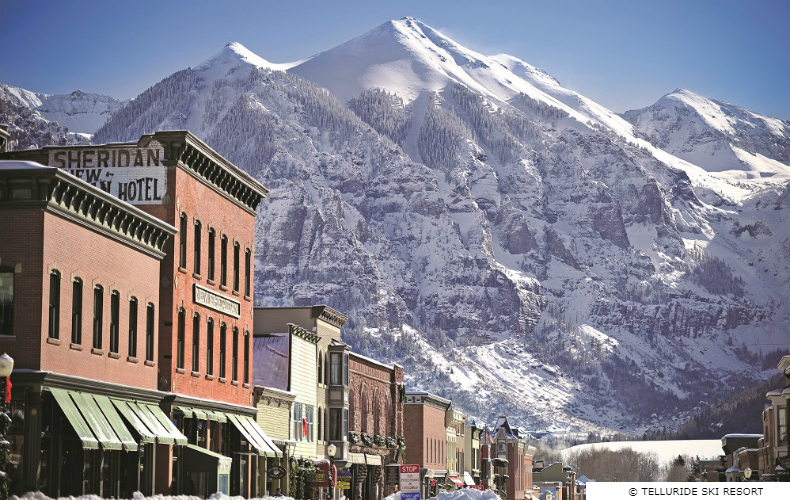 A stand-out feature of Telluride is the free pedestrian gondola, the only one of its type in the US, linking the historic town, slopes, and modern Mountain Village on the opposite side of the ski area. The Mountain Village is Telluride's second community, offering a good deal of ski-in ski-out accommodation and luxe lodging arranged around an attractive pedestrian mall teeming with restaurants, cafes, and shops. The gondola negates the need to drive or taxi between town and village while affording spectacular views of the town and the surrounding alpine scenery. It runs daily from 7 am to midnight, and is used by all – from riders to diners heading for San Sophia Station's lovely Allred's restaurant and bar overlooking the town, and locals – often with dogs.
Telluride started life as a gold mining town in the 1880s, quickly becoming a thriving hotbed of new wealth. This soon caught the attention of Butch Cassidy who chose to commit his first bank robbery here: on June 24, 1889, Cassidy and co. robbed the San Miguel Valley Bank of the equivalent of about $500,000 before fleeing to a hideout in Utah.
Need Expert Advice Planning Your Perfect Ski Vacation?
Experience the simplicity and expertise of crafting your dream ski trip with our custom quotes, prepared by our Ski Vacation Specialist Concierge Team. Say goodbye to DIY and hello to:
Tailored Quotes, No Fuss Why spend hours sorting through options when our experienced team can do it all for you? When you choose a custom quote, you get:
Time Saved: We handle all the details, so you can spend more time dreaming and less time searching.
Precision: Rely on our decades of experience to create a quote that's just right for you.
Peace of Mind: Trust your vacation to the experts who get it right every time.
Best Prices Guaranteed: We're paid by our suppliers, so there are no hidden fees. You'll always get the best prices.
Ready for a stress-free ski vacation? Click the Custom Quote button below and let our Ski Vacation Specialist Concierge Team create your perfect ski getaway.