Sun Peaks Ski Resort
Sun Peaks is a big drawcard for families with easy to access 4,270 acres of skiable terrain including wide open groomers, fun cruisers, introductory steeps and gladded areas for the more accomplished skiers and boarders. Spanning three mountains that funnel into a European inspired ski through village offering a pleasant blend of eateries, cafes and shopping. The village is nowhere near as big as mega resort Whistler that's 4.5 hours to the west of Sun Peaks but it's well designed like Whistler given some of the same project architects were behind both resort developments.
Sun Peaks began life as Todd Mountain, offering a slow ride to great dry, snow conditions, sunshine, easy open groomers and some fun terrain. Who would have predicted, that Todd would become Canada's 2nd largest ski resort that it is today?
Sun Peaks Mountain And Ski Terrain
As the second largest ski area in Canada, Sun Peaks has 135 trails and 16 gladded areas. The skiable vertical is 2,894 feet (882 metres) of with a top elevation of  7,060 feet (2,152 metres). The village elevation is a gentle 4,116 feet (1,255 metres). It has two alpine bowls and a longest run of 5 miles (8 kilometres). The mix of terrain is 10 % beginner, 58% intermediate and 32% advanced.
It's an intermediates paradise with open groomers as it isn't a steep resort but offers some honest steeper runs that you still need to concentrate on. Opening mid November and closing mid April, Sun Peaks receives up to 237 inches (6 metres) of quality, British Columbia interior snow on average each season.
The resort is well serviced by 12 lifts keeping an uncrowded feel that you expect from the interior resorts.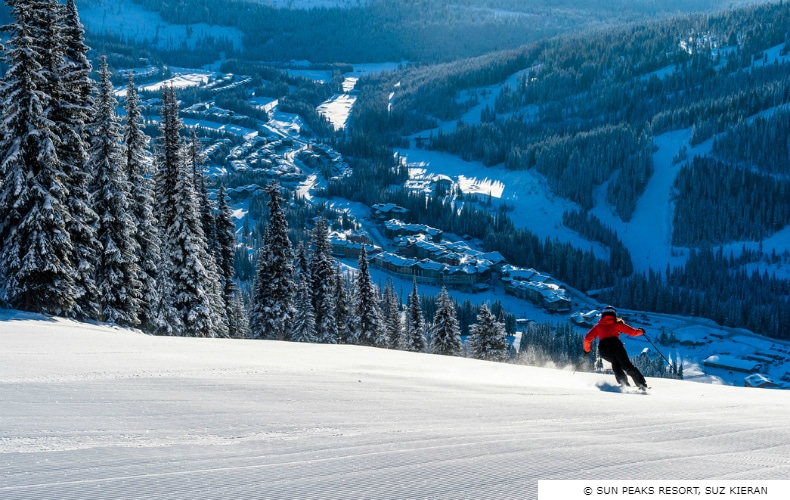 Sun Peaks Statistics
| | |
| --- | --- |
| Skiable Terrain | 4,270 acres (1,730 hectares) |
| Vertical | 882 m (2,893 ft) |
| Top Elevation | 2,152 m (7,060 ft) |
| Base Elevation | 1255 m (4,117 ft) |
| Average Snowfall | 559 cm (220 in/18 ft) |
| Intermediate Terrain | 58% |
| Advanced Terrain | 32% |
| Trails | 135 |
| Parks | 1 |
| Winter lifts Total | 12 |
| Chair Lifts | 6 |
| Surface Lifts | 6 |
| Lift Capacity | 12,000 |
| Longest Run | 8 km (5.0 mi) |
| Nordic Cross Country | 37.8 km |
| Mountain Restaurants | 20 |
| Snowmaking | 250 ac (101 hectares) |
| Village Bed Base | 7,000 |
| Season Opens | 22 November, 2018 |
| Season Closes | 14 April, 2019 |
How To Get To Sun Peaks
Sun Peaks is located 4.5 hours from Vancouver and 5.5 hours from Seattle in the interior of British Columbia. It's 45 minutes from the town of Kamloops (YKA) and their local airport.
Silver Star is the nearest ski area 2.5 hours south and Revelstoke is 3 hours east along the Trans-Canada Highway.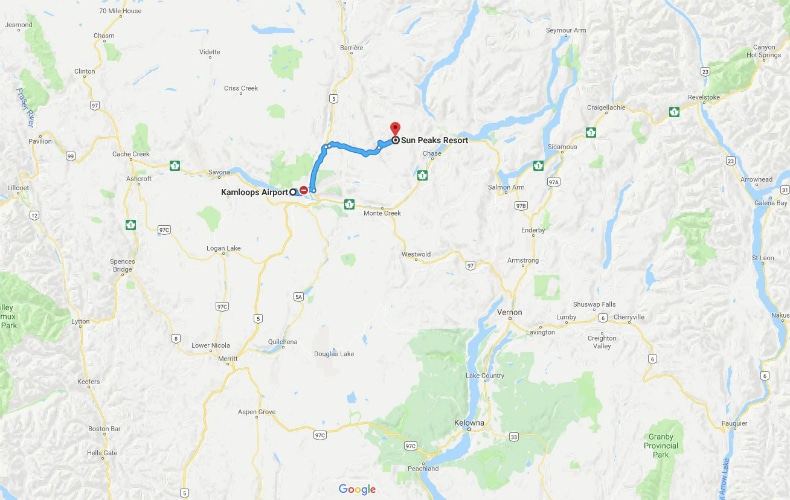 Sun Peaks Snowsports & Ski School
Ideal teaching terrain supports a well-run adult and children snow sports school offering a full range of ski lessons and snowboard lessons. Choose from 31 programs including; All Mountain Safety to Beyond The Groomers and everything in between.
Adult Ski and Snowboard Lessons
Choose from 2-hour group lessons to all day privates for beginner to expert skiers whishing to improve their skiing or snowboarding at Sun Peaks.
Kids Ski and Snowboard Lessons
The Sun Tots program provides young skiers (3–6 years) and snowboarders (3–7 years) with a great introduction to skiing and snowboarding via a private one-on-one lesson. You can also combine a Sun Tot's lesson with childminding.
The Sun Kids full day and half day lessons program provide young skiers (6–12 years) and boarders (8–12 years), with the opportunity to develop their skills on the mountain.
Sun Peaks Things To Do, Activities & Tours
Dog Sled Tours, Guided Ice Fishing, Horse Drawn Sleigh Rides, Outdoor Skating Rink, Ski With Nancy Greene, Skibike, Snowmobiling Tours (including smaller with less horsepower lighter options for the kids), Snowshoe Tours and Weekly Kids Activities.
Family friendly and kids activities at Sun Peaks include Tuesday ice skating and après activity nights at the Sundance Kids Centre.
Alpine Fondue & Starlight Decent
Location: Sunburst Mid Mountain Restaurant
Enjoy the sunset, a 3 course fondue meal and traditional swiss music before returning to the village by skiing with a guide and head torch down a freshly groomed run.
Ph: +1 250 578 5542
Bungee Trampoline
Location: slopeside by the Village Day Lodge
A big trampoline connected by harness to bungy ropes allows you to jump extra high and do flips and other manoeuvres.
Ph: +1 250 578 5524
Cat Trax Groomer Rides
Location: On Mountain
Experience firsthand how a snow cat groomer works in this 45min ride
Ph: +1 250 578 5524
Mountain Man Dog Sled Adventures
Location: Starting location near skier overpass in the east village
Unique and exhilarating Canadian dog sledding experience.
Ph: +1 250 578 5 ext 1
Fat Biking
Location: Pick up from Elevation Bike, Ski & Board located in Sun Peaks Grand Hotel. For use on valley trail network and designated multi use Nordic trails.
Ph: + 1 250 578 5555
First Tracks
Location: Exclusive use of the Crystal chairlift and surrounding terrain.
Beat the crowds with first tracks down freshly groomed runs.
Ph: +1 250 578 5542
Guided Ice Fishing
Location: Lakes surrounding Sun Peaks
Fully guided ice fishing adventure
Ph: +1 250 578 5399 ext 1
Horse Drawn Sleigh Rides
Location: Sun Peaks Village and surrounding areas
Take a tour of the village before heading out into the open to take in the views of the valley and mountains.
Ph: +1 250 578 5542
Kamloops Blazers Hockey Game
Location: Sandman Centre Arena
See a major junior ice hockey team in action. Includes return transfers to downtown Kamloops.
Ph: + 1 250 578 5399 ext 1
Outdoor Skating Rink
Location: located only a few minutes' walk from the village, across from the Kookaburra Lodge.
An NHL sized outdoor skating rink for public skating and ice hockey.
Ph: +1 250 578 5533
Photo Shoots
Location: Location flexible to suit your needs.
Capture those amazing memories with a professional on-mountain photographer.
Ph: +1 250 578 5399 ext 1
SkiBike
Location: On mountain
A SkiBike is like a push bike but with skis instead of wheels on the bottom.
Ph: +1 250 578 5399 ext 1
Snowmobiling Tours
Location: Sun Peaks backcountry
Explore scenic backcountry trails and amazing views with an adrenaline pumping guided snowmobile tour.
Ph: +1 250 578 5542
Snowshoe Rentals and Tours
Location: Snowshoe trail network
Explore the many snowshoe trails on your own with an interpretive guide booklet or by joining the various different tours available.
Ph: +1 250 578 5542
Sun Host Mountain Tours
Location: Slopeside between the Sunburst chairlift and the Village Day Lodge
Join local ski enthusiasts for a hosted ski or board around Sun Peaks. All levels welcome.
Ph: +1 250 578 5474
Tube Park
Location: Next to the Village Platter Lift.
Description: Take the carpet lift up and slide down the mountain on an inflated tube.
Ph: +1 250 578 5542
Kids Activities
Location: Sundance Kids Centre
Description: Nightly activities; movies, games and crafts for kids aged 3-12 years.
Ph: 1 250 578 5505
Sun Peaks Massage and Spa Ltd.
Location: Kookaburra Lodge
Massage and beauty treatments
Ph: +1 250 578 0086
Four Winds Massage Therapy and Yoga
Location: Sun Peaks Lodge and Yoga is located in Hearthstone Lodge
Massage therapist and Yoga instructor
Open: various
Ph: +1 604 989 3144
Sun Peaks Restaurants, Bars & Nightlife
Sun Peaks offers a good selection of restaurants, cafes and bars and given it's family friendly reputation, when it comes to night life, as you would expect Sun Peaks is fairly quiet and relaxed.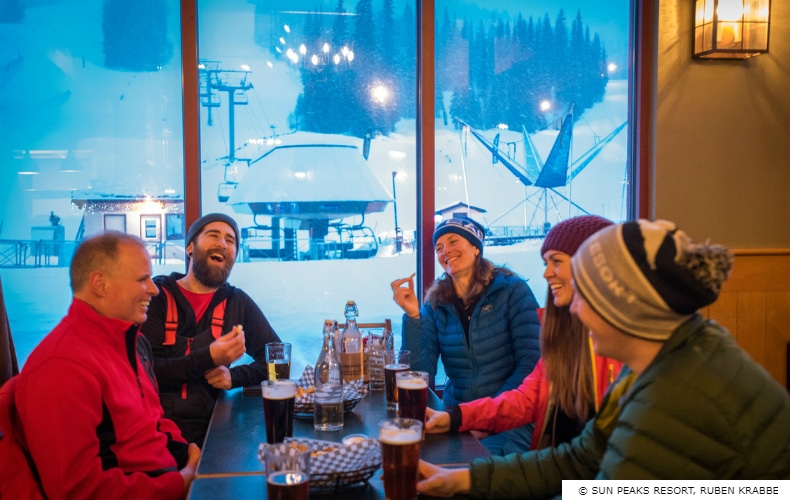 On Mountain Restaurants
The Sunburst Bar + Eatery
Location: Top of Sunburst express chairlift
Food: Canadian Mountain Food with a hint of Mexican. Known for its Cinnamon Bun.
Bar: Yes
Ph: +1 250 578 5417
Umbrella Café
Location: Base of Mt Morrissey Chair
Food: Smoked Hot Dogs, Chillis and Soups.
Bar: Yes – Beer
Ph: +1 250 578 7222
Cahilty Creek Bar and Grill
Location: slope side at Cahilty Lodge
Food: Burgers, wings and pub food with a view
Bar: Yes
Ph: +1 250 434 0279
Village Restaurants
5Forty Café & Grill
Location: Fireside Lodge
Food: North American and Café Food
Bar: Yes
Delivery / Take Out: No
Ph: +1 250 434 2372
Bella Italia Mediterranean Kitchen
Location: Hearthstone Lodge
Food: Italian/Mediterranean and seafood
Bar: Yes- find the perfect wine to match your meal
Ph: +1 250 434 0282
Bolacco Café
Location: Coast Sundance Lodge
Food: coffee, fresh pastries and Café Food
Ph: +1 250 5787588
Bottoms Bar & Grill
Location: Coast Sundance Lodge
Food: Canadian pub food and fine dining
Bar: Yes – including local Okanagan spring beer. A popular hangout for young locals.
Ph: +1 250 578 0013
Café Soleil
Location: Village Day Lodge. Bottom of Sunburst Express and Sundance Express chairlifts.
Food: Starbucks Coffee and café food
Take Out: Yes
Ph: +1 250 578 5534
Joe Poutine
Location: Hearthstone Lodge
Food: French Canadian. Known for it's Poutine!
Mantles Restaurant and Lounge
Location: Sun Peaks Grand Hotel
Food: Family friendly with classic and local dishes
Bar: Yes
Ph: +1 250 578 6000
Masa's Bar and Grill
Location: Village Day Lodge
Food: American/ Canadian pub food. Known for its Apres and largest selection of craft beers on the mountain
Bar: Yes. Live bands and DJ's on weekends
Ph: +1 250 578 5434
Morrisey's Public House
Location: Sun Peaks Grand Hotel
Food: American/Canadian pub food. Kids menu also.
Bar: Yes- Irish pub. Happy hour from 4-5pm. Catch live TV sporting events here.
Ph: +1 250 578 6062
Mountain High Pizza
Location: Hearthstone Lodge
Food: Pizza- also sold by the slice. Known for best pizza on the mountain, you can also get an Aussie meat pie here.
Delivery/ Takeout: Yes
Ph: +1 250 578 7272
Oya Restaurant
Location: Hearthstone Lodge
Food: Japanese
Bar: Yes- and they have Sake
Ph: +1 250 578 0048
Powder Hounds
Location: Fireside Lodge
Food: International with a German touch. Known for its schnitzels.
Bar: Yes
Ph: +1 250 578 0014
Steakhouse Restaurant at Sun Peaks Lodge
Location: Sun Peaks Lodge
Food: Steaks, BBQ ribs
Bar: Yes
Ph: +1 250 578 7878 ext 0
The Annex Food + Drink
Location: Next to Sunburst Express Chairlift
Food: Quick meals, snack and cinnamon buns
Bar: Yes- Beer
Ph: +1 250 578 7222
Tod Mountain Café
Location: Hearthstone Lodge
Food: Hot lunches, wraps, burritos, cakes and treats. Gluten free, vegan and veggie options. Famous for its crepes
Bar: No
Takeaway: Yes
Ph: +1 778 538 3331
Vertical Café
Location: Coast Sundance Lodge
Food: Organic coffee, wraps, paninis, smoothies and all-day breakfast. Vegetarian, vegan and gluten free options
Ph: +1 250 578 0194
Voyageur Bistro
Location: Kookaburra Lodge
Food: Canadian. Bison burgers, boar pot pies, venison, elk, local fish.
Bar: Yes
Ph: +1 250 578 5268
Sun Peaks Shopping
Sun Peaks ski through main street mans you can literally go shopping in your ski or snowboard boots. The shopping in Sun Peaks in cantered in and around Main Street and offers a good mix of practical stores including ski and snowboard shops and grocery stores including Sun Peaks Grocery who will deliver to your vacation home, condo, or hotel suite before you arrive.
Alpine Images Photography
Location: Sun Peaks Grand Hotel & Conference Centre
Shop: Photography
Ph: +1 250 434 5764
Bluebird Market
Location: The Residences at Sun Peaks Grand
Shop: Groceries, deli, produce
Ph: +1 250 578 2414
Creekside Critter Outfitter
Location: Fireside Lodge
Shop: Pet food, toys and treats
Ph: +1 250 434 8979
Elevation Bike, Ski & Board
Location: Sun Peaks Grand Hotel and Conference Centre
Shop: Rentals, clothing, outerwear and accessories
Ph: +1 250 578 5555
Fall Line Tuning & Repair Centre
Location: Sun Peaks Grand Hotel and Conference Centre
Shop: Tuning and repairs for skis and snowboards
Ph: +1 250 578 5580
Freefall
Location: At the top of the village
Shop: Rentals, sales, demos, tuning and boot fitting
Ph: +1 250 578 0018
Jardines
Location: 3170 Creekside Way
Shop: skis, snowboards, outerwear plus rentals and repair shop
Ph: +1 250 578 0432
John Tod Trading Co.
Location: Coast Sundance Lodge
Shop: Sun Peaks logo wear
Ph: +1 250 578 5577
Lone Wolf Gallery
Location: Coast Sundance Lodge
Shop: Gifts, art, postcards, clothing
Ph: +1 250 578 2673
McSporties
Location: Sun Peaks Lodge Hotel
Shop: Nordic and alpine skis service, rentals & demos
Ph: +1 250 578 6930
Rocky Mountain Chocolate Factory
Location: The Residences at Sun Peaks Grand
Shop: Homemade chocolate, confectionary and ice cream
Ph: +1 250 578 0065
Sneaky Scallywags
Location: The Residences at Sun Peaks Grand
Shop: gifts, logo wear, candy, toys
Ph: +1 778 648 8388
Southside Board Shop
Location: Coast Sundance Lodge
Shop: Snowboards, demos and all you snowboard needs
Ph: +1 250 578 5577
Sun Peaks Sports
Location: Village Day Lodge
Shop: Helmets, goggles, clothing
Ph: +1 250 578 5545
Sundance Fine Wine, Beer and Liquor Store
Location: The Residences at Sun Peaks Grand
Shop: Liquor
Ph: +1 250-578-0420
The Candy Vault
Location: Fireside Lodge
Shop: Candy and toys
Ph: +1 250 578 7482
The North Face Mountain Outfitters
Location: Sun Peaks Grand Hotel and Conference Centre
Shop: Performance clothing, footwear, outerwear
Ph: +1 250 578 5578
Three Peaks
Location: The Residences at Sun Peaks Grand
Shop: Technical outdoor, lifestyle and casual clothing
Ph: +1 250 578 5579
Sun Peaks Trail Maps
Explore Sun Peaks trail maps to find your ideal place to ride, catch up with friends and more…