Aspen Ski Area
The name Aspen, Colorado, encompasses not only the most iconic ski town in the United States but also its ski mountain along with Snowmass, Aspen Highlands and Buttermilk combined. Snowmass is the largest, with such a well-developed and sophisticated base village as to be regarded an entity itself (see Snowmass section). The beauty of the region is that all four resorts, referred to collectively as Aspen Snowmass, are minutes from each other, linked by shuttle buses and skiable on the one lift pass.
Each resort is completely different, too, which is quite remarkable given the proximity. Aspen is steep, full of lengthy groomers and areas of gladed bump runs. Aspen Highlands offers the longest, and arguably the most challenging slopes of the four. Mogul runs are so steep and long here they will test the strongest of riders. Aspen Highlands also possesses breathtaking terrain especially in the hike-to reaches of Highlands Bowl. Snowmass is king for cruising slopes, above which are wicked steep glades and some of the most exacting black diamond terrain you will find anywhere. Buttermilk is purely and utterly a beginner and never-ever's paradise.
Despite a glitzy reputation and being a favourite of the rich and famous, Aspen is still a regular town inhabited by regular people. Yes A-list celebrities, movie stars and sportspeople patronise and visit Aspen, but so does everyone else. As a result there are art galleries and restaurants that could easily be transplanted to London or New York, alongside regular cafes, diners, grocery stores, T-shirt/souvenir shops and much more. There are several eateries catering for family dining. This egalitarianism is evident in accommodation offerings too, from the most elite to dozens of lodges, hotels, and condominiums catering for every budget.
Aspen Mountain & Ski Terrain
Aspen Mountain, is formely known as Ajax, is well known for holding snow and powder stashes well after the last big fall. The Silver Queen gondola lifts right from town. The ski area is compact, 675 acres (273 hectares) with long fast groomers, sensational glades and bump skiing especially in an area known as The Dumps. Elevations ranges between 7945 feet (2422 meters) to 11,212 feet (3417 meters). Don't miss the shrines dedicated to late celebrities and musicians hidden in the trees.
With 65% of its runs graded double black diamond, Aspen Highlands (elevation 8040 feet (2451 meters) to 12,392 feet (3777 meters) is heaven for experts, an enjoyable challenge for the ambitious intermediate and a joy for those who like to cruise long groomed slopes with beautiful views and more than a bit of pitch here and there.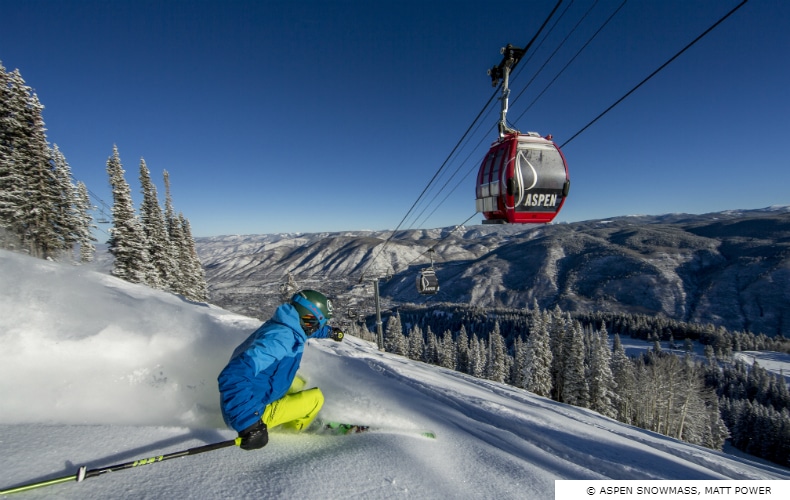 There is zero here for beginners. Highlands' has a skiable area of 1040 acres (421 hectares), averages 362 inches (about 7 meters) of snowfall each season. Hike to the top of Highlands Bowl – not for the faint-hearted or unfit – to ski some of the steepest longest smoothest inbounds lines in Colorado. Take in views of Maroon Bells & Pyramid Peak mountains beyond. Test your strength and skill on some of the most difficult bump runs in the US such as Temerity and Steeplechase, and then toast your success at Cloud Nine, the rustic bistro. There is zero here for beginners.
Buttermilk offers stellar blue and black terrain, and beautiful glades and groomers off the Tiehack Express Lift. It's terrain park is the bomb: Buttermilk hosts the annual ESPN Winter X Games. Perfect skills at Buttermilk's S3 Park, where our Pros offer the perfect introduction to terrain-park skills. For those skiers and riders who are ready for the bigger rails, boxes and pipes, join one of our Park & Pipe Freestyle-Certified Pros in a private lesson and head to the same terrain park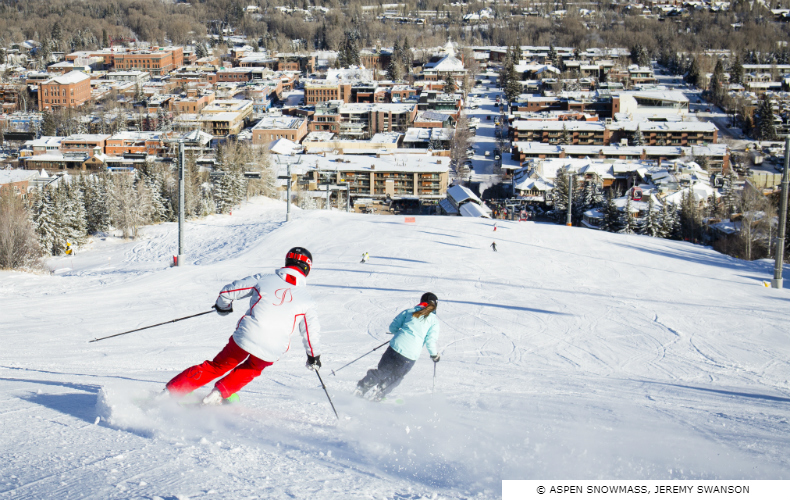 Aspen Mountain Statistics
| | |
| --- | --- |
| Skiable Terrain | 673 acres (272 hectares) |
| Vertical | 996 m (3,267 ft) |
| Top Elevation | 3,417 m (11,212 ft) |
| Base Elevation | 2,422 m (7,945 ft) |
| Average Snowfall | 760 cm (300 in/25 ft) |
| Intermediate Terrain | 48% |
| Advanced Terrain | 26% |
| Trails | 76 |
| Parks | 3 |
| Winter lifts Total | 8 |
| Gondolas Trams | 1 |
| Chair Lifts | 7 |
| Lift Capacity | 10,755 |
| Longest Run | 5 km (3 mi) |
| Snowmaking | 658 ac (266 hectares) |
| Season Opens | November 17, 2018 |
| Season Closes | April 21, 2019 |
How To Get To Aspen
Aspen, Aspen Highlands, Buttermilk and Snowmass are located in the Roaring Fork Valley in west-central Colorado. Visitors fly into either Denver International Airport (DIA) from where there are numerous shuttle services from to Aspen Snowmass via I-70 and Colorado Highway 82, or into Pitkin County Airport just 3 miles from Aspen and 6 miles from Snowmass. Aspen is 220 miles (355 km) from DIA.
Flying To Aspen
The Aspen-Pitkin County Airport is located just 5 minutes from Buttermilk (and 10 minutes from Snowmass and Aspen Mountain), and accommodates nonstop flights from ten major U.S. airports on United, American, and Delta.
During winter, direct daily flights to Aspen-Pitkin County Airport from: Denver (DEN), Los Angeles (LAX), Chicago (ORD)< Houston (IAH), Dallas/Fort Worth (DFW), San Francisco (SFO), Atlanta (ATL), Salt Lake City (SLC), Minneapolis/St. Paul (MSP) and  Phoenix (PHX).
Shuttle Services To Aspen
The are private shuttle services available, which we can book for you.
Driving To Aspen
To reach Aspen Snowmass, exit Interstate 70 at Glenwood Springs and head 41 miles south and east to Aspen on Highway 82. (Glenwood Springs is 157 miles west of Denver).
In winter, Highway 82 over Independence Pass east of Aspen is closed.
Below is a summary of distances from Colorado's airports to downtown Aspen.
From Aspen/Pitkin County Airport: 3 Miles (4.8 km) East On Highway 82.
From Denver International Airport (Den): 220 Miles (354 km) West Via I-70 And Colorado 82.
From Eagle County Airport (Ege): 70 Miles (112 km) West Via I-70 And Colorado 82.
From Grand Junction Regional Airport (Gjt): 125 Miles (201 km) East Via I-70 And Colorado 82.
How To Transit Between All Four Mountains
The RFTA or Roaring Fork Transit Authority (which locals simply call "Rafta") connects riders with all the important points in the valley including between the four ski resorts via it's 4 Mountain Connector.
For the latest information and timetables – https://www.rfta.com/routes/4-mountain-connector/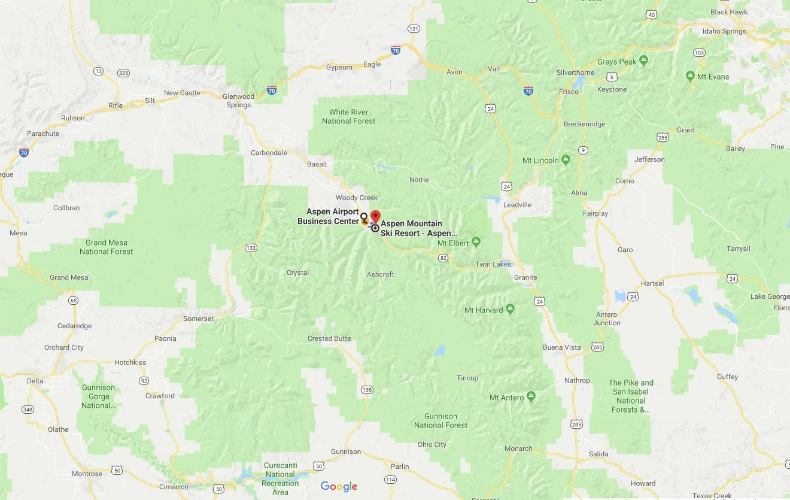 Aspen Ski School
Learners should head to Snowmass or Buttermilk for lessons as the terrain does not allow for first-timers and the truly new to skiing and snowboarding to be taught on either Aspen Mountain or Aspen Highlands. On Aspen mountain, the Aspen Snowmass Ski & Snowboard School offers lessons geared to take your skiing and riding to the next level. Fine tune turns on long blue groomers which have hosted World Cup races, and progress your skills in the mountain's glades, bumps and steeps.
For learning how to handle steep tricky terrain it is hard to go past taking a lesson at Aspen Highlands. This mountain offers the perfect opportunity to find out what big-mountain skiing is all about under the guidance of a professional.
Buttermilk calls itself "the best beginner mountain in North America". There is nothing intimidating here. The base area offers The Hideout — an integrated play-and-learning area for children in ski school ages 2 ½ to 6 years old that smooths the transition to skiing and boarding. Intermediates and advanced can also take lessons here on blue and black terrain. And terrain park fans must take lessons with the Park & Pipe Freestyle-Certified Pros in Buttermilk's S3 Park, where instructors can introduce them to all the skills they will need to ride rails, boxes and pipes.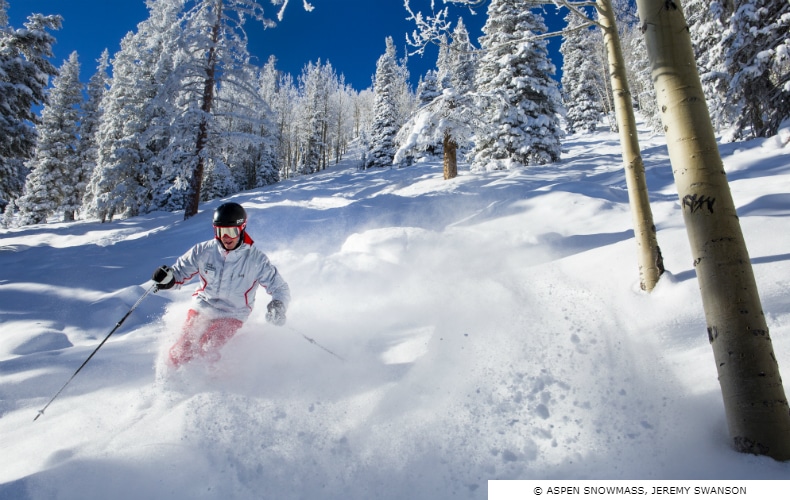 Aspen Things To Do, Activities And Tours
Numerous shops, art galleries, parties, concerts, big name acts and cultural and historic attractions ensure there is plenty to keep people occupied off the slopes. Book tickets to see a show at the historic Wheeler Opera House, take time to wander the stylishly impressive Hotel Jerome and sip a cocktail at its famous bar. Hail the Ultimate Taxi, a one-of-a-kind cab with a mirror ball and disco lights. Visit glass art galleries the likes of which are usually found in major cities like LA or New York. A popular out of town excursion especially for fans of the late author Hunter S Thompson, of Fear And Loathing in Las Vegas fame, is the Ajax Tavern in Woody Creek.
Snowcat dinner trips to on-mountain restaurants are on offer on both Aspen and Highlands.
First Tracks
Location: Gondola base
First-run-of-the-day on freshly groomed snow or powder on Aspen Mountain.
Phone: +1 970-925-5756
Aspen NASTAR
Public NASTAR courses are available on or Aspen Mountain.
Aces Tours
Location: top of Aspen Mountain, in front of the gondola
Two-hour guided snowshoe tour with a knowledgeable Naturalist.
Phone: +1 970-925-5756
Ambassador Tours
Location: top of the mountain at Guest Services Center
Get the local information via Aspen's community ambassadors.
Phone: +1 970-925-5756
Aspen Highlands Activities And Tours
Snowcat Dinner At Cloud Nine Alpine Bistro
Cuisine: Swiss and Continental
Location: Cloud Nine (meet at Aspen Highlands base)
Reservations: Required
Reserve: Public Dinner Reservations: +1 970-923-8715
History Tour
Location: Guest Services Cabin near the Exhibition Lift
Ambassadors lead a history tour in conjunction with the Aspen Historical Society.
Phone: +1 970-544-3081
Aspen Restaurants & Bars
On Aspen Mountain, enjoy panoramic views and morning yoga as well as delicious food at 11,210 feet / 3415 meter inside The Sundeck atop the Silver Queen gondola. There is a pop-up on-slope Oasis champagne bar on Fridays. On Highlands, sipping a glass of champagne and an elegant meal at the rustic Cloud Nine, named for its 9000 foot elevation, are an absolute must.
In town visitors are spoilt for (excellent) choice, in every way. There is so much competition the quality of restaurant food here is exceptionally high, so expect top notch pizzas and hamburgers that are every bit as satisfying as your high end a la carte. Aspen's branch of renowned high end Japanese sushi restaurant Matsuhisa is very popular, as are the long-established dining institutions such as the vibey Mezzaluna and the cosy Red Onion.
Aspen has electric nightlife which kicks off at apres ski and keeps right on going. Hit the The Little Nell's Cloud 9 bar for starters, and/or the pool bar 39 Degrees, and work your way around town from there. For the best live music in town check what's on at Belly Up – the venue brings international acts to Aspen almost every night of the winter season.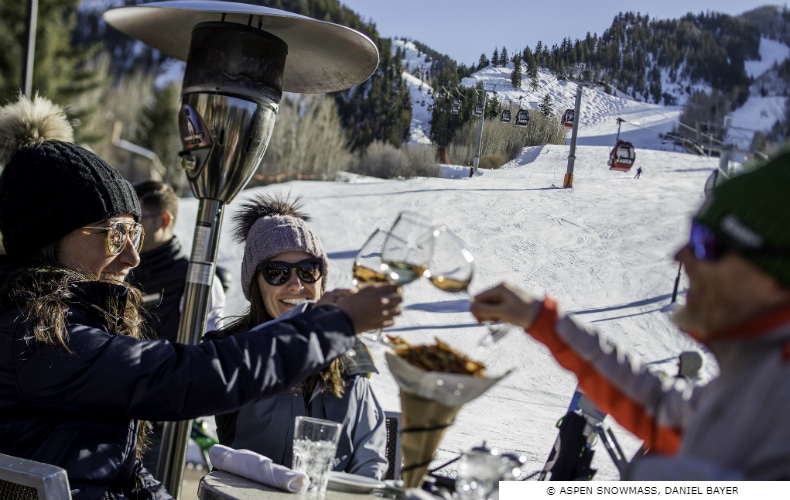 Sundeck
Location: Aspen Mountain, Top of the Silver Queen Gondola
Food: American, Mediterranean & Asian
Bar: No
Open: Lunch & Dinner
Phone: +1 970-925-1220
Ajax Tavern
Location: Aspen Mountain, Base of Silver Queen Gondola
Food: Bistro-inspired comfort food
Bar: Yes
Open: Lunch & Dinner
Phone: +1 970-920-6334
Bonnie's
Location: Aspen Mountain, mid-mountain off Tourtelotte Park
Food: American
Bar: No
Open: Breakfast & Lunch
Phone: +1 970-544-6252
Element 47
Location: Aspen Mountain, inside The Little Nell
Food: Seasonally-Inspired New American
Bar: Yes
Open: Breakfast, Lunch & Dinner
Phone: +1 970-920-6330
Matsuhisa
Location: 303 E. Main Street, Aspen
Food: Sitting at the chef's counter at Matsuhisa and witnessing the artistry behind one of the world's greatest sushi chefs.
Open: Dinner
Phone: +1 970 544 6628
Aspen Highlands Restaurants
Merry-Go-Round
Location: Aspen Highlands, Top of the Exhibition Lift
Food: International
Bar: Yes
Open: Lunch
Phone: +1 970-544-3083
Cloud Nine Alpine Bistro
Location: Aspen Highlands, Top of the Cloud Nine Lift, Ski-in ski-out only
Food: Alps inspired continental
Bar: Yes
Open: Lunch & Dinner
Phone: +1 970-923-8715
Aspen Shopping
Where to start? All the big names are here. Depending on your budget, window shop or go wild at Christian Dior, Chanel, Kate Spade, Escada – all located in the streets closest to the mountain – before working your way further away from the slopes and into Aspen proper where there are enough boutiques art galleries, glass art galleries, movie poster stores and more to keep visitors amused for hours and/or days.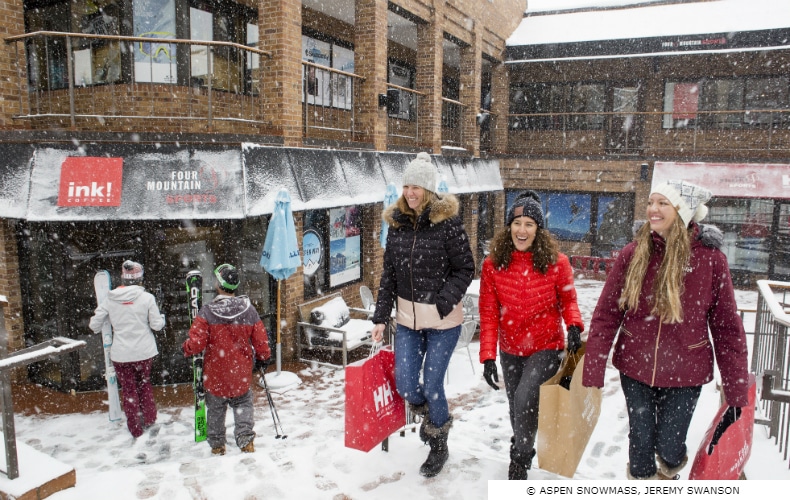 Gear & Apparel
Aspen Shop – 555 E. Durant Ave. | +1 (970) 300-7631
D&E Retail – 520 E. Durant Ave. | +1 (970) 920-2337
Four Mountain Sports–520 E. Durant Ave. | +1 (970) 920-2337
Helly Hansen Concept Store – 520 E. Durant Ave. | +1 (970) 920-2337
Lululemon – 204 S. Galena St.| +1 (970) 925-2033
Montcler – 432 E. Hyman Ave. | +1 (970) 544-5558
O2 Aspen – 500 W. Main St. | +1 (970) 925-4002
Patagonia – 100 Elbert Ln., Snowmass Village | +1 (970) 315-3364
The Boutique At The Little Nell – 675 East Durant Avenue | +1 (970) 920-6313
Fashion & Beauty
Cos Bar – 309 S Galena St, Aspen, CO | +1 (970) 925-6249
Distractions – 465 E Hopkins Ave, Aspen, CO | +1 (970) 544-9946
Gucci – 203 S Galena St, Aspen, CO | +1 (970) 920-9150
Kemo Sabe – 217 S Galena St, Aspen, CO | +1 (970) 925-7878
Little Bird – 525 E Cooper Ave, Aspen, CO | +1 (970) 920-3830
Maison Ullens – 445 E. Hopkins Ave. | +1 (970) 429-4170
Prada – 312 S. Galena St. | +1 (970) 925-7001
Ralph Lauren – 501 E. Cooper Ave. | +1 (970) 925-5147
Testosterone – 312 E. Hyman Ave. | +1 (970) 710-7432
Fine Art & Home
Casterline | Goodman Gallery – 611 E. Cooper Ave. | +1 (970) 925-1339
Chequers – 520 E. Cooper Ave., #1A | +1 (970) 925-7572
Christopher MartinGallery – 525 E. Cooper Ave. | +1 (970) 925-7649
Daniel's Antiques – 431 E. Hyman Ave. | +1 (970) 544-9282
Peter Lik Gallery – 406 E. Hopkins Ave. | +1 (970) 925-1820
Royal Street Fine Art – 205 S. Mill St., #211 | +1 (970) 920-3371
Food & Wine
Aspen Wine & Spirits – 300 Puppy Smith St. | +1 (970) 925-6600
Carl's Pharmacy – 306 E. Main St. | +1 (970) 925-3273
Daly Bottle Shop – 45 Village Run Circle, Snowmass Village | +1 (970) 923-4100
Grain Fine Food & General Store – 45 Village Run Cir., Snowmass Village | +1 (970) 923-4100
Meat & Cheese Restaurant & Farm Shop– 319 E. Hopkins Ave. | +1 (970) 710-7120
Rocky Mountain Chocolate Factory – 401 E. Cooper Ave. | +1 (970) 925-5112
Local's Favorites
The Aspen Thrift Shop – 422 E. Hopkins Ave. | +1 (970) 925-3121
Emporium & Flying Circus – 315 E. Main St. | +1 (970) 544-2499
Explore Booksellers– 221 E. Main St. | +1 (970) 925-5336
Odd Molly – 613 E. Cooper Ave. | +1 (970) 925-2250
Rocky Mountain Pet Shop – 107 S. Monarch St. | +1 (970) 925-2010
Susie's Limited Consignments– 600 E. Main St., #8 | +1 (970) 920-2376
Aspen Trail Maps
Explore Aspen's Four Mountains' trail maps to find your ideal place to ride, catch up with friends and more…