Once you step through the grand welcoming gates of Beaver Creek, something magical happens, as you step into a winter wonderland of relaxed, sophisticated luxury wrapped around a world class ski mountain experience.
The resort offers up some amazing skiing across it's 1,832 acres. With impeccable grooming across the resort, endless bump runs, right up to the heart pumping Birds of Prey downhill course where you can test yourself just like Ted Ligety or Aksel Lund Svindal do each year when the World Cup rolls into town.
With a vertical drop of 3,340 feet (1,018m), two bowls and three terrain parks, there is something for everyone here. For a unique experience you can ski village-to-village across to Bachelor Gulch and then to Arrowhead Village and then back to Beaver Creek.
The picture postcard village offers speciality shops, art galleries, bars and restaurants all linked by heated walkways and escalators – with the village centrepiece – a kid friendly open outside ice-skating rink. And calling all kids and cookie fans worldwide, every day at 3 pm there are freshly baked free cookies on offer at the base of the mountain!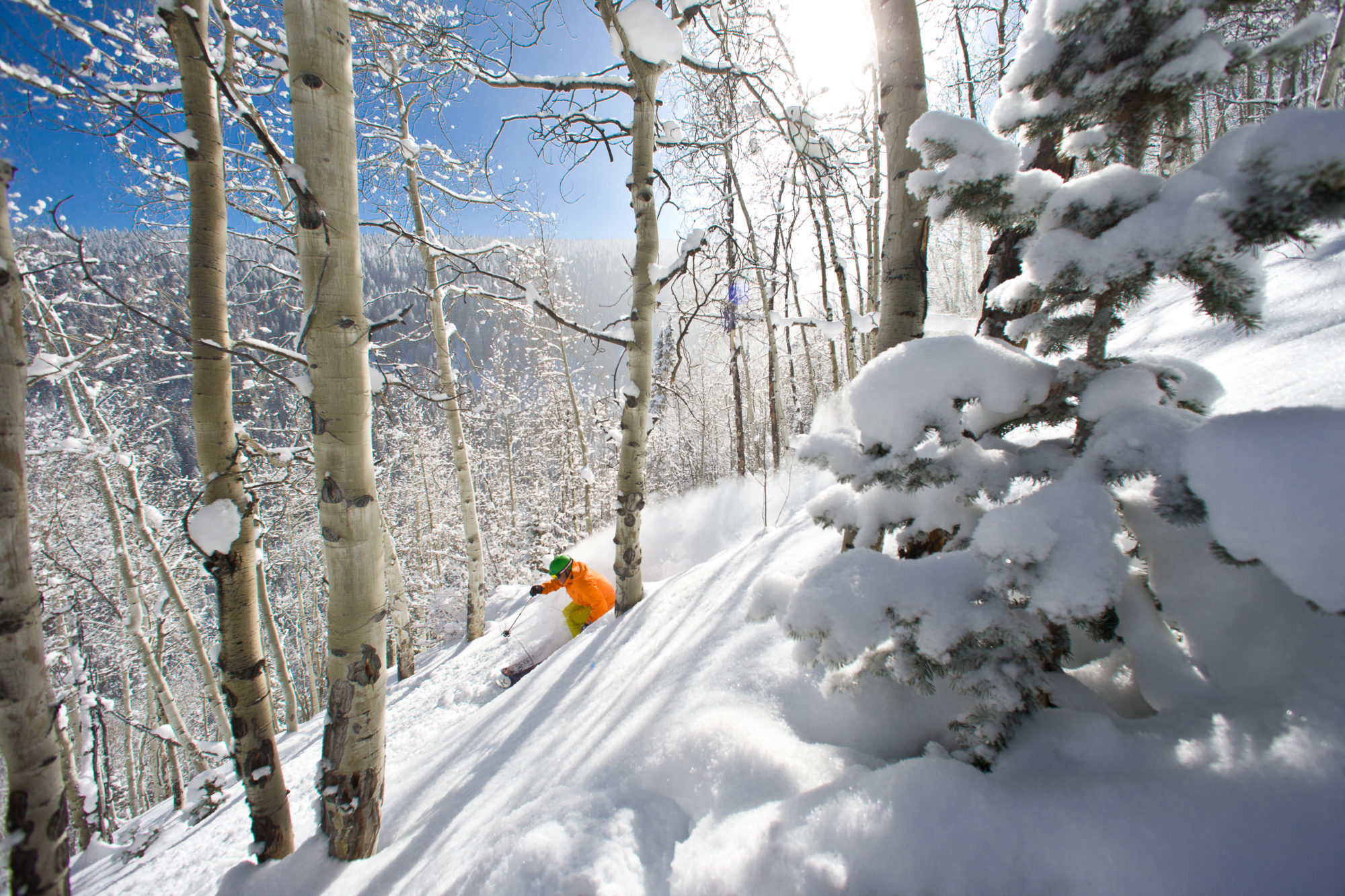 Beaver Creek Ski Area & Terrain
There are four ways to gain access to Beaver Creek ski area; via the three villages of Beaver Creek, Bachelor Gulch and Arrowhead and via Avon, the small town at the base of the mountain, via a free shuttle or by catching the River Front Express Gondola.
From Beaver Creek Village head up the Centenial Express Lift and from there you can head higher for the easier terrain along the apply named Chinch Express Lift, or you can head skier left across to Red Tail and the Talons Restaurant area. From there your options are only limited by your imagination.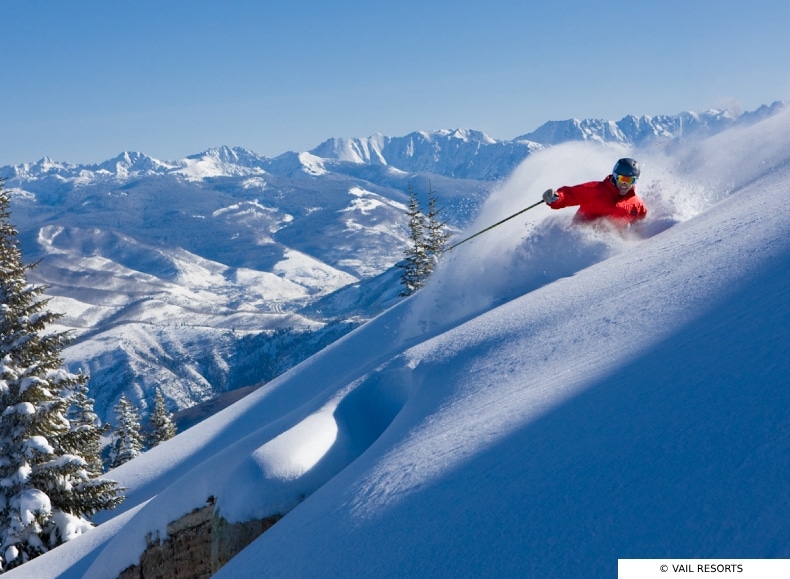 Beaver Creek Statistics
| | |
| --- | --- |
| Skiable Terrain | 1,815 acres (734 hectares) |
| Vertical | 1,020 m (3,340 ft) |
| Top Elevation | 3,490 m (11,440 ft) |
| Base Elevation | 2,500 m (8,100 ft) |
| Average Snowfall | 790 cm (310 in/25ft) |
| Intermediate Terrain | 43% |
| Advanced Terrain | 38% |
| Trails | 149 |
| Parks | 4 |
| Winter lifts Total | 24 |
| Gondolas Trams | 2 |
| Chair Lifts | 13 |
| Surface Lifts | 9 |
| Longest Run | 4.4 km (2.75 mi) |
| Mountain Restaurants | 28 |
| Snowmaking | 650 ac (263 hectares) |
| Season Opens | 17 November, 2018 |
| Season Closes | 14 April, 2019 (Estimated) |
How To Get To Beaver Creek
Beaver Creek is located in the heart of Colorado's central Rocky Mountains, 30 minutes east of Eagle County Regional Airport and two hours west of Denver International Airport.
Flying To Beaver Creek
Eagle County Regional Airport provides non-stop flights from 14 cities in the winter. One-stop connections are available from over 250 cities worldwide. During the winter, Eagle Airport is serviced by Air Canada, American, Delta and United from the following cities; Atlanta, Chicago, Dallas/Ft. Worth, Denver, Houston, Los Angeles, Miami, New York/JFK, Newark, Phoenix, Salt Lake City, San Francisco, Toronto, Washington D.C.
Denver International Airport offers over 750 daily flights to 180 destinations, including 20 international destinations.
Private Jet Service in EGE is available to the Vail Valley, the Vail Valley Jet Center can assist you with aircraft storage and services.
Shuttle Service & Transfers
There are daily shuttle services from Eagle and Denver airports.
Driving To Beaver Creek
The address is Beaver Creek Resort 26 Avondale Lane Avon, CO 81620 and can be accessed via Interstate 70.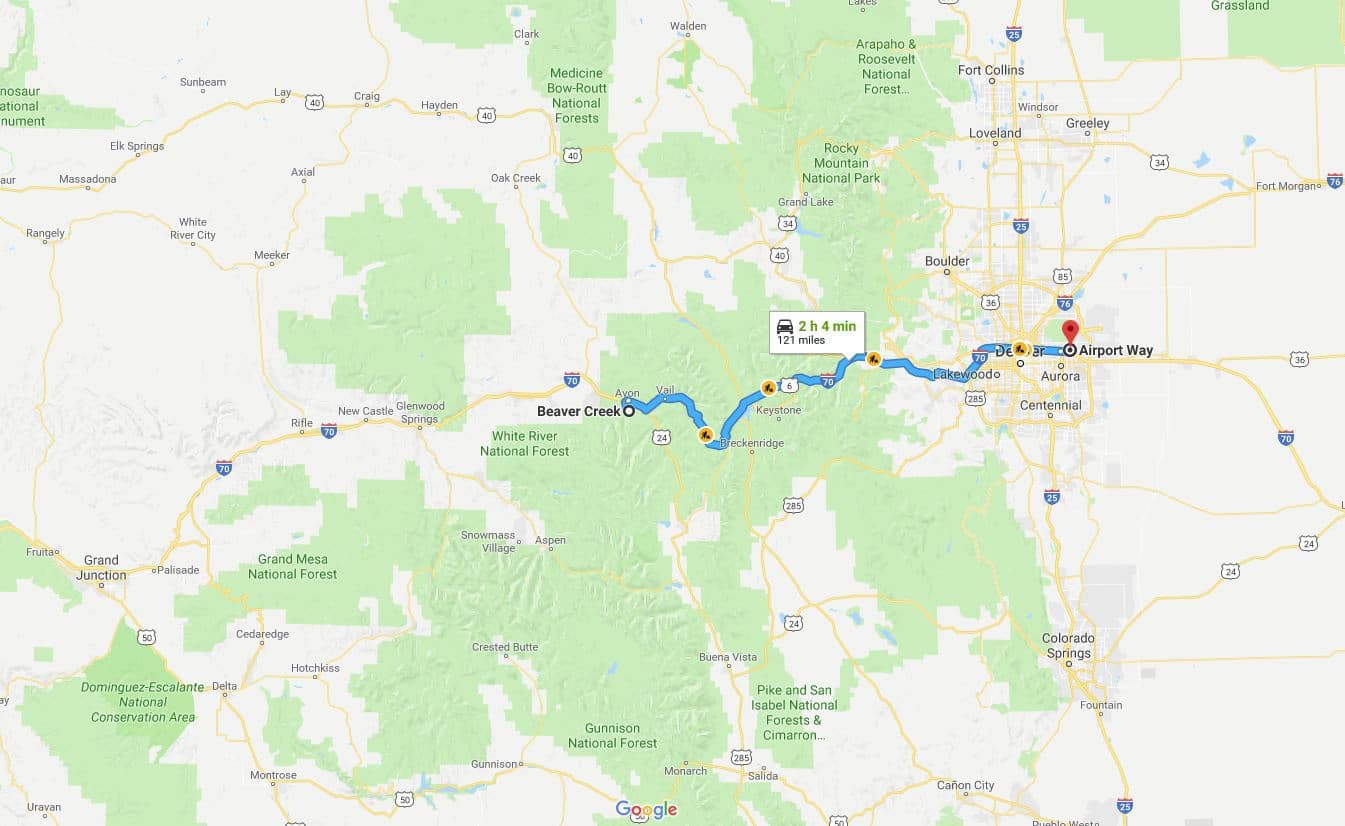 Beaver Creek Tours, Activites & Things To Do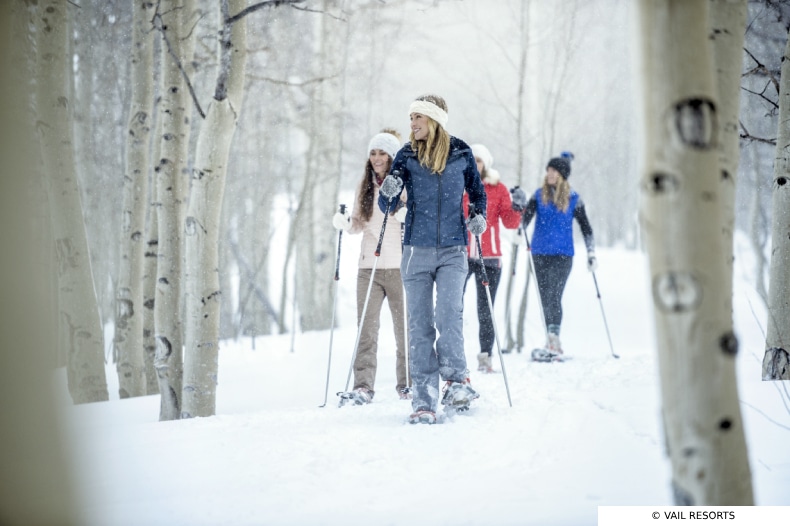 Kids' Adventure Zones
Are marked on the trail map and found all over Beaver Creek Mountain.
Mountain Welcome Tours
Complimentary two-hour guided terrain tours are available daily to intermediate and advanced skiers & snowboarders.
Vilar Performing Arts Center
An incredible setting for world-class entertainment.
Tel: +1 888.920.2787
Ice Skating
The impressive ice rink is located in the heart of beaver creek village with skate and helmet rentals available.
Cookie Time
Every afternoon at 3 p.m. There are free freshly-baked chocolate chip cookies at the base of the mountain. 500,000 Cookies are served each year.
Ripperoo Sighting
Stop by Ripperoo's Retreat, located near the top of Gold Dust Trail.
Thursday Night Lights
Evening ski-down and fireworks finale.
Family Funfest Carnival
A village-style carnival complete with games of skill and prizes!
Ski Rental & Hire
Nordic Sports Center
Located across the bridge in the Strawberry Park building, offers a full range of ski gear for hire, with classical, skate, telemark and snowshoe equipment available.
Beaver Creek Restaurants, Bars & Nightlife
8100 Mountainside Bar & Grill
Avon, CO
+1 970-827-6600
Allie's Cabin
On Mountain Dining
+1 970-754-5545
Beano's Cabin
On Mountain Dining
+1 970-754-3463
Black Diamond Bistro
Beaver Creek, CO
Pizza, Cocktail Bars
+1 970-845-3198
Blue Moose Pizza
Avon, CO
Pizza, Italian
+1 970-845-8666
Broken Arrow Restaurant
Edwards, CO
Burgers, Pizza
+1 970-754-6750
Buffalos
Avon, CO
Breakfast & Brunch
+1 970-343-1168
Beaver Creek Chophouse
Beaver Creek, CO
Steakhouses, Seafood
+1 970-845-0555
Coyote Cafe
Avon, CO
Mexican, Dive Bars, Tex-Mex
+1 970-949-5001
Dusty Boot Roadhouse
Avon, CO
Mexican, Bars, American
+1 970-748-1146
The Golden Eagle Inn Restaurant
Beaver Creek, CO
+1 970-949-1940
Grouse Mountain Grill
Avon, CO
American, Desserts, Bars
+1 970-949-0600
Hooked
Avon, CO
Sushi Bars, Seafood
+1 970-688-5313
Mirabelle At Beaver Creek Restaurant
Avon, CO
French
+1 970-949-7728
The Metropolitan
Beaver Creek, CO
Tapas Bars, Coffee & Tea
+1 970-748-3123
Osprey Fireside Grill
Beaver Creek, CO
Tapas/Small Plates, Wine Bars
+1 970-754-7400
Powder 8's
Beaver Creek, CO
Cafeteria
+1 970-949-1234
Revolution
Beaver Creek, CO
+1 970-845-1730
Rimini Chocolate and Gelato
Beaver Creek, CO
Ice Cream & Frozen Yogurt, Coffee & Tea
+1 970-949-6156
Saddleridge At Beaver Creek
On Mountain Dining
+1 970-754-5456
Spruce Saddle Lodge
Avon, CO
+1 970-754-5520
Splendido At The Chateau
Beaver Creek, CO
+1 970-845-8808
Talon
Avon, CO
+1 970-754-5530
Toscanini
Avon, CO
Italian
+1 970-754-5590
WLYD
Avon, CO
Steakhouses
+1 970-343-1168
Vista at Arrowhead
Edwards, CO
American (New), Italian, Seafood
+ 1 970-926-2111
Zach's Cabin
On Mountain
+1 970-754-6575
Beaver Creek Shopping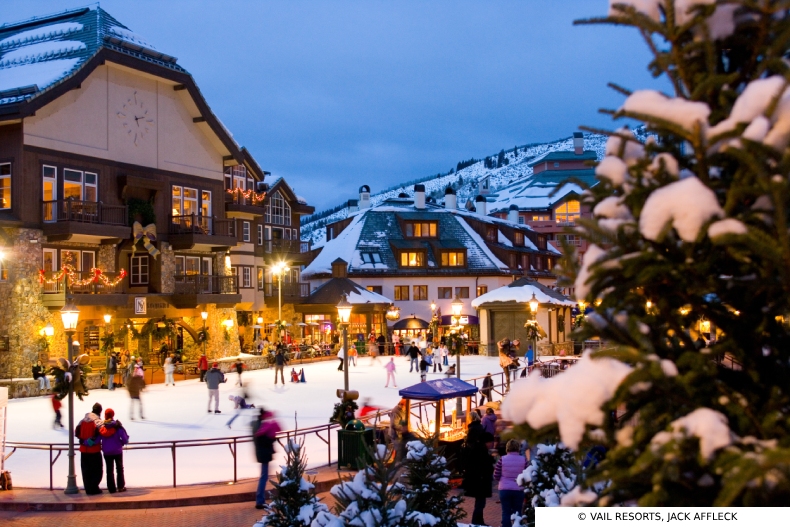 Allegria Spa
Avon, CO
Day Spas, Skin Care, Hair Salons
+1 970-748-7500
Avalon Clothing Vail & Beaver Creek
Beaver Creek Vail, CO
Women's Clothing, Accessories, Watches
+1 970-845-9700
Base Mountain Sports
Avon, CO
Bike Rentals, Ski & Snowboard Shops, Sports Wear
+1 970-949-4327
Beaver Creek Gear
Avon, CO
Sports Wear
+1 970-845-9330
Beaver Creek Sports – BC Landing
Avon, CO
View map , Location Pin
Ski & Snowboard Shops
+1 970-949-1686
Beaver Creek Sports – Rentals
Avon, CO
Sports Wear, Climbing, Outdoor Gear
+1 970-754-5418
Beaver Creek Sports Ski & Snowboard Rentals
Beaver Creek, CO
Ski & Snowboard Shops
+1 970-754-5400
Beaver Creek Sports – Ritz Carlton
Avon, CO
Sports Wear, Climbing, Outdoor Gear
+1 970-748-6880
Beaver Creek Sports – Spruce Saddle
Beaver Creek, CO
Sports Wear, Outdoor Gear, Ski & Snowboard Shops
+1 970-754-5410
Beaver Creek Sports – St. James
Avon, CO
Outdoor Gear, Ski & Snowboard Shops
+1 970-306-0109
Beaver Creek Sports – Westin Riverfront
Avon, CO
Sports Wear, Climbing, Outdoor Gear
+1 970-748-3080
Beaver Creek Sports – BC Plaza
Avon, CO
Sports Wear, Climbing, Outdoor Gear
+1 970-754-5400
Beaver Creek Market
Avon, CO
Gift Shops, Bakeries, Grocery
+1 970-949-0742
Burton – BC Village
Avon, CO
Outdoor Gear, Sports Wear, Climbing
+1 970-754-5420 ,
By Nature Gallery
Beaver Creek, CO
View map , Location Pin
Art Galleries
+1 970-949-1805
C Anthony Gallery
Avon, CO
Art Galleries
+1 970-845-8645
Charter Sports – The Charter at Beaver Creek
Avon, CO
Ski & Snowboard Shops, Bike Rentals
+1 970-949-4891
Christy Sports Ski & Snowboard Rentals
Beaver Creek, CO
Outdoor Gear, Ski & Snowboard Shops
+1 970-949-5576
Frinje
Beaver Creek, CO
Women's Clothing
+1 970-845-7774
Generation BC
Avon, CO
Children's Clothing, Toy Stores, Ski & Snowboard Shops
+1 970-949-1652
Giovanny Alexander
Avon, CO
Leather Goods
+1 970-949-9570
Gore Creek Fly Fisherman
Avon, CO
Sports Wear, Climbing, Outdoor Gear
+1 970-476-3296
Gorsuch Beaver Creek
Avon, CO
Sports Wear
+1 970-949-7115
KJUS
Avon, CO
Outdoor Gear, Sports Wear
+1 970-306-0108
Patagonia
Avon, CO
Sports Wear, Climbing, Outdoor Gear
+1 970-748-8820
Ski & Snowboard Shops
+1 970-754-5430
SmartWool
Avon, CO
Sports Wear
+1 970-331-0835
Spa Struck
Beaver Creek, CO
Massage, Day Spas, Nail Salons
+1 970-845-2225
Surefoot
Beaver Creek, CO
Outdoor Gear
+1 970-949-4545
The North Face
Avon, CO
Sports Wear, Climbing, Outdoor Gear
+1 970-748-0408
Beaver Creek Trail Maps
Explore Beaver Creek trail maps to find your ideal place to ride, catch up with friends and more…
Cross Country Skiing Trial Map