Snowbird Ski Resort
Exceptional and expansive terrain along with the propensity to attract some of the lightest powder snow in North America are hallmarks of this legendary resort. Along with next-door neighbor Alta, Snowbird is ranked one of the top three snowiest resorts in the United States, receiving an average of 33 feet (10.2 m) of snowfall per year due to the storm-boosting effects of Utah's Great Salt Lake.
These attributes have won Snowbird a legion of diehard fans since it opened in 1971, not least because snowboarders are allowed, unlike across the ridge in Alta.
Snowbird is particularly well-suited to advanced and expert mountain riders but rest assured, there is more than enough to entertain intermediates and beginners. The base village comprises a collection of lodging centered around Snowbird's largest hotel The Cliff Lodge, and The Snowbird Centre filled with convenience stores, eateries, and restaurants.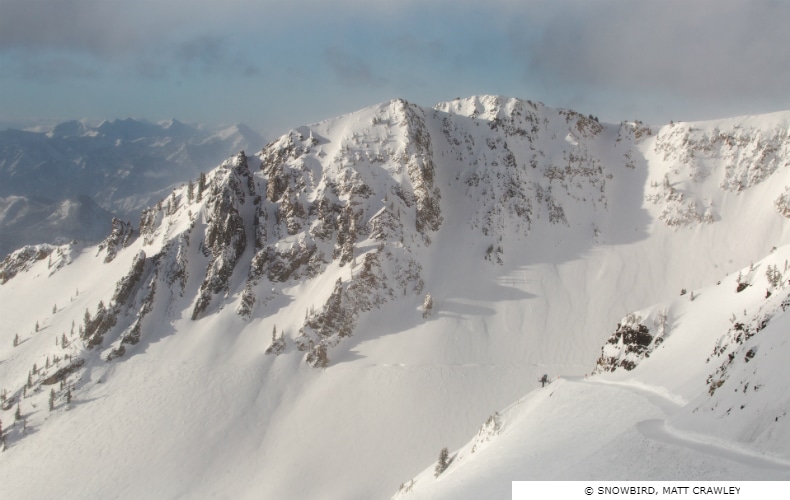 Snowbird Accommodation, Lodging & Hotel Options
Snowbird Mountain & Ski Terrain
Snowbird is known for steep runs, fall line chutes, and long continuous slopes. Yet while renowned as a "skier's mountain" for those whose motto tends to be – go hard or go home, Snowbird is also one of the few areas where the terrain is almost equally divided between beginner, intermediate and advanced, meaning there is something for everyone.
The ski area expands across three main bowls or drainages, Mineral Basin, Peruvian Gulch, and Gad Valley, serviced by 11 lifts. Each of these areas can be accessed in their entirety by riding Snowbird's iconic tram to the top of Hidden Peak's 10,990 feet (3,350 m) summit.
Unlike many challenging resorts, Snowbird does not require advanced skiers to have inside knowledge or ski with a local simply to find the goods: the majority of top drops are accessed by taking the Aerial Tram, then scooting along the ridgelines above Mineral Basin, Peruvian Gulch and Gad Valley from where all the 'exciting stuff' is clearly visible. Drop into whichever chute or slope takes your fancy. Mineral Basin's double diamond chutes, steeps, and cliffs are particularly challenging.
Intermediate runs are found off most of the lower lifts, while the Baby Thunder area close to the Creekside base is solely dedicated to family and beginner skiing. Children absolutely love the Mini Mining Camp located off the Baby Thunder Lift where instructors focus on teaching balance skills on the tree trails. Beginner skiers can even enjoy the expansive beauty of Snowbird's Mineral Basin via the Tram.
Snowbird Statistics
| | |
| --- | --- |
| Skiable Terrain | 2,500 acres (1011 hectares) |
| Vertical | 988 m (3,240 ft) |
| Top Elevation | 3,353 m (11,000 ft) |
| Base Elevation | 2,365 m (7,760 ft) |
| Average Snowfall | 1,270 cm (500 in/41 ft) |
| Beginner Terrain | 27% |
| Intermediate Terrain | 38% |
| Advanced Terrain | 35% |
| Trails | 169 |
| Parks | 1 |
| Winter lifts Total | 14 |
| Gondolas Trams | 1 |
| Chair Lifts | 10 |
| Surface Lifts | 3 |
| Lift Capacity | 17,400 |
| Longest Run | 4.0 km (2.5 mi) |
| Mountain Restaurants | 16 |
| Season Opens | 24 November, 2018 |
| Season Closes | 24 May, 2019 (Estimated) |
How To Get To Snowbird
Connect from Los Angeles, San Francisco, and a string of other US cities to Salt Lake City International airport from where shuttles run regularly to Snowbird.
The resort is 40km from SLC. Take I-80 east to I-215 south. Take Exit 6 (6200 South) and go east on 6200 South, toward the mountains. This road will lead you straight to UT-210 and up Little Cottonwood Canyon to Snowbird.
When driving from Salt Lake City, drive west on 500 South to I-15 and head south. Exit at I-215 heading east. Get off at Exit 6 (6200 South) and follow the directions above.
Snowbird Snowsports & Ski Schools
Snowbird's curated range of classes are cleverly designed to appeal to everyone, from first-timers to tiny tots to advanced riders who simply want to rip.
The Adult Mountain Clinic goes for just over two hours and takes experts everywhere with instructors handing out tips along the way on how to master Snowbird's trickier terrain. Separate clinics for skiers and snowboarders. Week-long Women Clinics are held in January and March, run by a former National Team Member and PSIA examiner.
Snowbird has a special program called Chickadees designed to introduce three-year-olds only to skiing. They can then progress to Kinderbirds for ages four to six, Big Mountain Kid's Camp for 10 to 15-year-olds (skiers only), and Mountain Adventure for 13 to 17-year-old riders of intermediate to advanced skill levels.
Camp Snowbird offers winter childcare, nursery, and babysitting.
Snowbird Things To Do, Activities & Tours
For those who can tear themselves away from the slopes, there is a range of snowmobile tours and guided snowshoeing trips in the surrounding Wasatch Mountains. Any non-skier can ride the Aerial Tram to Snowbird's summit, and fly fishing operates year-round. If learning more about the snowpack and how to look after yourself out in the backcountry appeals, Snowbird has several avalanche safety courses.
Popular options on Snowbird's activity menu are guided backcountry snowcat skiing tours.
Snowbird Snowcat Skiing for Nature takes clients into stunning wild terrain south of the resort which is owned by Snowbird, and proceeds go toward local conservation, while Snowbird Guides run a full day tour into majestic terrain beyond the ski area boundary, starting around 7.30 am with breakfast and orientation at the Forklift Restaurant.
Tram to The Summit
Location: The Tram and the Hidden Peak Terminal
Enjoy views of snow-capped slopes and the Salt Lake Valley.
Phone: +1 801.933.2222
Snowcat Skiing
Location: Snowbird Center, Level 1
This terrain is located on Snowbird's private property south and east of Snowbird and includes five distinct areas: Sinner's Pass, Pagan Basin, and Borussia in Mineral Basin, Miller Hill, and Mary Ellen Gulch.
Phone: +1 801.471.4387
Guided Backcountry Tours
Location: Snowbird Center, Level 1
Description: A guided backcountry tour requires the ability to hike with touring skis on and advanced skiing ability.
Phone: +1 801.471.4387
Snowshoeing
Location: Snowbird Activity Center, Snowbird Center, Level 3
Exercise in the beautiful Wasatch mountains.
Snowmobile Tours
Location: Snowbird Center, Level 3
The adventure starts at the 11,000 ft. summit of Hidden Peak, providing breathtaking views of the Wasatch. With over 100,000 acres of incredible riding and phenomenal views from the highest elevation snowmobile starting point in North America.
Phone: +1 385.239.8196
Avalanche Education
Location: Snowbird Center, Level 1
Learn the skills you need to safely navigate the backcountry.
Phone: +1 801.471.4387
Tour With a Ranger
Location: Mid-Gad Restaurant, outside near the trail map sign
Description: Join Cottonwood Canyons Foundation's volunteer naturalist rangers
Fly Fishing
Location: Snowbird Center, Plaza Deck
Year-round guided fishing trips include all of your fishing gear, water, and snacks.
Phone: +1 801.933.2147
Alpine Slide
Location: Snowbird Entry 4
Description: The Alpine Slide winds down Chickadee Run through twists, turns, and tunnels. It starts near the top of Snowbird Entry 4 and finishes 1,300 linear feet later near the Snowbird Center.
Phone: +1 801.933.2222
Snowbird Restaurants, Bars & Nightlife
Snowbird has over a dozen restaurants and eateries with menus ranging from the latest in organic eating to Mexican, pastries, and French a la carte. Start at the top (literally) by treating yourself to food and views at The Summit restaurant atop 10,990 (3350 m) Hidden Peak accessed by the Aerial Tram.
Another on-mountain eatery is the Mid Gad cafeteria, as well as the Creekside Lodge at the base of the Gadzoom lift. The Cliff Lodge's three restaurants are gastro pub The Aerie serving modern-American meals filled with organic seasonal produce, The Atrium brimming with decadent pastries and gourmet coffees, and popular Mexican restaurant El Chanate which stocks a large range of tequilas.
The Snowbird Centre is home to the base area's main cafeteria The Rendezvous, as well as the popular apres ski locales The Tram Club, and The Forklift. The Centre is also where you will find the grocery and liquor stores, take away snacks and sandwiches at General Gritts, and The Steak Pit restaurant.
The Lodge Bistro, located on the pool level of The Lodge at Snowbird, serves French/American cuisine, wine, draft beers, and liquors. The Lodge Bistro Lounge is a good choice for appetizers, sandwiches, and specialty burgers and has a full bar.
Apres ski venues are dominated by the aforementioned Tram Club – where patrons can watch the trams dock overhead – and The Bird Feeder. At The Tram Club try your hand at billiards, darts, and foosball, and enjoy a selection of beer, wine, and cocktails. El Chanate is renowned for very good value happy hour specials, too.
Virtually the only true late-night venue is The Aerie, as visitors to Snowbird tend to focus on apres ski and in order to hit the slopes early and make the most of the frequent fresh powder mornings.
The Summit
Location: atop Hidden Peak
Food: Organic European/American cuisine
Bar: Yes/beer only
The Aerie
Location: Located on the 10th floor of The Cliff Lodge
Food: modern-American gastropub cuisine
Bar: Yes
Phone: +1 801.933.2222
The Lodge Bistro
Location: The Lodge at Snowbird/Pool level
Food: European/American cuisine
Bar: Yes
Phone: +1 801.933.2145
Steak Pit
Location: Snowbird Center
Food: American cuisine
Bar: Yes/wine only
Phone: +1 801.933.2222
The Forklift
Location: Snowbird Center/Plaza Deck
Food: traditional American bistro
Bar: Yes
Phone: +1 801.933.2440
El Chanate
Location: Cliff Lodge/Level A
Food: Mexican cuisine
Bar: Yes
Phone: +1 801.933.2025
The Atrium
Location: Cliff Lodge/Level B
Food: Asian/European cuisine
Bar: Yes/wine only
Phone: +1 801.933.2140
The Wildflower
Location: Iron Blosam Lodge/Level 3
Food: Italian cuisine
Bar: Yes
Phone: +1 801.933.2230
The Birdfeeder
Location: Snowbird Center/Plaza Deck
Food: burgers and sandwiches/organic foods
Bar: Yes
Phone: +1 801.933.2222
Baked & Brewed Café
Location: Snowbird Center/Level 2
Food: pastries, coffee
Bar: No
Phone: +1 801.933.2466
General Gritts
Location: Snowbird Center/Level 1
Food: frozen foods, liquors, grab-and-go snacks
Bar: Yes
Phone: +1 801.933.2193
Tram Car Pizza
Location: Snowbird Center/Level 2
Food: Pizza
Bar: No
Phone: +1 801.933.2476
The Tram Club
Location: Snowbird Center/Level 1
Food: Liquor only
Bar: Yes
Phone: +1 801.933.2222
Mid-Gad Restaurant
Location: Mid-Mountain/Gad Valley
Food: Burgers
Bar: No
Phone: +1 801.933.2245
Snowbird Shopping
As the number one focus here is skiing Snowbird's retail comprises the standard outlets of most ski resorts selling a core range of ski and snowboard outfits and equipment, logo wear, and demo gear. Pampering products are available at The Cliff Spa.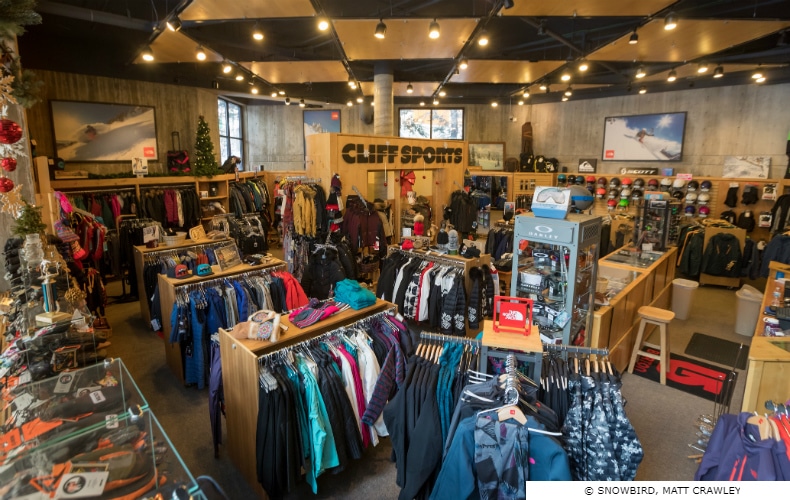 Pipeline
Location: Snowbird Center/Level 1
Shop: snowsports accessories, apparel, and lifestyle pieces
Phone: +1 801.933.2254
Wings
Location: Snowbird Center/Level 1
Shop: postcards, stickers, trail signs, magnets, shot glasses, and more
Phone: +1 801.933.2193
Cliff Sports
Location: Cliff Lodge/Level 1
Shop: Snowboard Rental and Repair shop
Phone: +1 801.933.2291
Creekside Sports
Location: Creekside Lodge/Level 2
Shop: Snowboard rental and demo equipment, souvenirs, accessories, and basic repair services.
Phone: +1 801.933.2414
Snowbird Sports
Location: Snowbird Center/Plaza Deck
Shop: skis and snowboards
Phone: +1 801.933.2418
Christy Sports
Location: Snowbird Center/Plaza Deck
Shop: ski and board shop, hiking gear, casual wear
Phone: +1 801.742.2871
The Cliff Spa Shop
Location: Cliff Lodge/Level 1
Shop: spa treatments products
Phone: +1 801.933.2225
Center Sundries
Location: Snowbird Center/Level 2
Shop: newspapers, books, gifts, souvenirs, postcards, t-shirts, sweatshirts, snacks, soft drinks, and beer
Phone: +1 801.933.2222
Smiley's Mountain Photo
Location: Snowbird Center/Level 2
Shop: private portrait and action sessions
Phone: +1 801.742.2450
Cliff Sundries
Location: Cliff Lodge/Level C
Shop: coffee and tea, snacks and drinks, magazines and newspapers
Phone: +1 801.933.2190
Snowbird Trail Maps
Explore Snowbird trail maps to find your ideal place to ride, catch up with friends and more…
Photo Credit: © SNOWBIRD, MATT CRAWLEY