Aside from the skiing Heavenly is probably best known for spectacular views across the sparkling blue expanse of California's Lake Tahoe and the Sierra Nevada range. Heavenly is the highest and largest of the resorts surrounding Lake Tahoe, with a summit of 10,070 feet (3070 meters) and an average of 30 feet (almost 10 meters) of snowfall each season. Located at the lake's southern end, the ski area straddles the California/ Nevada border, has four base areas and slopes that drop into both states.
The ski area is largely intermediate with some serious serious challenges for the advanced to expert. It was one of the first resorts in the US to invest heavily in snowmaking and around 70 percent of the ski area is covered ensuring most parts of the mountain are open throughout winter.
Heavenly Ski Resort is part of the EPIC family of ski resorts and can be skied on a regular lift pass as well as the EPIC Pass.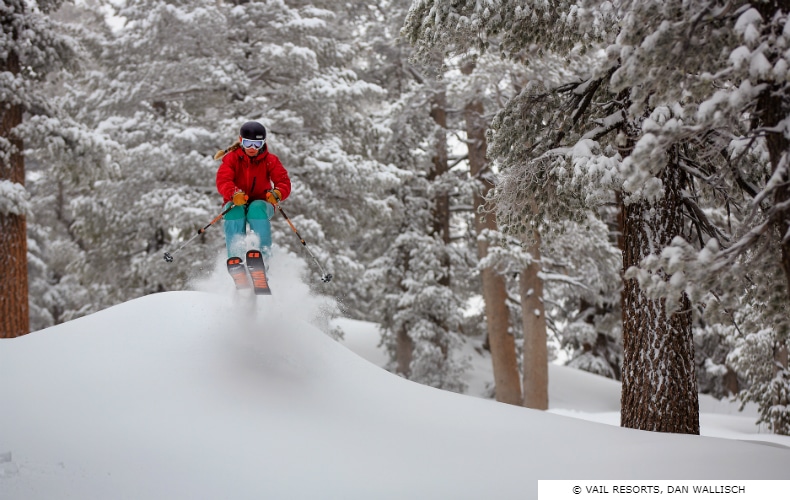 At its base is South Lake Tahoe, a city of around 20,000 people where accommodation, restaurants, affordable eateries, and shops are found in abundance. The Heavenly Gondola lifts riders right from the streets of the town.
The big difference between South Lake Tahoe and many other ski destinations is that the economy here is driven by gambling. High-rise hotel-casinos are located in the Stateline area of town only a few feet across the Nevada side of the border. It means visitors are never short of entertainment. Along with the chance to throw the dice and spin the roulette wheel, these glitzy hotels offer snazzy restaurants, well-priced accommodation, and many shows, nightly, by big-name entertainers.
The person who probably helped put Heavenly on the map more than any other is extreme skier Glen Plake. He grew up in Lake Tahoe and developed his inimitable style on the slopes of Heavenly, becoming renowned for his bold personality and trademark multi-coloured enormous mohawk as well as being a brilliant skier. His skiing was featured in the cult ski film The Blizzard of Ahhhs, and Plake was later named the pioneer of extreme skiing by America's ESPN network.