Heavenly Ski Resort
Aside from the skiing Heavenly is probably best known for spectacular views across the sparkling blue expanse of California's Lake Tahoe and the Sierra Nevada range. Heavenly is the highest and largest of the resorts surrounding Lake Tahoe, with a summit of 10,070 feet (3070 meters) and average 30 feet (almost 10 meters) of snowfall each season. Located at the lake's southern end, the ski area straddles the California/Nevada border, has four base areas  and slopes that drop into both states.
The ski area is largely intermediate with some serious serious challenges for the advanced to expert. It was one of the first resorts in the US to invest heavily in snowmaking and around 70 per cent of the ski area is covered ensuring most parts of the mountain are open throughout winter.
Heavenly Ski Resort is part of the EPIC family of ski resort and can be skied on a regular lift pass as well as the EPIC Pass.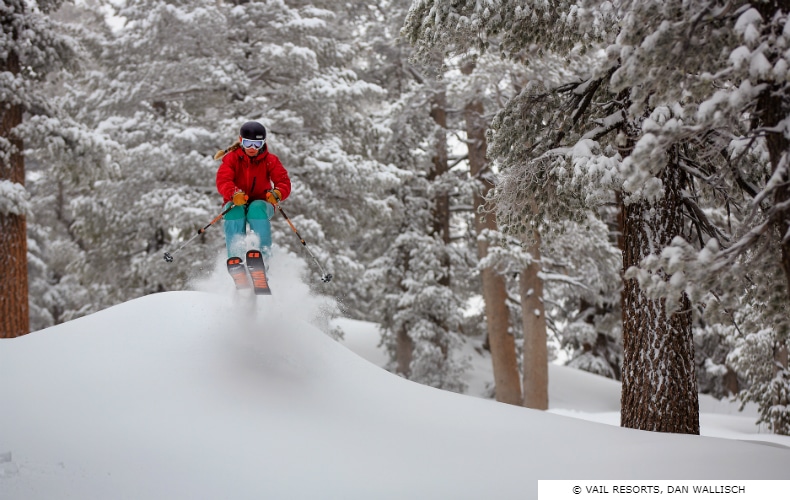 At its base is South Lake Tahoe, a city of around 20,000 people where accommodation, restaurants, affordable eateries and shops are found in abundance. The Heavenly Gondola lifts riders right from the streets of town. The big difference between South Lake Tahoe and many other ski destinations is that the economy here is driven by gambling. High-rise hotel casinos are located in the Stateline area of town only a few feet across the Nevada side of the border. It means visitors are never short of entertainment. Along with the chance to throw the dice and spin the roulette wheel, these glitzy hotels offer snazzy restaurants, well-priced accommodation and many shows, nightly, by big-name entertainers.
The person who probably helped put Heavenly on the map more than any other is extreme skier Glen Plake. He grew up in Lake Tahoe and developed his inimitable style on the slopes of Heavenly, becoming renowned for his bold personality and trademark multi-coloured enormous mohawk as well as being a brilliant skier. His skiing featured in cult ski film The Blizzard of Ahhhs, and Plake was later named the pioneer of extreme skiing by America's ESPN network.
Heavenly Statistics
| | |
| --- | --- |
| Skiable Terrain | 4,630 acres(1873 hectares) |
| Vertical | 1,162 m (3,812 ft ) |
| Top Elevation | 3,068 m (10,067 ft ) |
| Base Elevation | 1,907 m (6,255 ft) |
| Average Snowfall | 910 cm (360 in/30ft) |
| Intermediate Terrain | 45% |
| Advanced Terrain | 35% |
| Trails | 97 |
| Parks | 3 |
| Winter lifts Total | 28 |
| Gondolas Trams | 2 |
| Chair Lifts | 18 |
| Surface Lifts | 8 |
| Lift Capacity | 52,000 |
| Longest Run | 8.9 km (5.5 mi) |
| Mountain Restaurants | 6 |
| Snowmaking | 3379 ac (1367 hectares) |
| Season Opens | 16 November, 2018 |
| Season Closes | 21 April, 2019 (Estimated) |
How To Get To Heavenly Valley
You can fly into Reno / Tahoe International Airport.
Shuttle Rides To Heavenly Valley
From Reno/Tahoe International Airport to South Lake Tahoe in a little over one hour. The distance is 56 miles (90 km) making it a convenient transfer to Heavenly Mountain Resort.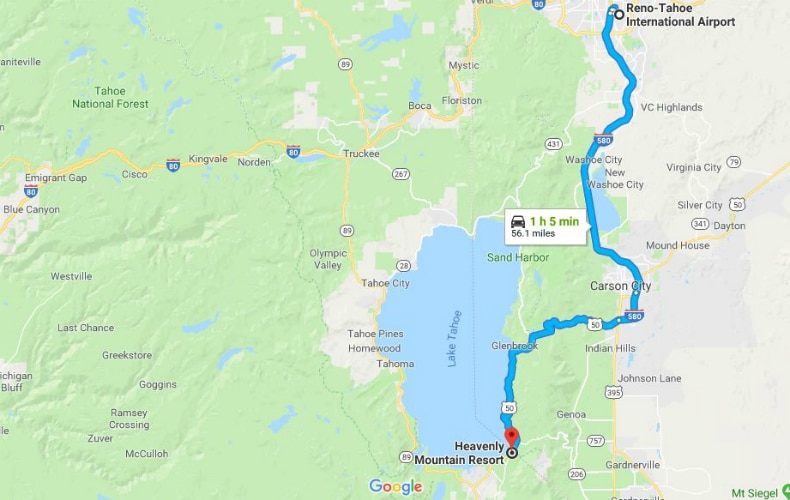 Heavenly Lift Pass Options
Heavenly offers a full range of ski pass options for you to chose from plus you can also ski Heavenly on the EPIC Pass, which is a multi resort / multi day pass option.
Heavenly Early Bird Lift Specials
We have negotiated a number of early bird lift pass specials for that you can access when you get a quote.
Heavenly Epic Pass Options
You can also ski and ride at Heavenly on the EPIC Pass. The Epic Pass is a multi-resort / multi day ski pass that is available for purchase for a limited time each season.
Which Ski Pass Do I Choose – Heavenly or EPIC?
It depends on a number of factors including your skiing dates, the number of days you plan on skiing, early bird specials, if you are you planning on skiing any other EPIC Pass resorts and importantly if there are any EPIC Pass blackout dates that you need to factor in.
The best way to work out which pass option is best for you – is to pick both pass types when you prepare your quote – and then simply bin the pass option that doesn't offer you the very best deal.
Some of the EPIC Pass options have blackout dates so be sure to double check and understand the Epic Pass options and blackout dates and how they work by visiting this page we have prepared for you –  EPIC Pass Explained.
Heavenly Things To Do, Activities & Tours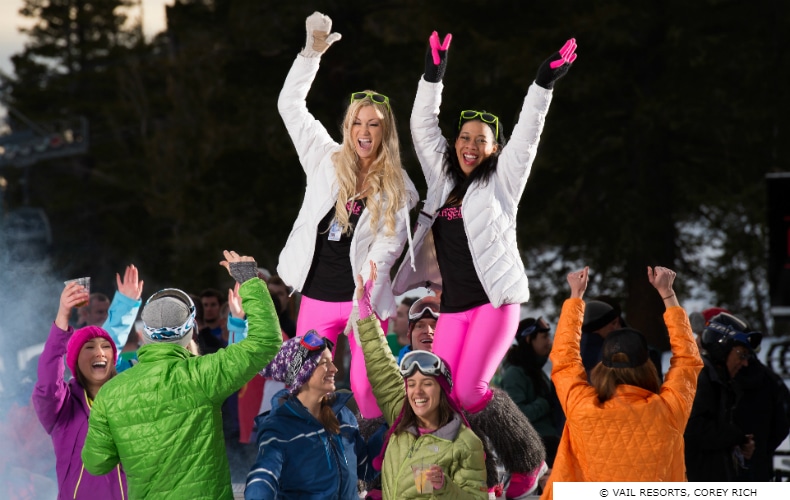 Ridge Rider Mountain Coaster
Location: Lake Tahoe
Family fun as it coasts through forest and natural rock formations.
Ph: 1-775- 586-7000
Ski with a Ranger
Location: Heavenly Mountain
Ski with a Ranger at Heavenly Mountain Resort.
Ph: +1 530-543-2789
Skating
Location: Heavenly Mountain
Open-air skating comes every day and every night at the Heavenly Village!
Ph: +1  530 542-4230
Heavenly Restaurants, Bars & Night Life
California
Steins
Location: Base of Patsy's and Powderbowl Express on the California side
Meals: Lunch
Food: Euro-themed sausages, soup, stew and chilli
Bar: Yes
Seating: Outdoor seating
Lakeview Lodge
Location: Top of the Tram on the California side
Meals: Lunch, happy hour/après
Food: Authentic Vietnamese Pho and comforting noodle soup
Seating: Indoor and outdoor seating
Booyah's
Location: Top of the Tram on the California side
Meals: Lunch, happy hour/après
Bar: Yes
Seating: Indoor and outdoor seating
Sky Deck
Location: Base of Sky Chair on the California side
Meals: Lunch
Food: Beef, turkey and veggie burgers, chicken sandwiches, and hot dogs
Seating: Outdoor seating
California Lodge and Bar
Location: Base of Gunbarrel Express on the California side
Meals: Breakfast, lunch, happy hour/après
Food: A full salad bar, breakfast burritos, taco bar, burgers, chilli and soup
Bar: Yes
Seating: Indoor and outdoor seating
Gondola
Tamarack Lodge and Bar 9150'
Location: Top of the Gondola
Meals: Breakfast, lunch, happy hour/après
Food: Smokehouse sandwiches, artisan pizzas, a full salad bar, soup & chilli, and grab-n-go snacks
Bar: Yes
Seating: Indoor and outdoor seating
Café Blue
Location: Mid Station of the Gondola
Meals: Snacks, beverages
Food: Light snacks
Bar: Yes
Seating: Outdoor seating
Nevada
East Peak Lodge and Star Bar
Location: Base of Dipper and Comet Express on the Nevada side
Meals: Lunch
Food: BBQ, fresh sandwiches, pizza, wings, soups and fresh salads
Bar: Yes
Seating: Indoor and outdoor seating
Stagecoach Lodge
Location: Base of StagecoachExpress on the Nevada side
Meals: Breakfast, lunch, happy hour/après
Food: Signature hot sandwiches like Turkey Cranberry and Philly Cheesesteak
Bar: Yes
Seating: Indoor and outdoor seating
Boulder Lodge
Location: Base of Boulder lift on the Nevada side
Meals: Breakfast, lunch, happy hour/après
Seating: Indoor and outdoor seating
Heavenly Shopping
Heavenly Sports – Cecil's Plaza
Location: 4118 Lake Tahoe Blvd. Unit #2 South Lake Tahoe, CA
Shop: Outerwear, footwear, apparel, accessories, logo-wear, and ski gear
Ph: +1  (530) 214-3241
Heavenly Sports – Gondola Rental & Accessory
Location: 1001 Heavenly Village Way, #18 & #19 South Lake Tahoe, CA
Shop: Skis & boards, accessories, logo, eye wear, free valet with rental
Ph: +1 (530) 542-2859
Heavenly Sports – CA Main Lodge
Location: 3860 Saddle Rd. South Lake Tahoe, CA
Shop: Outerwear, apparel, base layers, accessories, logo-wear, and snowboard gear
Ph: +1 (530) 542-5137
Heavenly Sports – Lake Tahoe Resort Hotel
Location: 4130 Lake Tahoe Blvd. South Lake Tahoe, CA
Shop: One stop shop for ski and snowboard rentals and accessories
Ph: +1 (530) 541-4293
Heavenly Sports – Stagecoach Lodge
Location: 375 Quaking Aspen Stateline, NV
Shop: Rental gear
Ph: +1 775-586-2343
Gondola Sports – Gifts & Accessories
Location: 4080 Lake Tahoe Blvd. South Lake Tahoe, CA
Shop: Gifts & Accessories
Ph: +1 (775) 586-6112
The Boardinghouse
Location: 4118 Lake Tahoe Blvd. #8 South Lake Tahoe, CA
Shop: Casual apparel, snowboard apparel, outerwear, base layer, accessories, sunglasses, head-wear, luggage, cool socks and a lot more
Ph: +1 (530) 542-5228
The North Face at Cecil's
Location: 4118 Lake Tahoe Blvd. #8 South Lake Tahoe, CA
Shop: Gifts and apparels
Ph: +1 (530) 544-9062
Patagonia
Location: 1001 Heavenly Village Way #16 South Lake Tahoe, CA
Shop: Gifts and accessories
Ph: +1 (530) 542-3385
Oakley – Cecil's Plaza
Location: 4118 Lake Tahoe Blvd. Unit #3 South Lake Tahoe, CA
Shop: Gifts and accessories
Ph: +1 (530) 214-3242
Heavenly Trail Maps
Explore Heavenly trail maps to find your ideal place to ride, catch up with friends and more…