Welcome to where it all started: Sun Valley, Idaho is steeped in history being not only the first destination ski resort in America but also the location of the world's first chairlift, fashioned from a cargo ship's banana loading conveyor.
Sun Valley came into being in 1936 when Union Pacific tycoon Averell Harriman started looking for a location for a winter resort in  order to increase passenger numbers on his UP train network heading west. Determined to create a destination on a par with Switzerland's revered St Moritz and Davos, Harriman enlisted an Austrian to travel America's west and find a suitable site. The task proved so difficult that the Austrian almost gave up, when at the final hour a U.P. employee in Boise casually mentioned that the rail spur to Ketchum cost the company more money for snow removal than any other branch line. Sun Valley's location was set.
A glamourous hotel was required straight away, and The Sun Valley Lodge was built near Ketchum. Harriman cleverly invited Hollywood's elite from Marilyn Monroe to Clark Gable, Errol Flynnn and Kennedy family members as guests to put his new winter hot spot on the  map and the resort has carried a star-studded repuation since. Harriman also invited the author Ernest Hemingway who completed For Whom The Bell Tolls in suite 228 of the Sun Valley Lodge.
The resort village is built around the Sun Valley Lodge, Inn, and comprises a complex of shops, condominiums, and an original 18-hole golf course. About 1 mile (1.5km) away is the older city of Ketchum.
Sun Valley is still a high end destination and a well known place to spot anyone from Tom Hanks to Oprah Winfrey. Every part of its offering is carefully curated, from hand-picked children's instructors to a unique terrain-that-teaches feature on its novice slopes to delightfully opulent on-mountain day lodges. Sun Valley lays claim to 280 days of sunshine per year and light, dry winter snow is typical.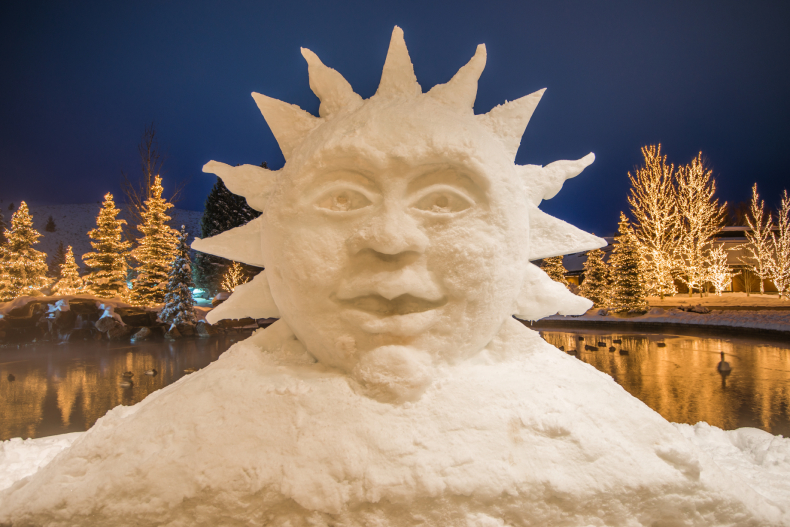 Sun Valley Lodging & Accommodation Options
Built in 1936, the four-storey 148-room historic Sun Valley Lodge retains an old world vibe with beautifully appointed French country-style rooms and classic marble bathrooms. Sun Valley's second hotel, The Sun Valley Inn, is similarly ornate with European decor and also has an outdoor glass-enclosed swimming pool.
Sun Valley Mountain & Ski Terrain
Sun Valley's trails are neatly divided between two peaks opposite each other on either side of the towns below. Dollar Mountain adjacent to Sun Valley for novice and lower intermediate skiers and Bald Mountain, the main ski mountain adjacent to Ketchum. Bald Mountain, or "Baldy," is just over 9000 feet (about 2800m) with a vertical drop of 3400 feet (1035 m). Renowned for a consistent pitch all over, Baldy's other hallmarks are uncrowded slopes, long wide open trails, and challenging off-piste terrain for intermediate to expert riders who have over 100 runs to choose from. No less than 4 deluxe day lodges are dotted across Baldy.
Dollar Mountain is covered in gentle, treeless terrain perfect for learning and improving.  The slopes are also home to a feature unique to Sun Valley – the Smart-Piste™, Terrain-that-Teaches™ learning system – designed to speed your progress, along with adventure areas for kids and a variety of  terrain parks ranging from standard to progressive. There's a Family Cross Course and even skate-style parks.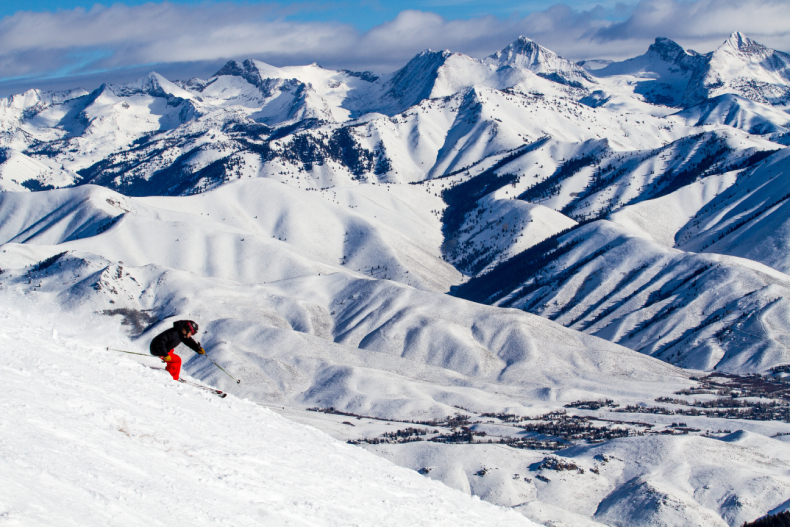 Sun Valley Statistics
| | |
| --- | --- |
| Skiable Terrain | 2054 acres (831 hectares) |
| Vertical | 1036 m (3400 ft) |
| Top Elevation | 2789 m (9150 ft) |
| Base Elevation | 1753 m (5750 ft) |
| Average Snowfall | 560 cm (220 in/18 ft) |
| Intermediate Terrain | 42% |
| Advanced Terrain | 22% |
| Trails | 75 |
| Parks | 2 |
| Snow Cross | 1 |
| Winter lifts Total | 18 |
| Gondolas Trams | 1 |
| Chair Lifts | 14 |
| Surface Lifts | 3 |
| Lift Capacity | 29,717 |
| Longest Run | 5 km (3 mi) |
| Mountain Restaurants | 13 |
| Snowmaking | 645 ac (261 hectares) |
| Season Opens | November |
| Season Closes | April |
How To Get To Sun Valley
Nonstop flights are available from major cities including Los Angeles, Salt Lake City, Chicago, Denver and San Francisco to the Friedman Memorial Airport in the town of Hailey located 14 miles (22 km) from the resort. Flights are also available to Boise,  Idaho's capital city, from where it is a 2.5 hour shuttle ride on the Sun Valley Express. There is a complimentary shuttle service from Friedman Airport to Sun Valley Village.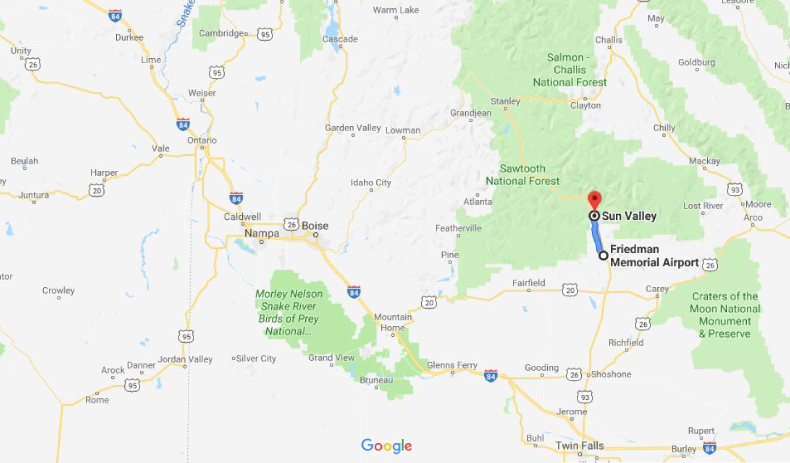 Sun Valley Snow Sports & Ski School
Sun Valley enlists more than 250 PSIA-USSA certified instructors for alpine, snowboard, telemark and nordic, such is the resort's dedication to ensuring clients receive the best tuition possible. Clinics, private lessons, and private group lessons are available. Sun Valley's SnowSports School uses its own Smart-Piste™, Terrain-that-Teaches™ learning system.
There is a long list of children's classes, and all day camps are offered for skiers' ages 4-12 and for snowboarders ages 7-12. Sun Valley chooses  instructors trained specifically in techniques for teaching children with the goal of instilling fun and excitement into the learning process. The all-day camps include four hours of on-snow instruction along with supervised breaks and lunch, and are run on both Dollar Mountain and at Bald Mountain depending on the child's age and ability. KinderCubs is a 9am-4pm daycare program for 3-year-olds  which includes introduction to skiing in a group setting along with lunch, lift tickets, rental equipment and helmets.
For adults, there are class options for never-evers, novices and, for the more advanced, the Elevate clinics. These are held on Bald Mountain and aimed at improving whichever skill you wish to work on whether its mastering bumps or improving your carving turns.
Sun Valley Things To Do, Activities & Tours
Sun Valley Village is built for strolling. Here you will find an indoor and outdoor ice rink, retro bowling alley, historic movie theatre, world-class restaurants and quaint shops stocked with jewellery, art and fashion. The upscale Spa at Sun Valley with a stunning grand two-storey reception area is the place to completely chill out, spoil yourself with a signature treatment, take in a gym session at the state-of-the-art fitness facility, or join a yoga class.
Sun Valley's cross-country skiing is ranked among the best in the US with 25 miles (40km) of groomed trails on which you can also snowshoe and fat bike.
Nordic Skiing, Snowshoeing, Fat Biking, Ice Skating & Hockey, Snowmobiling, Rock Climbing, Swimming, Art Galleries, Museums, Movies and more…
Sun Valley Heli Ski, the first helicopter skiing company in the US and whisks clients from the summit of Bald Mountain into perfect powdery fields beyond.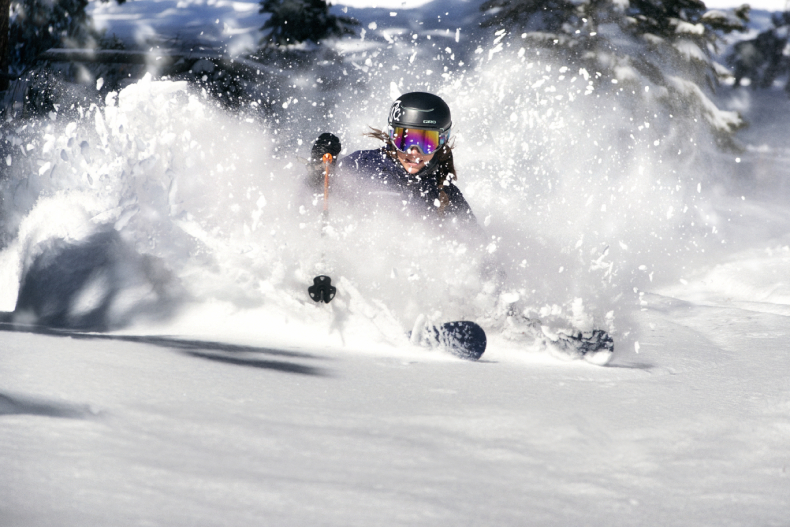 Sun Valley Restaurants, Bars & Nightlife
Sun Valley prides itself on providing some of the highest quality on-mountain food of any ski resort in the country. What's more, Bald Mountain's plush day lodges are so comfortable you may find yourself spending more time in them than expected, sipping apres drinks in front of the fireplace listening to live music at apres. Three of the lodges have glorious 360 degree views – the Lookout Restaurant, Seattle Ridge Day Lodge and  The Roundhouse Restaurant which sits at 7700ft (2300m) atop the Roundhouse Gondola and is open for dinner as well as lunch.
In town, the restaurant scene is influenced by big city and international sensibilities. Expect to find the latest chic cuisine to European meals and stock standard American fare, all easily fuond between Sun Valley and Ketchum. A popular breakfast and lunch place is Konditorei  in Sun Valley Village, serving crepes to spatzle and fresh, homemade European pastries.
After skiing, The Sun Valley Inn Lobby Lounge is a the place to sip on an old-fashioned cocktail. For lively apres and a ski town vibe look no further than a mile away in downtown Ketchum. Brimming with bars, all kinds of dining options and entertainment, this is the place to kick back and maybe spot a celebrity. Margaritas are the speciality at The Pioneer Saloon, while  Grumpy's has inexpensive food and schooners of beer. Whiskey Jacques on Main Street = late night entertainment, live music and air hockey. Ketchum is also home to an authentic Irish Pub and a Wine Company.
The Covey
American (New)
520 Washington Ave
+1 (208) 726-3663
Pioneer Saloon
Steakhouses, Bars, American (Traditional)
320 Main St
+1 (208) 726-3139
Rickshaw
Asian Fusion
460 North Washington Ave
+1 (208) 726-8481
Sawtooth Brewery Public House
Breweries, American (Traditional), Burgers
631 Warm Springs Rd
+1 (208) 726-6803
Enoteca
Italian, Wine Bars
300 N Main St
+1 (208) 928-6280
The Sawtooth Club
American (Traditional), Desserts, Bars
231 N Main St
+1 (208) 726-5233
Vintage
Restaurants
231 Leadville Ave
+1 (208) 726-9595
The Cellar Pub
Pubs, American (Traditional)
400 Sun Valley Rd
+1 (208) 622-3832
Town Square Tavern
Mediterranean, Salad
360 East Ave N
+1 (208) 726-6969
Rominna's
Italian
580 Washington Ave
+1 (208) 726-6961
Rico's Authentic Italian
Pizza, Italian, Beer Bar
200 Main St N
+1 (208) 726-7426
Warfield Distillery & Brewery
American (New), Pubs, Breweries
280 N Main St
+1 (208) 726-2739
La Cabanita Mex – Ketchum
Mexican
160 W 5th St
+1 (208) 725-5001
Village Station
American (Traditional), Pizza, Sports Bars
1 Sun Valley Rd
+1 (208) 622-2138
Ketchum Grill
American (New), Desserts, Salad
520 E Ave
+1 (208) 726-4660
The Grill at Knob Hill
Restaurants
960 N Main St
+1 (208) 726-8004
Il Naso
Italian, Salad, Wine Bars
480 Washington St
+1 (208) 726-7776
Michel's Christiania Restaurant & Bar
American (New), Wine Bars
303 Walnut Ave
+1 (208) 726-3388
Despo's Mexican Restaurant
Mexican
211 4th St E
+1 (208) 726-3068
Limelight Hotel
American (New), Lounges, Hotels
151 S Main St
+1 (855) 441-2250
The Ram
Bars, Steakhouses, Fondue
Located in Sun Valley Resort
+1 (208) 622-2266
Lefty's Bar & Grill
Bars, American (Traditional)
231 6th St
+1 (208) 726-2744
Grumpy's
Burgers, Beer Bar, Sandwiches
860 Warm Springs Rd
+1 (208) 720-3171
Sushi on Second
Sushi Bars, Asian Fusion
260 2nd St
+1 (208) 726-5181
Trail Creek Cabin
American (Traditional), Steakhouses
300 Trail Creek Rd
+1 (208) 622-2019
Konditorei Bakery and Cafe
Cafes, Bakeries
1 Sun Valley Rd
+1 (208) 622-2235
A Taste of Thai
Thai
380 1st Ave N
+1 (208) 726-7155
The Kneadery
Breakfast & Brunch, Burgers, American (Traditional)
260 Leadville Ave N
+1 (208) 726-9462
Rasberrys Bistro & Catering
American (New), Tex-Mex, Wine Bars
411 5th St E
+1 (208) 726-0606
Dollar Ski Patrol Wafflehouse
Waffles
82 Elkhorn Rd
+1 (805) 218-2853
Smoky Mountain Pizzeria Grill
Pizza, Italian
200 Sun Valley Rd
+1 (208) 622-5625
Gretchen's
Breakfast & Brunch, American (Traditional)
Located in Sun Valley Resort
+1 (208) 622-2144
The Roundhouse
American (Traditional)
Located in Sun Valley Resort
+1 (208) 622-2012
Elkhorn Clubhouse Grill
American (Traditional)
1050 Elkhorn Dr
+1 (208) 622-2820
Warm Springs Day Lodge
American (Traditional), Ski Resorts
Base Of Bald Mountain
+1 (208) 622-6361
KB's – Ketchum
Mexican
460 Sun Valley Rd
+1 (208) 928-6955
Wiseguy Pizza Pie
Pizza
460 Sun Valley Rd
+1 (208) 726-0737
Whiskey Jacques
Bars, American (Traditional), Music Venues
251 N Main St
+1 (208) 726-5297
Bigwood Grill
Seafood, American (New)
115 Thunder Trl
+1 (208) 726-7067
Cristina's Restaurant
Breakfast & Brunch, Pizza, Sandwiches
520 2nd St E
+1 (208) 726-4499
Sun Valley Shopping
The historic town of Ketchum and its  glamorous neighbour Sun Valley are packed with excellent fashion boutiques, more than the usual number of art galleries, plus furniture, gift shops and much more. Both towns are easy to walk around. One particularly prominent store with outlets in both places is Brass Ranch, a large gear and fashion boutique full of all the top ski and sportswear brands, as well as other clothing, shoes, and handbags.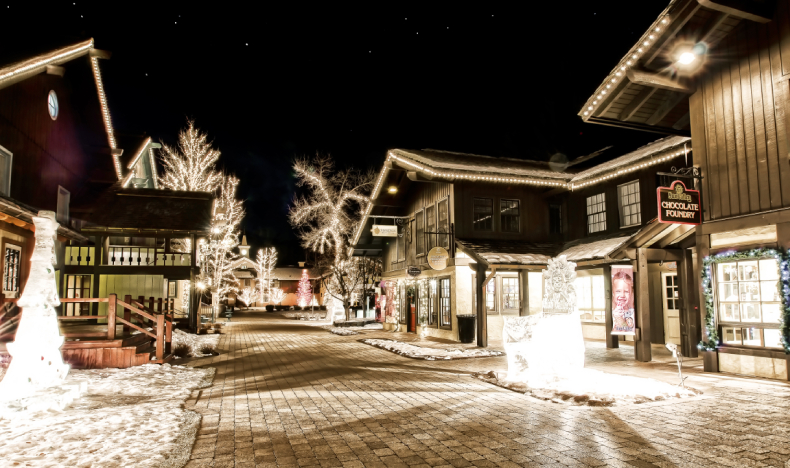 Huck and Paddle
Home Decor
400 Sun Valley Rd
+1 (208) 928-6550
Gold Mine Thrift Store
Thrift Stores
331 N Walnut Ave
+1 (208) 726-3465
Worth Repeating
Used, Vintage & Consignment
471 N Leadville Ave
+1 (208) 726-9440
The Farmer's Daughter
Home Decor, Women's Clothing, Accessories
331 Leadville Ave N
+1 (208) 726-6433
Board Bin
Women's Clothing, Ski & Snowboard Shops, Outdoor Gear
180 4th St
+1 (208) 726-1222
Lost River Outfitters
Outdoor Gear, Hunting & Fishing Supplies, Fishing
371 N Main St
+1 (208) 726-1706
Elle Rose
Women's Clothing, Jewelry, Accessories
641 & 647 Sun Valley Road
+1 (208) 726-8871
Independent Goods
Accessories, Home Decor, Jewelry
330 Walnut Ave
+1 (208) 720-9004
Silver Creek Outfitters
Fishing, Men's Clothing, Women's Clothing
500 N Main
+1 (208) 726-5282
The Picket Fence
Home Decor, Furniture Stores
560 East Ave N
+1 (208) 726-5511
Backwoods Mountain Sports
Bikes, Bike Rentals, Outdoor Gear
711 N Main St
+1 (208) 726-8818
Maude's Coffee & Clothes
Coffee & Tea, Used, Vintage & Consignment
391 Walnut Ave
+1 (208) 726-6413
The Elephant's Perch
Shoe Stores, Bikes
280 E Ave
+1 (208) 726-3497
Bavarian Soul
Sports Wear, Outdoor Gear
380 Washington Ave
+1 (208) 928-6488
Girl Friday
Women's Clothing, Swimwear, Accessories
440 E Ave
+1 (208) 622-7364
Formula Sports
Sports Wear, Bike Repair/Maintenance, Bike Rentals
460 N Main St
+1 (208) 726-3194
Chapter One Bookstore
Bookstores
340 Second St E
+1 (208) 726-5425
Antique Alley
Antiques
151 W Sun Valley Rd
+1 (208) 720-1146
Valley Apothecary
Drugstores
201 N Washington Ave
+1 (208) 726-2679
The Open Room
Furniture Stores, Home Decor
360 1st Ave N
+1 (208) 622-0222
Bellissimo
Home Decor
601 Sun Valley Rd
+1 (208) 726-0702
Backwoods Mountain Sports
Bike Rentals, Outdoor Gear, Bikes
711 N Main St
+1 (208) 726-8818
Madeline + Oliver
Lingerie, Home Decor, Women's Clothing
460 Sun Valley Rd
+1 (208) 726-7779
Sun Valley Outfitters
Fishing, Outdoor Gear, Tours
415 Sun Valley Rd E
+1 (208) 928-7843
Sway Boutique
Women's Clothing
511 Sun Valley Rd
+1 (208) 928-7884
Theodore
Women's Clothing, Accessories
511 N Leadville Ave
+1 (208) 726-3544
Maison Et Cadeaux
Children's Clothing, Gift Shops, Home Decor
351 North Leadville Ave
+1 (208) 622-3101
The Toy Store
Toy Stores
380 N Washington Ave
+1 (208) 726-5966
Undercover
Lingerie, Accessories, Women's Clothing
320 Walnut Ave
Out West Trading
Souvenir Shops
451 4th St E
+1 (208) 726-9543
Sister
Women's Clothing, Accessories
100 N Leadville
+1 (208) 725-2176