Niseko United
Niseko United is Hokkaido's largest joint ski area, an umbrella name for one mountain with four bases – Niseko Annupuri, Niseko Village, Niseko Mt Resort Grand Hirafu and Niseko Hanazono Resort. The region receives massive annual snowfall of more than 42 feet (13 meters), producing an average snow depth of 12 feet (3.7 meters). The powder here (if you haven't heard already) is phenomenal. Niseko is located in the western part of Hokkaido, and just happens to sit in a direct line with Siberian weather fronts. The ski area is inundated with a bounty of snow from these storms, which has led to Niseko being named the world's second snowiest resort.
The vast terrain of Niseko United offers myriad off-piste options and phenomenal tree skiing as well as impeccably groomed slopes and beginner areas for intermediates and learners.
The resort has gained immense popularity since being the first to firmly grab the attention of Westerners who realised they could ski thigh to waist deep snow straight off the chair lifts without hiking for miles or spending thousands on helicopters. Now Niseko is brimming with brand new Western accommodation as well as traditional Japanese lodgings. Restaurants are at a level of sophistication surpassing those of many other Japanese resorts. The village heaves with nightlife, dozens of onsen (hot springs baths) and apres options, and Western style gentrified services such as bakeries and elite liquor stores are now part of the scene here.
The nearby town of Kutchan has in a sister city the Swiss ski resort of St Moritz.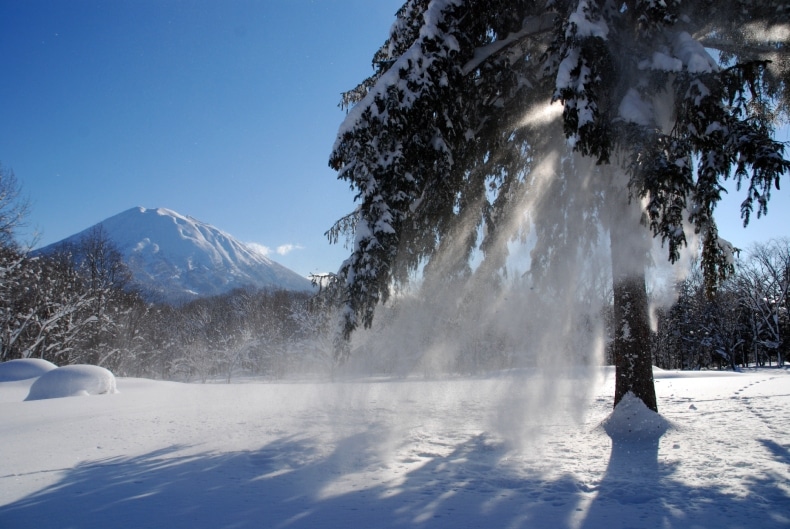 Niseko United Mountains & Ski Terrain
Niseko United's four areas offer over 2190 acres (885 hectares) of skiable terrain, with 29 lifts in total including 3 gondolas, 7 high speed chairlifts and 19 regular chairlifts connecting 72 ski runs and 10 terrain parks. Although renowned for powder, those afraid of the stuff need never go near it: there are plenty of perfectly groomed trails for intermediates especially on Annupuri. There are officially 51 groomed slopes, and 18 powder runs, 6 tree runs, 1 mogul field and 2 children's areas. Slopes are rated beginner 26% intermediate 38% and advanced 26%.
Niseko Annupuri has great views from slopes leading to a well-designed base area with many natural onsens.
Niseko Village has some wonderful off-piste powder skiing and the Hilton Niseko Village at the base. Niseko Village has some of the best and longest powder skiing and snowboarding in all of Japan, plus is a centre for family activities.
Niseko Mt Resort Grand Hirafu is the largest of the four ski areas and where most people get their introduction to the region. The town of Hirafu, a potato farming town that became a mecca for skiing, is at the base.
Niseo Hanazono Resort offers the trifecta – groomed runs, powder fields and terrain park fun. This is where you will find the legendary Strawberry Fields tree runs, as well as a half pipe in the terrain park and the Hanazono 308 Day Lodge.
There is exceptional night skiing here. It is very common to go out for a ski after dinner before returning to the village for nightcap.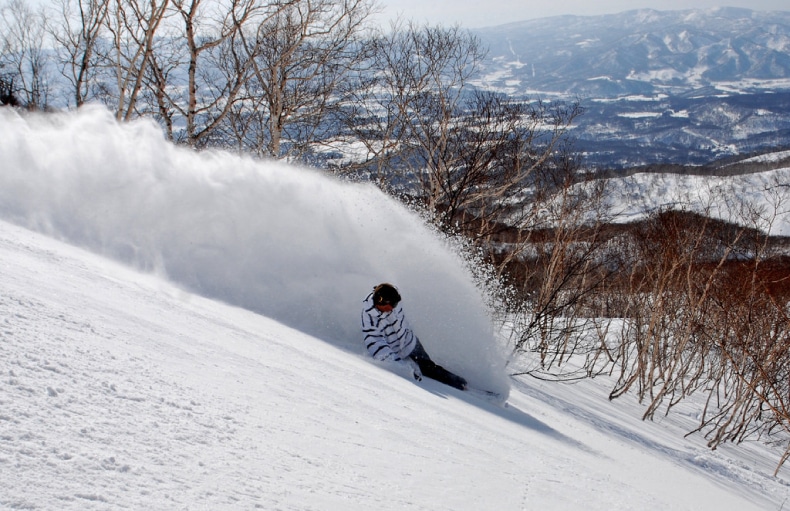 Niseko United Statistics
| | |
| --- | --- |
| Skiable Terrain | 8031 acres (325 hectares) |
| Vertical | 940 m (3,084 ft) |
| Top Elevation | 1,200 m (3,937 ft) |
| Base Elevation | 260 m (853 ft) |
| Average Snowfall | 299 cm (117 in/9 ft) |
| Intermediate Terrain | 40% |
| Advanced Terrain | 30% |
| Trails | 57 |
| Parks | 3 |
| Pipes | 1 |
| Winter lifts Total | 35 |
| Gondolas Trams | 3 |
| Chair Lifts | 32 |
| Longest Run | 5.6 km (3.5 mi) |
| Mountain Restaurants | 7 |
| Season Opens | December |
| Season Closes | April |
How To Get To Niseko
New Chitose Airport is a 2.5 hour shuttle ride from Niseko. There are many shuttle services from the airport to Niseko Grand United with seamless links to incoming flights. Private transfers can also be booked for travelers. Once in Niseko, day trips via shuttle services are available to nearby areas such as Rusutsu and Kiroro.
Niseko United Snowsports & Ski School
Niseko is such a large area it offers several ski schools ensuring no matter where you stay there is access to exactly what you need. Niseko Annupuri Ski and Snowboard School uses only Japanese staff who Niseko like the back of their hands, and are capable of offering a quality experience with patience at a reasonable cost. Niseko Village Snowschool offers internationally certificed multi-lingual instructors who pride themselves in ensuring a fun safe and exciting experience.
Niseko International SnowSports School (NISS) is Niseko's premier ski school, and operates a very large range of adult and kids programs out of both Hirafu and Hanazono
The Niseko Grand HIRAFU Snow School offers lesson programs to all levels, from first timers to advanced skiers and snowboarders, covering kids lessons, adult lessons, powder snow guides, early powder lessons plus nature hiking programs.
Niseko United Things To Do, Activities and Tours
Put soaking in an onsen at the top of your list – there are 24 of them across the region both in hotels and open to the public – it's the perfect way to soothe aching muscles and rejuvenate after a day in incredible powder.
Aside from soaking, the main activities on offer are reindeer sledding, a magical thing to do with the kids and family, snowshoeing for a slower way to explore the surrounds and zipping over the powder on a snow raft towed by a snowmobile. Your snowmobile guide will expertly navigate through the winter scenes giving you a fun-filled and windy ride.
For those adept at on or off-road road motorbikes, dial up Niseko Snowbike Adventures where you can find 450cc snow bikes to take through untracked powder.
Hokkaido is famous for its dairy products which must be sampled at Milke Kobo, a large centre for all things milky and creamy. Try the cheesecake, ice cream, cream puffs (profiteroles) and more before skiing it all off again.
Cross-country skiing is also on offer in Niseko.
Day trips to Kutchan, the closest town to Niseko, are popular especially on bad weather days.
Reindeer Sledding
Location: Niseko Village
Like a scene out of a winter fairy tale, whisk across the sparkling snow on a reindeer sled.
Phone: +81 (0) 136 44 2281
Snow Rafting
Location: Niseko Village
Description: Experience a different kind of thrill suited for all ages by zipping over the powder on a snow raft towed by a snowmobile. Your snowmobile guide will expertly navigate through the winter scenes giving you a fun-filled and windy ride.
Phone: +81 (0) 136 44 2281
Cross-Country Skiing
Location: Niseko Village
Snow Shoe Tour
Location: Grand Hirafu
Enjoy a hike through the tranquil winter forest covered in white powder.
Phone: +81-136-22-0109
Niseko Heli-Skiing
Heli skiers can book a seat on a chopper with Hokkaido Backcountry Club for an unforgettable day taking in a bird's eye view of Hokkaido and skiing isolated mountain terrain with professional guides around the Shiribetsu range. Heli-skiing usually begins around March each season as the weather clears.
Niseko Snowcat Skiing
Options abound, with Niseko Hanazono Powder Guides, Niseko Weiss Power Cats, and Niseko Photography and Guiding being among the choices for all-day powder skiing and snowboarding adventures.
Weiss Cat Skiing
If you are looking for fresh tracks and the mountain just for you and your friends, Niseko Weiss Powder Cats is your answer! It provides cat assisted ski and snowboard adventures on our own private mountain, that's virtually next to Hanazono. A maximum of 12 guests per day guarantees line after line of fresh tracks without queueing for lifts or hiking.
Niseko Photography and Guiding has a professional photographer on site to capture those shots of you virtually obscured by the powder you are floating through.
Hanazono Powder Guides takes guests to the best of the best – over the head to-die-for powder runs for experts to those wanting to try the fluffy stuff for the first time. All tours load the lifts one hour  before the public guaranteeing fresh tracks through Strawberry Fields, Blueberry Fields, the Hanazono bowls . All avalanche safety equipment is provided and guides start tours with safety briefings.
Nesiko Restaurants, Bars & Nightlife
Visiting Niseko is as much a gastronomic experience as it is an odyssey into deep powder. The freshest of seafood, every Japanese delicacy, traditional Izakaya plus a full range of Western cuisine can be found here across almost 150 restaurants and pubs. Among the more notable eateries are A Bu Cha, Bang Bang, The Vale, the Barn, Ezo Seafoods, and Kamimura (fine dining).
There is even a cafe lifestyle of sorts, with places like the Green Farm Cafe a go-to for organic farm-to-table meals, and New Zealand's AllPress coffee is poured at Gloorious Coffee in Rhythm Snowsports.
On the field, popular places include the atmospheric Boyoso housed in a wooden building above the Holiday Pair chairlift. Inside is , a big fireplace around which people sit and dry their gear and warm up before heading through to eat delicious home-style ramen, sushi, katsu curry and buns. The enormous Hanazono 308 Day Lodge is the complete opposite but no less inviting. The modern upscale building has a cafe, carpeted non-slip floors and soaring windows overlooking the alpine landscape.
Fusion Restaurant ECLAT
Location: Niseko Northen Resort,Annupuri
Food: Scandinavian, Japanese food
Bar: No
Phone: +81 136-58-3311
an-non
Location: Niseko Northen Resort,Annupuri
Food: Japanese food
Bar: No
Phone: +81 136-58-3311
Tanta•an Restaurant and Café
Location: Mountain Center 2F
Food: Japanese
Bar: Yes
Phone: +81 136-22-0648
Rest House ACE HILL
Location: Next to Ace Quad Lift No.2 Sancho Station
Food: Japanese
Bar: No
King Bell Hut
Location: Next to Hirafu Gondola Sancho Station
Food: Japanese and Western cuisine
Bar: No
Mountain Hut Café
Location: in King Bell Hut
Food: coffee, hot chocolates and delicious sweets
Bar: No
Restaurant SLALOM
Location: Hotel Niseko Alpen 2F
Food: Japanese
Bar: Yes
Phone: +81 136-22-1105
Grand HIRAFU×Milk Kobo Sweet&Café
Location: Hotel Niseko Alpen 1F
Food: coffee, hot chocolates and delicious sweets
Bar: No
Phone: +81 136-44-3734
Japanese Restaurant Syokusai Hirafu
Location: Hotel Niseko Alpen 1F
Food: Japanese seafood
Bar: No
Phone: 81 136-22-1105
Base Café
Location: Base Ski Center 2F
Food: bread and sandwiches
Bar: No
HANAZONO308
Location: near ASPERGES
Food: Local Japanese
Bar: Yes
Phone: 81 136-21-3333
Niseko Shopping
Niseko is souvenir heaven. You will find everything here that you will in any major city in the way of Japanese knick knacks and memorabilia, and all the unique items only found in Japan. Kutchan has excellent grocery stores.
If you turn up without the right skis or snowboards for the powder, rest assured there is plenty available to buy and hire from the many Western-run ski stores and name brand shops that have established here. Rhythm Snowsports is one of the longest standing outlets and has been joined by Burton and Moncler among others.
Niseko Sports – Rental & Retail
Location: Hirafu and Hanazono
Shop: board rentals and outdoor apparel
Phone: +81-136-21-3333
Niseko Grand HIRAFU Ski & Snowboard rentals shop
Location: Base Ski Center
Shop: rental gear for skiers and snowboarders of all ages
Phone: +81-136-21-5253
Niseko Grand HIRAFU Ski & Snowboard rentals Gondola shop
Location: first floor of the Hirafu Gondola Sanroku Station
Shop: rental gear for skiers and snowboarders
Phone: +81-136-21-5253