Niseko United
Niseko United is Hokkaido's largest joint ski area, an umbrella name for one mountain with four bases. Niseko Annupuri, Niseko Village, Niseko Mt Resort Grand Hirafu, and Niseko Hanazono Resort. The region receives a massive annual snowfall of more than 42 feet (13 meters), producing an average snow depth of 12 feet (3.7 meters).
The powder here (if you haven't heard already) is phenomenal. Niseko is located in the western part of Hokkaido, and just happens to sit in a direct line with Siberian weather fronts. The ski area is inundated with a bounty of snow from these storms, which has led to Niseko being named the world's second snowiest resort.
The vast terrain of Niseko United offers myriad off-piste options and phenomenal tree skiing as well as impeccably groomed slopes and beginner areas for intermediates and learners.
The resort has gained immense popularity since being the first to firmly grab the attention of Westerners who realized they could ski thigh to waist-deep snow straight off the chair lifts without hiking for miles or spending thousands on helicopters.
Now Niseko is brimming with brand new Western accommodation as well as traditional Japanese lodgings. Restaurants are at a level of sophistication surpassing those of many other Japanese resorts. The village heaves with nightlife, dozens of onsen (hot springs baths) and apres options, and Western-style gentrified services such as bakeries and elite liquor stores are now part of the scene here.
The nearby town of Kutchan has in a sister city the Swiss ski resort of St Moritz.
Resort Lodging, Accommodation & Hotels
There are three main areas to choose to stay in Niseko Hirafu, Niseko Village, and Hanazono. The main and largest area is Hirafu that is further broken into three areas. Main Village, East Village, and West Village.
The Hirafu Main Village offers an extensive choice of Western self-contained apartment, condos, and hotel rooms along with Japanese styled accommodation with some ski in ski out and many a short walk to the lift. Prestige properties include MUSE Niseko, Loft Niseko, Aspect, and if you are looking for more value Niseko Landmark View.
The Niseko Village offers ski in ski out accommodation via a gondola that departs from the Hilton Niseko Village or you can choose to stay next door at the Green Leaf Niseko Village. Hanazono has the new flagship ski in ski out Park Hyatt Niseko Hanazono.
Niseko Ski and Ride Terrain
If you like to ski powder, powder, and more powder, then Niseko has you covered, literally! It's not just the staggering amount of snow that sets Niseko apart, but it's also the dryness on the powder that spoils you for choice. The Grand Hirafu area offers 30 trails over 803 acres of mainly fall-line skiing with a vertical drop of 3,051 ft (930 m). From the top of Grand Hirafu you can access the other three ski areas.
Niseko Village has some fabulous long runs and off-piste skiing with a vertical drop of 2,919 ft (890m) and 27 marked trails to choose from. Skiing back down to the village, you are greeted by the impressive Hilton Hotel that rises out of the wilderness like an interstellar starship.
The Hanazono area offers a smaller variety of terrain including an abundance of friendly intermediate slopes along with a dedicated beginner area. the Strawberry and Blueberry Fields are a must ski on a powder day, and if you are into pipe and parks, Hanazono has you covered with world-class facilities.
The Annupuri ski area is another smaller offering with plenty of groomed runs that interconnect with the other ski areas and offers a vertical drop of 2,480 ft (756 m).
How To Get To Niseko
The New Chitose Airport is the gateway to Niseko and there are shuttle bus transfers from the airport to your accommodation and the transfer takes around 2.5 hours. If you are an experienced traveler, there are also options to travel by train and bus.
Niseko Lift Tickets
There is a combined ski pass that grants you access to all four ski areas. All four areas usually open the first week in December and run through until early April. There are passes for adult, child, youth, and senior. Niseko is a member resort of the IKON ski pass and the Mountain Collective.
Niseko Ski School
There are five ski schools to choose from. At Grand Hirafu there is the Grand Hirafu Snow School and the Gosnow Ski School. Niseko International Snowsports School (NISS) operates out of Hirafu and Hanazono and there is exceptional beginner terrain at Hanazono. Niseko Village Snow School operates out of Niseko Village and Niseko Annupuri Ski Snowboard School operates out of Annupuri.
Resort Things To Do, Activities, Facilities & Tours
The main reason to visit Niseko is the powder skiing and relaxing in the onsens (Japanese hot springs). Other winter activities include: Reindeer Sledding, Snow Rafting, Tube Park, Guided Snowshow Tours, Cross-Country Skiing, Hanazono Powder Guides, Snowmobile Tours, Weiss Cat Skiing, and nature Hiking programs.
Niseko Cat Skiing
Cat Skiing is available through Weiss Powder Cats and offers 8 lucky people their own private ski resort for the day. The program is operated by Hanazono Resort at My Weisshorn, which was once a ski resort but is now exclusively used for cat skiing. The terrain is mostly intermediate and the powder turns are endless.
Niseko Restaurants & Dining
A trip to Niseko is a feast for foodies and will have you coming back for more at breakfast, lunch, and dinner. Everything you ever wanted to experience eating and fine dining is available from over 100 restaurants and bars. The main area for dining is Hirafu Village. In busy times bookings are essential. Mouth-watering traditional dishes include Sushi, Udon, Tofu, Tempura, Yakitori, Sashimi, Ramen, Donburi, Natto, Oden, Tamagoyaki, and Soba. The seafood is outstanding and so are the barbecue dishes and delicate pastries, soups to local beers and wines. Also, beware some restaurants are cash only.
Niseko Après & Nightlife
The nightlife in Niseko in Hirafu is rocking with music spots, quite local beer bars, and wine bars. It's only a short walk through the powder from good time to the next. Wild Bill's is a popular nightspot as is Jam Café Bar for music and a great relaxed vibe.
Niseko Shopping
Niseko offers one of the best ski resort shopping experiences in Japan. Modern ski shops, clothing, souvenirs, and accessories. The central hub of the best shopping is along the main street of Hirafu-zaka.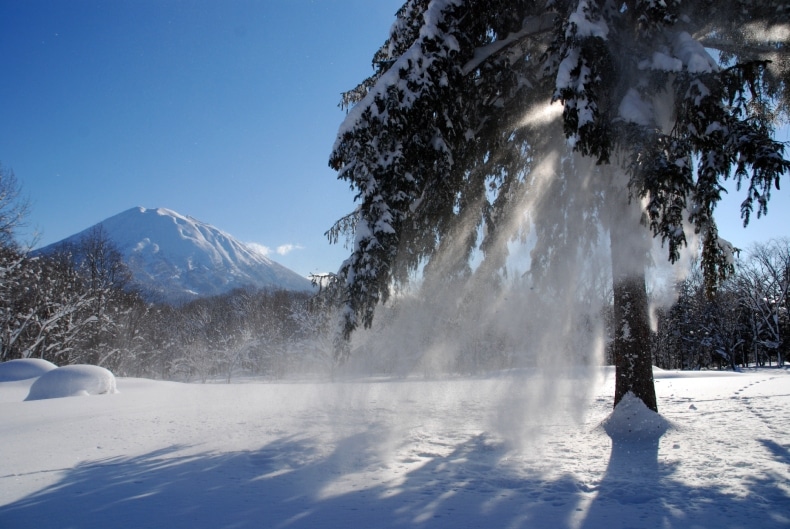 Niseko United Mountains & Ski Terrain
Niseko United's four areas offer over 2190 acres (885 hectares) of skiable terrain, with 29 lifts in total including 3 gondolas, 7 high-speed chairlifts, and 19 regular chairlifts connecting 72 ski runs and 10 terrain parks. Although renowned for powder, those afraid of the stuff need never go near it: there are plenty of perfectly groomed trails for intermediates, especially on Annupuri. There are officially 51 groomed slopes, and 18 powder runs, 6 tree runs, 1 mogul field, and 2 children's areas. Slopes are rated beginner 26% intermediate 38% and advanced 26%.
Niseko Mt Resort Grand Hirafu is the largest of the four ski areas with 803 acres and 30 marked trails, and it's where most people get their introduction to the region. The town of Hirafu, a potato farming town that became a mecca for skiing, is at the base. You access the mountain in one of two ways. Via the Ace Family Quad to Ace Pair Lift 2 to Ace Pair Lift 3 or the higher speed the Hirafu Gondola, which gets you two-thirds up to the top of the mountain.
From the top of the gondola beginners and intermediates can head skiers right and follow the green and red signs or you can head up the Swinging Monkey lift and over to the Hanazono area. Beginners would be best to ski with someone who knows the area to keep them on the greens, as it can be tricky to navigate your way across the steeper slopes.
Back run level skiers can drop skiers left from the top of the gondola and hike up to hit Miharashi and get stuck into the powder. Or you can jump onto the King Hooded Lift and access the situation for the top of the lift – do you go higher or bank some powder turns from there?
Best to avoid the Ace lift area early morning as they get the skiers up and out of the area but once things settle down, there is some great skiing intermediate skiing to on Furiko to Alpen and for advanced skiers, laps on Super will surely bring a smile to your face.
Niseko Hanazono Resort offers the trifecta – groomed runs, powder fields, and terrain park fun. This is where you will find the legendary Strawberry Fields tree runs, as well as a terrain park and the Hanazono 308 Day Lodge. You'll need to be early to get in some off-piste inbounds skiing and riding that you access from lift 3. When it's on, these freshies are some of the best powder skiing and riding on the mountain. Intermediates will relish laps down Crystal Garden to Stairway To Heaven that drops you back at the village and the Park Hyatt. Hanazono also has a great beginner area and the gentle fall-line green Silver Dream where you can build your confidence and skills on.
Niseko Village has some wonderful off-piste powder skiing and the Hilton Niseko Village at the base. Niseko Village has some of the best and longest powder skiing and snowboarding in all of Japan, plus is a center for family activities. To head out of Niseko Village, you head up the Niseko Gondola and on the far skiers right there are the long green runs of Dabesa into Enchantment into Make Sense into Unforgettable and Banzai back to the lift. It's a crowd-pleaser and fun for the entire family. Intermediates can link up runs down Nekko no Kabe into Junk Yard and skiers right into Namara into Banzai and back to the gondola. Advanced black skiers can head to down Superstition, Jagaimo into Misoshiru, and lap back up again. There is also the avalanche-controlled area just to the skiers left of Superstition and if open offers a world of adventure.
Annupuri is a smaller area offering open green and intermediate cruisers well serviced by the Annupuri Gondola. It's a fun place to lap and work on your turns. Niseko Annupuri has great views from slopes leading to a well-designed base area with many natural onsens.
There is exceptional night skiing here. It is very common to go out for a ski after dinner before returning to the village for a nightcap.
Top 5 green runs at Niseko: Holiday, Silver Dream, Cruiser, Enchantment, Paradise.
Top 5 red intermediate runs at Niseko: Jumbo, Youtei Sunset, Namara, Stairway To Heaven, Panorama.
Top 5 black runs at Niseko: Miharashi, Large, Legend of Shinya, Superstition, Champion.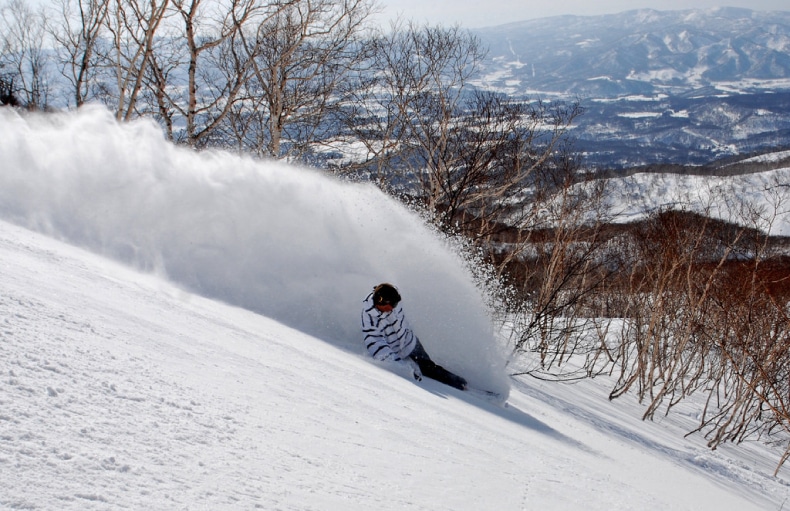 Niseko United Statistics
| | |
| --- | --- |
| Skiable Terrain | 8031 acres (325 hectares) |
| Vertical | 940 m (3,084 ft) |
| Top Elevation | 1,200 m (3,937 ft) |
| Base Elevation | 260 m (853 ft) |
| Average Snowfall | 299 cm (117 in/9 ft) |
| Intermediate Terrain | 40% |
| Advanced Terrain | 30% |
| Trails | 57 |
| Parks | 3 |
| Pipes | 1 |
| Winter lifts Total | 35 |
| Gondolas Trams | 3 |
| Chair Lifts | 32 |
| Longest Run | 5.6 km (3.5 mi) |
| Mountain Restaurants | 7 |
| Season Opens | December |
| Season Closes | April |
How To Get To Niseko
Airport Transfers
New Chitose Airport is a 2.5 hour shuttle ride from Niseko. There are many shuttle services from the airport to Niseko Grand United with seamless links to incoming flights. Private transfers can also be booked for travellers.
By Car
From Sapporo to Niseko Annupuri & Niseko Village Take Route 230 via Nakayama pass and Kimobetsu town.
From Sapporo to Niseko Village, Take Route 230 via Nakayama pass and Kimobetsu town.
From Sapporo to Niseko Grand HIRAFU, Take Route 230 via Nakayama pass to Kimobetsu town. Then turn right at the crossing of Route 276 toward Kutchan. When reaching Route 5, turn left. Turn right at the signpost and follow the road.
From Sapporo to Niseko HANAZONO Resort, take Route 230 via Nakayama pass to Kimobetsu town. Turn right at the crossing of Route 276 towards Kutchan. When you reach Route 5, turn left towards Oshamanbe then turn right at the signpost onto route 343. Within 1km turn right to HANAZONO
By Train
From Sapporo to Kutchan Station there are infrequent local and rapid train connections, most trains require a transfer at Otaru. There is a direct "Niseko Liner" rapid train and or a favorable transfer at Otaru.
The region's public transportation hub is Kutchan. Busses leave every 1-3 hours to Hirafu (15 minutes), with some buses continuing on to Niseko Village (30 minutes) and Annupuri (45 minutes, winter only).
Day trips to other resorts
Once in Niseko, day trips via shuttle services are available to nearby areas such as Rusutsu and Kiroro.
Niseko United Snowsports & Ski School
Niseko Annupuri Ski and Snowboard School
Niseko is such a large area it offers five ski schools ensuring no matter where you stay there is access to exactly what you need. Niseko Annupuri Ski and Snowboard School uses only Japanese staff who know Niseko like the back of their hands and are capable of offering a quality experience with patience at a reasonable cost.
Their coaches include 5 ISIA World Ski Association Certified Teachers, 2 FISI Italian Certified Teachers, 7 SAJ All Japan Ski Association Certified Instructors, 13 SIA Japan Professional Ski Association Certified Teachers, 2 JSBA Japan Snowboarding Association Certified Teachers.
Niseko Village Snowschool
Niseko Village Snowschool offers internationally certified multi-lingual instructors who pride themselves in ensuring a fun safe and exciting experience. The school highly recommends to pre-book your lessons and especially during the school's peak season from 15 December 2020 to 4 January 2021 and 7 February 2021 to 22 February 2021. Nigh skiing/snowboarding is available from 19 December 2020 to 7 March 2021. All private lessons are available from 1 December 2019 – 30 March 2020 subjecting to weather and snow conditions. Please be punctual for all lessons as latecomers will not have the option to extend, reschedule or get a refund.
Niseko International SnowSports School – NISS
Niseko International SnowSports School (NISS) is Niseko's premier ski school and operates a very large range of adult and kids programs out of both They are invested in creating lifelong memories for you and your family. Their instructors are passionate and are inspired to teach and pass on their knowledge to you.
NISS has been providing snowsports lessons in Niseko since 2003. As an official resort operated snowsports school, NISS is able to conduct lessons throughout the four Niseko United Resorts. Programs meet in Hanazono, before exploring the most appropriate terrain for the day. Their skilled instructors can accommodate every guests' needs and aspirations, whether novice to expert, child or adult, skier or snowboarder.
English or Japanese speaking instructors. Priority lift access in Hanazono. The starting point for the first lesson is Hanazono or Park Hyatt.
NISS Adult Programs
Choose from Niseko Classic, a continuous 6-hour lesson, or morning or afternoon private lessons.
NISS Kids Programs
All lessons have a maximum of six students. Choose from Niseko Classic, Niseko Kids Classic (includes lunch coupon) or morning or afternoon private lessons. The Hanazono Bowl, accessed by two magic carpets and a unique Kamo Ride, is the perfect location for all learners.
Niseko Grand HIRAFU Snow School
The Niseko Grand HIRAFU Snow School offers lesson programs to all levels, from first-timers to advanced skiers and snowboarders, covering kids' lessons, adult lessons, powder snow guides, early powder lessons plus nature hiking programs. Some lessons are Japanese speaking only. The school staff love teaching and understand the importance of connecting with every student. In this way, ski school instructors aim not only to pass on the technical skills but also ensure an enjoyable experience by focusing on communication with each individual student.
GoSnow
GoSnow is the only school in Niseko-Hirafu with on-snow beginner and kid's facilities based at the main gondola. When you ski with GoSnow you enjoy priority lift lanes, professional and accredited instructors, a wide range of group & private lessons, workshops & powder guiding tours. They conduct their ski and snowboard lessons in English by a team of professional and accredited instructors from all over the world.
Niseko United Things To Do, Activities and Tours
Niseko Onsens
Put soaking in an onsen at the top of your list – there are 24 of them across the region both in hotels and open to the public – it's the perfect way to soothe aching muscles and rejuvenate after a day in incredible powder. An onsen is an indoor or outdoor volcanic heated pool of water that is at least 25 degrees Celsius and has a specified amount of minerals in it. The heat and minerals combine to help restore your skiing and riding muscles.
Niseko Village Activities
Niseko Reindeer Sledding
Like the name suggests, it's a scene out of a winter fairy tale as an elegant and powerful reindeer pulls you around the snow in a purpose-built sled. This one is fun for the whole family and be sure to bring your camera.
Snow Rafting
By attaching a raft with a rope to a snowmobile you have the fun and adventure of snow rafting. Imagine zipping through the powder as you zigzag your way behind your snowmobile guide who will take you on an exciting tour of the winter scenery.
Niseko Guided Snowshoe Tours
Snowshoeing is a slower way to explore the surroundings and immerse yourself in the natural winter wonderland. Snowshoeing is another activity for the entire family to enjoy.
Niseko Cross-Country Skiing
Enjoy the groomed trail network that winds through the surrounds of the Niseko Village. Cross-country skiing is another slower way to take in the amazing countryside.
Hanazono Village Activities
Hanazono Powder Guides
Hanazono Powder Guides is a resort managed program that has been running for 10 years taking skiers and boarders to the hidden powder spots in the ski area and into the backcountry via the 11 approved gates listed by Niseko Rules. Private tours include first tracks access to the Hanazono area because the program is run by the resort. Powder skis and snowboard are recommended.
Hanazono Snowmobile Tours
Enjoy the thrill of snowmobiling through the lush forests and Niseko powder and enjoy spectacular views of the Niseko range. Tandem and single snowmobiles are available along with group and private tours, plus there are kids snowmobiles available for 6 to 12-year-olds.
Hanazono Weiss Cat Skiing
Imagine having a whole powder-filled ski mountain to yourself. Weiss Cat Skiing runs on Mt. Weisshorn, which was once a ski resort but currently only used for cat skiing. The terrain is intermediate with the steepest run around 30 degrees and an average would be 20 degrees., with a vertical drop of 1,476 feet (450 m). The team highly recommends powder skis and powder board. The day includes pickup from anywhere in Niseko.
Other Niseko Activities
For those adept at on or off-road motorbikes, dial-up Niseko Snowbike Adventures where you can find 450cc snow bikes to take through untracked powder.
Hokkaido is famous for its dairy products which must be sampled at Milke Kobo, a large center for all things milky and creamy. Try the cheesecake, ice cream, cream puffs (profiteroles), and more before skiing it all off again.
Day trips to Kutchan, the closest town to Niseko, are popular, especially on bad weather days.
Reindeer Sledding
Location: Niseko Village
Like a scene out of a winter fairy tale, whisk across the sparkling snow on a reindeer sled.
Phone: +81 (0) 136 44 2281
Snow Rafting
Location: Niseko Village
Description: Experience a different kind of thrill suited for all ages by zipping over the powder on a snow raft towed by a snowmobile. Your snowmobile guide will expertly navigate through the winter scenes giving you a fun-filled and windy ride.
Phone: +81 (0) 136 44 2281
Cross-Country Skiing
Location: Niseko Village
Snow Shoe Tour
Location: Grand Hirafu
Enjoy a hike through the tranquil winter forest covered in white powder.
Phone: +81-136-22-0109
Niseko Heli-Skiing
Heli skiers can book a seat on a chopper through us with Hokkaido Backcountry Club for an unforgettable day, taking in a bird's-eye view of Hokkaido and skiing isolated mountain terrain with professional guides around the Shiribetsu range.
There are daily heli-skiing trips from Niseko to the 3,631 feet (1,107 meter) Shiribetsu-Dake volcano in the beautiful town of Kimobetsu. The area is famous for fresh powder lines and steep ridges that blankets a beautiful birch forest. The terrain is a mix of trees, steep chutes, and open glades. Slopes range from 20 to 40 degrees, a typical resort black run is 32 degrees.
The average vertical per run is 2,130 feet (650 meters), which means you will get to ski and ride over 10,000 feet (3,000 meters) of vertical with their full-day 6 run heli package. As with any heli-ski terrain, the number of runs depends on the weather, avalanche conditions, and the group's ability level.
All helicopter packages include professional guiding and safety instructions, along with snow safety equipment, including a backpack, avalanche beacon, and probe. They also provide complimentary transport services from local accommodation.
Niseko Snowcat Skiing
Options abound, with Niseko Hanazono Powder Guides, Niseko Weiss Powder Cats, and Niseko Photography and Guiding being among the choices for all-day powder skiing and snowboarding adventures.
Weiss Cat Skiing
If you are looking for fresh tracks and the mountain just for you and your friends, Niseko Weiss Powder Cats is your answer! It provides cat assisted ski and snowboard adventures on our own private mountain, that's virtually next to Hanazono. A maximum of 12 guests per day guarantees line after line of fresh tracks without queueing for lifts or hiking.
Niseko Photography and Guiding have a professional photographer on-site to capture those shots of you virtually obscured by the powder you are floating through.
The team strongly recommends a powder ski/snowboard for Niseko Weiss Powder Cat Tour. Skiers: An 80mm waist and over all-around ski ok but wide skis with a tip and tail rocker is preferred because of the improved control in deep powder. Snowboarders: They strongly recommended a powder board, otherwise you will struggle to maintain control, turn as easily, float, and remain balanced at speed.
The average pitch is around 20 degrees with one run at 30 degrees. You can expect to ski and ride up to 6 runs in a day. The vertical drop is 1,476 feet (450 m).
Bags and backpacks with drinks, snacks, and cameras to record all the action can be kept in the snowcat during your tour.
Hanazono Powder Guides
Hanazono Powder Guides takes guests to the best of the best – over the head to-die-for powder runs for experts to those wanting to try the fluffy stuff for the first time. All tours load the lifts one hour before the public guaranteeing fresh tracks through Strawberry Fields, Blueberry Fields, the Hanazono bowls. All avalanche safety equipment is provided and guides start tours with safety briefings.
Hanazono Powder Guides have been operating for 10 years and are run by the lift company, which is how you get early access to the powder. Their expert guides come from locals who live for the powder in the resort and backcountry and love sharing their hidden places with you.
The Niseko backcountry area is accessible from the 11 gates listed by Niseko Rules but it's not just a matter of heading out a gate, you need to know where you are going, understand the condition, have the right safety gear, and be able to enjoy bottomless turns without the hassle and exhaustion of having to hike back out in waist-deep snow. That's why you need a guide, especially when you don't know the area, as they can save you from hours of wasted effort by taking you to the best stuff before anyone else.
You can choose from half-day, full-day, and three-day tours.
Nesiko Restaurants, Bars & Nightlife
Visiting Niseko is as much a gastronomic experience as it is an odyssey into deep powder. The freshest of seafood, every Japanese delicacy, traditional Izakaya plus a full range of Western cuisine can be found here across almost 150 restaurants and pubs. Among the more notable eateries are A Bu Cha, Bang Bang, The Vale, the Barn, Ezo Seafoods, and Kamimura (fine dining).
There is even a cafe lifestyle of sorts, with places like the Green Farm Cafe a go-to for organic farm-to-table meals, and New Zealand's AllPress coffee is poured at Gloorious Coffee in Rhythm Snowsports.
On the field, popular places include the atmospheric Boyoso housed in a wooden building above the Holiday Pair chairlift. Inside is a big fireplace around which people sit and dry their gear and warm up before heading through to eat delicious home-style ramen, sushi, katsu curry, and buns. The enormous Hanazono 308 Day Lodge is the complete opposite but no less inviting. The modern upscale building has a cafe, carpeted non-slip floors, and soaring windows overlooking the alpine landscape.
Bars in Hirafu
Wild Bill's is a great Japanese restaurant that turns into a wild party around 10 pm with live music and the occasional guest DJs. When Wild Bill is behind the bar, his heavy hand when pouring dirks is bound to help get you in the mood to party.
Tamashii Bar is an excellent après and first stop around town. You need to get there early because it closes at midnight and you wouldn't want to miss out on the locals' atmosphere, dedicated billiard area, and the three big-screen TVs. 
Bar Gyu+ is an experience in lower Hirafu this is hard to find. Hidden behind a vintage Coca-Cola vending machine door, is a warm and cozy bar with a welcoming atmosphere.
For an upmarket experience, the Vale Cellar is located in the lower level of award-winning The Vale Niseko hotel. and offers a wide variety of classic cocktails with a Japanese twist and an impressive premium whiskey menu.
Hirafu Night Club
The Powder Room is the first premium nightclub in Niseko. Located in the Lower Hirafu, the Powder Room offers 3,000 square feet that includes a dance floor and champagne room.
Local Brewery
Located in Niseko Town, about 10-minutes walk away from the Niseko JR station you will find Niseko Brewing which was established in 2014 and uses the crystal clear water of Mount Yotei and local ingredients to quench your thirst.
What About Karaoke?
The town of Kutchan, which is about a 10-minute drive from Hirafu Village, offers several authentic Karaoke spots inside the restaurant and bar district. It's best to Karaoke after dinner, so grab something to eat in Kutchan and then grab a private room where you and your friends can relax and get to know each other. Two recommended places to try are Utaya Karaoke and Utaya Karaoke.
Fusion Restaurant ECLAT
Location: Niseko Northen Resort,Annupuri
Food: Scandinavian, Japanese food
Bar: No
Phone: +81 136-58-3311
an-non
Location: Niseko Northen Resort,Annupuri
Food: Japanese food
Bar: No
Phone: +81 136-58-3311
Tanta•an Restaurant and Café
Location: Mountain Center 2F
Food: Japanese
Bar: Yes
Phone: +81 136-22-0648
Rest House ACE HILL
Location: Next to Ace Quad Lift No.2 Sancho Station
Food: Japanese
Bar: No
King Bell Hut
Location: Next to Hirafu Gondola Sancho Station
Food: Japanese and Western cuisine
Bar: No
Mountain Hut Café
Location: in King Bell Hut
Food: coffee, hot chocolates and delicious sweets
Bar: No
Restaurant SLALOM
Location: Hotel Niseko Alpen 2F
Food: Japanese
Bar: Yes
Phone: +81 136-22-1105
Grand HIRAFU×Milk Kobo Sweet&Café
Location: Hotel Niseko Alpen 1F
Food: coffee, hot chocolates and delicious sweets
Bar: No
Phone: +81 136-44-3734
Japanese Restaurant Syokusai Hirafu
Location: Hotel Niseko Alpen 1F
Food: Japanese seafood
Bar: No
Phone: 81 136-22-1105
Base Café
Location: Base Ski Center 2F
Food: bread and sandwiches
Bar: No
HANAZONO308
Location: near ASPERGES
Food: Local Japanese
Bar: Yes
Phone: 81 136-21-3333
Niseko Shopping
Niseko is souvenir heaven. You will find everything here that you will in any major city in the way of Japanese knick knacks and memorabilia, and all the unique items only found in Japan. Kutchan has excellent grocery stores.
If you turn up without the right skis or snowboards for the powder, rest assured there is plenty available to buy and hire from the many Western-run ski stores and name brand shops that have established here. Rhythm Snowsports is one of the longest standing outlets and has been joined by Burton and Moncler among others.
Niseko Sports – Rental & Retail
Location: Hirafu and Hanazono
Shop: board rentals and outdoor apparel
Phone: +81-136-21-3333
Niseko Grand HIRAFU Ski & Snowboard rentals shop
Location: Base Ski Center
Shop: rental gear for skiers and snowboarders of all ages
Phone: +81-136-21-5253
Niseko Grand HIRAFU Ski & Snowboard rentals Gondola shop
Location: first floor of the Hirafu Gondola Sanroku Station
Shop: rental gear for skiers and snowboarders
Phone: +81-136-21-5253