Mammoth Mountain Ski Resort
As the highest ski resort in California with 32 feet-plus (10 metres) average snowfall and a top elevation of 3362m, Mammoth Mountain is easily one of the most impressive resorts in the US, let alone its home state. It offers 3,607 acres (1,460 hectares) of skiable terrain nestled within the High Sierras, the tallest mountain range in the US outside of Alaska, and ranks California's third largest ski area after Heavenly and Squaw Valley. Mammoth's craggy peaks, serious steeps, vast intermediate terrain, 300+ sunny days per year on average and lively well-established town complemented by a modern purpose-built village with quality accommodation combine to make it a firm favourite with families and groups. Being six hours from Los Angeles it is also a favourite for weekend warriors.
Thanks to its elevation Mammoth Mountain is renown for reliable quality snow, and ski seasons that can run from November till July. It is also spectacular, with stunning views from the high peaks across the Sierras to the plains below.
Mammoth was borne from the enthusiasm and vision of former California ski champion Dave McCoy. In his 20s McCoy noticed the mountainous region received more snow than any of its neighbours. He persevered in the face of financial adversity to establish a ski lift and later a ski lodge. The first lift was built in 1955 and the rest, as they say, is history.
Mammoth Mountain Resort is part of the IKON family of ski resort and can be skied on a regular lift pass as well as the IKON Pass.
Mammoth Village Lodging & Accommodation Options
Mammoth Lakes is a well-established town of over 8,200 people with all the infrastructure a visitor would expect in a thriving community, particularly one that is the favourite ski destination for Los Angelinos.
The Village at Mammoth is an upscale area with best access to the slopes. Most popular choices here are the Westin at Monache and The Village Lodge at Mammoth which is adjacent to the Village Gondola to Canyon Lodge and the slopes. Other options include the Mammoth Mountain Inn and Juniper Springs.
For the classic log cabin in the woods experience go no further than the Tamarack Lodge and Resort, about 6 miles (10 km) from the resort.
Where To Ski And Ride On Mammoth
Mammoth has 28 lifts, 162 trails, and 3,084 vertical feet (940 metres) of terrain ranging from the intensely serious to marvellously moderate and everything in between. Want to scare yourself? Head to Hangman's Hollow, Climax, or West Bowl's steep bumps. Want to cruise? The aptly named Cloud Nine and High Five Express chairs take you to the dream runs you seek.
The main lift is the Panorama Gondola which rises to the Mammoth's top altitude of 11,053 ft (3368m). About 40% of the ski area below is intermediate and there are many long cruisers accessed by mid-mountains lifts. Intermediates will also enjoy the trails weaving through trees. The gondola accesses most of the difficult terrain, divided into advanced (20%) and expert (15%). Those after a challenge can really push the envelope here.
At the other end of the spectrum, at least a quarter of Mammoth Mountain is devoted to beginner terrain. Progression is encouraged with a section for "advanced beginners" called Broadway accessed from the Broadway Express. Beginners are catered for by The Discovery chair and Schoolyard Express right by the Main Lodge.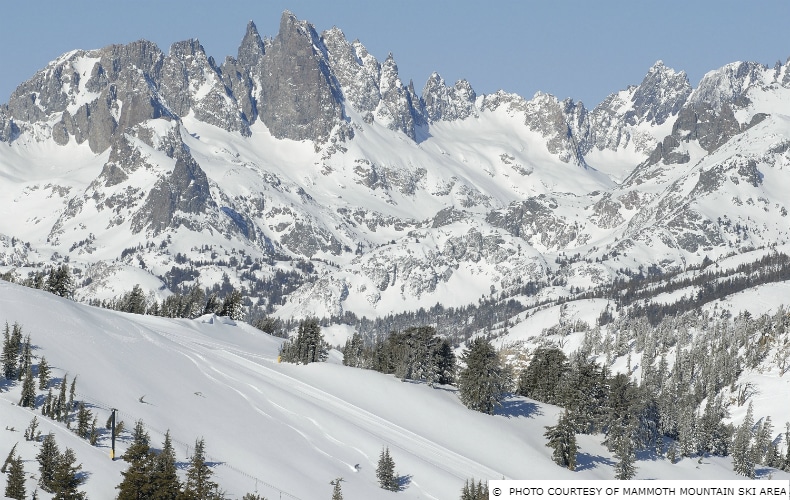 Terrain parks and half-pipes
Park enthusiastics and half-pipe devotees come close to nirvana at Mammoth Mountain. The fact that its main half-pipe is the principal training ground for three time Olympic gold medallist Shaun White, which speaks volumes.
The resort's Unbounded terrain parks are regarded industry leaders, so expertly have they been designed to allow progression from beginner to expert. As a whole they contain more than 100 jibs, and up to 50 jumps. The most popular Unbound terrain park is Unbound Main next to Main Lodge.
The three halfpipes are the world-famous 18ft (5.5m) , world-famous 18 ft (5.5 m) Super Pipe and 22 ft (6.7 m) Super-Duper Pipe. Mammoth also has a Mini Pipe, which makes this resort still the only one in North America with three half pipes.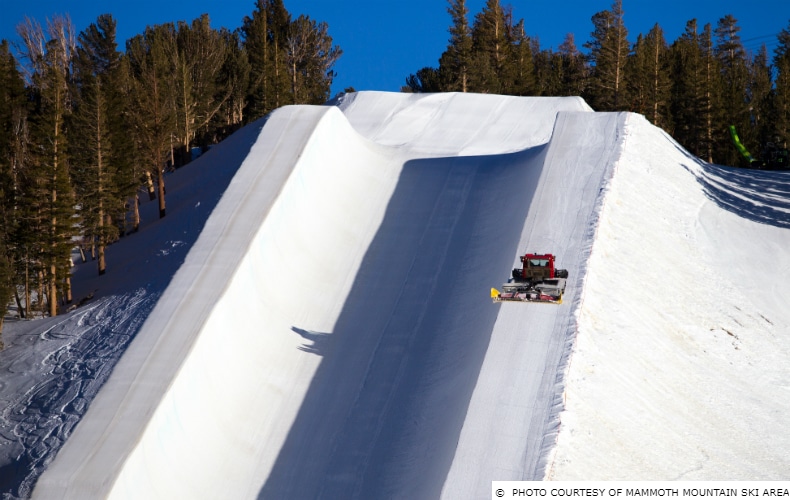 Mammoth Statistics
| | |
| --- | --- |
| Skiable Terrain | 3,500 acres (1,420 hectares) |
| Vertical | 3,100 ft (940 m) |
| Top Elevation | 11,059 ft (3,371 m) |
| Base Elevation | 7,953 ft (2,424 m) |
| Average Snowfall | 400 in/33ft (1,020 cm) |
| Intermediate Terrain | 40% |
| Advanced Terrain | 35% |
| Trails | 150 |
| Parks | 8 |
| Pipes | 2 |
| Winter lifts Total | 28 |
| Gondolas Trams | 3 |
| Chair Lifts | 22 |
| Surface Lifts | 3 |
| Lift Capacity | 50,000 |
| Longest Run | 3mi (4.8 km) |
| Nordic Cross Country | 30 km |
| Mountain Restaurants | 14 |
| Snowmaking | 700 ac (283 hectares) |
| Season Opens | 10 November, 2018 |
| Season Closes | 30 June, 2019 (Estimated) |
How To Get To Mammoth Mountain
A six hour drive from Los Angeles, a five hour drive from Las Vegas or a four and a half hour drive from Reno. There are direct flights to Mammoth Lakes from LAX and San Francisco. There is a free transit shuttle services to get you from the village to town and back again.
Flying To Mammoth Mountain
You can fly into Mammoth Lakes (MMH) via Alaska Airlines and United from LAX, SFO, and SAN. From there it's a 15 minute transfer to the resort.
Driving To Mammoth
Access from all directions to Mammoth is via the scenic north-to-south US Hwy 395, running along the eastern edge of California's Sierra Nevada Range.
Free Local ShuttleBy Taxi, Bus, Shuttle or Rental Car
Once at Mammoth you can take advantage of the free local shuttle service between the village and the town.
Mammoth Mountain Resort Lift Pass Options
Mammoth offers a full range of ski pass options for you to chose from plus you can also ski Mammoth on the IKON Pass, which is a multi resort / multi day pass option.
Mammoth Early Bird Lift Specials
We have negotiated a number of early bird lift pass specials for that you can access when you get a quote.
Mammoth IKON Pass Options
You can also ski and ride Mammoth on the IKON Pass. The IKON Pass is a multi-resort / multi day ski pass that is available for purchase for a limited time each season.
Which Ski Pass Do I Choose – Mammoth or IKON?
It depends on a number of factors including your skiing dates, the number of days you plan on skiing, early bird specials, if you are you planning on skiing any other IKON Pass resorts and importantly if there are any IKON Pass blackout dates that you need to factor in.
The best way to work out which pass option is best for you – is to pick both pass types when you prepare your quote – and then simply bin the pass option that doesn't offer you the very best deal.
Some of the IKON Pass options have blackout dates so be sure to double check and understand the IKON Pass options and blackout dates and how they work by visiting this page we have prepared for you –  IKON Pass Explained.
Mammoth Mountain Snowsports & Ski School
The standard ski school offerings of private and group lessons for adults, teens and children are complemented with a comprehensive range of clinics tailored to take full advantage of Mammoth's best terrain assets. Multi-day clinics are held in backcountry skiing, terrain park, all-mountain skiing for advanced skiers and snowboarders and moguls, as well as women-only clinics.
Backcountry/sidecountry ski tours are also available for first-timers so dedicated downhillers can taste what it's like to earn their turns. Spend an extended period here and it's possible to enrol the kids in the 8 week Mountain Rangers program for ages 4 to 10 while adults can lift their skills to new heights in the 10 week Performance Development Program.
Mammoth Mountain Things To Do, Activities, & Tours
Mammoth Mountain in-resort rental stores offer all kinds of customer benefits such as enjoy free overnight storage and the ability to swap skis for snowboards and vice versa. Demo a large array of latest equipment in a try-before-you-buy deal.
Off-snow distractions include snowmobiling, and in town, ten pin bowling and indoor golf at Mammoth's Rockin' Bowl. Woolly's Tube Park is a popular place at night with lit slopes and DJ music adding to the craziness that is tubing. There's full cross country rental and service in Tamarack Lodge.
Non-skiers can still hit the mountain via a snowcat tour, as well as take the spectacularly scenic ride up the Panorama Gondola for Kodak moments and dramatic views of the Minaret Range and beyond. Grab a bite at the summit's Eleven53 cafe and be educated about the area's volcanic history and geology at the adjacent Interpretative Centre.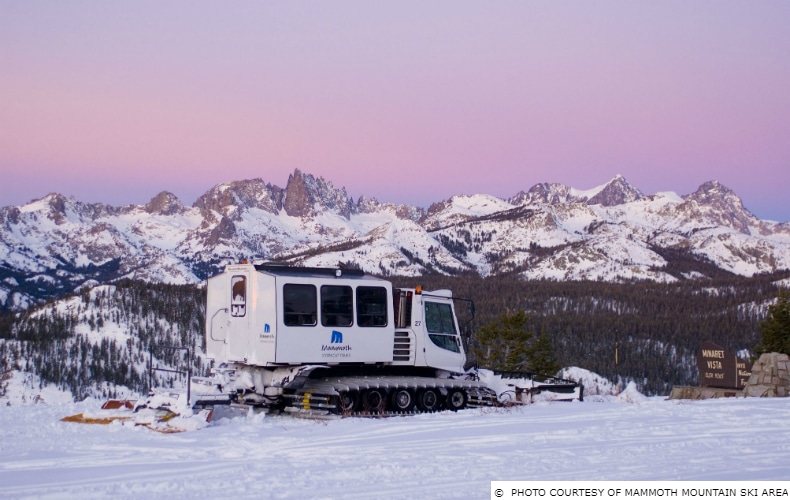 Woolly's Tube Park & Snow Play
Location: between the Village and Main Lodge.
Woolly's Tube Park is all-time fun for all ages with a large snow play area and a heated deck with snack bar.
Phone: +1 760.934.2571
Snowmobile Adventures
Location: Across the parking lot from Main Lodge
Fantastic scenic sights on a snowmobile adventure through the High Sierra.
Scenic Gondola Rides
Location: across from the Main Lodge west entrance
Take a scenic ride up Mammoth Mountain on the Panorama Gondola. Enjoy lunch with panoramic views at the Eleven53 Café.
Cross-Country Skiing & Snowshoeing
Location: located at Tamarack Lodge
Explore the Mammoth Lakes Basin on snowshoes or Nordic skis you can experience the serene beauty of alpine lakes and ancient forests on over 19 miles (30 kilometers) of groomed world-class trails.
Mountain Tour
Location: Broadway ski trail
Led by a Mammoth Mountain Host, you'll get all the insiders tips on where to ski. Offered out of both Main and Canyon Lodges.
Phone: +1 760.934.0736
Naturalist Tour
Location: Goldrush Express (Chair 10) near The Mill Café
Learn from a volunteer US Forest Service naturalist on your skis or snowboard to learn about the region's geologic history, flora and fauna.
Phone: +1 760.934.0736
Snowshoe Tour at Tamarack
Location: Tamarack Cross Country Ski Center
Join a US Forest Service volunteer naturalist on a free snowshoe tour to learn about the trees, plants, animals and geology.
Phone: +1 760.934.0736
Mammoth Rock n Bowl
Location: 3029 Chateau Road
A fun place for the family to bowl, dine and socialize.
Phone: +1 760-934-4200
Mammoth Restaurants, Bars & Nightlife
Long-time apres-ski favourites in Mammoth – and therefore must-visits – are the Clocktower Cellar, Whiskey Creek, Grumpy's sports bar and the quieter Slocums. The Clocktower Cellar, located near the Alpenhof Lodge, stocks over 160 whiskies and 70 beers. It is a Mammoth institution. The Mammoth Brewery is equipped with a tasting room, a terrific eatery and a beer garden. Great Mexican food can be experienced at Robertos. Also highly regarded in the good food stakes is the Tequileria, which lays claim to being the largest and highest in the world with a selection of more than 200 tequilas.
Families have just as much choice when it comes to eating and entertainment: Toomey's serves real deal American food – think generous servings of everything from pancakes to crab cakes and even buffalo meatloaf. Mammoth's Rockin' Bowl is so popular it has two restaurants and bars as well as 10 bowling lanes and four virtual golf bays. For Burger lovers you can't go past Burgers Restaurant, the best burgers in town!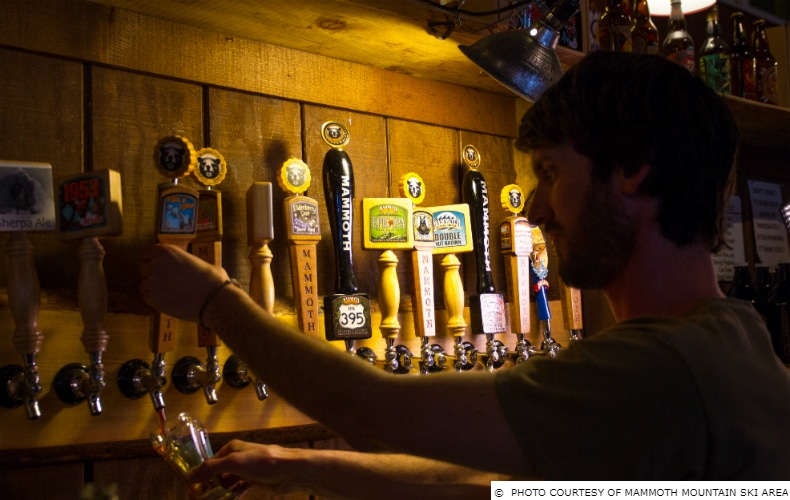 Mammoth Restaurants
53 Kitchen & Cocktails
Location: The Village
Food: American Cuisine
Bar: Yes
Phone: +1 760.934.0707
The Lakefront Restaurant
Location: Tamarack Lodge
Food: Seasonal
Bar: Yes
Phone: +1 760.934.2442
Campo Mammoth
Location: The Village
Food: Italian Cuisine
Bar: Yes
Phone: +1 760.934.0669
Sushi Rei
Location: The Village
Food: Asian-Fusion
Bar: No
Phone: +1 760.934.0774
Yodler Restaurant & Bar
Location: Main Lodge
Food: Bavarian
Bar: Yes
Phone: +1 760.934.0636
Mountainside Bar & Grill
Location: Main Lodge
Food: American Cuisine
Bar: Yes
Phone: +1 760.934.0601
Eleven53 Café
Location: Eleven 53 Summit
Food: Soups, Salads, Sandwiches
Bar: No
Broadway Marketplace
Location: Main Lodge
Food: Food Court
Bar: No
Melt House & Boundary Bar
Location: Chairs 13 & 14 Base Area
Food: Grilled Cheese Sandwiches & Hearty Soups
Bar: No
Steeps Bar
Location: McCoy Station
Food: Liquors only
Bar: Yes
The Daily Grind
Location: Eagle Lodge
Food: Coffee
Bar: No
Mccoy Express
Location: McCoy Station
Food: Quick Serve
Bar: No
Starbucks
Location: The Village
Food: Coffee
Bar: No
Phone: +1 760.934.0698
The Mill
Location: The Mill Base Area
Food: BBQ
Bar: Yes
Green V
Location: Main Lodge
Food: Vegetables, fresh-squeezed juices and gluten-free options
Bar: No
Grizzly Square Food Court
Location: Canyon Lodge
Food: Food Court
Bar: No
Edge & Wedge
Location: Canyon Lodge
Food: Coffee
Bar: No
Grizzly Bar
Location: Canyon Lodge
Food: Liquors
Bar: Yes
Talons Bar
Location: Eagle Lodge
Food: Liquors
Bar: Yes
Parallax
Location: McCoy Station
Food: Seasonal
Bar: Yes-Wine
Mammoth Shopping
There is plenty to keep everyone from regular shoppers to shopaholics, brand name fanatics and bargain hunters happy here. Mammoth Luxury Outlets is among the top places to visit for quality goods with attractive price tags along with a number of malls. Sporting goods and outdoor equipment stores are especially good in Mammoth Lakes thanks to it being a year-round epicentre of all things active.
It's impossible to miss the Mammoth Fun Shop on Main Street with its colourful window displays and head-turning Bigfoot statue out front. Kids will love having their photos taken with the effigy of the elusive mountain monster, before racing inside to ogle the Fun Shop's enormous range of games and toys. The Village at Mammoth is full of gift stores, cafes and chic boutiques. Mammoth Lakes is an easy place to self cater thanks to the supermarkets and strip malls. Insider tip: stock up on fresh produce at the Farmers Market held every Wednesday at Mammoth Luxury Outlets.
Mammoth Sports
Location: Main Lodge/Canyon Lodge/ Eagle Lodge/Chair 2 Trailer/the Village
Shop: Outdoor apparel, accessories, souvenirs (The North Face, Mammut, 686, Dakine, Burton, Oakley, Smith, Outdoor Technology and GoPro)
McCoy's
Location: The Village Plaza
Shop: Apparels, toys, gift shop
Mammoth Mountain Resort Trail Maps
Explore Mammoth Mountain Resort trail maps to find your ideal place to ride, catch up with friends and more…
Mammoth Mountain Resort Trail Map