Meribel Ski Resort
Meribel is often referred to as the 'heart of the Three Valleys' as it is the central valley in the ski area, which is the largest linking ski network in the world. The resort is made up of a number of villages of which there are 3 main resorts ; Meribel Village, the original farming village at 4,595 feet (1,400 meters), Meribel resort itself at 4,760 feet (1,450 meters) where you'll find the banks, shops & the majority of restaurants and Mottaret, a satellite resort further up the valley at 5,470 feet (1,750 meters) with fantastic links to the rest of the Three Valleys ski area.
In total there are 8 resorts that make up the Three Valley and which are skiable on the one ski pass: Meribel, Courchevel, Val Thorens, Les Menuires, Saint Martin de Belleville, La Tania, Orelle and Brides les Bains. Each resort is different in character and architecture but combined offer some of the best skiing in Europe.
The Three Valleys offers 169 all-modern lifts, 335 marked runs spanning over 372 miles (600 km) and over 80 miles (130 km) of cross-country tracks. Over time the ski network has expanded to incorporate a fourth valley, though the area retains the name Trois Vallées. Meribel is located in a central location within the ski arena, with Courchevel, Brides-Les-Bains and La Tania to the east and Les Menuires, Saint Martin de Belleville and Val Thorens to the west.
This central location plus Meribel's pretty chalet-style wooden buildings and village atmosphere make it a particularly vibrant and popular destination in the Alps. There are many self-catering apartments as well as hotels and beautifully appointed chalets in Meribel. Free resort shuttles link the chalets to the town centre, shops and restaurants.
Intermediates will enjoy some of the best novice skiing The Three Valleys has to offer, above and around Meribel Mottaret. A favourite for advanced skiers is the black La Face Run, used for the downhill when Meribel hosted the women's alpine skiing events during the 1992 Winter Olympics (Albertville). Another exhilarating run is accessed from the top Meribel's highest lifted point, the 9,685 foot (2,952 meters) Mont du Vallon. Meribel, which also hosted the Olympic ice hockey games, is still a prime choice for World Cup events and other alpine races.
Meribel Accommodation & Hotel Options
The resort of Meribel is actually made up of a number of villages and hamlets, most of which have lift access to the ski area. The villages are all linked by a free shuttle bus service that takes skiers into the centre and to the Chaudanne which is the main lift area.
Meribel Centre – The main village where you'll find the majority of the bars, shops and restaurants. Its where you'll find banks, post office and tourist office as well as the Olympic Sports Centre
Meribel Village – The picturesque original farming village is at 1400m and is clustered around the village square and the bottom of the Lapin slope. There are a couple of bars and restaurants and a free shuttle bus to Meribel Centre.
Meribel-Mottaret – This satellite village is above the main resort and is particularly well located for skiing with direct links to Courchevel and Val Thorens. There are shops, bars and restaurants and it is just a short ski or bus ride to Meribel centre.
Terrain
The Three Valleys is the largest linked ski area in the world with over 600 kms of pisted runs as well as a fantastic selection of off-piste runs and, as Meribel is the central valley, it is perfectly positioned to easily access the whole area. This is a resort of which you can truly say that it has something to offer every level of skier and snowboarder. It has 150kms of pisted runs and a very efficient lift system which is constantly being updated and improved. It is also incredibly well supplied with snow cannons and snow-making facilities so that even in poorer snow years, runs are open from the beginning to end of the season.
t is sometimes said that the resort is a mecca for intermediate skiers as 77% of the runs are classified as blue or red but don't worry there is also plenty to challenge the more advanced skier including the world famous La Face which was the Olympic Ladies Downhill run in the 1992 Games. But this is resort and ski area where you can get miles under your belt. If you're looking for a challenge with stunning views, head for Mont Du Vallon, which is at the end of the Meribel Valley. It is at 2,952m, with incredible views down towards the resort and you have a choice of two long red runs. The challenge is to ski from top to bottom with no stops – your legs will be on fire!
For expert skiers the Couloir Tournier is the newest run in the valley, starting from the summit of Saulire Express gondola – this is the steepest run in the valley, with a scary 37-degree slope at the top. Narrow and with no escape routes, this couloir is only for advanced, brave skiers only. There's plenty of easily accessible off-piste, for the adventurous but do take a guide to help you get the most out of your day.
For beginners there are some great runs around the Altiport area where you'll find gently, wide green runs and some great restaurants so if you're skiing in a mixed group, you can still meet up for lunch together. For intermediates or to get your ski legs back, head for the blues and reds off Tougnete or Saulire although do bear in mind that some of the run gradings can be misleading and there are certainly red runs in the Meribel that would be classified as black in other resorts.
The main lift area is the Chaudanne and from here there are fast links up to the top of Saulire (2,740m) with links to the neighbouring Courchevel valley or to Mottaret, Val Thorens and Les Menuires via the Tougnete bubble. Beginners should head up the Rhodos bubble towards the Alitport and if you like a challenging first run, head up to La Face via Legends chairlift.
A top tip is to ski in the sun on the Tougnète side in the morning and cross over to the Saulire in the afternoon. Also remember that as the Chaudanne is the main meeting point for all the ski schools, so in school holidays either aim for first lifts at 9am or have another cup of coffee and head down at 9.45 when all the groups have left.
Meribel Statistics
| | |
| --- | --- |
| Skiable Terrain | 600 km of piste 10,500 hectres of ski area |
| Vertical | 2,130 m (6,988) |
| Top Elevation | 3,230 m (10,597 ft) |
| Base Elevation | 1,100 m (3,608 ft) |
| Intermediate Terrain | 39% |
| Advanced Terrain | 34% |
| Trails | 328 |
| Winter lifts Total | 166 |
| Gondolas Trams | 35 |
| Chair Lifts | 69 |
| Surface Lifts | 64 |
| Longest Run | 12 km (7.4 mi) |
| Snowmaking | 2,100 + cannons |
| Season Opens | December |
| Season Closes | April |
How To Get To Meribel
Flying To Meribel
Geneva – 2hr 30min
Grenoble – 2 hrs 15 mins
Chambery – 1hr 30mins
Lyon – 2 hr 15 mins
Transfers To Resort
Minibus transfers to the resort operate from the airport, bus or train station.
Catching A Train To Meribel
From Moutiers Salins Brides Les Bain it takes around 25 minutes to Meribel.
International trains connect Moutiers to Paris Charles de Gaulle airport or from Paris-Gare-de-Lyon on the TGV service, which takes around 4.5 hours.
Driving To Meribel
There is a 16 km windy road from Moutiers to Meribel.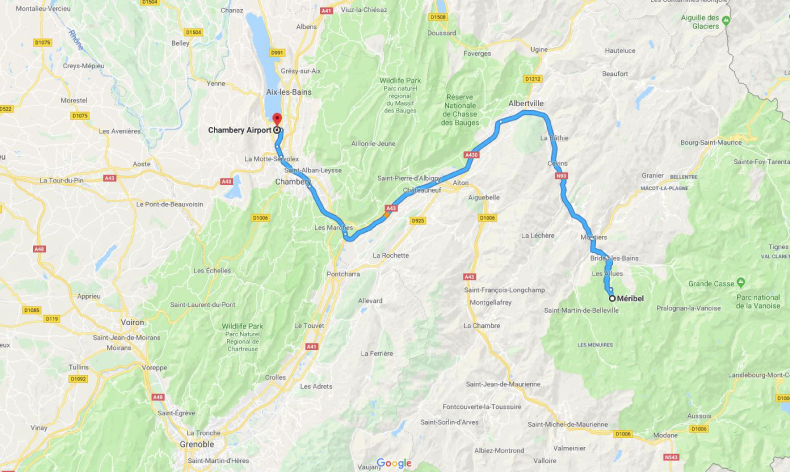 Lift Passes
In Meribel there are two main types of lift pass – the 3 Valleys Pass (which covers the full area) and the Meribel Valley Pass (which covers the local area). The 3 Valleys Pass is more comprehensive, covering all the lifts in Meribel and all the neighbouring resorts and is recommended for all but beginner skiers. The Meribel Valley Pass covers the lifts in Meribel and Mottaret but no further, so is best suited to beginners.
Children under 5 years and adults over 75 year are free but you will need to show proof of age to get these passes. These passes need a photo (though this can be taken at the lift office counter) and there is a 3 euro charge for the 'hands free card'
There are discounts for families based on 2 adults and a minimum of 2 children and for 2 or more passes bought for 6 days+ for the same ski area. You can also buy a daily beginner mini-pass for drag lifts on the nursery slopes and pedestrian pass for anyone who prefers walking to skiing or who wants to join for a skiers' lunch up the mountain. There are also 33 kms of prepared cross-country ski tracks which don't require a lift pass.
You can add ski insurance to your lift pass to cover you in case of accidents but you do need to check against your holiday insurance to see if you need this additional cover.
Snow School
There are several ski schools in Meribel and you can arrange everything from group lessons through to private instruction and off-piste guiding. Group lessons usually start on Sunday or Monday and will typically run for 5 or 6 days on either morning, afternoon and whole day basis. In the busy weeks, it is advisable to book well in advance for both group lessons (particularly for children). All the ski schools have their main meeting point in either the central Chaudanne lift are in Meribel or on the snow front in Mottaret so it is advisable to get there a little early on the first day. There are English speaking instructors in all the main ski schools and most also offer teaching in other languages but be aware that in group lessons tuition will be give predominantly in French or English.
The French Ski School (ESF) do run a children's nursery and a kindergarten open to children from 18 months to 5 years. This can be booked for morning, afternoon or for the whole day, with lunch provided. They offer a combination of play and for the older children, an introduction to skiing. The staff are multi-lingual although there is naturally a predominance of French spoken.
Below is a list of the ski school & instructors available
• Ecole du Ski Francais (ESF) – the largest of the ski schools in resort offering group and private instruction for all levels and all ski disciplines (downhill, snowboarding, cross-country & telemark).
• Oxygene Ski School – an international school offering both group and private tuition
• Parallel Lines – a predominantly British ski school offering group lessons
• Marmalade Ski School – predominantly British instructors who specialise in private instruction in both ski and snowboarding
• New Generation – a predominantly British ski school offering group lessons
• Prosneige – an international ski school offering both group and private instruction in all disciplines and all levels
• Cab9 – a specialist snowboard school offering group and private lessons
Although heli-skiing is not permitted in France, there are plenty of opportunities to explore the off-piste and to get off the beaten track. Most of the ski school above will be able to offer guides or instructors who can take you out to explore further.
Activities
Snowshoe – Take a guide or join one of the organised groups going snowshoeing expedition. Some brilliant organised outings based on the history of the area and seeing local flora and fauna.
Walking – The resort has a number of marked walking trails which offer spectacular views, in particular those at the Altiport which take you through the forest.
Horse Sleigh Rides and Skijoring – Based in Motteret, Le Coeur Equestre offers horse sleigh rides and Skijoring, which is for the more adventurous who have a love of skiing but just can't get off their skis.
Ice skating – Meribel has a fantastic ice rink as it hosted the ice hockey in the 1992 Olympics. Free skate or go and watch one of the regular ice hockey matches.
Snowmobile – Based in Mottaret and accompanied by a guide, you can explore the mountains after the lifts have closed. There is also a small circuit open for children ages 4-12
Olympic Centre – This building, next to the Chaudanne lift area, houses the ice rink, swimming pool, gym, spa, indoor climbing wall and bowling alley.
Parapenting & Scenic Flights – See Meribel and the 3 Valleys area from the skies. Take a tandem paraglide from the top of the Saulire and glide over the valley or enjoy a helicopter flight from the Altiport and view the peaks from Mont Blanc to the Tarentaise.
Spa & Relaxation – Meribel has a spa in the Olympic Centre but several of the hotels also open their spa areas to non-residents. There are also a number of weekly yoga and pilates classes in the resort so you enjoy some R&R after your day on the mountain.
Dining & Bars
Meribel and the Three Valleys area offer a plethora of restaurants both on the mountain and in resort and you have the choice of everything from Michelin star fine dining to rustic local specialities.
One of the pleasures of the Three Valleys is that you can ski and lunch in one of the other resorts increasing your choice of place to eat at least tenfold. Below are some of our favourites in the Meribel valley.
Le Clos Bernard – close to the Altiport ski area and accessible to non-skiers, this renovated skiers' & hikers' hut is a lovely place for a long lunch with great salads and meats grilled over an open wood fire.
L'Adray Telebar – a Meribel institution on the Doron piste with a lovely large sunny terrace. Great food and lovely atmosphere and probably the best chips in the resort.
La Folie Douce – a club, a restaurant and a cabaret all rolled into one! There is a great self-service cafe as well the main restaurant. The food is good and you have to go at least once to experience the atmosphere. Ideally go for a late lunch and then stay for the cabaret – non-skiers can get the Saulire bubble up to join the group.
Le Refuge du Plan – a mountain hut above Lac Tueda in Mottaret serving simple but delicious food. A perfect choice for cross-country skiers and walkers and it also opens in the evening for the adventurous (it's about a 30min hike up the hill with head torches & snow shoes).
Pizzeria de Mottaret – right in the centre of the resort, serving delicious pizzas and salads and ,as it can be easily reached on ski or on foot, it's a perfect choice for a mixed group.
In the evening you can choose a fine dining restaurant such as L'Ekrin, Meribel's Michelin star restaurant run by chef Laurent Azoulay. Or head up to Le Cepe where local produce is used to create mouth-watering dishes, with an emphasis on fresh fish. Chez Kiki is a Meribel favourite serving fantastic meat cooked over an open fire or head to La Fromagerie for delicious fondue and raclette.
There are great bars in Meribel and the resort has a deserved reputation for great live music. Enjoy après-ski at Le Rond Point (commonly known as the Ronny) where there is usually a band playing or head for La Copina or Bar Saint Amour for a glass of wine in a more peaceful setting. If you're a rugby or football fan Fifty50 is a great small bar that always shows the matches and Barometer is a bar/restaurant with a relaxed atmosphere.
Shopping
Meribel is definitely a ski resort and the emphasis in the local shops is on the sport so you'll find a great selection of shops selling ski boots, skis, ski clothing and accessories but the shopping is less of a feature than in resorts such as Courchevel. That said, there are a couple of great clothes shops selling brands such as Maison Scotch, Ugg, Longchamps & Moncler if you want to update your wardrobe.
If you're looking for souvenirs of your holiday, you'll find everything from t-shirts to locally made crafts as well as a great selection of local food produce. La Maison de la Presse sells newspapers, magazines and a selection of interior design gifts
Méribel's main bakery, Les Glaciers, offers delicious breads, cakes and patisseries and wonderful handmade chocolates as well as speciality teas. And the main Spar supermarket has an amazing choice of wine and French liquors including the 'local brew', Genepi.
There is a market on the main street every Tuesday and Friday selling local produce, clothing and jewellery but if you want to get the best selection of cheese and the best prices, head for either La Fromagerie or to the Cooperative in Mussillon.
Do remember that most shops in France still close over lunchtime! This can even include supermarkets, although in most ski resorts now these will stay open, certainly in peak season. Otherwise, most shops in Méribel will open at 9am or 10am and close for lunch at midday. They reopen from 2pm and stay open until 7.30pm or 8.00pm, so you can always head out after skiing for a sport of retail therapy.