Red Mountain Ski Resort
Red Mountain resort is far from the madding crowd, nestled amid wilderness deep in the Kootenay region of southern British Columbia with the lively and authentic Canadian mountain town of Rossland on its doorstep. Made up of three neighbouring peaks – Red, Granite (the largest) and Grey mountains, Red is one of Canada's larger ski areas. The slopes offer 2,920 feet (890m) vertical and are blessed by over 24 feet (7.5m) snowfall each season. So challenging is Red's advanced inbounds terrain that The Canadian Open Freeride Championships are held here every year.
Skiing was introduced to the area by Scandinavians lured to the region by the 1890s gold rush, the temptation to discover their new mountain surrounds as strong as the hankering for the riches below them. By the mid 1890s Rossland Ski Club had been formed, and in 1897 it made history by holding Canada's inaugural officially recorded ski competition. By the 1930s  the group had morphed into the Trail-Rossland Ski Club thanks to the growing band of ski tourers establishing even more routes into the ranges via logging and mining roads, and a gas rope tow was installed at the base of Red Mountain. Two decades on, the newly formed Red Mountain Ski Club replaced the rope tow with a chairlift, and built a substantial lodge which still serves as the resort's main base area facility today.
Unique for features such as inbound cliff drops and short sharp sections of precipitous terrain, Red Mountain was recognised early on as ideal for training talented young skiers in the finer techniques of extreme skiing. The development of Granite Mountain allowed Red Mountain to host Canada's first World Cup.
Visitors stay either in the modern lodging at Red's base or a mile (two kilometres) down the road in Rossland, a town that has retained its genuine old world charm and embraced true mountain culture. Funky and laid back, in Rossland it is easy to find anything from excellent food and coffee to top notch ski or snowboarding gear.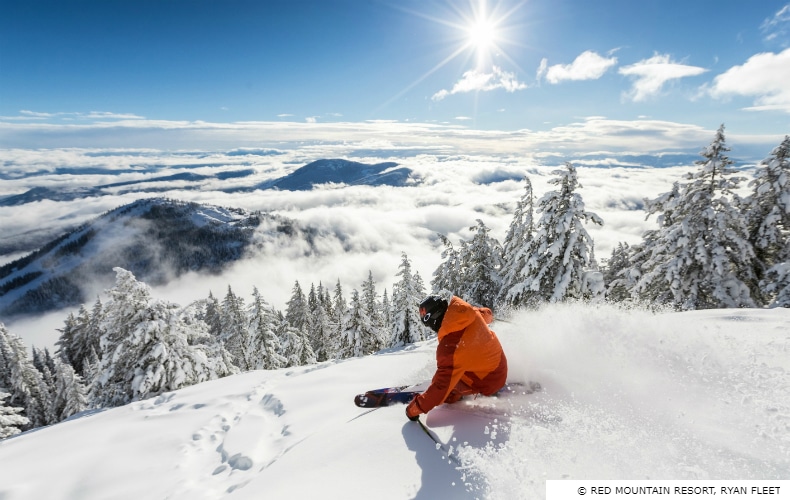 Red Mountain Lodging, Accommodation & Hotel Options
The large selection of well-appointed modern condominiums and several stylish hotels at the base of Red Mountain. Slopeside is Slalom Creek – a luxurious complex of 67 ski-in/ski-out luxury condominium units, Morning Star with 18 luxury suites and Silver Tip. For architect designed elegance try the boutique Josie Hotel which has an outdoor slope-side pool. Rossland has a wide choice of motels, hotels and bed and breakfast lodgings.
Red Mountain & Ski Terrain
Red Mountain delivers a satisfyingly 2,877 acres large and varied 1164 hectares of carefully developed terrain. Tree runs are abundant – there are places where the rider will feel they are gliding through mountain wilderness instead of on any one of 110 marked ski runs serviced by a  network of 7 lifts.
Beginners have 23% of terrain at their disposal, intermediates 31% and advanced 23%. A magic carpet slope is available for the learners and beginner terrain is located off the Silverlode chairlift.
Most of the black slopes are  on the upper section of Granite Peak, with the blue runs below. Red Mountain has some of the ski area's longest cruisiest groomed blue runs. Of Granite's  901 acres (365 hectares) of blue runs the easiest descents are Rino's Run or the Southside Road. For a real challenge, head to the north side's steep chutes which can give any advanced skier a run for their money – Helter Smelter, Burn One Down or I Drop The Line in particular.
Red's Rockstar Energy RED Terrain Park is conveniently located near the bottom at the base area's basin. A pumping sound system fuels the vibe while riders choose from over 20 rails, funboxes and tabletop jumps. Features are geared for all abilities.
Red Mountain Statistics
| | |
| --- | --- |
| Skiable Terrain | 4,200 acres (1700 hectares) |
| Vertical | 887 m (2,910 ft) |
| Top Elevation | 2,072 m (6,798 ft) |
| Base Elevation | 1,185 m (3,888 ft) |
| Average Snowfall | 760cm (300 in/25 ft) |
| Intermediate Terrain | 31% |
| Advanced Terrain | 23% |
| Trails | 110 |
| Parks | 1 |
| Winter lifts Total | 7 |
| Chair Lifts | 5 |
| Surface Lifts | 2 |
| Lift Capacity | 7,500 |
| Longest Run | 7 km (4.3 mi) |
| Nordic Cross Country | 40 km |
| Season Opens | 13 December, 2018 |
| Season Closes | 5 April, 2019 (Estimated) |
How To Get To Red Mountain
Fly to Spokane, Washington (GEG), and take a 2.5 hour shuttle ride to the resort. Flying into Castlegar (YCG), a 35 minute shuttle ride from Red Mountain, is another option although the airport can often be weather affected.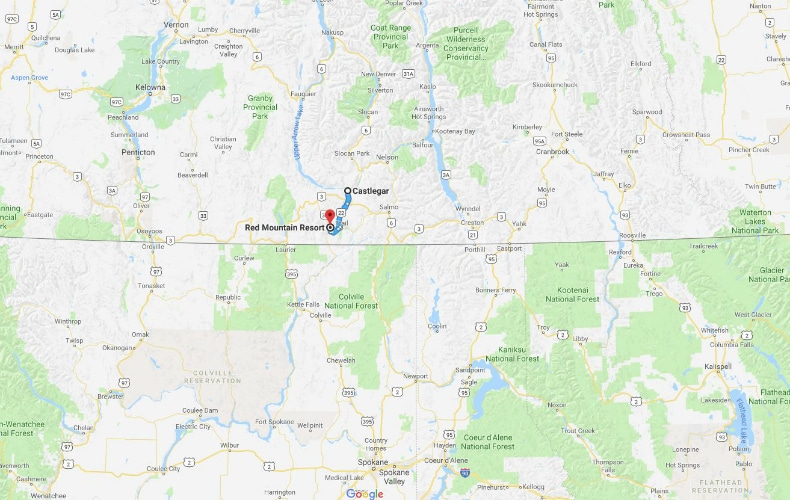 Red Mountain Snowports & Ski School
The Fall Line Ski and Snowboard School's clinics and camps are designed to address any area in which you feel you need to work – from conquering bumps, or negotiating the terrain park to one day intensives for overcoming those annoying hurdles holding you back from progressing.
One of the Fall Line school's more unique programmes is the Red Rookie adults-only two day camp for brand new skiers and snowboarders who do not want their more advanced friends and partners trying to teach them. You could be new to the mountain, or a skier wanting to learn to snowboard or vice versa. Fall Line's range of women's classes include a two day camp for snowboarders with overnight accommodation and yoga sessions after the day's riding.
Red Mountain Things To Do, Activities and Tours
Being in such a snowy place, a number of cat skiing and helicopter skiing outfits operate in and around Red Mountain. Big Red Cats is the best known and longest established and based at Red Mountain.
The resort runs its own albeit quite small operation, Mt Kirkup Cat skiing, to give skiers a taste of what the larger companies in the area offer. Guides take skiers and boarders to a peak just beyond Grey Mountain where about 200 acres (80 hectares) of gladed tree runs has been cut to give those of strong to advanced abilities  the treat of untracked powder in wilderness terrain. Each ride up is about $CD 10 and no reservations required. Just ski up to the snow cat on Grey Mountain and buy a ticket.
Black Jack Ski Club, located just 2 minutes up the highway from Red Mountain, has excellent cross country trails, and offers a pleasant tour called  Le Petit Fromage to introduce people to the sport. The evening begins with ski instruction followed by a gentle 2km ski on groomed trails to a remote cabin for a three course French cheese fondue dinner.
Red Mountain's Get Lost Adventure Centre also has guided cross-country skiing and snow shoe tours on four snowshoe loops.
Mt Kirkup Cat Skiing
Location: Mt. Kirkup area
Red has a Pisten Bully 200 snowcat to  shuttle skiers up to newly cut runs on Mt Kirkup that aren't accessible by a chair lift. T
Phone: +1 250-362-7384
Rockstar Energy Terrain Park
Location: RED Resort Parks
Thrills 7 spills where you can go big or start you park progression.
Phone: +1 800-663-0105
Snowshoeing Adventures
Location: RED Mountain Resort
Experience the Red Mountain backyard wilderness on snowshoes.
Phone: +1 250-231-4305
Cross Country Skiing
Location: Black Jack Cross Country Ski Club
Experience some of Canada's finest cross-country skiing at the Black Jack Ski Club, located just 2 minutes up the highway from Red Mountain.
Phone: +1 250 362-7164
Heli Skiing
Snowwater Heliskiing
Snowwater is located Deep In The Heart Of The Selkirk Mountains, Bc, Canada, With Over 150,000 Acres Of Heli And Boarding Terrain Is Both Vast And Breath Taking.
Cat Skiing
Big Red Cats
One Of The World's Largest Cat Skiing Operations With Nearly 20,000 Acres Of Untracked Glades And Bowls.
Baldface Lodge
Provides Skiers And Snowboarders With A Fun, Exciting, Challenging And Safe Backcountry Experience. Baldface Guests Fly Via Helicopter To The Mountain Lodge For Three- And Four-Day Trips Between Mid-December And Mid-April.
Wildhorse Cat Skiing & Powder Mining Co
Offering Steep Trees, Open Glades, Powder Stashes, Mellow Meadows, Crazy Cliffs, Endless Mayhem, And Sunlit Ridges. You Should Be At Least A Strong Intermediate To Advanced Skier Keen To Ski At Least 10,000 Feet Of Untracked Powder.
Valhalla Powdercats
Valhallalocated Deep In The Heart Of The Legendary Selkirk Mountains, Valhalla With A Tenure Six Times The Size Of Whistler And Blackcomb Combined. 12,500 Vertical Ft A Day Minimum.
Retallack Lodge
Providing Cat Skiing And Snowboarding Experiences High Up In The Selkirk Mountains Of BC, Canada. Retallack Cat Skiing And Snowboarding Is Best Suited To Seasoned Powder Skiers And Boarders.
Red Mountain Restaurants, Bars & Nightlife
Hearty breakfasts and lunches are served at Sourdough Cafeteria in Red's Day Lodge. Rafters on the Day Lodge's Top floor opens at 11am till late most nights. On the second level is Keen Coffee & Wine, selling smoothies, wraps, sandwiches, baked goods and more.
Mid-mountain is  Paradise Lodge serving everything from lattes and breakfast, to warm soups and burgers from a patio grill. Don't want to stop? Grab a gourmet sausage and a drink from the Wiener Take All bratwurst stand at the base of the Grey Chair.
Red's apres ski mecca is Rafters at the base area. Virtually the entire mountain ends up here after the lifts close, drinking beer and eating nachos in the classic wooden structure. The atmosphere after a good powder day at Red is as upbeat as it gets. Rafters is also the late night live music venue.
Down in town, Rossland may not be as outrageous as it was during the 1890s Gold Rush when it had 42 saloons and 21 brothels but it is definitely lively. For apres, you cannot go past The Flying Steamshovel Pub. The hotel is one of the oldest in British Columbia and dates back to the Gold Rush. Rossland also has a full gamut of restaurants and cuisines from Japanese to Italian to fine dining.
Sourdough Alley
Location: second floor of RED's Day Lodge
Food: breakfast and lunch items
Bar: No
Rafters
Location: top floor of the Day Lodge
Food: American/Mexican cuisine
Bar: Yes
Paradise Lodge
Location: at the Paradise Lodge
Food: Soup, burgers, grill
Bar: No
Keen Coffee & Wine
Location: 2nd level of RED's Day Lodge
Food: sandwiches, coffee, liquors
Bar: Yes
Wiener Take All
Location: base of the new Grey Chair
Food: Gourmet sausages
Bar: Yes
Red Mountain Shopping
Rossland's entrenched mountain culture means the town eschews big name chain stores and brands in favour of independent outlets and all else that gives a country town its charming old world vibe. The ski and snowboarding stores are particularly well-stocked here, with wide ranges of quality goods. There's a cozy cafe and gourmet espresso scene, funky stores selling knick knacks from local crafts people, book shops, and plenty of grocery store options due to such large numbers of visitors staying in self-contained condominiums.
Red Mountain Trail Maps
Explore Red Mountain trail maps to find your ideal place to ride, catch up with friends and more…