Fernie Alpine Resort
Fernie Alpine Resort's five alpine bowls, 2,500+ of skiable acres, up to eleven meters (37 feet) of annual snowfall with a vertical drop of 1051 metres (3550 ft) combines to deliver uncrowded adventure skiing and riding. When you hit Ferine on a deep powder day, it's like the skiing heaves have combined as you have multiple options from the gentle lower mountain terrain, to seep and then very steep and deep in the high alpine lift serviced offering open bowls, trees and chutes available for the taking.
Fernie Alpine Resort is located on the Lizard Range in the Canadian Rockies and gets more than it's fair of powder snow each season, arguably the most snow of all the Canadian Rockies resorts. It's a skiers and riders mountain and has been compared the other resorts like Crested Butte in Colorado or Alta and Snowbird in Utah.
Fernie Alpine Resort is part of the EPIC family of ski resort and can be skied on a regular lift pass as well as the EPIC Pass.
Ferine Lodging & Accommodation Options
There are around 23 accommodation options for you to choose from, from budget to 4 and a half star. Most guests choose to stay up at the resort, however if you have your own transport then staying in the town of Fernie is definitely an option for you as it is a short 5 – 10 minute relatively easy drive up the mountain each day to the day car park.
When staying on mountain the pick of the ski in ski out properties includes the Lizard Creek Lodge with their outdoor heated pool and three hot tubs, Cirque Restaurant, sub zero lockout tasting room at the Ice Bar or pamper yourself at Nere Spa. Other popular properties include snow Creek Lodge and Cabins that feature early Canadian architecture full kitchens fireplaces and balconies and the Fernie Slope Side Lodge offering hotel style accommodation.
If staying in the town of Fernie, the Best Western Plus Fernie Plus Mountain Lodge is a nine minute drive to the mountain located near the Fernie Golf Course on the edge of town next door to Boston Pizza and Starbucks.
Fernie Alpine Resort Mountain & Ski Terrain
Standing at bottom of the mountain in the village and then when you look up, it's hard not to be inspired as Ferine looks like something out of a postcard with it's steep peaks that form it's famed alpine bowls. Fernie's five alpine bowls Currie, Timber, Siberia, Lizard and Cedar are their big drawcard, with each bowl offering something unique and different like the monster lines in Lizard, the length steeps and length Curry and the long fast runs on Siberia Bowl.
With 142 runs, the lower runs offers gentle terrain for learning around the Mighty Moose poma or regaining your ski legs with laps on the Deer and Elk Chair. However, once you venture higher, a steeper and often deeper skiing and riding will experience awaits.
From the top of the Elk Chair, you are only a handful of warmup turns away dropping down to the bottom of Bear Chair, which transports you to the top of the Lizard and Cedar Bowls where you can do laps on Lizzard or hit Cedar Bowl and then haul back to Boomerang Chair where you can head back to the Bear and Lizard, drop into Cedar trees or ride back down under the Boomerang lift in the open glades and trees.
A ride to Timber Bowl Express takes you to the Lost Boys Café for a pit stop, where you can head skiers right to Siberia Bowl or skier left to the White Pass Quad and like the name suggests, from the top of the White Pass chair you have quite a few options before you as you soak up the amazing views. You can clock up the laps on the White Pass chair or traverse into Currie Bowl or experienced and expert skiers and riders choose to head up the Polar Peak Chair for breathtaking views and access to amazing terrain.
It used to be you needed to hike up a super steep face to the top of Polar Peak, which used to take around 45 minutes and then you had the whole place to yourself. Now it's a simple chair ride away, so you need to share the terrain and views with other mere. Lift served, mortals now. From the top of Polar Peak, the sky is the limit with long vertical open skiing, tress, chutes and glades all before you. Be sure to avoid the closed off areas and obey the sings and any avalanche warnings.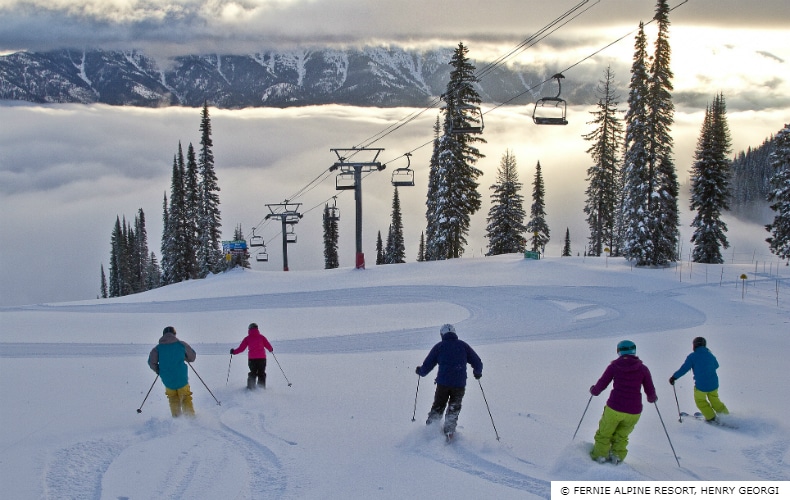 Fernie Statistics
| | |
| --- | --- |
| Skiable Terrain | 2,500 acres (1,011 hectares) |
| Vertical | 1,082 m (3,550 ft) |
| Top Elevation | 2,149 m (7,051 ft) |
| Base Elevation | 1,068 m (3,504 ft) |
| Average Snowfall | 900 cm (354 in/30ft) |
| Intermediate Terrain | 40% |
| Advanced Terrain | 30% |
| Trails | 142 |
| Parks | 1 |
| Winter lifts Total | 10 |
| Chair Lifts | 7 |
| Surface Lifts | 3 |
| Lift Capacity | 14,916 |
| Longest Run | 5 km (3 mi) |
| Nordic Cross Country | 14 km |
| Mountain Restaurants | 3 |
| Snowmaking | 126 ac (51 hectares) |
| Season Opens | 4 December, 2018 |
| Season Closes | 14 April, 2019 (Estimated) |
How To Get To Fernie Alpine Resort
Fernie Alpine Resort is located in the south-east corner of British Columbia, Rockies. It's located 3 and one half hours south of Calgary, six hours south of Edmonton, seven hours south east of Kelowna. It is only an hour's drive to the US border and is two hours away from Kalispell and four and a half hours away from Spokane in the US.
Fernie Alpine Resort is 5 km (3 miles) from the City of Fernie and 1.5km up the hill from the highway intersection.
By Air To Fernie Alpine Resort
Calgary International Airport is the closest International airport and has a shuttle service to Fernie Alpine Resort. Cranbrook British Columbia has a regional air service and is one half hours drive away and you can also access Fernie from Kalispell, Montana and Spokane, Washington airports but you would need to hire a car or arrange some kind of private transport.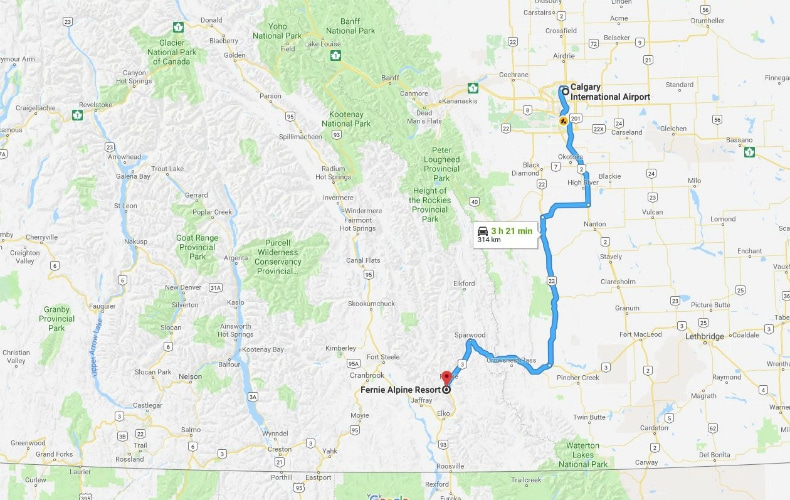 Fernie Lift Pass Options
Fernie offers a full range of ski pass options for you to chose from plus you can also ski Fernie on the EPIC Pass, which is a multi resort / multi day pass option.
Fernie Early Bird Lift Specials
We have negotiated a number of early bird lift pass specials for that you can access when you get a quote.
Fernie Epic Pass Options
You can also ski and ride at Fernie on the EPIC Pass. The Epic Pass is a multi-resort / multi day ski pass that is available for purchase for a limited time each season.
Which Ski Pass Do I Choose – Fernie or EPIC?
It depends on a number of factors including your skiing dates, the number of days you plan on skiing, early bird specials, if you are you planning on skiing any other EPIC Pass resorts and importantly if there are any EPIC Pass blackout dates that you need to factor in.
The best way to work out which pass option is best for you – is to pick both pass types when you prepare your quote – and then simply bin the pass option that doesn't offer you the very best deal.
Some of the EPIC Pass options have blackout dates so be sure to double check and understand the Epic Pass options and blackout dates and how they work by visiting this page we have prepared for you –  EPIC Pass Explained.
Fernie Snowports & Ski School
The Fernie Snow Sports School is a full-service ski school offering ski, snowboard, fat bike, Nordic and snowshoe lessons. They cater for adults and kids and the staff are always warm and welcoming like they are across the whole resort. Thanks to the terrain, the ski and snowboard professionals really know and understand the mountain and where to go on a powder, packed powder or grooming day.
It's very easy when skiing and riding Fernie, to find areas off the cat tracks that takes your breath away as you peer over the edge. So having is ski and snowboard professional with you as you navigate around the mountain who can point out that easy and challenging ways in and out of the terrain, while helping you with your technique and confidence can be a very valuable investment. If you new to Fernie and not sure where to go there is a mountain guide program learning about all of their amazing terrain in groups of up to 3 people.
The kids ski programs offer private lessons groups, multi-day and multiweek lesson for ages 3 – 4, 4 – 6, and 6 – 17 and there is a daycare program for children over 18 months to 5 years old.
Fernie Things To Do, Activities & Tours
Known for it powder snow in the region, one of the popular activities for visitors is to go cat skiing at Fernie Wilderness Adventures, located approximately 25 km from town, it offers over 5000 acres of fall line blow and gladded skiing off a variety of ridges to begin your descent from.
Other activities include snowshoeing, winter fat biking, cross-country skiing, yoga and stretching classes, and a series of competition and races for juniors and seniors alike throughout the season. If you are there in March be sure to catch the Dummy Downhill and in April the Slope Soaker to celebrate the final day of the winter season.
Family friendly activities include holiday sleigh rides, kids costume parties and craft nights.
Fernie Restaurants, Bars & Nightlife
Fernie Alpine Resort village dining includes Cirque Restaurant and Bar that offers stunning mountain views and fresh healthy local ingredients located in Lizard Creek. The Legends Restaurant offering a wide selection of quality meals from burgers and fries to fresh salads and seafood. The Griz Bar for après ski beer, burger and barbecue ribs.
For a drink in the mountain village be sure to check into the Vodka Ice Bar located in the Lizard Creek Lodge.
In the town of Fernie, popular restaurants include Yamagoya (Japanese), Nevados (Mexican), The Bridge Bistro (American Diner Styled), The Curry Buwl (Indian / Asian) and the Brick House Bar & Grill.
On Mountain Restaurants
Lost Boys Café
Location: At the top of Timber Express chairlift
Food: Full meals, sandwiches, snacks, soups. Known for its scenic views
Bar: Yes
Ph: +1 250 423 4655
Fernie Village Restaurants
Cirque Restaurant and Bar
Location: (formerly The Great Room) Lizard Creek Lodge
Food: Fine dining- baked brie, cauliflower panna cotta, halibut
Bar: Yes
Ph: +1 877 228 1948
Kelsey's
Location: The Cornerstone Lodge
Food: Canadian restaurant chain. Salads, wings, burgers.
Bar: Yes
Ph: +1 250 423 2444
Griz Bar
Location: Mountain Plaza above Griz Lodge
Food: Pub food and tapas. Nachos, burgers, pizza. Known for its Apres ski
Bar: Yes
Ph: +1 250 423 2407
Slopeside Coffee & Deli
Location: In the base area at The Cornerstone Lodge
Food: Deli menu and Starbucks coffees
Bar: Yes
Takeaway: Yes
Ph: +1 250 423 4655
Fernie In Town Restaurants
The Brickhouse Bar and Grill
Location: In the historic Imperial Bank of Canada building. 401 2nd Ave, Fernie
Food: Pub food, burgers, sandwiches, share plates
Bar: Yes and live music
Ph: +1 250 423 0009
Nevados
Location: 2nd Ave, Fernie
Food: Mexican, Latin. Known for its tacos, ribs and tapas.
Bar: Yes
Ph: +1 250 423 5566
The Bridge Bistro
Location: 301 Hwy 3, Fernie
Food: Modern European. Fish & chips, wild boar, ribs.
Bar: Yes
Ph: +1 250 423 3002
Yamagoya
Location: 741 7 Ave, Fernie
Food: Japanese. Known for its delicious sushi
Bar: Yes
Ph: +1 250 430 0090
Mugshots Café
Location: 592 3rd Ave, Fernie
Food: Homestyle. Hot breakfast, sandwiches, coffee.
Ph: +1 250 423 8018
Big Bang Bagels
Location: 502 2nd Avenue, Fernie
Food: Oven fresh bagels! Be sure to try the big banger breakfast bagel.
Bar: No
Takeaway: Yes
Ph: +1 250 423 7778
The Curry Bowl
Location: 931 7th Ave, Fernie
Food: Asian Cuisine. A mix of Indian, Thai, Japanese and Vietnamese
Bar: Yes with 50 different beers from around the world
Takeaway: Yes
Ph: +1 250 423 2695
Himalayan Spice Bistro
Location: 301, 2nd Ave, Fernie
Food: Indian/ South Asian. Vegetarian Options.
Bar: Yes
Takeaway: Yes
Ph: +1 250 430 0399
The Loaf
Location: 641 2nd Ave, Fernie
Food: Pizzas, pastas, salads
Bar: Yes including local craft beer
Takeaway: Yes
Ph: +1 250 423 7702
Blue Toque Diner
Location: 601 1st Avenue, Fernie
Food: Café. Vegan/ vegetarian options available.
Bar: Yes, with a selection of cocktails and dessert martinis
Takeaway: Yes
Ph: +1 250 423 4637
Fernie Trail Maps
Explore Fernie trail maps to find your ideal place to ride, catch up with friends and more…