Panorama Ski Resort
If you enjoy no crowds, Panorama ranks #1 for the most space per skier among the world's 100 largest ski area, endless open cruisy fall-line skiing on wide open groomers, and challenging heli-ski terrain above a functional village with ski in ski out lodging, then Panorama may just your perfect ski and board destination for you.
With an average snowfall of 204 inches (520 cm) Panorama gets a decent piece of the powder action, but what Pano is famous for is keeping its snow, dry and light even days after a storm.
Panorama's base elevation of 3773 ft (1150m) rising to summit elevation of 8038 ft (2450 m) delivers a heart pounding vertical drop, the 8th longest in North America, while there are no worries about having to acclimatize to the altitude.
Once you settle into Panorama Village, you can ditch the car and step out onto the mountain thanks to a cleverly designed Intrawest master plan, the same architects of Whistler Village, before a group of local owners and investors purchased the resort. Panorama Village offers a variety of restaurants, shops, pubs and cafes and there is free access to the hot pools for resort guests.
Panorama Lodging, Accommodation & Hotels
Panorama's modern village works like a charm with ski-in / ski-out and slopeside accommodation, including fully self-contained condominiums and town homes. There is an open village gondola that links the upper and lower villages with the dining, ski lifts and grocery store.
Panorama Terrain
Panorama offers 2,975 acres of terrain that includes endless open groomers, some fun challenging bumps, powder-filled tree lines, and the steeper and deeper options in the heli-type terrain of Taynton Bowl. Panorama has 50% of its terrain suitable for beginner and intermediates, with the emphasis on its wide choice of open intermediate runs, groomed to perfection that hold up all day because of the lack of crowds.
What makes skiing and riding Panorama so fun is the vertical drop of 4235 ft (1300m) that feels like you are skiing and boarding forever, which makes lapping top to bottom a real leg burner and smile generator. All runs lead right back to the village or to the door of your ski in ski out accommodation.
Panorama also offers 20 km of groomed cross-country skiing trails.
How To Get To Panorama
Panorama is in the Purcell Mountain of British Columbia with views to the Rocky Mountains located 3.5 hrs drive from Calgary International Airport (YYC). There are daily airport shuttle transfers to and from the resort.
Other airport options include Canadian Rockies International Airport (YXC) 100 miles (161 km). Spokane International Airport (GEG) 288 m (464 km). Glacier Park International Airport (FCA) in Kalispell, MT 216 m (349 km).
Resort Lift Tickets
All pass types are available including seniors, adults, youth and child. Panorama is also part of The Mountain Collective pass. Nordic skiing passes are available. You can also purchase a pass to ride the Monster X, a cat shuttle service that takes you out to the furthest terrain on the Eastern side of Taynton Bowl for expert skiers and riders.
Panorama Ski School
Panorama has a team of dedicated ski and ride coaches available for adult and kid group and private lessons. There are also ladies' programs, improvement camps and adaptive programs for those alpine enthusiasts with a disability.
Resort Things To Do, Activities, Facilities & Tours
Panorama activities and things to do include skiing and snowboarding, the Monster X snow cat ride to access the high alpine terrain in Taynton Bowl, heli skiing, climbing wall, snow tubing, tandem paragliding, ice skating, fat tyre biking Panorama Springs hot pool, snowshoeing, the Rockstar terrain park, or visit in the Invermere on the lake 20 minutes away.
Panorama Heli-Skiing
RK Heliski operates out of the Panorama Village and offers a staggering 930 square mile (1,500 square kms) of awesome terrain to experience in the breathtaking Purcell Mountains.
Resort Restaurants & Dining
The range of dinning options will keep the entire family happy, from pizza and pasta, to smoked meats, steakhouses, vegetarian, to great coffee and treats. Restaurants, pubs and coffee houses include: Alto Kitchen & Bar is the spot for gourmet pizza and fine mountain fare, T-Bar & Grill, Fireside Café, Cliffhanger Restaurant, CABIN Smokehouse, The Great Hall, Summit Hut, Elkhorn Cabin, Cappuccino Bar and the local's favourite the Jackpine Pub.
Panorama Après & Nightlife
You wouldn't pick Pano if you wanted to rage all night. Panorama is more of a family friendly ski resort option, but with that said, you can get to mingle and make new friends at the various restaurants and bars.
The T-Bar & Grill is the first choice to enjoy some classic après after a great day of skiing and riding. From crispy chicken wings, nachos, and salads to handheld treats like the Mountain and Vegie burger if you really built up an appetite on the slopes. Weekends you can hit the Jackpine Pub for a selection of craft and popular brews.
The night life at Pano centres around the T-Bar and Grill and fans out from there.
Resort Shopping
You can find everything you may need or have forgotten for skiing and riding can at the Toques and Tracks store in the heart of the village. The latest clothing, socks, goggles, glasses, gear and all of your GoPro accessories. The Ski Cabin has the latest skis, boots and boards. Pano takes care of your grocery needs in the General Store. Mountain Outfitters for rentals, tuning and repair. Relax and pamper yourself at Massage and Spa. And for the kids or the young at heart, a trip to the Canady Cabin is a treat!
Panorama Lodging, Accommodation & Hotel Options
The style of accommodation at Panorama is typically Intrawest with well designed and laid out with open floor plans apartments and condominiums in building that seem to make sense, especially when it comes to skiing in and out of your upper village accommodations.
The village at Panorama is split into an upper and lower village that's connected via a free gondola. Upper village accommodation are ski in ski out and include Taynton Lodge, Tamarack, Panorama Springs Lodge, Horsetheif Lodge, Tayton Lodge, Peaks Lodge, Ski Tip Lodge and Pine Inn.
Slopeside accommodation options includes Lookout Townhomens, Riverbend Townhomes, 1000 Peaks Summit and 1000 Peaks Lodge.
Panorama Early Bird Specials
We have negotiated a number of early bird specials for you that you can access when you get a quote.
Panorama Ski Resort Mountain & Terrain
What makes Panorama skiing and boarding so exciting and fun? In two words, it's the fall line. Mother nature must be a skier and boarder because the mountain's ideal cone shape ensures when you get to the top of the run, you have a feeling of endless fall line options before you, as you make your way back down the mountain.
Looking into Panorama's stats, it's easy to see why it's a superb choice for a variety of skiers and boarders. The first is the 4,265 feet of vertical drop (1300 metres) of excellent fall line skiing, the 3rd longest in Canada, and 8th longest in North America. With 2,975 patrolled acres, and 50 percent of its terrain committed to beginner and intermediates, it's easy to see why Panorama is a family favourite because it offers something for the entire family.
The village elevation is a comfortable 3,773 ft (1,150 m) and Pano receives 196 inches (520 cm) of average annual snowfall. Located in the Purcell Mountain range, Panorama holds the snow it receives and keeps it light and dry, so there are powder stashes to be discovered days after a storm.
Panorama has invested heavily in snowmaking, with 40 percent of their main named runs being covered. This makes for consistent early season snow conditions, which is also why Panorama is a favourite early season ski race training destination for many national ski teams. Pano is constantly improving its world class ski race training terrain and facilities that it makes available for race clubs and national teams.
Panorama Mountain Resort opens in early December and closes early April each season.
Skiing and Boarding Panorama Mountain
Beginner and Green Skiing Terrain At Panorama
If you are new to the sport, Panorama has you covered with their beginner friendly custom designed Discovery Zone that's ideal for first-time skiers and boarders. It begins at the base of the mountain, in the village's heart. Once you can start moving left and right and stop, you can progress to riding the Little Ripper Carpet and the Red Carpet. The next stop is some laps on the Silver Platter, which is an open green beginner run with impeccable grooming. Here you will learn how to ride a surface lift poma, which is a superb skill to master and a safe place to learn thanks to the gentle slope and stable fall-line.
The next step would be to ride the Discovery Quad chairlift that takes you into the Discovery Zone to build your skills on the green Stinger to Highway 1 and back up to the top again. Once you have this area covered, it gets more exciting as you head up the Mile 1 Express chairlift that, like the name suggests, opens up a mile of opportunity and terrain. When you get off the chair, make sure you head skiers right and down the green Horseshoe. Then half way down Horseshoe you can take a fun trail on the right called Campbell's Canyon and make sure you carry your speed at the end as it will bring you back to the top of the Discovery Quad chair.
For green skiers and boarders, the Mile 1 Quad let's you loop and cruise the lower slopes with ease.
Top 5 Green Runs At Panorama
Beginner, Out Rider, Lower Showoff, Campbell's Canyon, and Stringer.
Intermediate Skiing Terrain At Panorama
A great warm up run off the Mile 1 Express is skiers' right to Horseshoe, Campbell's Canyon, Stinger to Highway 1. For a more advanced warm up, there is the aptly named Showoff, which runs skiers right alongside the Mile 1 Express. Another great warm up is to cut skiers left from the top of Mile 1 Express and make your way into Little Dipper. This run is fall-line, wide open and hardly anyone skis there and you will need to take the Sunbird Chair back up unless you cut right along Lower Village Way..
When warmed up, you can lap the Champagne Express, which puts you at the top of endless blue and back fall-line trails. A highlight has to be Rollercoaster, as it is super wide and, like the name suggests, is one hell of a rollercoaster ride. Another area to check out is Sun Bowl that you access from the top of the Champagne Express skiers left down Upper Canadian Way, which criss-crosses Schober's Dream and puts you into the heart of the bowl where you can ride Sunshine, Stumpfarm, into Lower Bowl to the Sunbird Chair triple chair, which will take you back to the bottom of the Champagne Express.
Top 5 Blue Runs At Panorama
Little Dipper, Roller Coaster, Skyline, Showoff, and Strobl Strasse.
Expert Skiing Terrain At Panorama
From the top of the Champagne Express, head to skiers left along Upper Canadian Way to the Summit Quad chair where a world of challenging fun terrain awaits. The top of the chair drops you at the Summit Hut where you can grab a bite or take a pit stop, and from there you have multiple options.
A great top-to-bottom option is to head skiers right into View Of 1000 Peaks, Stumbock's to Taynton Trail. The views and serenity are phenomenal, and they groom them from time to time, which makes it even more amazing on a blue bird day.
You can also access Taynton Bowl from the Summit Hut, which offers 750 acres of black and double black runs throughout the bowl where powder stashes lay hidden for days after a storm. You can walk the track up into Taynton or on Fridays, Saturdays and Sundays you can grab a a ride with the Monster X snow cat shuttle service that will drop you off at the easternmost part of Taynton Bowl. A single ride will cost you $20, tickets need to be pre-purchased. The rest of the week, you will need to use your leg power to get out there.
The Taynton Bowl area was once part of RK Heli's tenure, but is now managed by the resort and avalanche controlled and patrolled. Each year the area improves with more gladed area to ski and ride. A few fun and challenging double backs are The Monster, Spectre, Get Out! and Ridgeback.
Some ungroomed runs to play on skiers left form the Summit Hit include Roy's Run and Outer Limits., which you access from the blue Getmedown Cat Track.
Top 5 Black Runs At Panorama
Ridgeback, View of 1000 Peaks, Stumbocks, Never Never Land, and Roy's Run
Skiing A Powder Day At Panorama Mountain Resort
Powder days are the best at Panorama. If Taynton Bowl is open, then head straight out there and enjoy. View of 1000 peaks and Stumbocks are always fantastic on a powder day. For intermediates you can lap the Champagne Express and then head over to the Sun Bowl area. Little Dipper is great pitch for skiing and riding the powder and is often overlooked on a powder day!
Top 5 Powder Runs At Panorama
All the runs are fantastic on a powder day. Expert skiers can try Wild Thing!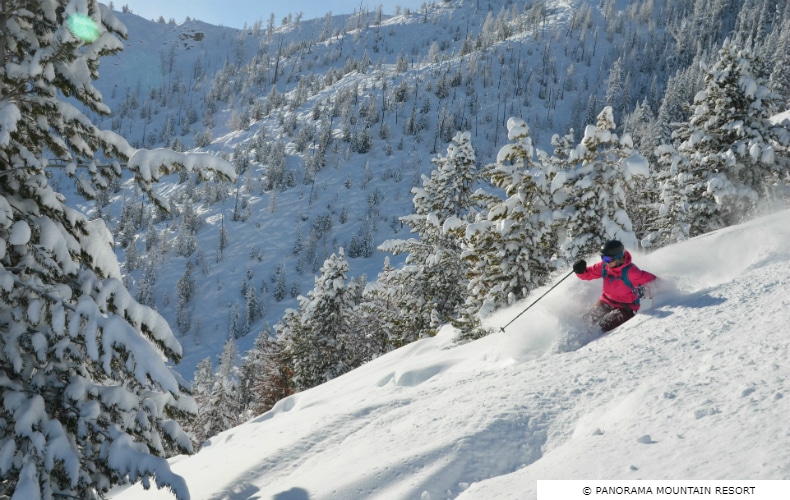 Panorama Statistics
| | |
| --- | --- |
| Skiable Terrain | 2,975 acres (1,204 hectares) |
| Vertical | 1,300 m (4,265 ft) |
| Top Elevation | 2,450 m (8,038 ft) |
| Base Elevation | 1,150 m (3,773 ft) |
| Average Snowfall | 5.20 m (204 inches / 17 ft) |
| Intermediate Terrain | 55% |
| Advanced Terrain | 25% |
| Trails | 129 |
| Parks | 1 |
| Winter lifts Total | 10 |
| Gondolas Trams | 1 |
| Chair Lifts | 6 |
| Surface Lifts | 3 |
| Lift Capacity | 8,500 |
| Longest Run | 5.5 km (3.4 mi) |
| Snowmaking | 1140 ac (461 hectares) |
| Season Opens | 7 December, 2018 |
| Season Closes | 14 April, 2019 (Estimated) |
How To Get To Panorama Mountain Resort
International Visitors Flying To Canada and Panorama
Panorama is located 3 ½ hours drive away from Calgary Alberta and is situated in British Columbia's Purcell Mountains with alpine views across to the Canadian Rocky Mountains. The closest international airport is Calgary International airport (YYC) which requires a 311 km (193 miles) drive west from Calgary via Highway 1 through the Banff and Kootenay National Parks, followed by a turn south on Highway 93 through to Radium and onwards to Invermere, BC.
From there it's then a 20-minute drive into the resort.
Checking In To Panorama
Panorama has a central reservation check in front desk located at 2000 Panorama Drive. The bus from Calgary Airport will stop here so you can check in and collect your pre-packaged passes and vouchers.
Air Access To Panorama Mountain Resort and Driving Distances
Calgary International Airport (YYC) is 193 mile (313 km).
Canadian Rockies International Airport (YXC) is 100 mile (161 km).
Spokane International Airport (GEG) is 288 mile (464 km).
Glacier Park International Airport (FCA) in Kalispell, MT is 216 mile (349 km).
There are daily airport transfers to and from Panorama form Calgary Airport.
Driving and renting a vehicle in Canada in Winter?
Firstly, to rent a car in Canada you need to be 21 years old and you'll pay a young renters' premium up to the age of 25. Winter in Canada can have hazardous driving conditions with snow, black ice and frequent hazards. Be sure to check the driving conditions before departing that includes possible road closures. Winter tyres are recommended and required by law in some regions and mountain passes, but beware: renting a car in winter doesn't mean it comes with winter tyres, you will need to request at time of booking your rental and pay a premium.
Parking at Panorama Mountain Resort
Many of the condos have underground parking bays. There are two car parks for day use. One is in the upper village and the other is in the lower village where you gain access to the village and the main ski lifts via the village gondola.
Panorama Lift Pass Options
All Mountain Lift Passes
Panorama offers the following lift ticket categories. Adult (18-24). Senior (65-74). Youth (13-17). Child (6-12). Children 5 years and under and seniors 75 years and older ski and ride for free. You can choose from 1 to 7 of 8 days lift passes. Lift passes must be used on consecutive days, however tickets with 4 days or more have one rest day included.
Panorama has the latest in RFID technology, which means you have your pass in your left-hand-side jacket sleeve or pocket and the lift will read your pass and an arm will swing open to let you in.
Beginner Discovery Zone lift pass
The Discovery Zone tickets are ideal for beginners or anyone who prefers to ski the easier terrain. With a Discovery Zone pass, you have access to the following lifts: Discovery Quad, Silver Platter, Red Carpet, and Little Ripper Carpet.
Afternoon passes
You can purchase an afternoon pass and gain access to the entire mountain from 12.30 pm daily.
Panorama Early Bird Lift Specials
We have negotiated a number of Panorama early bird specials for that you can access when you get a quote.
Panorama Is Part Of The Mountain Collective
The Mountain Collective is a ski pass that includes 2 days of riding at partner ski resorts, including Panorama.
Monster X Snowcat Pass
The Monster X is a snow cat that acts as a shuttle service, taking up to 12 riders from above the Summit Hut out to the most eastern side of Taynton Bowl. You need a pre-paid ticket and its first come first served basis operating on Friday to Sunday between 10 am and 3.30 pm.,
Nordic And Cross-Country Skiing At Panorama
There are 12 miles (20 km) of groomed cross-country trails that include classic and skate.
Panorama Season Passes
There are three season pass options. Individual Season Pass, Family Season Pass, and Discovery Pass.
Individual Season Pass
There are several age categories of individual Panorama season passes. Adult, student, youth, child, and senior. There are also tot and super senior, which are a free pass, but there is a small processing and pass fee.
Family Season Pass
There is a Family Season Pass that enables the parents to interchange the pass, between them so long as they purchase a youth or child pass as well. This works out as great value if the parents are happy to just ski with the kids and not with each other.
Discovery Season Pass
The Discovery Season Pass gives you access to the Discovery Quad, Silver Platter and carpet lifts and can be upgraded to a season pass at any time by paying the difference in price of the two passes.
Panorama Snowsports & Ski School Improvement Programs
There are over 25 ski and ride improvement programs available from the Panorama Snow Sports School catering for adults, kids and teens. From day, multi-day, and speciality camp programs to private group and semi private lessons, the team definitely have you covered for improving your skiing and boarding at Panorama.
Panorama Ski And Ride Adult Snow School Programs
First time Discovery Program
First-time skiers can grab an adult discovery program that will teach you everything you need to know to be confident skiing and riding on the lower slopes. The Discovery Program has a maximum of four skiers and riders in a group. There are full-day programs, afternoon half-days and a two full consecutive day Discover Deluxe programs, which is the best value. The Discovery Programs include lift ticket, equipment rentals and lesson.
Adult Group Improvement Sessions
If you want a small group learning experience, you can join an adult improvement session which includes three skiers plus an instructor so you can ride the quad chairs together. With an emphasis on fun, low group numbers mean your professional instructor will create a learning experience tailored to meet your specific needs. Full day and half day group lessons are available.
Panorama Private Lessons
A private lesson is all about you and what you need to focus on to get to the next level. Private lessons are available for beginners to experts. From learning the sport to mastering the blues, challenging the bumps or preparing for heli-skiing, anything is possible during your one-on-one private. Full day, morning and afternoon half days available.
Panorama Family Private lessons
Did you want to take the entire family and be shown around the mountain? Then a family private lesson could be just what you are looking for. Like the name suggests, it's a fun and safe way to explore all that Panorama has to offer.
Panorama Ski And Ride Kids Snow School Programs
PanoKids Program
The most popular program at Panorama the PanoKids program looks after beginner to advanced tots and teens and is for ages 6 to 15 years old. You can choose from full or half-day programs from 1 to 5 days and the programs maximise learning, fun and adventure within a small group setting.
Panorama Kids Discovery Program
For those aged 6-15 years and new to skiing and boarding, there is the Panorama Kids Discovery Program that caters for a child's successful first-time venturing onto the slopes. Full day, half day (afternoon) and two consecutive day programs available.
Pano Mins 2-HR
For children aged 3 to 5, there is the Panorama Minis group lessons that run for two hours, so the kids don't get too tired. These are small groups with a maximum of three participants. Lessons are offered twice daily in the morning and early afternoon.
Kids Private Lessons
One-on-one action and adventure as your child takes to the mountain with their instructor. Private lessons are available from beginner to expert.
Panorama Après Kids is an afternoon program from 3:30 pm till 5 pm that includes a hot chocolate and snack to warm up before heading back outside the more fun which can include ice skating, tubing, snowshoeing or maybe even backup to live for a few extra runs.
Panorama's childcare is called the Wee Wascals, where children get to enjoy a day of fun with others their own age while the parents hit the slopes at Panorama. There are full-day and half-day programs available from ages 18 months to 5 years. Bookings need to be made at least four days in advance to be guaranteed as placed in Wee Wascals, especially during the holiday periods.
Panorama also has an extensive Adaptive Program for guests with disabilities and special needs.
Other panorama snow sport activities include Ski With The Pros Workshop, Adult Ski Improvement Weekends, Become An Instructor Programs, Women Ski And Ride Camps, so there is something for everyone to improve their skiing and riding across the fabulous Panorama Mountain Resort.
Panorama Things To Do, Activities & Tours
Panorama Mountain resort activities and things to do include snowmobiling with Toby Creek Adventures through 32,000 acres of unforgettable Purcell wilderness. They cater to first times to seasoned riders. The minimum driving age is 16 and the minimum passenger age is 5 years old. Tours include Icefall, Paradise Mine, Paradise basin, Taste of The Valley, Powder X and some combo tours.
Monster X Snowcat is a shuttle service picking you up from the Summit Hut area and drops you off to the most eastern area of Taynton Bowl. You need to pre-purchase a pass, and then you can ride out in the monster in style.
Heli skiing with RK Heliski who operate day trips out of the Panorama village.
Tandem Paragliding will see you soar above Panorama with a spectacular bird's eye view of the Purcell and Rocky Mountain ranges. Flights last for 60 – 90 minutes which includes preparation and training for the flight. You will be in the air for about 10 – 15 minutes depending on weather conditions, and the landing area is the Greywold Golf Course.
Snowshoieing is another great way to get outdoors and experience the vast untouched wilderness. Snowshoes allow you to float on top and through the snow, which makes walking through the forest easier. There are several trails to choose form or you can book a guided snowshoe experience.
Other activities include skiing, climbing wall, snow tubing, ice skating, fat tyre biking, Panorama Springs hot pool, nordic skiing, visit in the Invermere On The Lake 20 minutes away, or even a day trip to Kicking Horse Mountain resort.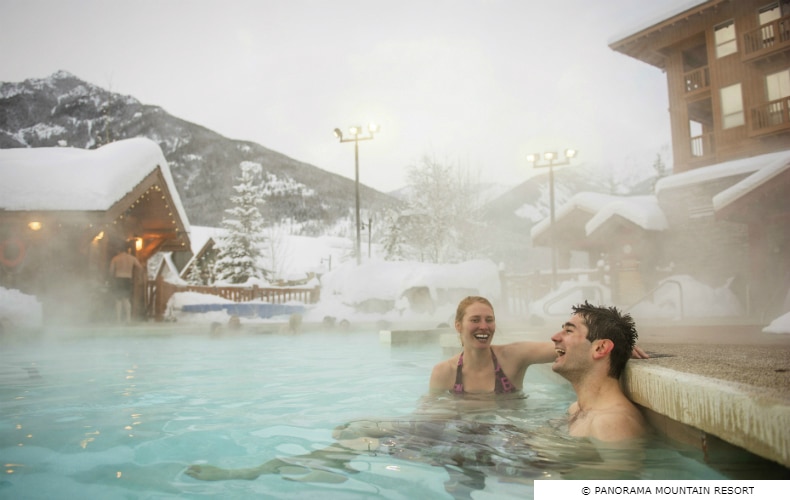 Heli-skiing
Location: RK Heliski
930 square miles / 1,500 square kilometres of incredible scenery, wonderful glade skiing and expansive glaciers offering snowboarders and skiers the real adventure and memory of a lifetime!
Book through SkiBookings.com
Snowmobiling
Location: Toby Creek Adventures
32,000 acres of amazing snowmobile terrain.
Ph: +1 866-601-7384
Website: http://tobycreekadventures.com/
Panorama Springs Pools
Location: The Great Hall
Swim, Soak and Relax in extra large hot pools! Guests of Panorama have full access to the pools, hot tubs and slides with key card of their room.
Mountain Hut Dining
Location: Summit Quad
Delicious views and food!
Ph: +1 250-341-1399
Nordic Skiing
Location: Panorama Mountain Resort
Wonderfully-groomed trails plus a fantastic selection of apparel and retail and rentals is also available.
Ph: +1 250-341-4106
Kicking Horse Resort Day Trip
Location: Panorama Mountain Resort
Day trip to the majestic Kicking Horse Mountain Resort.
Ph: +1 800-663-2929
Fat Tire Biking
Location: Panorama Ski Cabin
You can rent a smart looking brand new fat tire winter bike, made for the snow, so take a ride and have fun!
Ph: +1 800-663-2929
Snow Tubing
Location: Red Carpet High-way 1
Great fun for all ages.
Ph: +1 800-663-2929
Horse Drawn Wagon Rides
Location: Panorama Mountain Resort
Rustic horse drawn wagon ride through the majestic mountain scenery.
Snowshoeing
Location: Panorama Mountain Resort
Floating on top of the snow and walk through the forest in the winter.
Tandem Paragliding
Location: Panorama Mountain Resort
Enjoy stunning views of the Rocky and Purcell Mountain ranges from an eagles perspective.
Ph: +1 250-341-3044
Ice Skating
Location: Panorama Mountain Resort
The skating rink has a wonderful view and is located beside 1000 Peaks Lodge.
Panorama Heli-Skiing And Heli-Boarding
Nestled at the base of Panorama Mountain Resort is RK Heliski, with 50 years of fresh powder track experience, which makes it easy to experience the adventure and exhilaration of heli-skiing and heli-boarding right from your lodging.
RK Heliski's tenure is massive covering 930 square miles (1500 km) of pristine Purcell Mountains that includes spectacular scenery, expansive glaciers and quality glade skiing that combine to create memories and highlights for a lifetime.
The Purcell Mountain Range receives frequent powder storms from the west, bringing loads of dry, low-density snow. With Panorama and RK Heliski located at the apex of the Purcell Mountains, this means the snow remains light and dry, and stays on the ground well into May, vastly extending the operating season.
RK Heli offers adventure three ability levels of powder seekers: intermediate, advanced, and expert. See below for a guide to the three heli skiing ability levels because the heli ski groups are based on what level you rate yourself. Breakfast and a backcountry lunch are included plus the mandatory safety briefing and the use and training of Pulse BarryVox transceivers from your certified mountain guides.
RK Heliski boasts some of the highest landings in the Canadian heli-skiing industry. With many landings well above 10,000 feet (3,048m) and some over 11,000 feet (3,352m) (those are heli landings, not peaks), this means, you are roughly 2000 – 3000 feet (609m – 914m) above tree line on these runs, which makes for some endless powder turn fun.
The guides will ensure you and your legs get their money's worth.
RK Heliski offers a daily 3 or 5 run package to accommodate people looking for a single day powder adventure. The five runs a days average 3,608 vertical feet (1100m) each, you will leave RK Heliski satisfied and eager for the next trip.
There are also semi-private and private group bookings available.
Heli-Skiing Ability Guide
Groups are based on these ability levels from intermediate, advanced and expert. It is important to be in the right group that matches your ability, so you are comfortable with the pace. In terms of terrain selection, it is based each day on avalanche hazard, weather conditions and finding the best possible snow.
Intermediate rated heli skiers need to be in good physical condition. Be able to ski challenging terrain and be confident in their ability to avoid obstacles. You can ski black runs, it may not be pretty, but you can safely avoid obstacles and come to a stop at any given moment.
Advanced rated heli skiers also have good physical fitness. They can ski 200 – 300 yards / metres of powder pitches without hesitation with a shorter radius turn.
Expert rated heli skiers can ski any terrain, in any kind of conditions, in any depth of snow, without hesitation.
Skibookings.com can arrange all of your RK Heli-Ski day(s) and packages for you – just let us know what you want by contacting us.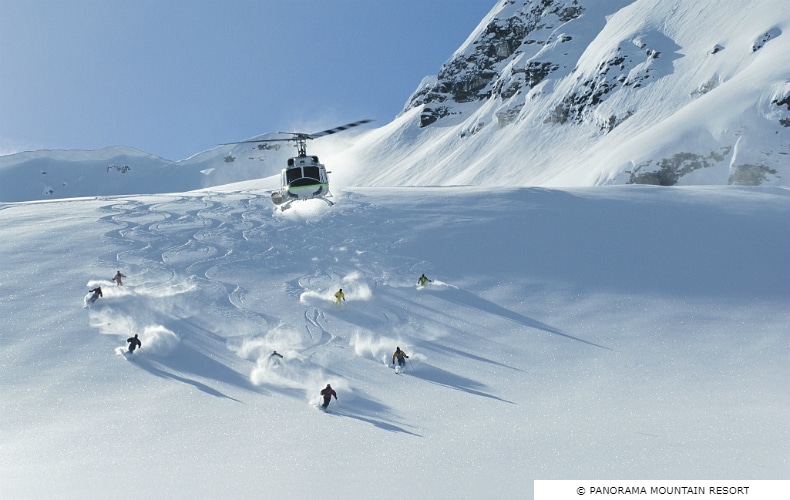 Panorama Restaurants, Bars and Nightlife
Alto Kitchen & Bar
Alto Kitchen & Bar is located at the base of the Mile 1 chairlift in the heart of the upper village. Executive Chef Vincent Stufano and his culinary team deliver mouth-watering fire baked pizza and in the evening the menu extends to include decadent Italian dishes. The mushroom risotto is divine, so is the Porchetta alla Birra (crispy pork belly) and there are 15 pizzas to choose from veggie to meat lovers. Take out is also available.
T-Bar & Grill
The T-Bar and Grill is your perfect spot for après and dinner offering cold pints, live music and a classic sports bar menu with a welcoming smile. Hearty burgers, winter salad, crispy chicken wings, nachos, steak frites, fish and chips and a popular kids menu means something for everyone. Located in the heart of the upper village.
Fireside Café
Perk up with a Kicking Horse Coffee and all your grab and go needs, like baked treats, quiches and breakfast sandwiches. Located in the upper village.
The Great Hall
Hot meals, grab and go, snacks and drinks all in a massive hall and sun deck. Locals favourites include the Aussie meat pie with cheese, baked grilled vegetable lasagne, salads, soups and chocolate cake. Located in the heart of the upper village.
Cappuccino Bar
Locally roasted coffee, baked goods, grab 'n' go, located just down the steps from the Panorama Springs Pools. Located in the upper village.
CABIN Smokehouse
CABIN Smokehouse is located at Earl Grey Lodge Bed & Breakfast behind Panorama Springs and offers a gourmet dining and a wide selection of house smoked meats. You can enjoy casual appetisers in the smokehouse bar or sit down in the elegant restaurant for a full a la carte experience or take away.
Cliffhanger Restaurant
Located in the Grey Wolf Golf Course, the Cliffhanger Restaurant offers contemporary Canadian dishes with amazing views of the Purcell Mountains. Starters include Beets, Prawn Bisque, Cured Salmon. Mains include delicious Turkey Roulade, Brome Lake Duck, and Beef tenderloin. Desert highlights include Crème brûlée and Honey Cake.
Summit Hut
On mountain dining includes the Summit Hut that offers gourmet smokies, vegie burgers, handmade treats and specially hot chocolates and for something special you can book in for an evening heli fondue.
Elkhorn Cabin
The Elkhorn Cabin is located on mountain, mid-way down Rollercoaster, and offers stunning mountain views and is a great place for a quick lunch or a decadent Swiss Raclette. Raclette is a Swiss tradition where Raclette cheese is melted and served over an assortment of breads, vegetables and meats.
The Elkhorn Cabin serves a lighter Raclette at lunch or reserve a table and come for evening après with friends for a full grill featuring meats and an expanded selection of vegetables. After dinner, you'll enjoy a guided ski back down to the village by the light of your headlamp.
Jackpine Pub
If you are looking to quench your thirst after a fun day on the slopes in the local's favourite hangout is the Jackpine Pub at the base of the mountain with a selection of craft and popular brews on tap, trivia Sundays and a laid-back ski town vibe.
Alto Kitchen & Bar
Location: Panorama Mountain Resort Upper Village
Food: Casual, modern, gourmet dining and crave worthy, fire baked pizza and Italian dishes.
Bar: Yes
Take out: Yes
Ph: +1 250-341-3054
T-Bar & Grill
Location: Panorama Mountain Resort
Food: Cold pints, live music and a classic sports bar menu
Bar: Yes
Ph: +1 250-341-3055
Fireside Café
Location: Location: Panorama Mountain Resort Upper Village – Pine Inn
Food: mouth-watering pastries, breakfast sandwiches, muffins, cupcakes, bars and special baked desserts like mini pavlovas, macarons and lemon meringue eclairs
Ph: +1 250-342-3354
Cliffhanger Restaurant
Location: Greywolf Golf Course
Food: Casual steakhouse serves up an elegant menu of contemporary Canadian dishes
Bar: Yes
Ph: +1 250-341-4102
Choppers Landing
Location: RK Heliski
Food: Menu highlights the best of local ingredients
Bar: Yes
Ph: +1 250-341-3052
CABIN Smokehouse
Location: Panorama Mountain Resort at Earl Grey Lodge Bed & Breakfast.
Food: Canadian gourmet experience with a selection of produce smoked directly on-site
Bar: Yes
Ph: +1 250-341-3601
The Great Hall
Location: Panorama Mountain Resort – Pine Inn
Food: Hot meal, refill your pockets with snacks, relax with a pint on the patio
Bar: Yes
Summit Hut
Location: Summit Hut
Food: Smokies, soups, and fondue along with signature coffees, refreshing beverages, and alcoholic drinks
Bar: Yes
Ph: +1 250-341-1399
Elkhorn Cabin
Location: Champagne Express
Food: Homemade soups and traditional Swiss alpine style cheese grill (Raclette) and features dozen of BC wines, craft beers and liqueurs
Bar: Yes
Ph: +1 250-341-1399
Cappuccino Bar
Location: Panorama Upper Village below Panorama Springs – inside Mountain Outfitters..
Food: tea, coffee and baked treats.
Bar: Yes
Ph: +1 250-341-3084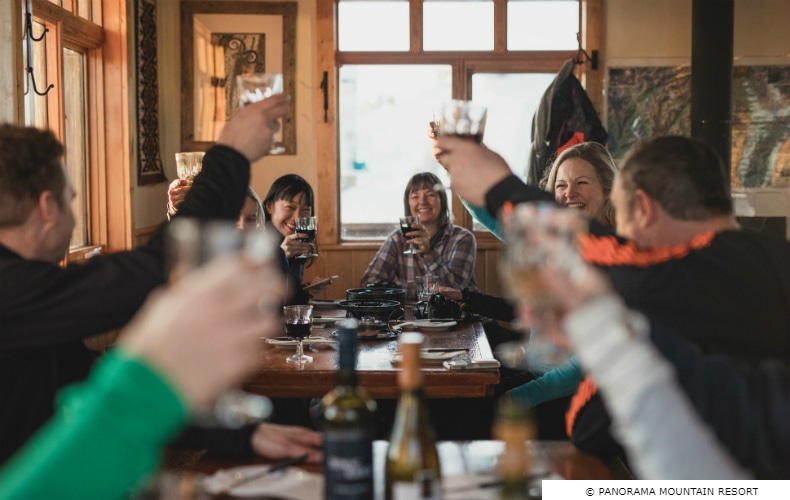 Panorama Shopping
The shopping at Panorama Mountain Resort includes Toques & Tracks – for all the latest clothing goggles, glasses and gear, the Ski Cabin – where you'll find the latest equipment to try before you buy, the General Store – that is open daily carrying a full variety of growth your items, Lusti's Little Ripper – for kids ski rentals and the Candy Cabin is your one stop shop for all sweets and treats which is located beside the Panorama Springs Pools.
Toques & Tracks
Location: The Great Hall
Shop: Mountain Sports & Resort Wear
Ph: +1 250-341-3086
General Store
Location: Toby Creek Lodge
Shop: A full variety of grocery items
Ph: +1 800-663-2929
Lusti's Little Ripper
Location: Panorama Mountain Resort
Shop: Rental of skis, boots and poles for children
Ph: +1 800-663-2929
Ski Cabin
Location: Panorama Mountain Resort
Shop: Latest equipment and gear
Ph: +1 800-663-2929
Saffire Bead & Flameworks
Location: Panorama Mountain Resort
Shop: Unique beads, artwork & jewellery
Ph: +1 250-341-8778
The Candy Cabin
Location: Tamarack Lodge
Shop: sweets and treats, beside the Panorama Springs Pools
Ph: +1 800-663-2929
Panorama Trail Maps
Explore Panorama trail maps to find your ideal place to ride, catch up with friends and more…
Panorama Ski Resort Videos