Nozawa Onsen Ski Resort
Nozawa Onsen is renowned for both high snowfall and a fairytale traditional village, the kind of place with cobblestoned lantern-lit streets and where opportunities to buy vintage kimonos and eat locally harvested wild vegetables still exist. On the mountain, snow quality is superb and layout of runs excellent, done in such a way that it suits skiers and snowboarders equally. As expected from the name, the destination founded back in the 8th century is famous for onsen, with over a dozen free public hot spring baths.
With pretty decorative shops and ryokan inns flanking narrow streets, Nozawa Onsen is one of the best Japanese ski towns to experience culture and history (skiing started here in 1912), festivals and events. Among the best known of these is Dosojin Fire Festival held annually on January 15. This amazing spectacle is one of Japan's premier fire festivals, which are held to bring a plentiful harvest, health and good fortune for the year to come. Witnessing and participating in Nozawa's fire festival is a bucket list experience for many. Locals chant and sing atop a wooden shrine and then in the main event of the festival,  a ferocious battle is re-enacted, waves of villagers 'attacking' with burning torches.
The ski town is just busy enough, with a full time population of about 5000. A quirky fact is that the village is located at the foot of the 1650 meter  Kenashi-yama which literally means Mt No-hair.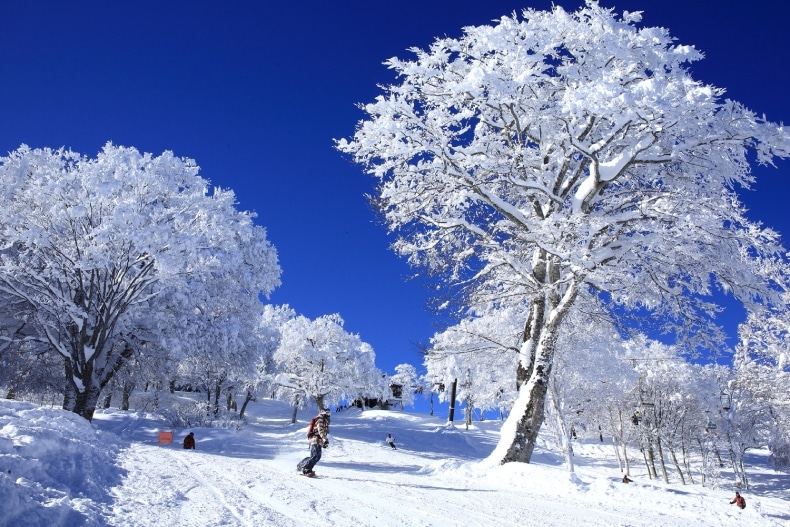 Nozawa Onsen Accommodation
In keeping with the traditional charms of Nozawa, its most elite properties are ryokans. One is the first class Ryokan Sakaya, the premier Japanese-style lodging of its type in the town. Service is attentive yet discreet, food sublime and its onsen rated among Nozawa's best. Features include indoor/outdoor onsen, a gift store, massage services, ski rentals and elegant traditional Japanese restaurant plus Western, Japanese to standard and deluxe rooms.In the same class is Ryokan Jon Nobi with six natural onsen baths and rooms with either tatami mats or futon bedding. The Japanese restaurant here has a Teppanyaki counter.
Nozawa Grand Hotel has great views and a convenient location at the top of the village, the Nozawaonsen Hotel is near the ski area and downtown while you can find a touch of Europe mixed with Japanese culture at Hotel Haus St Anton.
Self-contained accommodation is provided at the popular Address Nozawa & Address Nagasaka Apartments.
Nozawa Onsen Mountain & Ski Terrain
Nozawa Onsen offers big mountain resort-style skiing. There are two gondolas, 21 chair lifts and 50 kilometres of runs divided into 30% advanced, 30% intermediate and 40% advanced. It is never crowded even when locals arrive on weekends. During the week the slopes are blissfully uncrowded.  A total of 36 ski runs lead from the 1650 meter summit to the base, with a vertical drop of 1085 metres. There is even a 10 kilometre beginner run.
Nozawa Onsen is divided in to Snow Park, Hikage Gelende, Paradise Gelende and the Schneider Course. Snow Park is a terrain park with a kicker, box, rail and cross course. Hikage Gelende is the main area of Nozawa Onsen where the resort facilities such as ski school, ski center and child care are found.  Paradise Gelende is the beginner and intermediate area with wide slopes for letting loose on your favourite carving board or skis. Schneider Course comprises the Yamabiko slopes at the northern side of Mt Kenashi where there are five intermediate runs. There is superb powder skiing here and jaw dropping 360 degree panoramic views from the summit.
Nozawa's slopes have three main entrances: the Hikage Trail, from the spa town via Yu-road; the Nagasaka Trail, from the new parking lot; and the Karasawa Trail, leading to moderate terrain. Rest houses are adjacent each trail.
Families are well looked after here. There are wide gentle slopes at Uenotaira located at the top of the gondola as well as around the Hikage slopes at the base of the mountain. At Naski Park, kids can sled and play in the snow and a free rest station for children called the Naski Room is located  on the second floor of the Hikage Trail Information Center.
A magic carpet lift for very small children takes them to a very gentle slope where they can learn skiing fundamentals. A day nursery with registered nurses and an indoor children's play room is also available.
Nozawa Onsen Statistics
| | |
| --- | --- |
| Skiable Terrain | 733.9 acres (297 hectares) |
| Vertical | 1,085 m (3,560 ft) |
| Top Elevation | 1,650 m (5,413 ft) |
| Base Elevation | 565 m (1,854 ft) |
| Average Snowfall | 500 cm (196 in/16 ft) |
| Intermediate Terrain | 30% |
| Advanced Terrain | 30% |
| Trails | 36 |
| Parks | 1 |
| Pipes | 1 |
| Winter lifts Total | 20 |
| Gondolas Trams | 2 |
| Chair Lifts | 18 |
| Longest Run | 10km (6.2 mi) |
| Season Opens | November |
| Season Closes | May |
How To Get To Nozawa Onsen
The most efficient way to reach Nozawa Onsen from Tokyo is by bullet train to nearby Iiyama Station which takes about two and a half hours, followed by the Nozawa Onsen Liner Bus or taxi up to Nozawa Onsen. There are also daily shuttle buses from Tokyo Haneda Airport to Nozawa Onsen, plus Chuo Taxi runs a service from Tokyo Haneda, Tokyo Narita and Nagoya airports. The trip by road takes about 5 and a half to 6 hours.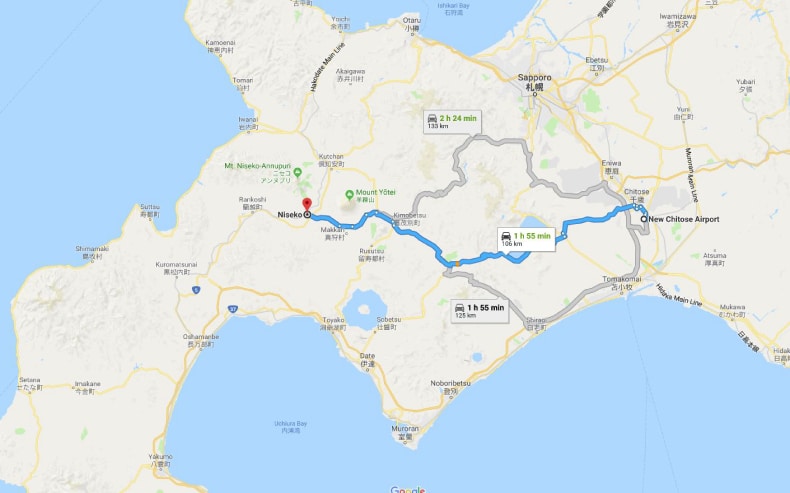 Nozawa Onsen Ski School
At the Nozawa Onsen Snow Sports School you will find a team of professional instructors from around the world. Every level and age of skier and snowboarder is provided for. There are group and private lessons, half days or full day classes, and children receive lunch and minding services at the Yu-min child Care Center.
Professional mountain guides take back country tours, the best way to learn what is beyond the boundary and find secret stashes you can revisit later.
Nozawa Onsen Things To Do, Activities and Tours
The number one off-mountain pursuit here involves soaking and bathing in onsen.  Hot springs were discovered here 1300 years ago, and the soothing water flows from over 30 different places around town. There are 13 sotoyu public baths for all to enjoy free of charge and they are very popular after a day on the slopes. These are actually co-operative spas, assets shared by the villagers and protected since ancient times by a system known as a spa group or "yu-nakama".
Seek out the unique Ogama spring – not for bathing but for its daily use by local villagers as an open-air kitchen to cook and boil their mountain vegetables and eggs. The water temperature can rise above 90 degrees celsius and it is a perfect place to witness local customs.
Zip-Sky Ride in the snow on one of the longest zip lines in Japan. Nozawa's zip line travels at up to 70 km/hr over 652 meters. Zip liners receive stunning views of the surrounding alpine scenery, and anyone can ride thanks to the safety harness designed to allow zip lining in a relaxing seated (rather than standing or simply hanging) position. Snowcat rides for up to 16 people are a good way to see the surrounds in heated comfort, while snowshoeing trips are offered to anyone who wants to get outside. The Jogokudani Yaen Koen "Snow Monkey Park" is about 30km away.
Things to see in town include the Kenmeiji Temple, an historic temple famous for being the birthplace of the locally produced Nozawana edible plant, a green leafy vegetable which looks a little like a cross between English spinach and rocket. Local legend has it that the 8th priest of the temple visited  Kyoto in 1750 from where he brought seeds of this vegetable and planted them in Nozawa Onsen. Unlike the original variety however, the priest's seeds sprouted bigger and better leaves and stems, which then became the Nozawana vegetable for which the village is famous. There is also a Japan Ski Museum.
Zip-Sky Ride
Location: Nozawaonsen Snow Resort
It is a zip line, that lets you can slide in the air from the top of the Hikage area to the bottom.
Phone: +81 0269-85-2623
Snow Field Sightseeing Tour
Location: Uenotaira Ski Center
This tour offers a rare opportunity of riding a snow vehicle which allows you to enjoy snowscapes truly out of the ordinary.
Phone: +81 269-85-2506
Nozawa Onsen Restaurants, Bars & Nightlife
Nozawa Onsen has more than 30 different eating places. Indulge in sushi, soba noodles, Chinese and yaki-niku, or barbecue style cuisine of mostly thin grilled meats.
Those with adventurous tastes will be happy here: local foods include pickled Nozawana, which are the edible wild plants mentioned above. There are harvested from the fields around Nozawa just before winter, washed in hot springs and then used to create a variety of vegetable dishes. Shinshu Soba or buckwheat noodles are found all over, and Onsen Manju are traditional sweets steamed over a hot-spring. Local Japanese sake comes highly recommended. It is brewed from the region's rice and natural spring water sourced from the base of the mountains at Nozawa Onsen. Smooth and easy to drink, it is also renown for its strength.
Cafe Danke
Location: Yamabiko Area
Food: Japanese cuisine
Bar: No
Phone: +81 0269-85-3523
Yamabiko
Location: Yamabiko Area
Food: Japanese, Western cuisine
Bar: No
Phone: +81 0269-85-3523
Servus (Naski bakery)
Location: Yamabiko Area
Food: Fresh baked bread
Bar: No
Phone: +81 0269-85-3523
Panorama House Buna
Location: Uenotaira and Paradise Area
Food: Japanese, Western, Chinese
Bar: No
Phone: +81 0269-85-3894
Tarokoya
Location: Uenotaira and Paradise Area
Food: Japanese, Chinese
Bar: No
Phone: +81 0269-85-2245
Uenotaira Hutte Popeye
Location: Uenotaira and Paradise Area
Food: Japanese, Western, Chinese
Bar: No
Phone: +81 0269-85-2247
Uenotaira Sanso
Location: Uenotaira and Paradise Area
Food: Japanese, Western, Chinese
Bar: No
Phone: +81 0269-85-2248
Utopia
Location: Utopia and Ise Area
Food: Japanese, Western, Chinese
Bar: No
Phone: +81 0269-85-3055
Kashmir House
Location: Utopia and Ise Area
Food: Japanese, Western
Bar: No
Phone: +81 0269-85-3179
Pension Schnee
Location: Utopia and Ise Area
Food: Western
Bar: Yes
Phone: +81 0269-85-2012
Mitsui Shokudo
Location: Utopia and Ise Area
Food: Japanese, Chinese
Bar: No
Phone: +81 0269-85-2997
Green House Marutomi
Location: Hikage Area
Food: Japanese, Western, Chinese
Bar: No
Phone: +81 0269-85-2838
Uchida Shokudo
Location: Hikage Area
Food: Japanese
Bar: No
Phone: +81 0269-85-2240
ONE DAY
Location: Hikage Area
Food: Japanese, Sushi, Western
Bar: Yes
Phone: +81 0269-85-2275
Mos Burger
Location: Hikage Area
Food: Fast Food
Bar: No
Phone: +81 0269-85-1771
Kawahiro
Location: Nagasaka Area
Food: Japanese, Western, Chinese
Bar: No
Phone: +81 0269-85-2458
CAFE STEP
Location: Nagasaka Area
Food: Western
Bar: No
Phone: +81 0269-85-3117
Country Papa
Location: Nagasaka Area
Food: Western
Bar: Yes
Phone: +81 0269-85-2646
Gentaro
Location: Nagasaka Area
Food: Japanese, Western, Chinese
Bar: Yes
Phone: +81 0269-85-2256
Mutsumi Jue
Location: Nagasaka Area
Food: Japanese, Chinese, Western
Bar: No
Phone: +81 0269-85-2827
Nozawa Onsen Shopping
Nozawa Onsen is a good place to find copious souvenirs and locally made handicrafts which can be especially creative. For example, the local akebi vines have been used for hundreds of years to make all kinds of designs, the most popular of which are gorgeous little Hatoguruma, or pigeons with wheels.
Leading ski and snowboard rental stores in the area Resthouse St Anton and Ski Rental Service Shirakaba.
GLATT
Location: Based in the Nagasaka gondola
Shop: quick wax or a full race tuneup
Phone: +81 0269-85-107
SNOW SPORTS SHOP Antelope
Location: inside the bottom of the Nagasaka gondola
Shop: hats, goggles, gloves and wax
KawaTatsu Rental
Location: located in the middle of the village
Shop: snowboard rentals, snowboard accessories
Phone: +81 0269-85-2440
Shirakaba Rental
Location: inside MOS Burger
Shop: snowboards, kids and adult sportswear, accessories
Phone: +81 0269-85-2519
Rest House St. Anton
Location: House St. Anton
Shop: snowboards, kids and adult sportswear, accessories
Phone: +81 0269-85-2275
Snow Sports THANX
Location: Situated at the foot of Nozawa Onsen Ski Resort
Shop: snowboards, boots, kids and adult sportswear, accessories
Phone: +81 0269-67-0112
Compass House
Location: Nogano Prefecture Shimokitai gun Nozawaonsen village
Shop: selling and rental of sports goods
Phone: +81 0269-67-0224