Jackson Hole Mountain Resort is Wyoming's largest ski destination, world-renowned for its natural beauty and excellent skiing. The ski resort is in a remarkably spectacular setting on the flanks of Wyoming's dramatic saw-toothed Teton Mountains which shoot straight up from the valley floor. Jackson Hole has a strong reputation as a mecca for the advanced but rest assured there is plenty here for intermediates and beginners.
Historic Jackson town maintains its Wild West charm. Busy tourist areas are filled with wooden sidewalks and old-style wooden fronted buildings, just like in the cowboy movies.  (John Wayne filmed his first speaking part in Jackson Hole in 1932.) At night trees shimmer with fairy lights, there's ice skating on the outdoor rink, and plenty of sophisticated restaurants, stylish bars and lively drinking holes to explore.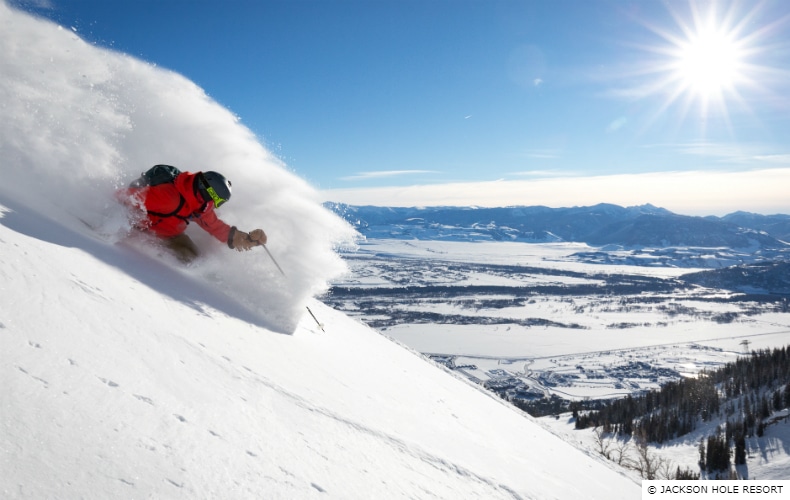 Visitors stay either in town or at the base of the ski area in Teton Village 20 minutes drive away. Teton Village is a collection of mostly ski-in ski-out lodging, ranging from superior condominiums, to log cabin rentals and five-star hotels along with many bars and good restaurants.
Jackson Hole's 2,500 acres (1,011 hectare) ski area lays claim to the 3rd longest vertical drop in the US – 4139 feet (1,2162 m). Almost 39 feet (12 metres) of snow falls each season and the powder here can be some of the lightest you will experience. The mountain is famous for Corbet's Couloir, a double black diamond chute almost vertical at the top, and usually requiring a bold leap over rock to enter.
Jackson is well placed for side trips to world famous Yellowstone National Park and Grand Teton National Park. Wildlife abounds throughout the area and it is common to spot bison, elk, coyotes and foxes and more, simply on the drive from the airport to your hotel.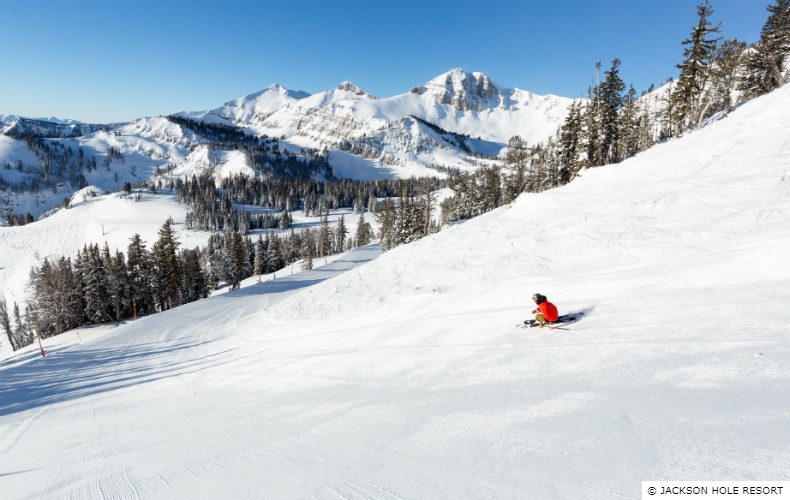 Jackson Hole Lodging & Accommodation Options
Teton Village offers much high-end lodging. The Four Seasons has a lovely outdoor heated landscaped pool area complete with waterfalls tumbling over boulders. Other upscale hotels include the stylish Snake River Lodge & Spa where the impressive indoor pool area is perfect for family-friendly apres-skiing fun and games. The town of Jackson offers the full gamut of accommodation styles.
Jackson Hole Ski Resorts Statistics
| | |
| --- | --- |
| Skiable Terrain | 2,500 acres (1011 hectares) |
| Vertical | 1,262 m (4,139 ft) |
| Top Elevation | 3,185 m (10,450 ft) |
| Base Elevation | 1,924 m (6,311 ft) |
| Average Snowfall | 1,170 cm (459 in/38ft |
| Intermediate Terrain | 40% |
| Advanced Terrain | 50% |
| Trails | 116 |
| Parks | 2 |
| Winter lifts Total | 15 |
| Gondolas Trams | 3 |
| Chair Lifts | 11 |
| Surface Lifts | 1 |
| Lift Capacity | 16,733 |
| Longest Run | 7.2 km (4.5 mi) |
| Mountain Restaurants | 6 |
| Snowmaking | 195 ac (78 hectares) |
| Season Opens | 24 November, 2018 |
| Season Closes | 7 April, 2019 (Estimated) |
Jackson Hole Mountain & Ski Terrain
The ski area is laid out across two peaks, Rendezvous Mountain and Apres Vous. The expert-only Rendezvous Mountain is only for advanced and experts, its summit accessed by Jackson Hole's iconic red tram, and leads to only black diamond runs with the exception of a few traverse trails. The large Apres Vous area is blessed with a fall line perfect for intermediate skiing who can enjoy numerous blue cruisers and a handful of black runs should they want to take the leap into something more adventurous.
Bridger and Sweetwater Gondolas are the major lifts onto Apres Vous and the popular Casper area. Sweetwater accesses intermediate trails that are steep, wide and less technically challenging than those elsewhere. The beginner area is located at the base of Apres Vous, covering an expansive and oh-so-gently sloped area with the widest of runs at the bottom of the ski area and is served by the Teewinot Chairlift.
By far the most famous expert run at Jackson Hole is the legendary Corbet's Couloir on Rendezvous Mountain. Glimpse the run from the tram as it cruises past. Local lore has it that in 1960 a mountaineer named Barry Corbet spotted the narrow funnel of snow high up on the mountain that was to one day become Jackson ski area, and said: "Someday someone will ski that."
Helicopter and cat skiing are also on offer as are backcountry tours. High Mountain Helicopter Skiing has operated in Jackson for over 40 years on a tenure stretching across five mountain ranges surrounding the ski resort. Grand Targhee Guided Snowcat Adventures takes up to 11 skiers or riders into almost 617 acres (250 hectares) of untracked powdery paradise on nearby Peaked Mountain.
How To Get To Jackson Hole In Winter
Multiple airlines offer flights to Jackson Hole Airport from 12 major US hubs including Atlanta, Chicago, Dallas, Denver, Houston, JFK-New York, Newark, Los Angeles, Minneapolis, Salt Lake City, San Francisco, Seattle..
Jackson Hole Airport (which happens to be the only airport in the US located within a national park) is 35 minutes from Jackson's Mountain Village.
Flying to Jackson Hole
The Jackson Hole Airport (JAC) is located 20 miles (32 km) from the resort.
Jackson Hole Airport is serviced by the following airlines:
United Airlines
Delta Airlines
American Airlines
Private Jet Services
Shuttles and Transfer Options To Jackson Hole
Jackson Hole Airport transfer is an easy 36-minute drive to Jackson Hole Mountain Resort by car, shuttle, taxi or rental car.
Travelling to Jackson Hole By Car
If staying in Teton Village, you can travel to downtown Jackson to shop and dine and vice versa via the public bus system. A one-way trip from downtown Jackson to Teton Village costs $3 per person.
Jackson Hole Ski School
Lessons for children start with Pioneers for 3 year olds, progressing to Rough Riders from kindergarten age and Explorers for the older kids.
Adults are catered for with regular lessons and several specialised camps. Intermediates who enrol in the Steep & Deep Camps here will be well on their way to calling themselves advanced after completing the Jackson camp. Top coaches are assigned to groups and the camps are offered to skiers, boarders, telemarkers and disabled riders.
Another way to boost your skills is to rustle up 5 people and sign up for a day with Jackson Hole ambassador, Olympic medallist Tommy Moe. Moe has called Jackson home for more than a decade. In his clinics he takes groups to his favourites stashes and tours all over the mountain. Open to intermediates and expert skiers only.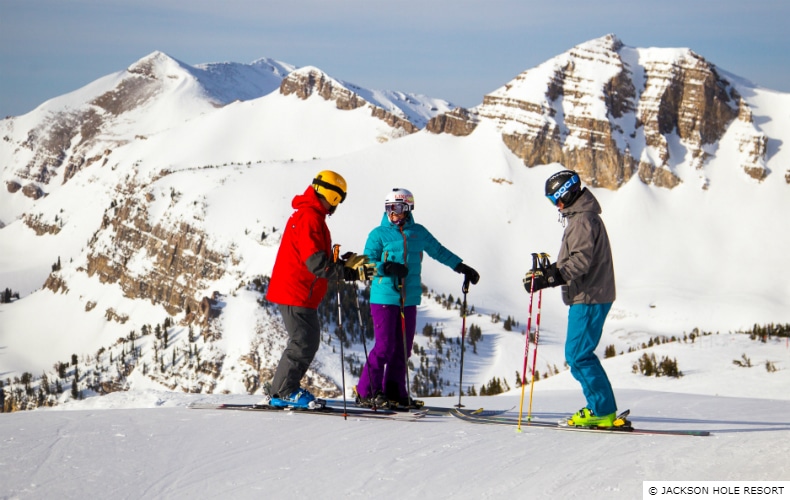 Tours, Activities & Things To Do In Jackson Hole
Popular here are the half-day Wildlife Safaris visiting the National Elk Refuge and Grand Teton National Park. See migrating raptors, bears, bighorn sheep, elk, moose and coyotes.
Heart pumping pursuits include paragliding, joy flights, winter biking, and snowmobiling as well as sleigh rides for the romantics. Full day snowmobile tours. The Kids Ranch can take children aged 4 to 14 years off your hands for a night or two with activities from 6pm to 9pm.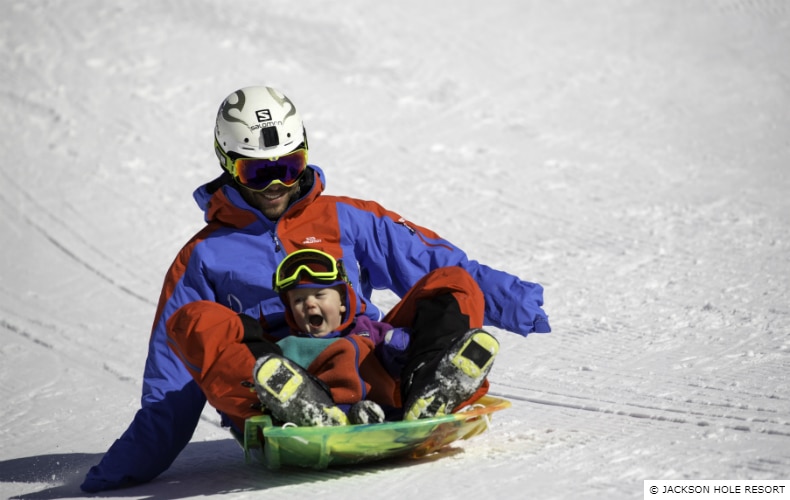 Heli-Skiing & Cat Skiing in Jackson Hole
Untracked powder snow across 5 mountain ranges surrounding Jackson Hole.
Phone: +1 307-733-3274
Grand Targhee Guided Snowcat Adventures
Guided snowcat adventures.
Phone:  +1-800-TARGHEE
Snowmobiling
Snowmobiling in Jackson Hole, from groomed trails to deep snow and backcountry adventure.
National Elk Refuge Sleigh Rides
Take a horse-drawn sleigh ride among an elk herd that number in the thousands.
Phone: +1 307 733 0277
Teton Mountain Bike Tours | Fat Bike Tours
Explore the local groomed trails in Jackson Hole.
Phone: +1 307-733-0712 to set up a Guided Fat Bike Tour or Fat Bike Rental
Paragliding
Soar high above Teton Village, Jackson Hole, the Teton Range and the Snake River Range.
Phone: +1 307.690.8726
Scenic Safaris
Travel to Yellowstone National Park by snowmobile or snowcoach and experience the winter wonderland of America's first National Park.
Phone: +1 307-734-8898
Togwotee Adventures
Snowmobile to Brooks Lake Lodge, Togwotee Pass, the Grey's River, Granite Hot Springs or a wild-life tour in the Gros Ventre.
Phone: +1 307-733-8800
Grand Teton National Park Cross Country Skiing Tours
Cross country ski with a naturalist guide beneath the majestic Tetons.
Phone: +1 307.739.2797
Hole Bowl
Hole Bowl boasts 10 bowling lanes, a full-service restaurant, The Pinsetter, arcade games, pool tables, shuffleboard, darts, and 10 big screen TV's
Phone: +1 307.201.5426
Snowshoeing/Cross Country Skiing in Jackson Hole
Snowshoe or xc ski beneath the majestic Teton peaks and explore the tranquillity of Grand Teton National Park
Phone: +1 307-690-4453
Jackson Hole Ecotour Adventures
Educational winter snowshoe & cross-country skiing programs into Grand Teton National Park.
Phone: +1 (307) 690-9533
Jackson Hole Restaurants, Bars & Nightlife
Jackson's food scene has evolved to the point that restaurants and chefs here are winning awards for their excellent, inspired cuisine. One of the reasons is Jackson's strong farm-to-plate tradition, which means that along with regular apres-ski faves like nachos and beer this is one of the best ski resorts to sample local bison, elk and trout. Jackson has more than the usual share of exotic international options too, from sushi to Thai and Indian. Meat lovers are in for a treat at Million Dollar Cowboy Steakhouse, and for a healthy option, pair a Bloody Mary made with freshly squeezed beetroot juice with one of the gourmet vegetarian meals at Lotus.
Ride up Bridger Gondola for a luxurious lunch at the 9000-foot high Piste Mountain Bistro. Book a table by the window to enjoy an incredible view across the valley with your delectable meal.
Teton Village has a good range of excellent restaurants most of which attached to the major hotels and lodges. Il Villaggio Osteria in Hotel Terra and the Westbank Grill at The Four Seasons are popular.
Nightlife is vibrant in both Jackson town and Teton Village. The go-to apres-ski bar and late-night venue in Teton Village has and probably always will be the Mangy Moose, a cavernous structure dripping in Americana. It's open for lunch, dinner, drinks, and often has live bands and much revelry continuing late into the night.
The town of Jackson's most famous institutions are The Cowboy Bar, where real saddles double as bar stools, and the Million Dollar Bar in the beautifully restored historic Wort Hotel, where precisely 2032 uncirculated 1921 Morgan Silver Dollars are inlaid into the bar's countertop.
Jackson Hole Restaurants (Teton Village)
Tin Can Cantina
Location: base of the Bridger Gondola
Food: Quick bite, casual lunch or a margarita and chips with fresh salsa and guacamole
Bar: Yes
Phone: +1 307-732-3639
The Spur
Location: Teton Mountain Lodge & Spa
Food: American/European cuisine
Bar: Yes
Phone: +1 (307) 734-7111
The Handle Bar
Location: Four Seasons Resort
Food: Snacks, soups and salads
Bar: Yes
Phone: +1 (307) 732-5000
Calico Restaurant
Location: Teton Village Road, HWY 390
Food: American-Italian cuisine
Bar: Yes
Phone: +1 (307)733-2460
Mangy Moose
Location: 3295 Village Drive, Teton Village
Food: American/European cuisine
Bar: Yes
Phone: +1 (307) 733 4913
Bodega
Location: base of Teton Village
Food: American/European cuisine
Bar: Yes
Phone: +1 307-200-4666
Il Villaggio Osteria
Location: Base of Jackson Hole Mountain Resort
Food: Italian cuisine
Bar: Yes
Phone: +1 307.739.4100
Jackson Hole Restaurants (Town of Jackson)
The Kitchen
Location: 155 North Glenwood Downtown Jackson
Food: American/Asian cuisine
Bar: Yes
Phone: +1 307.734.1633
Rendezvous Bistro
Location: 380 S. Highway 89 Jackson
Food: French-American bistro
Bar: Yes
Phone: +1 307.739.1100
Cafe Genevieve
Location: 135 East Broadway Jackson
Food: American cuisine
Bar: Yes
Phone: +1 307-732-1910
Wild Sage
Location: 175 North Jackson Street Jackson
Food: Seafood/regional cuisine
Bar: Yes
Phone: +1 (307) 733-2000
Pinsetter Restaurant
Location: 980 W Broadway
Food: American cuisine
Bar: Yes
Phone: +1 307.201.5426
Jackson Hole Shopping
Anyone who has yearned for a pair of genuine cowboy boots or hat can happily end their search here. Jackson is well stocked with hand-fitted intricately designed cowboy boots and hats to match. Browsing and window shopping is a pleasant pursuit here, the streets lined with chic boutiques, cool quirky bookstores, Rocky Mountain-style furnishings and homewares, shops selling moose and bison treats and a good deal of art and photo galleries line.
Jackson Hole Shopping (Teton Village)
JH Sports
Location: In the Bridger Center (base of gondola)
Shop: Adult and kid's clothing, bike rentals and more
Phone: +1 307-739-2687
Teton Village Sports
Location: Crystal Springs Building
Shop: sports gear and rental equipment
Phone: +1 307-733-2181
Mountain Khakis Store
Location: Village Commons
Shop: outdoor apparel
Jackson Hole Shopping (Town of Jackson)
Hoback Sports
Location: 520 W. Broadway Ave #3 Jackson
Shop: Ski and Snowboard shop and bicycle dealer
Phone: +1 307-733-5335
Jackson Hole Resort Store
Location: 50 N.Center St on the east side of the Jackson Town Square
Shop: Official Logo gear and accessories, great gift ideas, lift tickets
Phone: +1 307-734-6045
Jackson Hole Trail Maps
Explore Jackson Hole trail maps to find your ideal place to ride, catch up with friends and more…