Mont Tremblant
Located around 77 miles (125 km) North of Montreal, Mont Tremblant offers visitors spectacular panoramic views of the Laurentian Mountains. With a vertical drop of 2116 feet (645 m), Tremblant's summit sits at 2871 feet (875 m). The ski area covers 665 acres (269 hectares) and includes 96 ski trails on 4 distinct slopes for skiers and snowboarders of all levels.
The pedestrian village, located at the base of the mountain offers year-round activities, accommodation, dining, and shopping options.
Tremblant installed their first chair-lift in 1939 and has developed into one of the larger in terms of skiable terrain in Eastern North America.
With over 1,000 snowguns, the ski resort has one of the most sophisticated and powerful snowmaking systems in North America.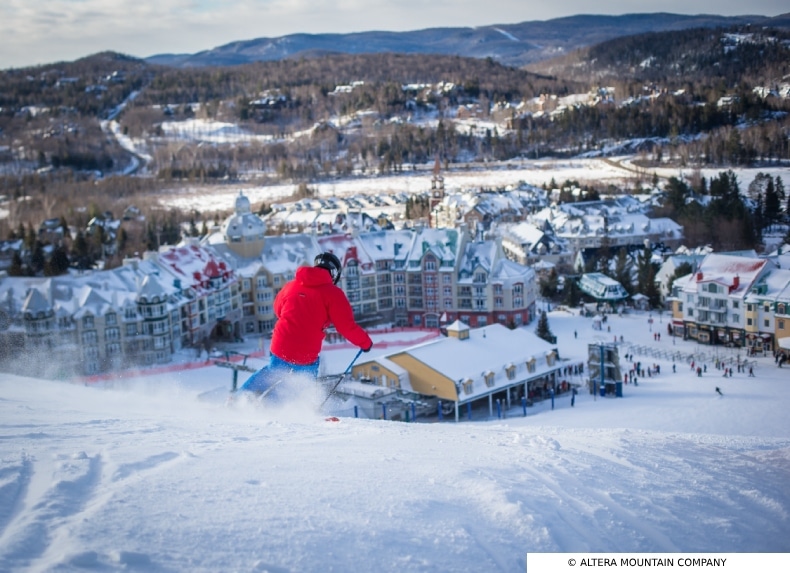 How To Get To Mont Tremblant
Flying To Tremblant
In winter, Air Canada offers non-stop flights between Toronto Pearson (YYZ) and Mont-Tremblant International Airport (YTM)—with worldwide connections. Air Canada also provides up to 14 flights per day between LaGuardia (LGA) and Toronto Pearson (YYZ) airports, offering direct and easy connections with Tremblant.
Another option is the Montreal-Trudeau International airport (YUL) which is 90 minutes away from Tremblant.
Driving to Tremblant
Montreal – 1.5 hours
Ottawa – 2 hours
Toronto – 6.5 hours
Boston – 7 hours
New York – 7.5 hours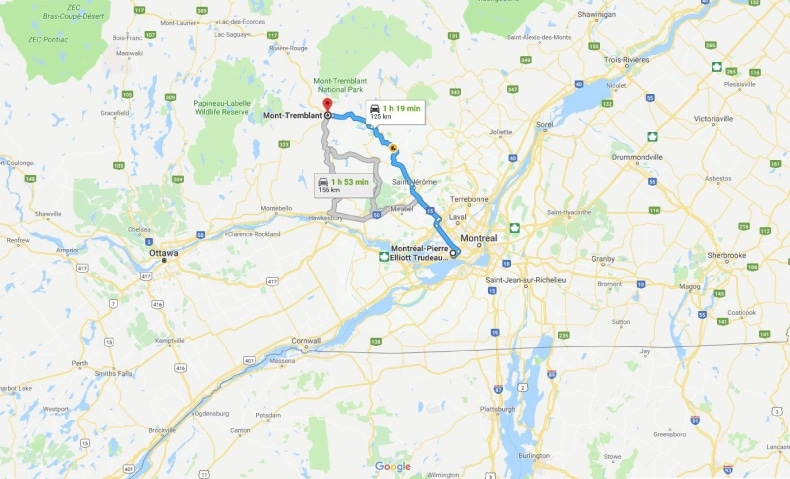 Mont Tremblant Lift Pass Options
Tremblant offers a full range of ski pass options for you to choose from plus you can also ski Tremblant on the IKON Pass, which is a multi-resort / multi-day pass option.
Tremblant Early Bird Lift Specials
We have negotiated a number of early bird lift pass specials that you can access when you get a quote.
Tremblant IKON Pass Options
You can also ski and ride at Tremblant on the IKON Pass. The IKON Pass is a multi-resort / multi-day ski pass that is available for purchase for a limited time each season.
Which Ski Pass Do I Choose – Tremblant or IKON?
It depends on a number of factors including your skiing dates, the number of days you plan on skiing, early-bird specials, if you are you planning on skiing any other IKON Pass resorts and importantly if there are any IKON Pass blackout dates that you need to factor in.
The best way to work out which pass option is best for you – is to pick both pass types when you prepare your quote – and then simply bin the pass option that doesn't offer you the very best deal.
Some of the IKON Pass options have blackout dates so be sure to double-check and understand the IKON Pass options and blackout dates and how they work by visiting this page we have prepared for you –  IKON Pass Resorts & How The IKON Pass Works.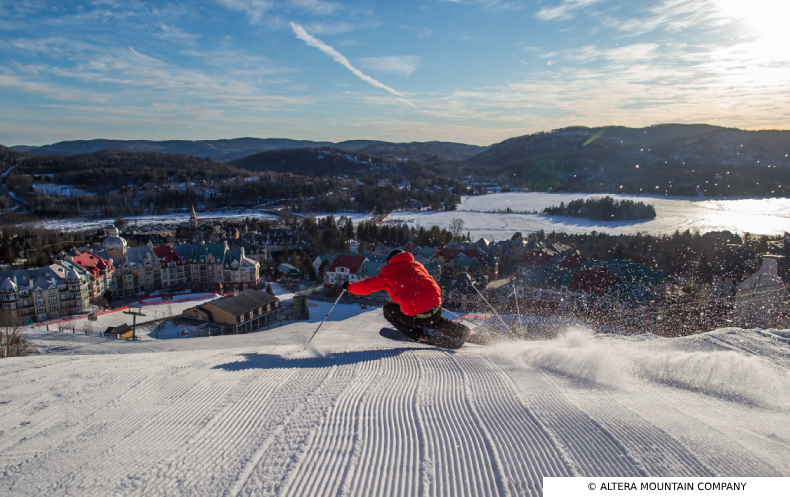 Mont Tremblant Activities
Choose from: Alpine Touring, Aquaclub La Source, Casino De Mont-Tremblant, Cross-Country Skiing, Dinner At The Refuge, Dogsledding, First Tracks, Helicopter Tours, Ice Climbing, Ice Fishing, Ice Skating, Kidz Club Daycare, Le Studio Créatif, Lolë Tremblant Fitness Sessions, Mont Tremblant Guided Tour, Plush Factory, Sleighrides, Sliding Evenings, Snowmobiling, Snowparks, Snowshoeing, Spas And Massages, T Bar, Tree-To-Tree Course, and Tubing.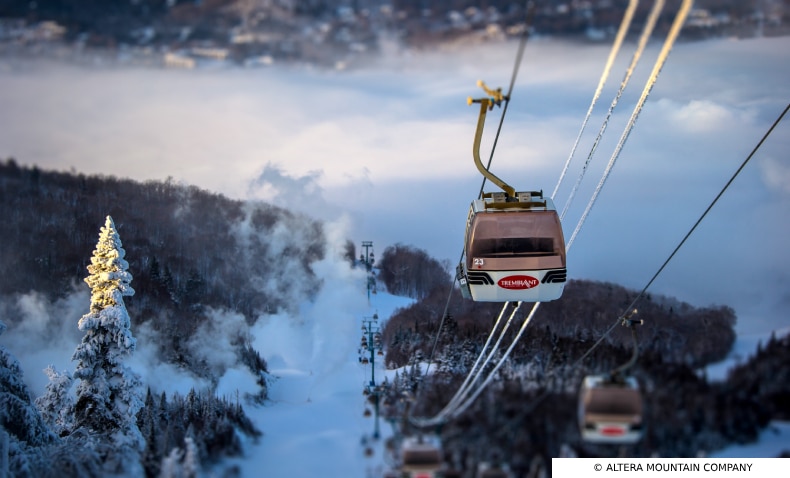 Mont Tremblant Restaurants, Bars & Nightlife
Altitude Seafood And Grill +1 819-429-4192
Axe Lounge Bar +1 819-681-7000
Bar Café D'époque +1 819-430-6730
Beavertails & Moozoo Creamery
Bistro Au Grain De Café +1 819-681-4567
Bullseye Saloon & Grill +1 819-681-2855
Café Johannsen
Casey's Resto-Bar +1 819-681-4601
Chalet Des Voyageurs
Choux Gras Brasserie Culinaire +1 819-681-7000
Coco Pazzo Restaurant & Take Out +1 819-681-4774
Fat Mardis +1 819-681-2439
Fluide Juice Bar
Gypsy +1 819-681-4144
La Forge Bistro-Bar & Grill +1 819-681-4900
La Fourchette Du Diable
La Maison De La Crêpe +1 819-681-4555
La Savoie +1 819-681-4573
Le Comptoir Cuisine Du Marché +1 819-681-7000
Le Grand Manitou
Le P'tit Caribou +1 819-681-4500
Le Q.G. + 1 819-681-4444
Microbrasserie La Diable +1 819-681-4546
Ô Wok +1 819-681-4455
Pizzatéria +1 819-681-4522
Resto-Bar Le Shack +1 819-681-4700
Ricochet Café & Terrasse +1 819-681-7000
Samurai Pub +1 819-717-1885
Smoke's Poutinerie Tremblant +1 819-681-4747
Socal Kitchen +1 819-681-4606
St-Hubert Express +1 819-717-4441
Starbucks +1 819-681-5001
Ya'ooo Pizza Bar +1 819-681-4616
Mont Tremblant Shopping
Adrénaline +1 819-681-5501
Atomic Tremblant +1 819-681-5937
Beavertails Pastry +1 819-717-1933
Burton Tremblant +1 819-681-5802
Candy Shop +1 819-425-5729
Chamonix
Chocolate Factory
Columbia Tremblant
Davidstea +1 819-429-5345
Explore! +1 819-681-4684
Galerie D'art Pion +1 819-425-1112
Galerie Soutana +1 819-681-4550
Habitat +1 819-421-4087
Hatley +1 819-717-3244
Helly Hansen +1 819-681-4990
Joaillerie St-Onge +1 819-681-4646
La Raffinerie +1 819-717-1288
Le Ski Shop
Lolë Tremblant +1 819-681-5939
Ludivine
Magasin De La Place +1 819-681-4502
Magasin Général
Oakley Tremblant
Oh La Vache!
Petite Maison Bleue +1 819-681-4551
Pop Therapy
Roots +1 819-681-4505
Salomon Tremblant +1 819-681-5502
SAQ +1 819-681-4548
Scada Furs +1 819-681-6633
Sugar Shack +1 819-681-4995
Tremblant & Co.
Photo Credit: