Rusutsu Ski Resort
Rusutsu is a large ski area in Hokkaido, with excellent deep powder snow off piste and satisfyingly long, groomed on-piste. It is a favorite of powder fans who love the way the resort layout allows them to so easily hop on and off manicured runs and into anything from boot deep to over-the-head snow, before slipping just as effortlessly back onto the slopes right near the base of a chairlift. Rusutsu indeed offers the kind of snow and terrain that keeps many a rider on the hill well after thigh muscles start complaining.
 Rusutsu receives about 42 feet (13 m) of snow each winter, making for an average 10 feet (3 m) base and producing a season running from late November to early April. The generosity from the sky combined with the vast terrain means powder stashes can be found days after a fresh fall. Clear days deliver dramatic views all the way to the Pacific Ocean, encompassing Mt Yotei towering beyond  Mt Shiribetsu and the surrounding plains.
Just as famous as the skiing here is the Rusutsu Resort Hotel, full of whimsical attractions on the inside and, on the outside, a sizeable summer-operation-only amusement park. Complete with a huge roller coaster, ferris wheel, and more, the amusement park's snow and ice-covered fixtures are quite spectacular, visible from most places on the mountain, and a big part of what makes Rusutsu particularly memorable.
Rusutsu Resort Hotel's head-turning features include a carousel, a singing tree surrounded by a choir of chirping creatures, and a Disneyland-style shopping mall.
There is a small town beyond the Rusutsu Resort Hotel offering atmospheric restaurants and bars. There are a few well-stocked convenience stores, perfect for snacks, buying that phone charger you forgot to pack, and inexpensive meals.
Rusutsu Accommodation
With 830 rooms contained in two separate wings and indoor attractions from a wave pool to the dazzling double-level carousel, Rusutsu Resort Hotel North & South dominates the lodging scene. All styles of rooms are represented here. The Westin Rusutsu Resort is a chic new addition and its modern refurbishment includes 210 elegant split level suites. A monorail connects The Westin to the other side of the resort village and the lifts beyond.
Rusutsu Mountain & Ski Terrain
Rusutsu comprises three mountains, West Mountain on one side of the resort village holding mostly gentle terrain and, opposite, East and Isola Mountains with the more advanced and intermediate slopes. The ski area is vast enough to keep riders spread out and prevent congestion.
This factor is aided by Rusutsu's modern lifting system, one of the fastest and most efficient in Hokkaido, with 18 lifts comprising 4 gondolas, 7 quad lifts, and 7 double chairlifts plus three magic carpets in the learner's area. There's also the welcome addition of hoods on six of these chairlifts, particularly the ones that sit in almost all-day shade.
While renowned as a destination well-suited for those who like to rip, Rusutsu's terrain is in fact split fairly even with 30% beginner, 40% intermediate, and 30% advanced slopes. There are 37 marked trails altogether, including several areas where people of all abilities can ski the same lifts, and generous hours with lifts open from 9 am to 8 pm daily and 9 pm daily when night skiing is in full swing.
All three summits have long, sprawling cruising runs that cater well to all levels. Leap off the side of the groomed slopes to find wide open bowls and tree skiing with endless natural terrain features from snow mushrooms to log slides. Mt Isola has most of the advanced to expert runs although even beginners can ride to its summit, enjoy the views over Lake Toya to the ocean and take the green Isola Bypass back to the flatlands and easier slopes.
The groomed parks consistently receive top marks for having jumps to suit all levels, kickers ranging from 5 feet to 40 feet (1.5 m to 12 m), rails, and rainbows. The Side Country Park on West Mt has all kinds of creative features based around wooden jumps and tree branches
A First Tracks program runs on Mt Isola during specific periods in January and February, the details of which will be found each season on Rusutsu's official website.
Participants meet in the Rusutsu Hotel at 8.15 am, are bussed to Mt Isola for an 8.45 am gondola ride, and are given the chance to carve freshies for a few runs before regular ticket holders arrive.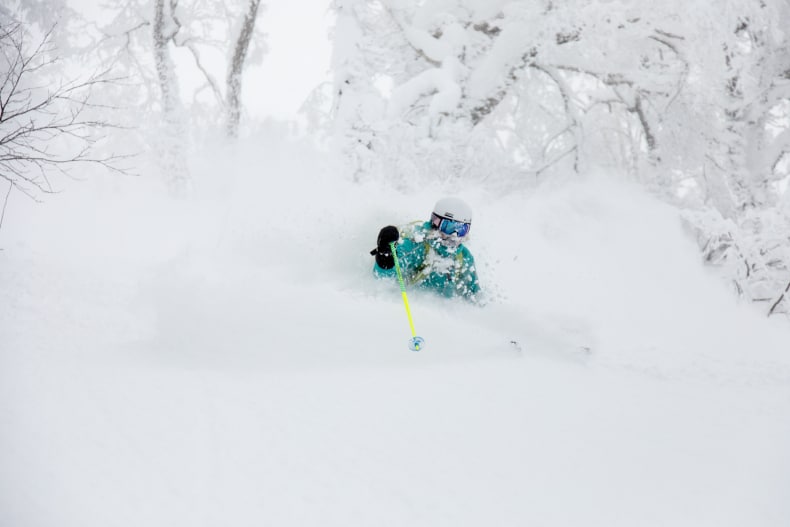 Rusutsu Statistics
| | |
| --- | --- |
| Skiable Terrain | 523.9 acres (212 hectares) |
| Vertical | 594 m (1,949 ft) |
| Top Elevation | 994 m (3,261 ft) |
| Base Elevation | 400 m (1,312 ft) |
| Average Snowfall | 800 cm (314 in/26 ft) |
| Beginner Terrain | 30% |
| Intermediate Terrain | 40% |
| Advanced Terrain | 30% |
| Trails | 37 |
| Parks | 1 |
| Winter lifts Total | 18 |
| Gondolas Trams | 4 |
| Chair Lifts | 14 |
| Lift Capacity | 30,300 |
| Longest Run | 3.5 km (2.2 mi) |
| Season Opens | November |
| Season Closes | April |
How To Get To Rusutsu
Rusutsu is a 90-minute shuttle ride from Chitose Airport and central Sapporo, and about 40 minutes from Niseko.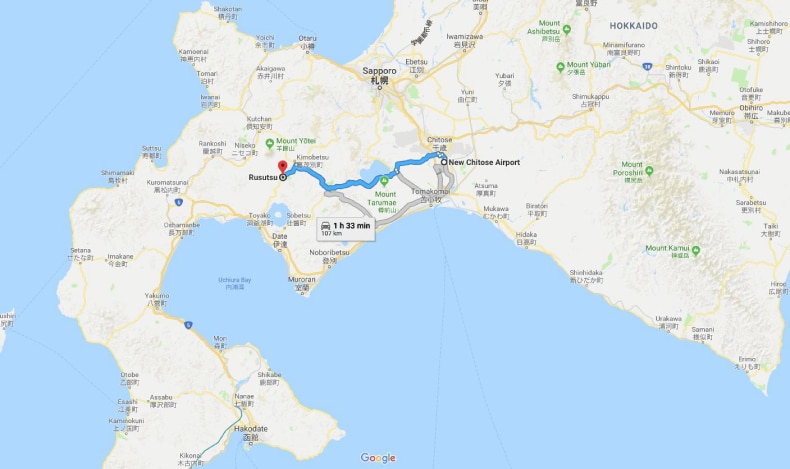 Rusutsu Snowsports & Ski School
Rusutsu Resort offers a well resourced ski and snowboard school for adults and children, including a special Kids School, with English-speaking instructors available. There is a daycare for littlies, plus qualified nannies and an indoor playroom for when the kids are not outside playing in the snow.
Rusutsu Things To Do, Activities and Tours
The amount of off-snow action in Rusutsu is on a par with the vastness of its on-mountain terrain. Virtually anything that is possible to do in or on snow is available. Snowmobiling, dog sledding (instead of being pulled along in a seated sleigh, here clients are taught to operate the sled themselves as in a dog-sled race), snow rafting on rubber boats, horse riding, morning snowshoe tours in search of animal tracks, snow rambling (walking on short skis as opposed to snow shoes), cross country skiing, ice fishing, snowfield orienteering, and nature tours help fill the outdoor activity list. Indoors, there is a climbing wall, to more sedate pursuits such as classes in making potato cakes, cheese, and ice cream, candles, and other crafts.
Snowmobile – Beginner & Touring Course
Location: Snow Activity Land
Experience the wonderful feeling of riding on a snowmobile through the snowfields.
Phone: +81 136-46-3111
Snowmobile – Adventure & Expedition Course
Location: Snow Activity Land
Explore the Hokkaido powder by snowmobile.
Phone: +81 136-46-3111
New Year's Day Sunrise Snowmobile Tour (20 max)
Location: Snow Activity Land to East Mt, return
Take an early morning snowmobile ride up the mountain to see the sun rise.
Phone: +81 136-46-3111
Snow Rafting
Location: Snow Activity Land
Description: Feel the speed as you are swung over the snow in a rubber boat!
Phone: +81 136-46-3111
Rusutsu Restaurants, Bars & Nightlife
As you would expect the Rusutsu Resort Hotel houses the bulk of eateries, a satisfyingly diverse range of restaurants, buffets, cafes, and bars serving all kinds of cuisines. At breakfast, most guests descend on the large Oktober Fest restaurant for an enormous buffet of high quality Japanese, Asian and Western dishes. Rise early to avoid lengthy queues. Cuisines on offer elsewhere in the hotel include pizza and Italian (Costa Terrazza), modern Japanese (Kakashi), bbq-your-own (Lamp House), and farm-to-table (Belle Vue). When one feels more like sandwiches over sushi head for the Edelweiss Cafe or a pork burger at Daniel's Eat-In. The Westin Resort Hotel houses and fabulous teppanyaki restaurant.
On the mountain, hit Steamboat at the base of Isola No. 1 for warming Japanese fare, the kind made extra filling for fortification on cold days (fried pork cutlet curry over rice with melted cheese and a fried egg anyone?). Lone Pine cafeteria by which most riders will travel on the way to East and Isola mountains, is a good place to warm up with a hot drink from the vending machines just inside the automatic doors or grab a full meal such as ramen or Japanese hamburger steak.
Down in the small town, stroll through snowy streets by quaint buildings to find an assortment of character-filled eateries and bars. Rodeo Drive is one of the best patronized, being a tiny bar restaurant with inventive cocktails, a large collection of whiskeys, scotches and Japanese plum wines, and Japanese and Western food.
Oktober Fest
Location: North Wing 1F
Food: Japanese dishes
Bar: No
Belle Vue
Location: South Wing 4F
Food: Western cuisine based on the concept of "Farm to Table"
Bar: No
Sekkatei
Location: North Wing 3F
Food: Japanese favourites
Bar: No
Kanten
Location: North Wing 4F
Food: Chinese Cuisine
Bar: No
Costa Terrazza
Location: North Wing 1F
Food: Italian Restaurant
Bar: Yes, wine only
Kakashi
Location: Highland Lodge 1F
Food: Japanese-Style
Bar: Yes
Lamp House
Location: Travel Lodge 1F
Food: BBQ Restaurant
Bar: Yes
Kazahana
Location: The Westin Rusutsu Resort 2F
Food: Japanese Restaurant
Bar: No
Obrist
Location: South Wing
Food: Liquors only
Bar: Yes
Cricket
Location: South Wing
Food: Snacks, liquors
Bar: Yes
Dolce
Location: North Wing
Food: Premium coffee and tea with a range of delicious cakes
Bar: No
Steamboat on Mt. Isola
Location: base of the Isola No1 Quad chairlift,
Food: Steamboat Rice Omelet and the big Beef and rice bowl
Bar: No
Isola 2000 on Mt. Isola
Location: base of Mt. Isola
Food: Grilled Pork served on rice or Marinated Salmon rice bowl
Bar: No
Lone Pine on East Mt.
Location: inside the East Centre Station
Food: Marinated Salmon Roe rice bowl or filling Ginger Pork lunch set
Bar: No
Horn, Highland Lodge on West Mt.
Location: entrance to the ski area on West Mt.
Food: ramen and Shabushabu meal
Bar: No
Shopping
A large selection of what travelers truly need and want. The convenience stores found in both the Rusutsu Resort Hotel as well as the town stock everything from essential pharmacy items to groceries, gifts, deli items, and virtually everything you require from the upscale to the mainstream. Rusutsu's shops also offer a large selection of inspired souvenirs, gifts, and trinkets, especially in the Resort Hotel's fun-fair style shopping arcade, as well as everything from sports gear to ice cream.
Burton Rusutsu
Location: North Wing
Shop: Burton gear including snowboards, boots, apparel, goggles, accessories, and kids apparel
Vivace
Location: North Wing
Shop: ski and snowboard, golf, tennis, and other sports goods
Colorful
Location: North Wing
Shop: daily necessities, household essentials, and original Rusutsu goods
Casa Blanca
Location: North Wing
Shop: liquor store
White Christmas
Location: North Wing
Shop: Christmas goods, including cards and wreaths, all year round
Hanamaru
Location: North Wing
Shop: traditional Japanese products
Daniel Street
Location: South Wing
Shop: souvenir shop filled with "Yukara-ori folk crafts" (a traditional Hokkaido handicraft)
Kurofuneya
Location: South Wing
Shop: selection of glassware
Tiny Bear
Location: South Wing
Shop: souvenirs
Photo Credit: