Deer Valley Ski Resort
Deer Valley Ski Resort is an intermediate paradise designed for those who desire a touch of pampering with their downhill pursuits. Only 37 miles (60 kilometres) from Salt Lake City and 3 miles (5 km) from Park City, Deer Valley was founded in 1981 with the intention of making skiing as easy, painless and pleasurable and possible and it continues to do so in spades without being pretentious. Everyone feels truly welcome and cared for, so finely honed is Deer Valley's customer service. Restaurant-quality food in on-mountain cafeterias and Curbside valets collecting equipment at the base to avoid the effort of carrying it all from the car park are just some of the little touches to put guests at ease and feel valued.
Another stand-out feature of Deer Valley's is being a skier's only mountain. Yes, that's right, snowboarding is not permitted. There is also a cap on lift ticket sales of 7500 per day to ensure an uncrowded ski experience. Lodging is suitably luxe, and delectable dining options are par for the course.
There is no village as such and the mid-mountain Silver Lake area is the central hub, location of the central day lodge, plus fine dining, shopping and entertainment, a "ski beach", family restaurants and après ski bars.
Ideal for skiing-only families, groomer loving beginners and intermediates as well as lovers of luxurious accommodation, fabulous food and stylish venues will adore Deer Valley. This resort is in a class of its own.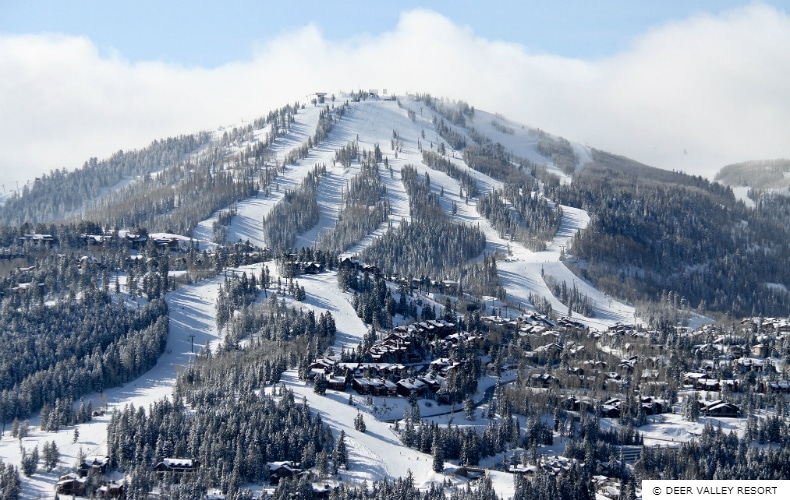 Deer Valley Snow Report
Deer Valley 15-Day Forecast
Deer Valley Lodging & Accommodation Options
The Montage, St Regis and the Stein Eriksen Lodge, Forbes' magazine's only 5-star hotel and spa in Utah and one of only three in ski regions, are the pick of the bunch.   Named after the Norwegian Olympic Gold Medal skier, Stein Eriksen Lodge is an authentic European mountain lodge in the middle of the slopes, boutique-style and with 145 fireplaces throughout.
The 4-Star Montage Deer Valley is also well located. It has premium residences, luxe hotel rooms, a huge spa, ski valet operation and amenities such as a family oriented combination sports bar/arcade with bowling, Wii and entertainment for all ages. The luxurious St. Regis resort hotel at the lower Snow Park base area is accessed by its own funicular.
Where To Ski And Ride On Deer Valley
Deer Valley offers first-class skiing for all levels of skiers across six mountains – Little Baldy Peak, Bald Eagle, Bald, Flagstaff, Empire and Lady Morgan. The ski area offers 2,026 acres (820 hectares) of terrain, 21 chairlifts and over 100 runs, and upholds a strong reputation for immaculate grooming: Deer Valley is often named by ski magazines and commentators as having the best groomed intermediate slopes in North America. There are two main base areas, Snow Park where skiers enter from the car park, Silver Lodge at mid-mountain. There is another day facility, Empire Canyon Lodge, closer to the summit. Enjoy slopeside complimentary daytime and overnight ski storage for all guests at Snow Park and Silver Lake base areas.
Deer Valley may appear to be mostly intermediate cruisers yet it is fairly evening weighted against expert slopes – 38% blue to 33% black with 3% deemed double black diamond. The main skiing is on the three linked peaks beyond Silver Lake Lodge which are Bald Mountain, Flagstaff and Empire Canyon. Many of Deer Valley's blue runs cruise by the attractive wooden chalets dotted across the slopes in separate property developments, making for a pleasant and picturesque ski experience. Beginners are provided for with nursery slopes at Silver Lake Lodge as well as at the base with gentle green runs to progress to.
All three of the linked mountains mentioned above have excellent expert terrain including fabulous glades, a few steep bump runs, chutes and bowls. A good proportion of the advanced black diamond skiing is in the trees so those who love finding stashes in the forest are in for some fun. Test your tree skiing prowess in Bald Mountain's Sunset Glades which have perfectly spaced aspen and often deep powder yet at a moderate pitch. With 6 six peaks to navigate, take advantage of the free mountain tours. Four daily tours depart from Snow Park and Silver Lake including black diamond tours for advanced skiers.
Deer Valley is a freestyle competition hub. The resort played host to the freestyle moguls, aerial, and alpine slalom events during the 2002 Salt Lake Olympic Winter Games and each year hosts the world's best freestyle skiers competing in the FIS Freestyle Ski World Cup.
Deer Valley Statistics
| | |
| --- | --- |
| Skiable Terrain | 2,026 acres (820 hectares) |
| Vertical | 910 m (3,000 ft) |
| Top Elevation | 2,920 m (9,570 ft) |
| Base Elevation | 2,000 m (6,570 ft) |
| Average Snowfall | 760 cm (300 in/25 ft) |
| Beginner Terrain | 27% |
| Intermediate Terrain | 41% |
| Advanced Terrain | 32% |
| Trails | 101 |
| Winter lifts Total | 21 |
| Gondolas Trams | 1 |
| Chair Lifts | 20 |
| Lift Capacity | 50,470 |
| Longest Run | 4.5 km (2.8 mi) |
| Mountain Restaurants | 23 |
| Snowmaking | 660 ac (267 hectares) |
| Season Opens | 8 December, 2018 |
| Season Closes | 7 April, 2019 (Estimated) |
How To Get To Deer Valley
You fly into the Salt Lake City International Airport (SLC).
It's about a 40 minute shuttle from Salt Lake City airport of 41 miles (65 km). Deer Valley is five minutes drive from the town of Park City.
Deer Valley Snowsport & Ski School
Ski lessons are provided in either privates, Max 4 (maximum four people to ensure close attention) and a range of programs: the Mahre Training Centre Camps exclusive to the resort, men's and women's exclusive programs involving video analysis and coaching in stance and alignment as well as technique, and mixed groups for the Steeps and Stashes classes. The Steeps and Stashes improves ability in the trees and includes the option to try a range of demo skis. The  Mahre Training Center Ski Camps are run by  US Olympic gold and silver medal winners Phil and Steve Mahre who teach part of every course along with top ski instructors. Offered in three- and five-day sessions of six hours each, courses teach skiing fundamentals to all ability levels. Advance reservations are necessary.
Much effort is put into ensuring children receive adequate attention too, with lessons divided into no less than five age groups: 3, 4, 5-6, 7-12 and 13-17 years old. Maximum two 4-year-olds in a private, and 3-year-olds receive one-on-one tuition.
Deer Valley Things To Do, Activities & Tours
Hot air ballooning is a highlight of the activity list in Deer Valley and highly popular. Kids will love the night time snowshoeing tour near the Snow Park base that leads to a campfire where guests can roast their own marshmallows. Regular snowshoe tours are offered during the day, along with snowmobiling tours, dog sledding, sleigh rides and nordic skiing.
For non-skiing children aged 2 months-12 years, there is the Children's Center, a state-licensed facility providing supervision and activities such as storytelling, art projects, imagination activities, singing and a lot of play time and toys, along with quiet time. Located on the main level of Snow Park Lodge, the center is open daily during the ski season from 8:30 a.m. to 4:30 p.m.
Ski With A Champion
Location: Deer Valley Resort
Ski with Heidi Voelker or one of six other Olympic snow sport athletes.
Open: depends on availability
Phone: +1 435-649-5766
Ski Racing And Nastar
NASTAR Dual GS venue (weather permitting).
Race Course start facility at +1 435-940-7230.
Complimentary Mountain Host Tours
Learn about the resort's terrain, history and trivia while discovering new runs and secret powder stashes with the locals who ski them.
Rossignol High Performance Test Center
Demo the latest in Rossignol ski technology.
Located adjacent to the Empire Canyon Lodge, near the ski storage area.
Jans Rennstall Tech Center
Ski tuning services for everyone.
Phone: +1 435-649-1833
All Seasons Adventures
Activities include snowshoeing, dog sledding, sleigh rides, nordic skiing, and more. Activity desk located in the main entryway at Snow Park Lodge.
Summit Meadows Snowmobile Adventures
Location: Wasatch Mountains
Beautiful scenic views guided snowmobile tours on groomed trails for individuals and groups. Complimentary transportation is offered from Park City.
Open: depends on availability
Phone: +1 888-896-7996
Deer Valley Resort Restaurants, Bars & Night Life
Food quality is so high and done so well that Deer Valley may well provide some of your most memorably ski resort dining experiences. The resort is famous for its two decadent buffets, the Seafood Buffet and Fireside Dining. The seafood selection is superb while the Fireside Dining is not simply dinner by the but multiple choices of expertly prepared comforting meals and morsels expertly prepared in a series of fireplaces. Selections include genuine raclette to leg of lamb and local meats like buffalo and deer.  
On mountain, the day lodges are excellent, with offerings far from the norm especially when it comes to the salad bars. Nice al fresco lunch spots include the Terrace Cafe at the St Regis. Silver Lake Lodge is the location of many eateries from snacks to Vietnamese Pho to The Mariposa – rated Utah's number one restaurant by Zagat Restaurant Guide.
Ebs Lounge in the base area's Snow Park Lodge is the major apres-ski go to with a lively bar, snacks and big screen TVs.
Edgar's Beer And Spirits Lounge
Location: Snow Park Village – base area
Food: Snacks/European cuisine
Bar: Yes
Phone: +1 435-649-1000
Deer Valley Etc.
Location: Snow Park Village – base area
Food: Coffee drinks, sandwiches
Bar: No
Phone: +1 435-615-6109
Deer Valley Grocery ~ Café
Location: Snow Park Village – base area
Food: Pastries, coffee and espresso drinks
Bar: No
Phone: +1 435-615-2400
Seafood Buffet
Location: Snow Park Village – base area
Food: Fresh seafood
Bar: Yes
Phone: +1 800-424-3337
Snow Park Bakery
Location: Snow Park Village – base area
Food: Pastries
Bar: No
Phone: +1 435-645-6623
Snow Park Restaurant
Location: Snow Park Village – base area
Food: Traditional American cuisine
Bar: No
Phone: +1 435-649-1000
The Brass Tag
Location: Lodges at Deer Valley – base area
Food: Casual Dining – Brick Oven Cuisine
Bar: Yes
Phone: +1 435-615-2410
Quincy's Frozen Yogurt
Location: Snow Park Village – base area
Food: Frozen Yogurt
Bar: No
Phone: +1 435-615-2535
Bald Mountain Pho
Location: Silver Lake Village – mid-mountain
Food: Vietnamese cuisine
Bar: Yes/beer only
Phone: +1 435-649-1000
Silver Lake Restaurant
Location: Silver Lake Village – mid-mountain
Food: Traditional American cuisine
Bar: No
Phone: +1 435-649-1000
Goldener Hirsch Restaurant
Location: Goldener Hirsch Restaurant – mid-mountain
Food: European cuisine
Bar: Yes
Phone: +1 435-655-2563
Snowshoe Tommy's
Location: Top of Bald Mountain
Food: Mountain snacks and beverages
Bar: No
Phone: +1 435-645-6870
Empire Canyon Grill
Location: Empire Canyon Lodge – upper-mountain area
Food: Traditional American cuisine
Bar: No
Phone: +1 435-649-1000
Fireside Dining
Location: Empire Canyon Lodge – Upper mountain area
Food: European cuisine
Bar: Yes
Phone: +1 800-424-3337
Cushing's Cabin
Location: Top of Flagstaff Mountain
Food: Mountain snacks and beverages
Bar: No
Phone: +1 435-940-7433
Deer Valley Resort Shopping
Numerous specialty ski and retail shops within the Silver Lake Village is where to find ski gear, clothing, and gifts from Silver Lake store Signatures. Alternatively, Park City has hundreds of stores from boutiques to local crafts plus a Tanger Outlet mall a few minutes out of town bursting with brand-name and luxury label fashion and merchandise at bargain prices.
NextGen DV
Location: Snow Park Lodge (lower level)
Shop: ski clothing and accessories
Phone: +1 435-615-2535
Shades of Deer Valley
Location: Snow Park Lodge (lower level)
Shop: fashion sunglasses and goggles
Phone: +1 435-615-6105
Deer Valley Signatures Stores
Location: Silver Lake Village/Main Street/Snow Park Lodge (plaza level)
Shop: Deer Valley logo merchandise, food, accessories
Phone: Silver Lake Village (+1 435-615-6205)
Main Street (+1 435-645-6923)
Snow Park Lodge (plaza level) (+1 435-615-6005)
Deer Valley Etc.
Location: Snow Park Lodge (plaza level)
Shop: food, merchandise and souvenirs
Phone: +1 435-615-6109
More Shopping
Park City boasts hundreds of boutiques and retail stores for your ultimate shopping delight – and just as many restaurants and bars.
Deer Valley Trail Maps
Explore Deer Valley trail maps to find your ideal place to ride, catch up with friends and more…