Madarao Ski Resort
Madarao is a powder-lovers paradise and family favorite close to Myoko Kogen, Shiga Kogen, and Nozawa Onsen resort areas. About 60 percent of the runs are un-groomed (a trait that has resulted in the resort being nicknamed madapow) so if you're looking to improve your deep snow technique, especially in the trees, this is the place. It is connected at the summit to Tangram Ski Circus, skiable on the same ticket.
Madarao village has plenty of ski-in ski-out accommodation and an unpretentious resort atmosphere. About 30 minutes away by bus is Iiyama, a city of about 20,000 people and a wonderful place to experience 'ancient' Japan with many entrenched cultures, traditions, and crafts. Here you will find all sorts of handcrafted local souvenirs and specialties of the region along with excellent dining.
The ski slopes of Madarao are compact and easy to navigate,  Advanced skiers and boarders can find plenty to challenge them while novices, families, and children need not venture far to find places they can ski too. This is the sort of resort where all abilities can ride the lift together, then find a run from the top that suits their level of skiing or boarding.
Madarao is also quirky: make sure you visit the ski-jump toilet, decorated in such a way that the view from the 'throne' involves staring straight down the barrel of a competition ski jump. Even a pair of skis are printed on the floor.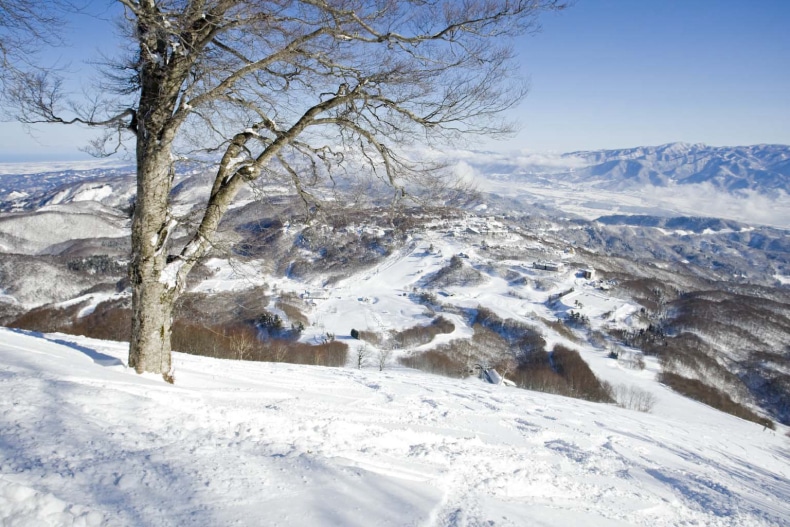 Madarao Accommodation
One of Madarao's great attractions is its ski-in and ski-out hotels. Top of the list for most visitors are the Madarao Kogen Hotel, Monaile Madarao, and Hotel Tangram. The family-friendly Madarao Kogen Hotel has an English-speaking concierge, an onsen is located close to ski rentals, and has rooms overlooking the Madarao Plateau. The restaurant serves authentic Italian food and excellent Japanese and Chinese cuisine. The Monaile Hotel Madarao is almost all ski-in ski-out and shares the services of the Madarao Kogen Hotel's English-speaking concierge.
The Madarao village has a selection of hotels, lodges, Western-style inns and self-contained cottages.
Madarao Mountain & Ski Terrain
The 4530 foot (1382 meter) Mt Madarao is covered in 30 runs across its unique bowl shaped sides, serviced by 15 lifts. Slopes cater for ability levels almost evenly, with 30% beginner, 35% intermediate, and 35% advanced. While famous for powder skiing, Madarao also offers plenty of groomed slopes for those who aren't fans of the fluffy stuff. The resort bills its 13 marked tree runs as the most of any Japanese resort (most resorts do not mark their tree runs on their trail maps), and there's night skiing on weekends.
Madarao shares a boundary and a joint lift pass with neighboring Tangram Resort. Tangram overlooks Iiyama & Nozawa Onsen in one direction and, on blue sky days, the spectacular mountains of Myoko Kogen and the Japan Sea in the other. Tangram is small with a 1706 feet (520 m) vertical drop and is best suited to beginners and intermediates. The base area features a Western-style hotel, restaurant overlooking the slopes, a snowmobile track, an indoor swimming pool, and onsen, plus a health club and games arcade.
Madarao's shape lends itself to freeriding and was the reason the resort was chosen to host Japan's first Freestyle Skiing Competition. Anyone hunting for freshies in forests head for Crystal Bowl, PowderWave I & II, Usagi, and Riverline for tree slopes. More advanced riding is found in the gladed tree skiing zones Ninja – similar to a side country freeride zone – and Sawa – a large natural halfpipe – where a combination of natural and man-made terrain allows for deep powder turns and drops. Watch out for the log-jam – a ride-off pine log ending in a drop of around 15 foot (3 m) depending on the snow base.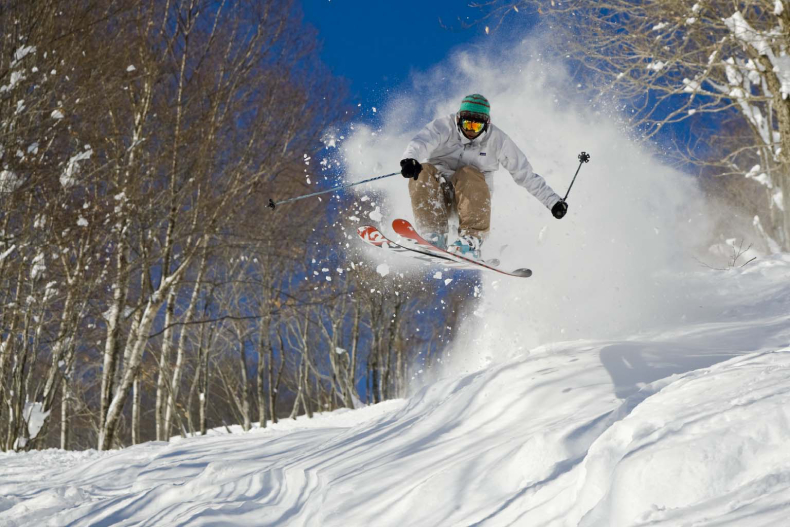 Backcountry Tours
North Nagano Outdoor Sports has guides available to lead tours into Madarao's excellent sidecountry and backcountry. There are several routes of about 20 minutes suitable for beginners. It is possible to hike right to the top of Mt Madarao from the highest chairlift.
Experienced backcountry skiers and boarders can expect steep and consistent fall lines of up to 700 vertical meters through beautiful scenery and magical glades.
Madarao Statistics
| | |
| --- | --- |
| Vertical | 440m (1443ft) |
| Top Elevation | 1350m (4429ft) |
| Base Elevation | 910m (2985ft) |
| Average Snowfall | 1300 cm (511 in/42 ft) |
| Beginner Terrain | 35% |
| Intermediate Terrain | 40% |
| Advanced Terrain | 25% |
| Trails | 30 |
| Parks | 1 |
| Pipes | 1 |
| Winter lifts Total | 15 |
| Chair Lifts | 12 |
| Surface Lifts | 3 |
| Longest Run | 2.5km (1.55 mi) |
| Season Opens | December |
| Season Closes | May |
How To Get To Madarao
The Nagano Snow Shuttle travels direct to Madarao from Narita and Haneda Airports. Drop-off service is provided for nighttime arrivals. Other options from Tokyo are to share a Chuo Taxi, book a private chartered bus or take the bullet train: the Hakutaka bullet train travels from Tokyo to the city of Iiyama. Depart from Tokyo's Ueno Station if traveling from Narita Airport, or from Tokyo Station via Ueno if traveling from Haneda Airport. From Iiyama it is a 30-minute shuttle ride to the resort.
Shuttle services also run between Madarao and nearby resorts Nozawa Onsen and Myoko Kogen.
Madarao Ski School
Choices are Madarao Sports Academy, North Nagano Outdoor Sports, and Action Snow Sports International Ski School. The North Nagano and Action Sports schools offer ski and snowboard lessons in Japanese and English.
Madarao Kogen Hotel offers an English speaking childcare service, in its childcare room Tsumiki. Services can be arranged at the Madarao Kogen Hotel front desk.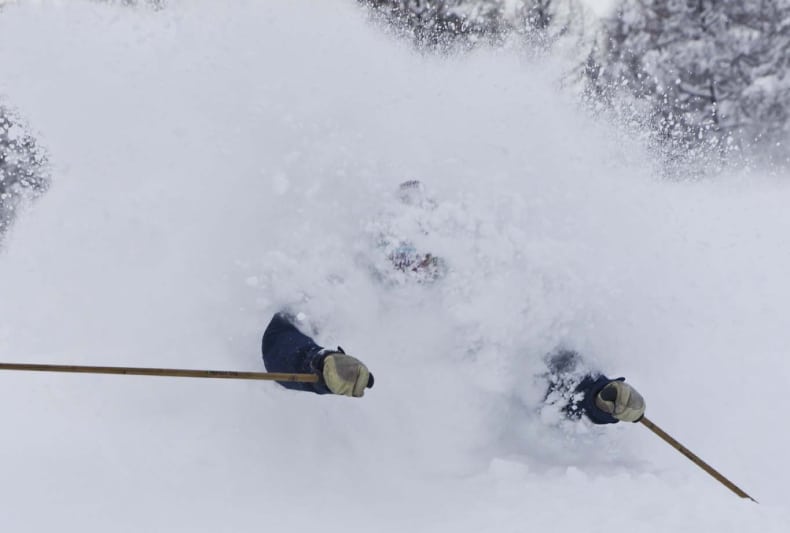 Madarao Things To Do, Activities and Tours
It is particularly easy to entertain kids here: there's snowmobiling for children and adults, snow rafting, and a kids park to top the list for family and group activities. The Madarao Kogen Hotel has a kid's arcade full of games and other distractions.
The Madarao Kids Park is very popular. It's set up on a regular ski run but has lots of fun stuff like sleds, snow tubes, and a Japanese-style igloo which children love. The 'snow fun corner' is open to all ages to have fun in the snow. Sled rental is available at the nearby Sky House – Sore o Ie – which is also a cozy place to warm up in extreme weather.
One of Madarao's most visited onsen in in the Madarao Kogen Hotel. Complete with a Finnish-style sauna, as well as both indoor and outdoor natural pools, nonhotel guests are welcome, and it is open till 11 pm.
Most visitors spend time during their holiday at Madarao seeing the sights in the city of Iiyama, 30 minutes away by bus. When it comes to events, Madarao runs a special night skiing session and fireworks every New Year's Eve, which is followed by a Dondoyaki Fire Festival in early January.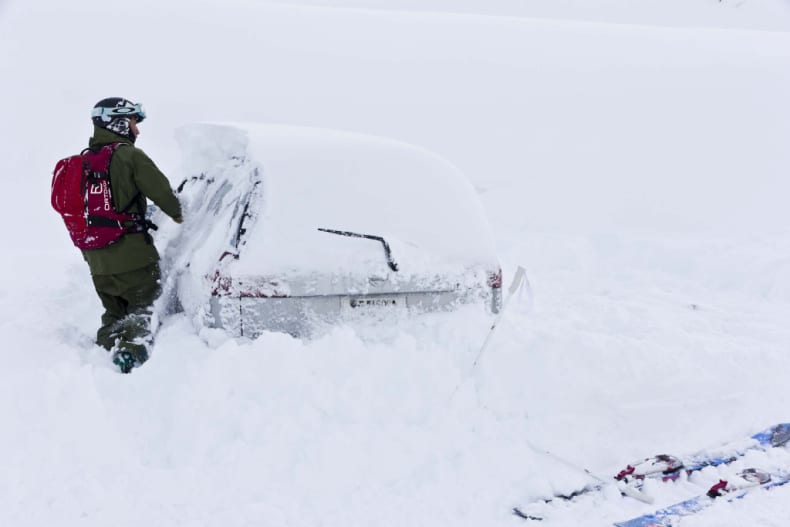 Snowshoe
Location: Madarao Highlands
The snowshoe is, briefly, the Western version of Kanjiki. If you wear snowshoes, you can walk on the snow of fluffka, anyone can easily enjoy walking in the winter forest!
Phone: +81 0269-64-3222
Madarao Restaurants, Bars & Nightlife
There are various places to eat on the mountain including a large cafeteria serving well-priced food from ramen to hotdogs and tap beer, a convenience store, and several small eateries.
In the village, Japanese bar-style fare such as yakitori, edamame, gyoza, and more dominates the food scene. Many establishments serve a mix of standard Japanese and Western fare, such as The Lodge Cafe at the Madarao Mountain Lodge, where sushi and sashimi sits on the menu alongside classic fish and chips and chicken parmigiana. To drink there is everything from espresso coffee to the local 'Shizuoka' sake and craft beer.
Traditional Japanese food and the freshest seafood is found in downtown Iiyama, the city about 30 minutes from Madarao. (Note, the last bus leaves Iiyama at about 9 pm!)
Trois cinq
Location: right next to Lift No.1
Food: European/Japanese snacks
Bar: No
Phone: +81 0269 64 3835
Restaurant Tirol
Location: Located at Moeokogen field
Food: Local Japanese and European dishes
Bar: Yes
Phone: +81 0269 64 3214
The Danro
Location: Madarao Kogen Hotel
Food: bar foods
Bar: Yes
Phone: +81 0269 64 3311
The Avenue
Location: located in the outstanding pension "Chalet Madarao"
Food: Aussie, Japanese and Italian cuisine
Bar: Yes
Phone: +81 0269 76 0278
Tea Lounge
Location: Madarao Kogen Hotel
Food: light food and snacks
Bar: No
Phone: +81 0269 64 3311
Sakura
Location: Moeokogen field
Food: Traditional Japanese
Bar: No
Phone: +81 0269 64 3113
Restaurant Rudolf
Location: Mawarao Highland
Food: European cuisine
Bar: No
Phone: +81 0269 64 3153
Oono Penssion
Location: Maweo Highland
Food: Japanese
Bar: No
Phone: +81 0269 64 3011
Madarao Shopping
Aside from the usual ski resort souvenirs available in Madarao, it is well worth taking an excursion into Iiyama 30 minutes away where there are a number of unique products available from the small stores lining the city's atmospheric streets. Iiyama is renowned as the place to buy small decorative Buddhist altars. The craftsman here are revered as the best in Japan and are said to produce the largest variety of Buddhist altars in the country. This is also a good place to find beautiful examples of handmade  Japanese washi (paper), Uchiyama tesuki washi, has a local history of over 400 years.
Souvenirs on the edible – and just as unusual side – include local specialties such as Scotch thistle preserve, walnut jam, and aloe vera honey.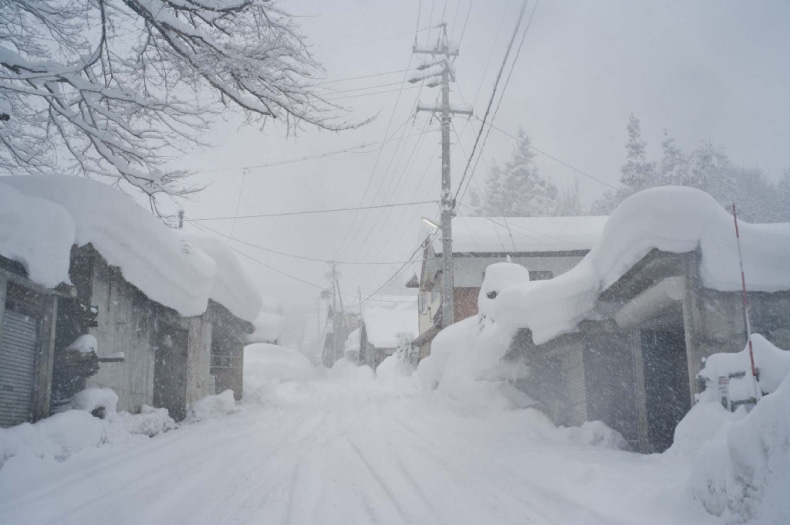 North Nagano Outdoor Sports
Location: Madarao Kogen Hotel
Shop: outdoor gears and apparels, outdoor tours
Phone: + (81)090-4461-7354
Madarao Kogen Hotel
Location: inside the hotel
Shop: ski and snowboard accessories, souvenirs, snacks, sundries, and alcohol
Phone: +81 269-64-3311
Wills Souvenirs
Location: Madarao Kogen Hotel
Shop: T-shirts and a few other Madarao souvenirs
Shirakaba Rentals Madarao
Location: Powder Station
Shop: skis, boots and poles rental
Phone: +(81)269-64-3311
Active Life Madarao – Gear Rental
Location: Aya Lodge
Shop: skis, poles, boards, boots, jackets, and pants
Photo Credit: