Silver Star Ski Resort
The third largest ski area in Canada with 3,282 skiable acres, Silver Star Mountain Resort offers a family friendly pleasing mixture of great quality dry snow, a welcoming Victorian mining themed colourful ski in and ski out village and substantial uncrowded skiing terrain across its four distinct mountain faces.
Silver Star is a great mountain for learning or improving your skiing skills as each area offers progressive terrain. Strong intermediate and expert skiers and big mountain riders will enjoy the steep and deep black and double black diamond runs on the back side of the mountain with over 1,900 acres of steeps, glades and powder stashed terrain to choose from.
With 132 trails, Silver Star doesn't have any snow making facilities, because it doesn't need them thanks to its British Columbia Okanagan location and a base elevation of 1,155 m. The average temperature hovers around the -5° Celsius mark during the day and these crisp clear conditions means Silver Star consistently delivers a dry champagne and packed powder skiing and riding experience.
Silver Star Mountain & Ski Terrain
Silver Star grooms on average between 25 to 35 runs each evening. So there are great daily warm up conditions when you head up the slow Summit Chair or the six-seater Comet Express, and head skiers left for some fun on blue runs of Big Dipper, Little Dipper or Whiskey Jack with many of the runs at Silver Star named after mining claims. Stronger skiers can head skiers right to the black runs starting with Show Off and then fan out further across skiers right.
Another great spot to warm up, is off the Silver Woods Express quad chair, where you can do your warm up laps on Star Struck and Cloud Nine. For the little ones, there are some great winding and fall-line green runs when you head down Comet Trail, and up the Comet Express, then head skiers left for the green cruises of Far Out and Sundance.
When powder conditions arrive, from the top of the Comet Express, head along the green Bergerstrasse Trail to access and explore the Putnam Creek area that offers some introductory intermediate glades but mostly black and double black diamond challenging gladed trees and bumps. Snowboarders be aware there is a flat sections to get across to the Putnam Creek area, where the skiers can carry more speed past you, so make sure you are at the head of the que when they drop the rope to give yourself the best chance of fresh tracks.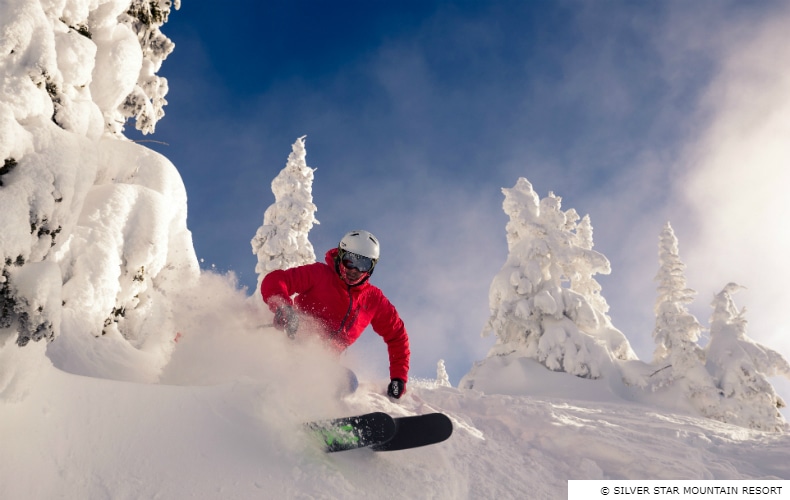 Silver Star Statistics
| | |
| --- | --- |
| Skiable Terrain | 3,282 acres (1,328 hectares) |
| Vertical | 760 m (2,500 ft) |
| Top Elevation | 1915 m (6,280 ft) |
| Base Elevation | 1155 m (3,780 ft) |
| Average Snowfall | 7 m (275 inches/23 ft) |
| Intermediate Terrain | 40% |
| Advanced Terrain | 35% |
| Trails | 132 |
| Parks | 2 |
| Winter lifts Total | 11 |
| Chair Lifts | 6 |
| Surface Lifts | 5 |
| Lift Capacity | 14,000 |
| Longest Run | 8km (5 miles) |
| Nordic Cross Country | 105 km |
| Snowmaking | 3282 ac (1328 hectares) |
| Village Bed Base | 5,600 |
| Season Opens | 27 November, 2018 |
| Season Closes | 7 April, 2019 (Estimated) |
How To Get To Silver Star Mountain Resort
Silver Star Mountain Resort and is located in the Okanagan Valley 22 km (12 miles) north-east of Vernon in British Columbia Canada. The nearest international airport is Kelowna International Airport (YLW) that is around an hour's drive or shuttle ride away.
Driving to Silver Star Mountain resort
You can drive to Silver Star Resort from Calgary, it takes about 6 ½ hours to cover the 574 km (356 miles). From Vancouver the drive takes around 5 ½ hours at a distance of 488 km (303 miles). From Edmonton the drive is around 9 ½ hours at a distance of 860 km (534 miles). From Spokane the drive north will take you around five hours and 40 minutes and is 437 km (272 miles).
If driving to Silver Star Mountain Resort, it is highly recommended for winter driving to use Snow Tires.
Kelowna Sliver Star Airport Shuttles
Silver Star Mountain Resort is well serviced by daily one way and return airport shuttles.
Silver Star Snowsports & Ski School
The Silver Star Snow Sports School attracts many talented certified instructors from around the world and teaches lessons in the following disciplines: Alpine skiing, snowboarding, free riding, telemark, cross country fat biking, snowshoeing and skating.
Their motto is "Helping you be the best you can be". They have a group of highly motivated instructors and coaches specially trained to work and meet the needs of young children. The Snow Sports School prides itself on creating a fun, warm, inviting atmosphere for young students where their skills can be improved as a ski and ride safely around the mountain.
And for those of you looking to take your skiing or riding to a whole another level there are plenty of Academy programs to choose from including race, parents, ski week, women's, men's, masters and bumps.
Silver Star Things To Do, Activities & Tours
The exciting thing about Silver Star mountain resort is your My1Pass alpine lift ticket enables you to ski and ride all day on the slopes plus you have unlimited access to the additional activities of Tubing (tubes included), Skating (rentals available), Silver Star's cross-country skiing, snowshoe and fat bike trails (fat bike, XC gear & snowshoe rentals available). Just attach your lift pass ticket to your jacket or your pants and keep it on you at all times.
From fat biking to night skiing to enjoying a local hockey game in town to cheer on the Vernon Vipers Junior A hockey team, Silver Star offers a host of activities and events. Little kids will enjoy pinheads bowling and riding around on mini snowmobiles while the older committed skiers could try and qualify for the Over The Hill Downhill race.
Silver Star On the Mountain Activities
Cross Country Skiing
55km of groomed and expansive trails in Silver Star that links with another 50km of trails at nearby Sovereign Lake. Open every day.
Tel: +1 250-558-6019 (Guest services)
Snowshoeing
Fun for the whole family.
Tube Town (Tubing)
Tubing is great family fun and you need to be at least 3 years old. Located by Firelight Lodge, next to the frozen lake. Open every day from 4 pm and earlier on the Fridays and Saturdays.
Tel: +1 (250) 558-6037
Ice Skating
2.4 acres (1 hectare) of available skating on a natural frozen pond, located right next to Firelight Lodge. Open every day.
Tel: +1 250-558-6037
Fat Biking
Night Skiing
Day Trips & Tours
Dinner Tours
Hockey Games
MAG Snow Bike Tours
Sleigh Rides
Snowmobile Tours
Fat Bike Tours
Shopping Shuttle
Snowmobile Tours
Okanagan Recreational Rentals offers back country snowmobile tour fun for the whole family.
Tel: +1 250-549-3613
Heli-Skiing
KingFisher Heli-Skiing and Heli-Boarding offers a magical 125,000 acres of majestic world class alpine and tree skiing in the Monashee Mountains. You can pick up and drop off from SilverStar or take the shuttle to their staging area to meet your heli.
Mike Wiegele Heli-Skiing
Mike Wiegele Heli-Skiing, located approximately four hours north of SilverStar Mountain Resort, has been operated since 1970 with a staggering 1,200,000 acres of accessible terrain in the Caribou and Monashee mountain ranges with over 1,000 peaks to choose from that offer high alpine glaciers as well as forested valley glades.
Other Activities
Pinheads Bowling
Mini Snowmobiles
Silver Star Museum
On-Mountain Yoga
Silver Star Restaurants, Bars & Nightlife
With over 18 cafes, restaurants, pubs and lounges to choose from, Silver Star Mountain Resort has you covered when it comes to dining options on and off mountain for breakfast lunch and dinner. A local's favourite, Bugaboo's Bakery Café is to go to place for a quick savory meals, toasties, cakes and treats.
The Den Bar and Bistro is open for lunch and dinner and is a great spot to grab a burger by day and their lamb shanks by night washed down with a selection of local wines. Long John's Pub is another local's favourite open from 11 am till late offering a variety of lunch and dinner items with a good selection of local and international beers. For a more contemporary fine dining experience, be sure to try the fish, the lamb or the pork belly at the Silver Grill in their intimate 40 seat restaurant located at the back of Town Hall.
Village Dining
Red Antler
Tel: +1 (250) 558-6081
Warm and friendly Canadian atmosphere. Good options of beers, smart casual ambience. Full menu, slightly above usual pub grub fare
Bugaboos Bakery Café
Tel: +1 250-545-3208
Popular, friendly famous bakery located on the main street. Bakery goods aplenty; Pastries, coffee, sandwiches, cakes and desserts
Den Bar and Bistro
Tel: +1 (250) 558-6032
More of a food and wine place, as opposed to the other beer/après focused pubs in Silver Star. Popular spot for lots of local musical talent. Great for families.
HB Pizza
Tel: +1 (250) 542-5150
Home made classic and gourmet pizzas (by the slice or full pizzas), also a few other food options (Lasagna, pies etc.)
*Offers delivery around Silver Star*
Long John's Pub
Tel: +1 250-549-2992
A local hot-spot, well known for its lively and friendly atmosphere, a popular après spot, but also does simple food.
Out Of Bounds
Tel: +1 250-549-3388
Offers espresso style coffees and other hot beverages. Serves up great lunch food, such as sandwiches, wraps and soups. Offers a good range of Vegan vegetarian food. Also serves beer later in the day.
Silver Grill
Tel: +1 250-558-6070
Fine dining, for evening meals. working with local wineries, distilleries and farmers.
1609 Restaurant & lounge
Tel: +1 250-549-5100
Wide range of food options, offering a bit of fine dining with quality pub food, as well as a well stoked and popular lounge bar with Silver Star's widest range of craft beers
Bulldog Grand Café
Tel: +1 250-542-2459
An extension of the famous Bulldog Café in Amsterdam. Good value European and Thai inspired foods with a Canadian feel
Town Hall
Tel: +1 250-542-2459
Hours: info unavailable
fast food available throughout the day, great for a quick lunch stop without taking up too much of your slope time
On Mountain dining
Paradise Camp
Tel: +1 (250) 558-6087
Silver Star's onlyMountain restaurant near the top of the Powder Gulch chair. Offers hot breakfasts, lunches and hot drink
Silver Star Shopping
A couple of ski shops, a grocery store and a gift shop will cover you for most of your shopping needs while staying Silver Star. There is also a return shopping shuttle that operates from December through April that leaves from outside the Bulldog Hotel and travels from Silver Star to the Village Green Centre in Vernon, with over 60 shops and services where you can load up with supplies or gifts, if need be.
Ski Dazzle Retail
Location: Main St
Phone: +1 (250) 558-6010
Category: ski and snowboard gear and winter accessories
The Goody Box
Location: Main St next to Ski Dazzle
Phone: +1 (250) 558-6059
Category: Old school sweets and candy
Coldstream Dry Goods
Location: Vance Creek Boardwalk on Main St
Phone: +1 (250) 558-5583
Category: Souvenirs and artisan gifts and jewelry
Village Ski Shop
Location: Vance Creek Boardwalk on Main St
Phone: +1 (250) 558-4292
Category: Alpine and Nordic skiwear and accessories
Gallery Odin
Location: 215 Odin Road, The Knoll
Phone: +1 250-503-0822
Category: Art gallery
Lord Aberdeen Market
Location: Main St in the Lord Aberdeen Hotel
Phone: +1 (250) 503-1992
Category: Grocery, produce and liquor