Revelstoke Mountain Resort
There are many things to get excited about when planning a trip to Revelstoke Mountain Resort, from the 30 to 45 feet (9 to 14 m) of annual snowfall or the longest vertical offered in North America at 5,620 feet (1,713m). On paper, Revelstoke Mountain Resort looks like dream come true for experienced skiers and riders and in real life it delivers on its promise with lift serviced inbound heli-skiing like terrain and powder conditions across its magnificent 3121 acres.
You will discover Revelstoke Mountain Resort, at the base of Mount Mackenzie which lies between the Selkirk and Monashee mountain ranges. There Revelstoke area is a world-famous for vast heli-skiing and cat skiing operators because the area receives between 40 – 60 feet (12 – 18 m) of annul snowfall.
Opening in 2007 with grand plans to rapidly become a mega resort to rival the 'big resorts', Revelstoke Mountain Resort has quickly gained a reputation from those lucky enough to enjoy the abundant powder snow and great skiing conditions, however the Global Financial Crisis definitely put the brakes on the rapid expansion plans and slowed the pace of resort development.
With that said, lift lines aren't an issue as the resort is well serviced by it's five lifts that are spread out across the resort, which means sometimes you need to traverse a little towards the end of your run, to gain access to your next ride. Currently it's only a small price to pay, for what is a fantastic skiing and riding experience, that will be taken care of in the future as new lifts are introduced as part of the master plan.
With a base elevation of 512 m (1680 feet) there is very little chance of any altitude issues where you sleep, rising up to a lift access vertical of 1713 m (5620 feet). Revelstoke Mountain Resort is a skiers and riders resort with 7% beginner, 45.5% intermediate and 47.5% advance to rain across four high alpine bowls (South Bowl, North Bowl, Powder Assault and Greely Bowl) and 69 named runs and gladded areas all accessed on the one lift ticket, no helicopter required!
Revelstoke Resort is part of the IKON family of ski resort and can be skied on a regular lift pass as well as the IKON Pass.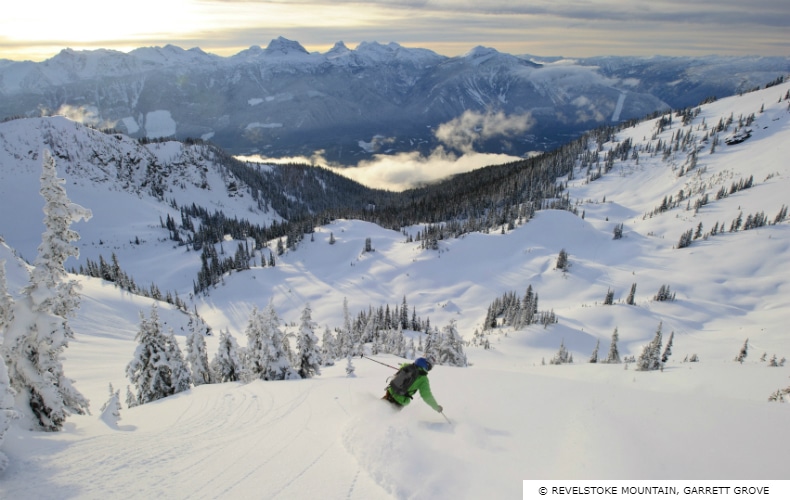 Revelstoke Lodging, Accommodation & Hotel Options
For ski in ski out accommodation, it's hard to beat the Sutton Place Hotel because it is located in the resort village and is Revelstoke's only ski in, ski out accommodation. The three buildings, connected by underground heated parking, offer 222 guest rooms and suites from studios to penthouses. All rooms feature modern amenities including full kitchens, fireplaces, patios five piece washrooms and laundry facilities.
Or you can elect to stay in the town of Revelstoke which is 10 minutes drive away.
Revelstoke Mountain & Ski Terrain
Once inside the eight-seater high-speed The Revelation Gondola if you are looking to warm up on some blue runs you have a couple of options once you check the grooming report. You can head skiers left along the green Last Spike that will take you across to the blues of Feller Buncher and Wooley Bully. Or you can head up the Stoke Chair and that Critical Path to The Ripper Connector and head down Burn Down where you can do laps on The Ripper Chair. Once warmed up, have some fun down Devil's Club from the top of the Stoke Chair, (a black then blue run) top to bottom to feel the exhilaration and the burn!
On a powder day, expect a lift line first thing (until the locals go back to work), and if you are an advanced to expert, depending what is open and when, your best bet is to get up as high as possible and eat up as many powder turns as humanly possible with spectacular tree skiing, amazing steep runs all the while remembering to stay safe and be sure to follow any closures and instructions and be aware of any avalanche bulletins.
Revelstoke Mountain Resort also owns and operates Selkirk Tangiers Heli-Skiing operations and including their Cat Skiing terrain you have access to 515,000 acres of world-class terrain.
If it's your first time skiing or riding at Revelstoke Mountain resort you can join the daily mountain tour at 12:30 pm. Meet at the trial map signs next to Mackenzie Outpost at the top of the Revelation Gondola.
For Beginners At Revelstoke
You have picked an interesting challenge to begin your skiing career, however the Revelstoke Snow School does cater really well for first times skiers and manages their somewhat limited beginner terrain really well. There are a couple of learning areas, Turtle Creek Beginner Area and Little Bit at the Revelation Lodge. Once you're up and running from the top of the Revelation Gondola you can head skiers left down Last Spike and depending on how were you going can drop in and out of some fun wide-open rolling runs or head back to the green Last Spike to keep building your confidence and your new skills.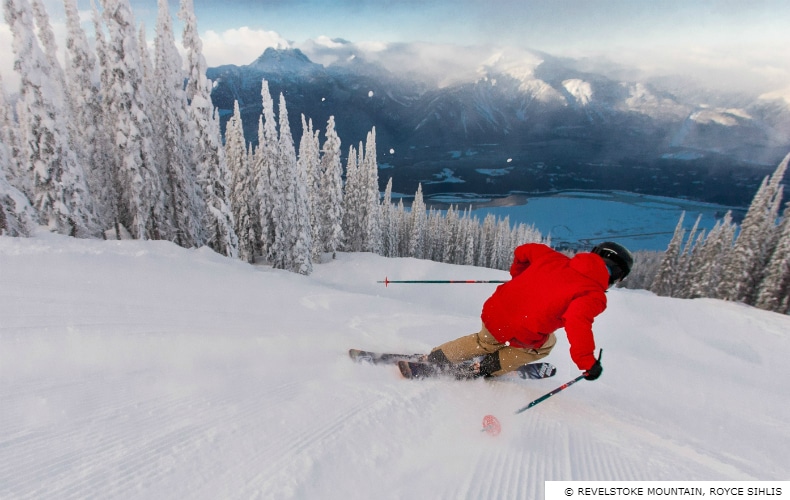 Revelstoke Statistics
| | |
| --- | --- |
| Skiable Terrain | 3031 acres (1214 hectares) |
| Vertical | 1713m (5620ft) |
| Top Elevation | 2225m (7300ft) |
| Base Elevation | 512m (1680ft) |
| Average Snowfall | 1600 cm (630 in/52 ft) |
| Beginner Terrain | 10% |
| Intermediate Terrain | 42.50% |
| Advanced Terrain | 47.50% |
| Trails | 69 |
| Winter lifts Total | 5 |
| Gondolas Trams | 1 |
| Chair Lifts | 4 |
| Longest Run | 15.2 km (9.5 miles) |
| Mountain Restaurants | 3 |
| Snowmaking | 150 ac (60 hectares) |
| Season Opens | 1 December, 2018 |
| Season Closes | 22 April, 2019 (Estimated) |
How To Get to Revelstoke Mountain Resort
Revelstoke Mountain resort is located in the Kooteny region of interior British Columbia and is approximately midway between Vancouver and Calgary along the Trans-Canada Highway 1, which passes directly through the town.
The nearest international airport to Revelstoke Mountain Resort is Kelowna International Airport (YLW) that receives flights from major Canadian and US cities and connects with destinations worldwide. The airport is approximately 2.25 hours away and is well served with a number of shuttle transfer companies as well as car rental options.
If you are driving to Revelstoke Mountain resort make sure your vehicle has the correct equipment including approved winter tires or you carry chains as a precaution. Driving times from Calgary is approximately 5 hours (413 km / 257 miles). From Vancouver 7 hours (631 km / 392 miles). From Kamloops 2.5 hours (210 km / 130 miles). From Seattle 7.5 hours (674 km / 419 miles). From Spokane 6 hours (460 km / 286 miles).
Revelstoke Ski Resort Lift Pass Options
Revelstoke offers a full range of ski pass options for you to chose from plus you can also ski Revelstoke on the IKON Pass, which is a multi resort / multi day pass option.
Revelstoke Early Bird Lift Specials
We have negotiated a number of early bird lift pass specials for that you can access when you get a quote.
Revelstoke IKON Pass Options
You can also ski and ride at Revelstoke on the IKON Pass. The IKON Pass is a multi-resort / multi day ski pass that is available for purchase for a limited time each season.
Which Ski Pass Do I Choose – Revelstoke or IKON?
It depends on a number of factors including your skiing dates, the number of days you plan on skiing, early bird specials, if you are you planning on skiing any other IKON Pass resorts and importantly if there are any IKON Pass blackout dates that you need to factor in.
The best way to work out which pass option is best for you – is to pick both pass types when you prepare your quote – and then simply bin the pass option that doesn't offer you the very best deal.
Some of the IKON Pass options have blackout dates so be sure to double check and understand the IKON Pass options and blackout dates and how they work by visiting this page we have prepared for you –  IKON Pass Explained.
Revelstoke Snowsports & Ski School
The Revelstoke Snow School is staffed by hardened mountain professionals who understand the challenges from learning to ski and board right up to conquering the big mountain experience. They offer lessons in ski, ski touring, snowboard, split board and telemarking. For first timers they have a Discover program tailored to give you a head start and have fun while learning the basics. Adult and team lessons are available for anyone of any ability and you can choose from private or group options to suit your needs and schedule.
Kids And Teens Snow School Programs
There are private and group lessons for kids up to 12 years old and weekend and holiday programs for teens up to the age of 18. There is also childcare available from Mountain Child Care, for children aged 18 months up to 6 years of age.
Revelstoke Things To Do, Activities & Tours
There is a good mix of big mountain and family fun activities at Revelstoke Mountain Resort including: Cat Skiing, Backcountry Touring, Turtle Creek Fun Park, Terrain Park, First Tracks, Kids' Centre, Nordic Lessons, Snowmobile Tours, Snowshoeing, Paragliding & Dogsledding.
Great Northern Snowcat Skiing
Location: Great Northern and Thompson mountains
Skiers can enjoy 75 Square Kilometres of backcountry terrain accessed by snowcat.
Ph: +1-800-889-0765
Backcountry Touring
Location: Revelstoke and Rogers Pass Backcountry
Description: Backcountry ski or splitboard touring as well as learning how to use skins and avalanche safety equipment
Ph: +1 250 814 4835
Turtle Creek Fun Park
Location: In the village
Snow tubing, beginner slope and a bungee bounce
Ph: +1 866 373 4754
First Tracks
Location: Meet at the base of the Gondola at 7:30am
Get first tracks with a guide for 45mins before the lifts open to the public
Ph: +1 250 814 5060
Kids Centre
Location: In the village
Play structures, crafts and games for kids aged 6-12 years
Ph: +1 250 814 5060
Snowmobile Tours
Location: Great Canadian Tours is located at Glacier House Resort, at the foot of Frisby Ridge
Ride the mountains of Revelstoke and surrounds by snowmobile on a short tour, day trip or multiday tour
Ph: 1 250 837 5030
Snowshoeing
Location: Daily tours from the top of the Gondola and Friday evenings at the base of the resort
Description: Explore groomed trails while taking in spectacular views and looking for wildlife with an informative guided tour
Ph: +1 604 671 9757
Paragliding
Location: Launching from Mt Mackenzie
Description: Exhilarating tandem paragliding with an experienced pilot whilst enjoying amazing views of surrounding mountains and Columbia river
Ph: +1 250 837 7929
Dog Sledding
Location: Bookings can be made through the RMR located in the Nelson Lodge area at the base of the Revelation Gondola and in Revelstoke at the corner of 1st and Mackenzie St.
Ph: +1 250 814 3720
Columbia Stars
Location: Revelstoke
Description: An educational program for kids and adults on astronomy and microscopy
Ph: +1 250 814 0087
Revelstoke Restaurants, Bars & Nightlife
With three village dining options and two on mountain options Revelstoke Mountain Resort has some warm and welcoming food options for you to choose from. The Rockford Wok will have you asking is at a bar or is it a restaurant as it does both particularly well for lunch, dinner, après or a late-night snack. The restaurant will serve you up wok inspired share plates, flavourful pastor and traditional West Coast Canadian meals with a twist in a warm and inviting environment. La Baguette in the village serves a variety of delicious food both hot and cold beverages including baked breads and pastries sandwiches wraps and any salads etc.
On mountain dining includes The Mackenzie Outpost atop the Revelation Gondola features a selection of the most popular and delicious grab and go treats from La Baguette. The Revelation Lodge features a cafeteria style restaurant with espresso bar, deck and barbecue. Floor-to-ceiling windows open up spectacular views of the valley and the Monashee Mountains and in spring you can enjoy a freshly grilled burger on the 2400 square foot deck.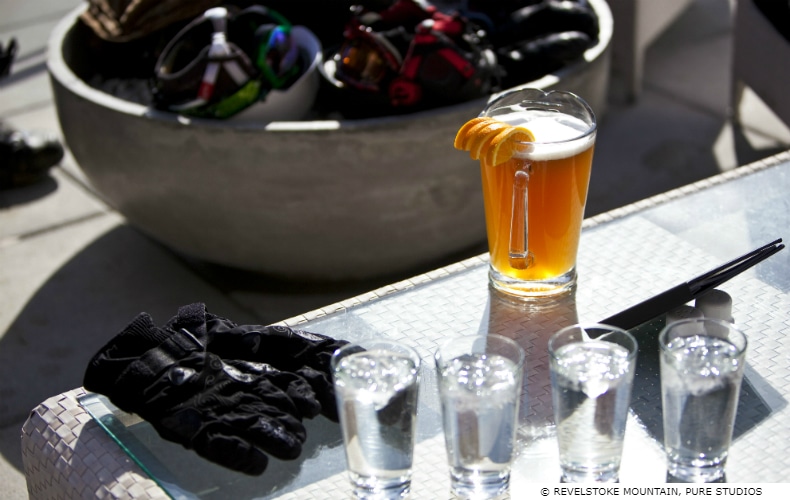 On Mountain Restaurants
Mackenzie Outpost
Location: Top of Revelation Gondola
Food: Freshly baked breads, pastries, sandwiches & coffee from La Baguette
Takeaway: Yes
Ph: +1 250 814 0087
Revelation Lodge
Location: mid station of the Gondola lift
Food: Cafeteria style
Bar: Yes
Ph: +1 250-814-5028
Village Restaurants
Rockford Wok | Bar |Grill
Location: Sutton Place Hotel at the bottom of the Revelation Gondola
Food: Asian fusion- wings, noodles, salads, burgers
Bar: Yes
Ph: +1 250 837 7160
The Mackenzie Common Tavern
Location: Village Plaza
Food: Pizza, bar food
Bar: Yes, best known for it's apres and bar games
Takeaway: Yes
In Town Restaurants
La Baguette
Location: 607 Victoria Road Unit 103, Revelstoke
Food: Freshly baked breads, pastries, sandwiches, coffee. Known for its homemade Gelato
Takeaway: Yes
Ph: +1 250-837-3755
Woolsey Creek Bistro
Location: 604 2nd St. West, Revelstoke
Food: Fine dining in a casual atmosphere, wild salmon, venison, elk
Bar: Yes
Ph: +1 250 837 5500
The Modern Bakeshop & Cafe
Location: 212 Mackenzie Ave beside City Hall
Food: Baked goods, artesan breads, coffee & chai. Vegetarian & gluten free options
Bar: No
Ph: +1 250 837 6886
The Village Idiot Bar & Grill
Location: 306 Mackenzie Avenue, Revelstoke
Food: Canadian bar food, pizzas, burgers, salads, poutine
Bar: Yes
Takeaway/Delivery: Yes free delivery
Ph: +1 250 837 6240
Kawakubo Japanese Restaurant
Location: 109 1 Street East, Revelstoke
Food: Japanese, sashimi, soups, teriyaki. Known for its excellent sushi
Bar: Yes
Ph: +1 250 837 2467
Paramjit's Kitchen
Location: 116 – 1 Street W, Revelstoke
Food: Indian, German, Thai. Vegetarian options available. Known for its butter chicken spätzle.
Ph: +1 250 837 2112
Main Street Cafe
Location: 317 MacKenzie Ave, Revelstoke
Food: All day breakfast, eggs benedict, bagels, wraps
Open: Breakfast, Lunch
Ph: +1 250 837 6888
Quartermaster Eatery
Location: 109-111 First St W, Revelstoke
Food: Steaks, smoked meats, burgers
Bar: Yes
Ph: +1 250 814 2565
Chubby Funsters
Location: 114 Mackenzie Ave, Revelstoke
Food: Canadian bar food, burgers, sandwiches, salads. Try the bison burger with goats cheese and blueberries.
Bar: Yes
Ph: +1 250 837 2014
The Taco Club
Location: 206 Mackenzie Ave, Revelstoke
Food: Latin street food, tacos, enchiladas
Bar: Yes, with and extensive tequila selection
Ph: +1 250 837 0988
112 Restaurant and Lounge
Location: at the Regent Hotel, 112 First Street East, Revelstoke
Food: BC Salmon, roast lamb, East Coast lobster
Bar: Yes including Revelstoke's local Mt Begbie Brewing Company beers
Ph: +1 250 837 2107
Zala's Steak & Pizza Bar & Grill
Location: 1601 Victoria Rd, Revelstoke
Food: Italian pizzas & pastas, steaks, seafood
Bar: Yes
Ph: +1 250 837 5555
Revelstoke Shopping
On Mountain
R Gear
Location: Opposite the Revelation Gondola in the Sutton Place Hotel Building One.
Shop: Helmets, goggles, clothing, outerwear, ski boots & souvenirs
Ph: +1 250 814 0087
Feather & Stone Day Spa
Location: Sutton Place Hotel Building Two
Shop: Massage and beauty
Ph: +1 250 837 2025
In Town
The Cabin
Location: 200 E 1st Street, Revelstoke
Shop: Bowling, lounge and snow & skate store
Ph: +1 250 837 2144
The Wax Bench
Location: 106 Orton Ave, Revelstoke
Shop: Ski and snowboard tuning and repairs
Ph: +1 250 814 2531
Alpine Village Shopping Centre
Location: 555 Victoria Road W, Revelstoke
Shop: A variety of shops including groceries, pharmacy and bank
Ph: +1 250 837 2609
Southside Market
Location: 900 Fourth Street East
Shop: Grocery store
Ph: +1 250 837 3517
Revelstoke Trail Maps
Explore Revelstoke trail maps to find your ideal place to ride, catch up with friends and more…
Photo Credit: © REVELSTOKE MOUNTAIN, ROYCE SIHLIS