Big Sky Ski Resort
Surrounded by National Forest and part of the Greater Yellowstone Ecosystem, Big Sky Montana is the second largest ski area in the US with 5,800 acres of impressively laid out fall-line skiing and riding terrain. Big Sky consistently receives its fair share of the white stuff with 400+ inches (10 meters) of powder snow falling across this exceptional Northern Rockies resort.
As a true destination resort, one hour from Bozeman airport, Big Sky is big and has rarely a lift que as the 36 lifts can move 38,000+ skiers and riders around the resort each hour. Acres at Big Sky actually out number skiers; the resort boasts about two acres per skier as mountain guests disburse over the 300 names runs across four connect mountains offering exceptional skiing along with stunning Montana wilderness views in every direction.
With a vertical drop of 4,350 feet (1,325 m), the second longest in the US, Big Sky delivers on it's promise of America's Biggest Skiing. A trip to Big Sky's uncrowded slopes makes you feel like you are skiing and riding down endless fall-line slopes that deliver you gracefully back to the village. The purpose-built mountain village in Big Sky has a central traffic-free plaza and the smallish village offers a mix of hotels, condominiums (apartments), activities, dining and shopping options.
Big Sky Mountain and Ski Terrain
The skiing at Big Sky is best described as big, uncrowded, wide, open, fall line and very challenging up top offering up spectacular views. The best groom run would have to be Cimarron on the moonlight side with fun rollers and no one on it. If you are looking to scare yourself, then if you go up the tram and ride anything other than Liberty Bowl, you are in for a heart pumping ride.
With the season kicking off in November and winding up in April, a tip to Big Sky is a must for any skier or boarder who wants to experience what big, uncrowded skiing and riding feels like.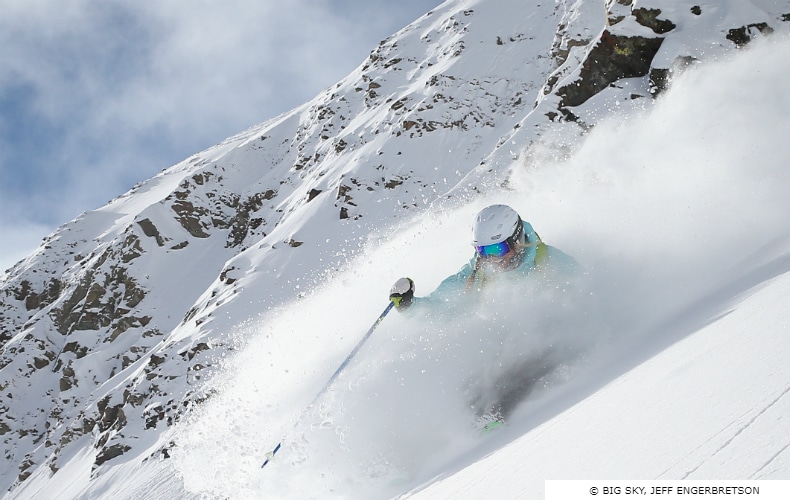 Big Sky Statistics
| | |
| --- | --- |
| Skiable Terrain | 5,800 acres (2,347 hectares) |
| Vertical | 1,326 m (4,350 ft) |
| Top Elevation | 3,403 m (1,166 ft) |
| Base Elevation | 2,073 m (6,800 ft) |
| Average Snowfall | 1016 cm (400 in/33ft) |
| Intermediate Terrain | 25% |
| Advanced Terrain | 60% |
| Trails | 250+ |
| Parks | 7 |
| Winter lifts Total | 36 |
| Gondolas Trams | 1 |
| Chair Lifts | 23 |
| Surface Lifts | 12 |
| Lift Capacity | 38,300 |
| Longest Run | 10 km (6 mi) |
| Snowmaking | 400 ac (161 hectares) |
| Season Opens | 22 November, 2018 |
| Season Closes | 21 April, 2019 (Estimated) |
How To Get To Big Sky Ski Resort
Big Sky, Montana, USA is located in south central Montana, approximately 50 miles (80 km) south of Bozeman, MT and 50 miles north of West Yellowstone, MT.
Flying Into Big Sky Ski Resort
There are 25+ flights a day arrive in nearby Bozeman, Montana (BZN) which is a 45-minute drive on US Highway 191 through the beautiful Gallatin River Canyon.
Shuttle Transfer To Ski Sky
There are shuttle transfers and various scheduled bus services that can get you from the airport to Big Sky Resort.
Airlines That Fly Into Bozeman (BNZ) Include
Delta – Non-stops from La Guardia, Seattle, Minneapolis, Salt Lake City, Atlanta, Los Angeles, and links nationwide & worldwide.
American Airlines – Non-stops from Dallas/Fort Worth, Chicago.
Alaska – Non-stops from Seattle, and Portland, OR and links all over the northwest.
United -Non-stops from Houston, Newark/New York, Denver, Chicago, San Francisco, Los Angeles and links nationwide & worldwide.
Frontier Airlines – Non-stops from Denver with nationwide links & Canada.
Allegiant Air – Non-stops from Las Vegas, and Phoenix and links nationwide.
Jet Blue – Non-stops from Long Beach.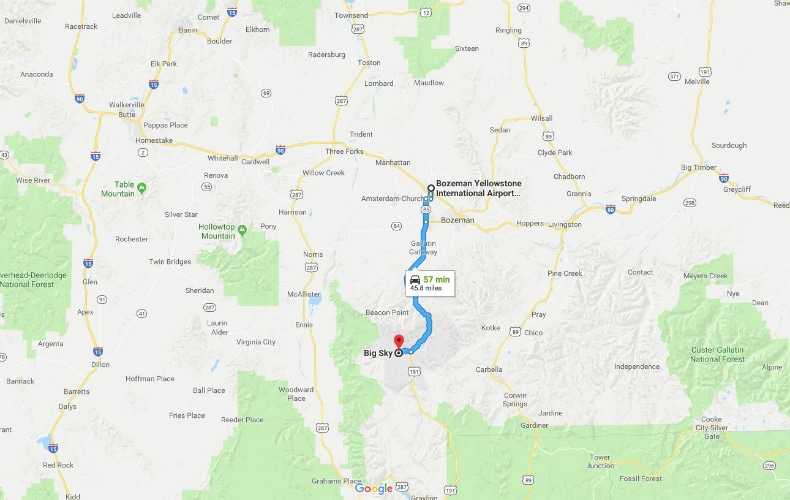 Big Sky Things To Do, Activities & Tours
Adventure Zipline
Location: Big Sky Resort
Description: Ride up then zip down on Big Sky Resort's Adventure Zipline Tour on four adrenaline pumping lines spanning up to 1500 feet long and 150ft above the forest floor, including a Twin Zipline where you can race your fellow adventure zippers.
Phone: +1 (406) 995-5769
Snowshoe Tours
Location: Big Sky Resort
Description: Enjoy a wonderful afternoon on a Snowshoe Tour! Snowshow tours meander peacefully through the Moose Tracks Gully.
Open: 1:00pm
Phone: (406) 995-5769
High Ropes Course
Location: Big Sky High Ropes Course
More than ten elements suspended 20-30 feet above the ground and you are safely harnessed.
Phone: (406) 995-5769
Giant Swing
Location: Plaza of Big Sky Resort
Cimb up the stairs to swing 30 feet in the air.
Dog Sledding
Location: Big Sky Resort
Teams of beautiful huskies pulling you through the majestic mountains.
Phone: +1 (406) 995-3424 + 1 (406) 223-5134
Cross Country Skiing
Location: Lone Mountain Ranch
85 groomed kilometers of nationally ranked cross-country ski trails at Lone Mountain Ranch.
Phone: +1 (406) 995-4644
Sleigh Rides
Enjoy a winter sleigh ride through one of the companies below.
320 Ranch – +1 (406) 995-4283
Lone Mountain Ranch – +1 (406) 995-2783
Montana Dinner Yurt – +1 (406) 995-3880
Snowmobile Tours
Big Sky snowmobile Tours – Iin the Gallatin National Forest and on Buck Creek Ridge.
Canyon Adventures – +1 (800) 520-7533
Yellowstone National Park By Snowmobile Tours – Limited number of daily trips into the park by the Park Service.
Rendezvous Snowmobile Rentals – +1 (800) 426-7669
Two Top Snowmobile Rental – +1 (800) 522-7802
See Yellowstone – +1 (800) 221-1151
Big Sky Restaurants, Bars & Nightlife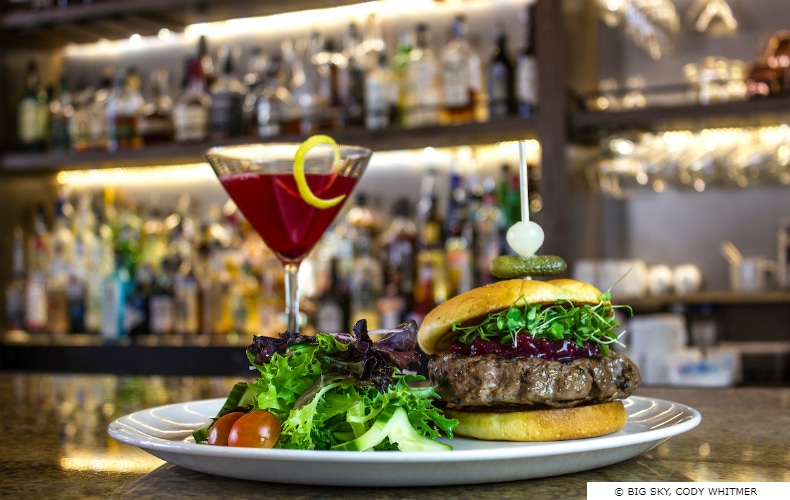 Andiamo Italian Grille
Location: 48 Big Sky Resort Rd. (Mountain Village Plaza Area)
Food: pasta dishes and a range of tasty Tuscan meals
Bar: Yes
Phone: +1 (406) 995-8041
Bunker Bar & Grill
Location: 2100 Black Otter Road
Food: grilled dishes
Bar: Yes
Phone: +1 (406) 995-4047
Carabiner
Location: 50 Big Sky Resort Rd. (Summit Hotel)
Food: gastro-pub inspired menu
Bar: Yes
Phone: +1 (406) 995-8078
Chet's Bar & Grill
Location: 44 Big Sky Resort Rd. (Huntley Lodge)
Food: salad and steak
Bar: Yes
Phone: +1 (406) 995-5784
Montana Jack
Location: 52 Big Sky Resort Rd. (Mountain Mall)
Food: American comfort food
Bar: Yes
Phone: +1 (406) 995-5786
Mountain Mall Mocha
Location: 50 Big Sky Resort Rd. (Mountain Mall)
Food: Waffle, pastries and coffee
Bar: No
Pizza Works
Location: 50 Big Sky Resort Rd. (Village Center)
Food: Italian cuisine
Bar: No
Phone: +1 (406) 995-8047
320 Guest Ranch
Location: 205 Buffalo Horn Creek Road (Canyon)
Food: cowboy-gourmet food
Bar: Yes
Phone: +1 (406) 995-4283
Alberto's
Location: 118 Ousel Falls Rd. (Meadow Village)
Food: Mexican food
Bar: No
Phone: +1 (406) 995-2326
Arata Hawaiian Style Sushi
Location: 3090 Big Pine Drive (Meadow Village)
Food: Hawaiian Style Sushi
Bar: No
Phone: +1 (406) 995-3477
Black Kettle Burrito Co.
Location: On Mountain (Top of Swift Current)
Food: burritos, tamales, and assorted snacks
Bar: No
Black Kettle Soup Co.
Location: On Mountain (Bottom of Lone Peak Triple)
Food: soups
Bar: No
Blue Moon Bakery
Location: 120 Big Pine Drive (Meadow Village)
Food: fresh baked breads, pastries, pizza, sandwiches, soups, salads, and specialty desserts
Bar: Yes
Phone: +1 (406) 995-2305
Broken Spoke Bar & Grill
Location: 120 Big Pine Dr. (Meadow Village)
Food: barbeque
Bar: Yes
Phone: +1 (406) 995-2750
Buck's T-4
Location: 46625 Gallatin Rd. (Canyon)
Food: steaks
Bar: No
Phone: +1 (406) 995-4111
Bugaboo Café
Location: 47995 Gallatin Road (Canyon)
Food: American cuisine
Bar: Yes
Phone: +1 (406) 995-3350
The Cabin Bar & Grill
Location: Arrowhead Mall (Mountain Village)
Food: seafood and stakes
Bar: Yes
Phone: +1 (406) 995-4244
China Café
Location: 112 Ousel Falls Road (Meadow)
Food: Chinese cuisine
Bar: No
Phone: +1 (406) 995-4488
Choppers Grub & Pub
Location: 77 Lone Peak Drive (Meadow Village)
Food: wines, steaks, fresh fish, burgers, pasta and more
Bar: Yes
Phone: +1 (406) 995-3830
Gallatin Riverhouse Grill
Location: 45130 Gallatin Rd. (Canyon)
Food: barbeque
Bar: Yes
Lotus Pad
Location: 47 Town Center Ave, Unit D1 (Meadow Village)
Food: Asian Cuisine
Bar: Yes
Phone: +1 (406) 995-2728
Michaelangelo's
Location: 75 Center Lane (Meadow Village)
Food: Italian cuisine
Bar: Yes
Phone: +1 406-995-7373
Milkie's Pizza & Pub
Location: Westfork Meadow Plaza (Meadow Village)
Food: pizza, subs, calzones, and pita sandwiches
Bar: Yes
Phone: +1 (406) 995-2900
Olive B's
Location: 51 Center Ln. #2 (Meadow Village)
Food: Asian calamari, French onion soup, fresh fish/seafood, steak
Bar: Yes
Phone: +1 (406) 995-3355
Ousel & Spur Pizza Co.
Location: 50 Ousel Falls Rd. (Meadow Village)
Food: pizza, salads, and pasta
Bar: Yes
Phone: +1 (406) 995-7175
Slider's Deli
Location: Conoco Gas Station (Canyon)
Food: sandwiches, soups, coffee, salads, and hot dishe
Bar: No
Phone: +1 (406) 995-2566
Uncle Dan's Cookies
Location: On Mountain (Bottom of Swift Current)
Food: hot chocolate and cookies
Bar: No
Phone: +1 (406) 579-2259
Wrap Shack
Location: 2815 Aspen Dr. #1 (Meadow Village)
Food: burritos, tacos, salads, margaritas
Bar: Yes
Phone: +1 (406) 995-3099
Yeti Dogs
Location: 50 Big Sky Resort Rd. (Snowcrest)
Food: Gourmet beef and veggie hot dogs
Bar: Yes
Phone: +1 (406) 995-3971
Big Sky Shopping
Big Sky Sports
Location: 50 Big Sky Resort Rd. (Mountain Mall)
Shop: Sports Apparel
Phone: +1 (406)995-5840
The Board Room
Location: 50 Big Sky Resort Rd. (Village Center)
Shop: Snowboards
Phone: +1 (406) 995-5844
Crystal Images Photography
Location: 50 Big Sky Resort Rd. (Mountain Mall)
Shop: Professional Photography And Video
Phone: +1 (406) 995-2426
Different Spokes Bike Shop
Location: 50 Big Sky Resort Road (Snowcrest Building)
Shop: Bike Rentals, Bike Lift Tickets, And Gear
Phone: +1 (406) 995-5841
Iconic Oakley
Location: 50 Big Sky Resort Rd. (Mountain Mall)
Shop: Oakley Apparel
Phone: +1 (406) 995-5523
Jp Woolies
Location: 50 Big Sky Resort Rd. (Mountain Mall)
Shop: Jewelry, Gifts, Apparel, Children's Toys And Pottery
Lone Peak Logo
Location: Sports And Outdoor Apparel
Shop: 50 Big Sky Resort Rd. (Mountain Mall)
Phone: +1 (406) 995-5523
The North Face
Location: The North Face Apparel
Shop: 50 Big Sky Resort Rd. (Village Center)
Phone: +1 (406) 995-5570
Provisions
Location: 50 Big Sky Resort Road (Summit Hotel)
Shop: Apparel, Accessories And Gifts
Phone: +1 (406) 995-8008
Out Of Bounds
Location: 50 Big Sky Resort Rd. (Huntley Lodge)
Shop: High End Boutique
Phone: +1 (406) 995-3693
Paparazzi Furs
Location: 50 Big Sky Resort Rd. (Mountain Mall)
Shop: Luxury Outerwear
Phone: +1 (406) 995-4705
Pendleton
Location: 50 Big Sky Resort Rd. (Mountain Mall)
Shop: Wool Clothing And Goods
Phone: +1 (406)-995-5573
The Pro Shop
Location: 2100 Black Otter Road
Shop: Golf Apparel
Phone: +1 (406) 995-5780