Panorama Things To Do, Activities & Tours
Panorama Mountain resort activities and things to do include snowmobiling with Toby Creek Adventures through 32,000 acres of unforgettable Purcell wilderness. They cater to first times to seasoned riders. The minimum driving age is 16 and the minimum passenger age is 5 years old. Tours include Icefall, Paradise Mine, Paradise basin, Taste of The Valley, Powder X, and some combo tours.
Monster X Snowcat is a shuttle service picking you up from the Summit Hut area and drops you off to the most eastern area of Taynton Bowl. You need to pre-purchase a pass, and then you can ride out in the monster in style.
Heli-skiing with RK Heliski who operate day trips out of the Panorama village.
Tandem Paragliding will see you soar above Panorama with a spectacular bird's eye view of the Purcell and Rocky Mountain ranges. Flights last for 60 – 90 minutes which includes preparation and training for the flight. You will be in the air for about 10 – 15 minutes depending on weather conditions, and the landing area is the Greywold Golf Course.
Snowshoeing is another great way to get outdoors and experience the vast untouched wilderness. Snowshoes allow you to float on top and through the snow, which makes walking through the forest easier. There are several trails to choose from or you can book a guided snowshoe experience.
Other activities include skiing, climbing wall, snow tubing, ice skating, fat tire biking, Panorama Springs hot pool, nordic skiing, a visit to the Invermere On The Lake is only 20 minutes away, or even a day trip to Kicking Horse Mountain resort.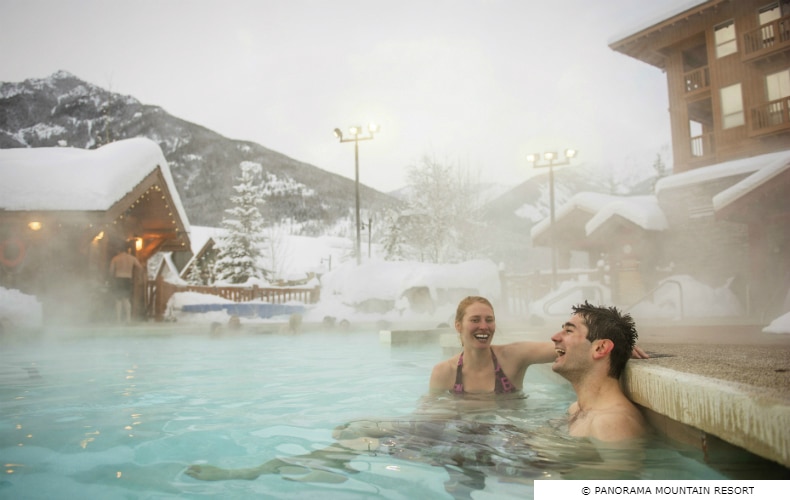 Heli-skiing
Location: RK Heliski
930 square miles / 1,500 square kilometers of incredible scenery, wonderful glade skiing, and expansive glaciers offering snowboarders and skiers the real adventure and memory of a lifetime!
Book through SkiBookings.com
Snowmobiling
Location: Toby Creek Adventures
32,000 acres of amazing snowmobile terrain.
Ph: +1 866-601-7384
Website: http://tobycreekadventures.com/
Panorama Springs Pools
Location: The Great Hall
Swim, Soak and Relax in extra large hot pools! Guests of Panorama have full access to the pools, hot tubs, and slides with a key card from their room.
Mountain Hut Dining
Location: Summit Quad
Delicious views and food!
Ph: +1 250-341-1399
Nordic Skiing
Location: Panorama Mountain Resort
Wonderfully-groomed trails plus a fantastic selection of apparel and retail and rentals is also available.
Ph: +1 250-341-4106
Kicking Horse Resort Day Trip
Location: Panorama Mountain Resort
Day trip to the majestic Kicking Horse Mountain Resort.
Ph: +1 800-663-2929
Fat Tire Biking
Location: Panorama Ski Cabin
You can rent a smart looking brand new fat tire winter bike, made for the snow, so take a ride and have fun!
Ph: +1 800-663-2929
Snow Tubing
Location: Red Carpet High-way 1
Great fun for all ages.
Ph: +1 800-663-2929
Horse-Drawn Wagon Rides
Location: Panorama Mountain Resort
Rustic horse-drawn wagon ride through the majestic mountain scenery.
Snowshoeing
Location: Panorama Mountain Resort
Floating on top of the snow and walking through the forest in the winter.
Tandem Paragliding
Location: Panorama Mountain Resort
Enjoy stunning views of the Rocky and Purcell Mountain ranges from an eagle's perspective.
Ph: +1 250-341-3044
Ice Skating
Location: Panorama Mountain Resort
The skating rink has a wonderful view and is located beside 1000 Peaks Lodge.