Panorama Mountain Resort & Terrain
What makes Panorama Mountain Resort skiing and boarding so exciting and fun? In two words, it's the fall line. Mother nature must be a skier and boarder because the mountain's ideal cone shape ensures when you get to the top of the run, you have a feeling of endless fall line options before you, as you make your way back down the mountain.
Looking into Panorama's stats, it's easy to see why it's a superb choice for a variety of skiers and boarders. The first is the 4,265 feet of vertical drop (1300 m) of excellent fall line skiing across the ski hill, the 3rd longest in Canada, and 8th longest in North America. With 2,975 patrolled acres, and 50 percent of its terrain committed to beginner and intermediates, it's easy to see why Panorama is a family favorite because it offers something for the entire family.
The village elevation is a comfortable 3,773 ft (1,150 m) and Pano receives 196 inches (520 cm) of average annual snowfall. Located in the Purcell Mountain range, Panorama holds the snow it receives and keeps it light and dry, so there are powder stashes to be discovered days after a storm.
Panorama Mountain Resort has invested heavily in snowmaking, with 40 percent of its main named runs being covered across the ski hill. This makes for consistent early season snow conditions, which is also why Panorama is a favorite early season ski race training destination for many national ski teams. Pano is constantly improving its world class ski race training terrain and facilities that it makes available for race clubs and national teams.
Panorama Mountain Resort is located in the southeastern region of British Columbia towards the border with Alberta, below Banff, and opens in early December and closes in early April each season.
Skiing and Boarding Panorama Mountain
Beginner and Green Skiing Terrain At Panorama
If you are new to the sport, Panorama has you covered with their beginner friendly custom designed Discovery Zone that's ideal for first-time skiers and boarders. It begins at the base of the mountain, in the village's heart. Once you can start moving left and right and stop, you can progress to riding the Little Ripper Carpet and the Red Carpet. The next stop is some laps on the Silver Platter, which is an open green beginner run with impeccable grooming. Here you will learn how to ride a surface lift pomma, which is a superb skill to master and a safe place to learn thanks to the gentle slope and stable fall-line.
The next step would be to ride the Discovery Quad chairlift that takes you into the Discovery Zone to build your skills on the green Stinger to Highway 1 and back up to the top again. Once you have this area covered, it gets more exciting as you head up the Mile 1 Express chairlift that, like the name suggests, opens up a mile of opportunity and terrain. When you get off the chair, make sure you head skiers right and down the green Horseshoe. Then half way down Horseshoe you can take a fun trail on the right called Campbell's Canyon and make sure you carry your speed at the end as it will bring you back to the top of the Discovery Quad chair.
For green skiers and boarders, the Mile 1 Quad lets you loop and cruise the lower slopes with ease.
Top 5 Green Runs At Panorama
Beginner, Out Rider, Lower Showoff, Campbell's Canyon, and Stringer.
Intermediate Skiing Terrain At Panorama
A great warm up run off the Mile 1 Express is skiers' right to Horseshoe, Campbell's Canyon, and Stinger to Highway 1. For a more advanced warm up, there is the aptly named Showoff, which runs skiers right alongside the Mile 1 Express. Another great warm up is to cut skiers left from the top of Mile 1 Express and make your way into Little Dipper. This run is fall-line, wide open, and hardly anyone skis there you will need to take the Sunbird Chair back up unless you cut right along Lower Village Way.
When warmed up, you can lap the Champagne Express, which puts you at the top of endless blue and back fall-line trails. A highlight has to be the Rollercoaster run, as it is super wide and, as the name suggests, is one hell of a rollercoaster ride. Another area to check out is Sun Bowl that you access from the top of the Champagne Express skiers left down Upper Canadian Way, which crisscrosses Schober's Dream and puts you into the heart of the bowl where you can ride Sunshine, Stumpfarm, into Lower Bowl to the Sunbird Chair triple chair, which will take you back to the bottom of the Champagne Express.
Top 5 Blue Runs At Panorama
Little Dipper, Roller Coaster, Skyline, Showoff, and Strobl Strasse.
Expert Skiing Terrain At Panorama
From the top of the Champagne Express, head to skiers left along Upper Canadian Way to the Summit Quad chair where a world of challenging fun terrain awaits. The top of the chair drops you at the Summit Hut where you can grab a bite or take a pit stop, and from there you have multiple options.
A great top-to-bottom option is to head skiers right into View Of 1000 Peaks, Stumbock's to Taynton Trail. The views and serenity are phenomenal, and they groom them from time to time, which makes it even more amazing on a bluebird day.
You can also access Taynton Bowl from the Summit Hut, which offers 750 acres of black and double black runs throughout the bowl where powder stashes lay hidden for days after a storm. You can walk the track up into Taynton or on Fridays, Saturdays, and Sundays you can grab a ride with the Monster X snow cat shuttle service that will drop you off at the easternmost part of Taynton Bowl. A single ride will cost you $20, tickets need to be pre-purchased. The rest of the week, you will need to use your leg power to get out there.
The Taynton Bowl area was once part of RK Heli's tenure but is now managed by the resort and avalanche controlled and patrolled. Each year the area improves with more gladed areas to ski and ride. A few fun and challenging double backs are The Monster, Spectre, Get Out! and Ridgeback.
Some ungroomed runs to play on skiers left from the Summit Hit include Roy's Run and Outer Limits., which you access from the blue Getmedown Cat Track.
Top 5 Black Runs At Panorama
Ridgeback, View of 1000 Peaks, Stumbocks, Never Never Land, and Roy's Run
Skiing A Powder Day At Panorama Mountain Resort
Powder days are the best at Panorama Mountain Resort. If Taynton Bowl is open, for advanced riders, then head straight out there and enjoy. View of 1000 peaks and Stumbocks is always fantastic on a powder day. For intermediates, you can lap the Champagne Express and then head over to the Sun Bowl area. Little Dipper is a great pitch for skiing and riding the powder and is often overlooked on a powder day!
Top Powder Runs At Panorama
All the runs are fantastic on a powder day. Expert skiers can try Wild Thing!
Other Things To Know About Skiing And Riding Panorama
The terrain park at Panorama Resort offers jumps, rails, and boxes from small to expert only on the extra large features. Panorama Mountain Village is at an elevation of 3773 feet/ 1150m 1150m. Panorama Resort is located in British Columbia. Panorama Resort offers night skiing, at select times during the season. RK Heli Skiing operates out of the village. Heli skiing can be booked for single and multiple days. If you get the chance to go heli skiing with RK, the terrain is awesome!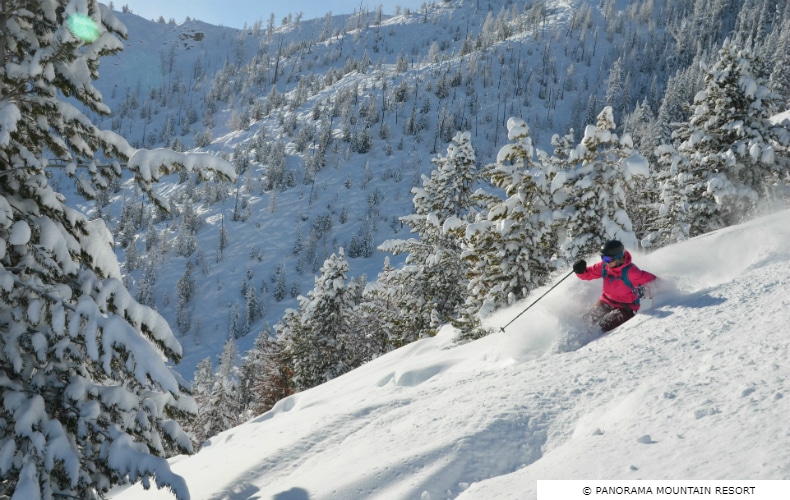 Panorama Mountain Statistics
| | |
| --- | --- |
| Skiable Terrain | 2,975 acres (1,204 hectares) |
| Vertical | 1,300 m (4,265 ft) |
| Top Elevation | 2,450 m (8,038 ft) |
| Base Elevation | 1,150 m (3,773 ft) |
| Average Snowfall | 5.20 m (204 inches / 17 ft) |
| Beginner Terrain | 20% |
| Intermediate Terrain | 55% |
| Advanced Terrain | 25% |
| Trails | 129 |
| Parks | 1 |
| Winter lifts Total | 10 |
| Gondolas Trams | 1 |
| Chair Lifts | 6 |
| Surface Lifts | 3 |
| Lift Capacity | 8,500 |
| Longest Run | 5.5 km (3.4 mi) |
| Snowmaking | 1140 ac (461 hectares) |
| Season Opens | 7 December, 2018 |
| Season Closes | 14 April, 2019 (Estimated) |