Telluride Restaurants, Bars & Dining
Telluride is furnished with over 60 eating and drinking establishments with a mind-boggling array of cuisines. From a food truck hot dog piled high with all the toppings to an a la carte romantic French meal in one of Telluride's oldest restaurants, visitors can find virtually anything they desire. Coffee lovers are pandered to with hip cafes and places like Coffee Cowboy serving brews out of an old horse trailer parked in the heart of downtown. Enjoy Telluride's only fondue restaurant Alpinist and the Goat tucked away above an art gallery on Main Street, American steaks at the New Sheridan Chop House, and pastries, cakes, and pizza from Baked In Telluride.
There's a good choice on the mountain, with Gorrono Ranch the closest thing Telluride has to an on-mountain cafeteria and one of the most popular places to eat on the slopes. At the top of Lift 9 Giuseppe's offers the highest altitude Italian food in the US, while further up the mountain towards Gold Hill, Alpino Vino is the highest fine-dining restaurant in the country.
Apres-ski options are many and varied and particularly lively. Must-visits are American style bars The Last Dollar Saloon and New Sheridan, both part of Telluride lore.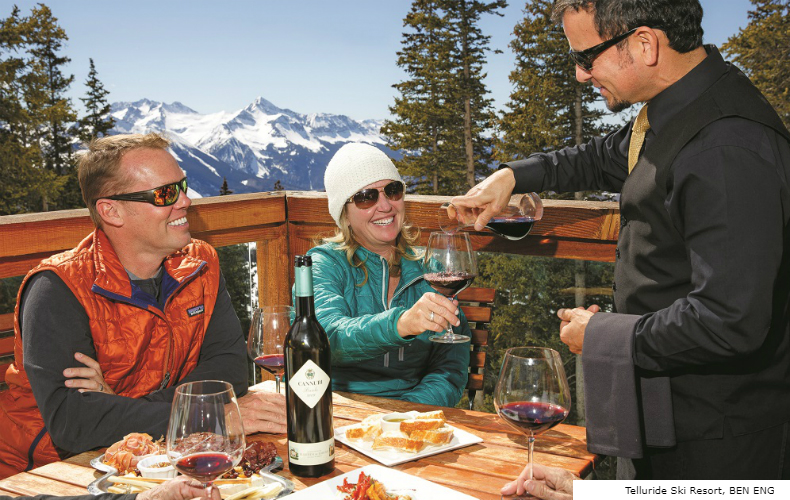 Allred's Restaurant
Location: Station St. Sophia at the top of the Free Gondola
Food: soups and salads, wild-caught Alaskan halibut, Columbia river king salmon, etc.
Bar: Yes
Ph: +1 (970) 728-7474
Tomboy Tavern
Location: Mountain Village Core, 562 Mountain Village Blvd
Food: Carnitas Plate, Shrimp Tacos, Chicken Pot Pie, Soba Noodle Bowl.
Bar: Yes
Open: Lunch and dinner
Ph: +1 (970) 728-7467
Siam's Talay Grille
Location: 119 Lost Creek Lane, Mountain Village, CO 81435
Food: Asian Tapas & Seafood
Bar: Yes
Ph: +1 (970) 728-6293
Altezza At The Peaks
Location: Mountain Village – The Peaks Resort & Spa
Food: Creative American
Bar: Yes
Ph: +1 (970) 728-2525
Alpino Vino
Location: Hearthstone Lodge
Food: Italian Delicacies
Bar: Yes
Open: Lunch – 11am – 3pm
Ph: +1 (970) 728-7560
Crazy Elk Pizza
Location: Mountain Village Core, 565 Mountain Village Blvd, Suite A
Food: Fresh hand-made pizzas, salads, and sub sandwiches
Ph: +1 (970) 728-7499
High Camp Warming Hut
Location: Located at the top of Prospect Express (Lift 12)
Food: Sandwiches, Soups, Snacks
Bar: Yes
Ph: +1 970-728-6900
Bon Vivant
Location: Located at the top of Polar Queen Express (Lift 5)
Food: Classical French country cuisine
Open: Lunch 11am – 3pm
Ph: +1 (970) 728-7570
Gorrono Ranch
Location: Located on Misty Maiden trail under Village Express (Lift 4)
Food: Burgers, BBQ, Chili
Ph: +1 (970) 728-7578
Giuseppe's
Location: Located at the top of Plunge Lift (Lift 9)
Food: New Orleans-Inspired Fare
Bar: Yes
Ph: +1 (970) 728-7503
The Bean Café
Location: Mountain Village – The Peaks Resort & Spa
Food: Coffee drinks, protein shakes, fresh-baked pastries & squeezed juices, breakfast burritos, paninis, and fast grab snacks
Bar: Yes
Ph: +1 (970) 728-6800
Big Billie's
Location: Located at the base of Chondola (Lift 1)
Food: Family Dining
Bar: Yes
Ph: +1 (970) 728-7556