On Aspen Mountain, enjoy panoramic views and morning yoga as well as delicious food at 11,210 feet / 3415 meters inside The Sundeck atop the Silver Queen gondola. There is a pop-up on-slope Oasis champagne bar on Fridays. On Highlands, sipping a glass of champagne and an elegant meal at the rustic Cloud Nine, named for its 9000-foot elevation, are an absolute must.
In town, visitors are spoilt for (excellent) choice, in every way. There is so much competition the quality of restaurant food here is exceptionally high, so expect top-notch pizzas and hamburgers that are every bit as satisfying as your high end a la carte. Aspen's branch of renowned high-end Japanese sushi restaurant Matsuhisa is very popular, as are the long-established dining institutions such as the vibey Mezzaluna and the cosy Red Onion.
Aspen has electric nightlife which kicks off at apres ski and keeps right ongoing. Hit The Little Nell's Cloud 9 bar for starters, and/or the pool bar 39 Degrees, and work your way around town from there. For the best live music in town check what's on at Belly Up – the venue brings international acts to Aspen almost every night of the winter season.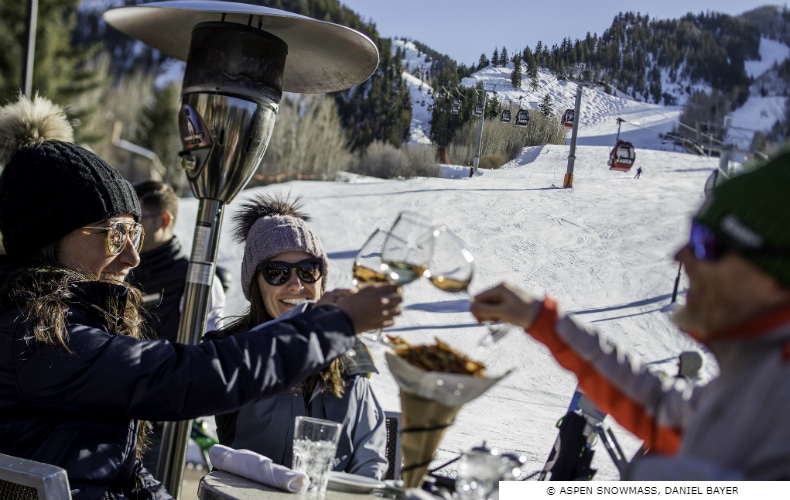 Sundeck
Location: Aspen Mountain, Top of the Silver Queen Gondola
Food: American, Mediterranean & Asian
Bar: No
Open: Lunch & Dinner
Phone: +1 970-925-1220
Ajax Tavern
Location: Aspen Mountain, Base of Silver Queen Gondola
Food: Bistro-inspired comfort food
Bar: Yes
Open: Lunch & Dinner
Phone: +1 970-920-6334
Bonnie's
Location: Aspen Mountain, mid-mountain off Tourtelotte Park
Food: American
Bar: No
Open: Breakfast & Lunch
Phone: +1 970-544-6252
Element 47
Location: Aspen Mountain, inside The Little Nell
Food: Seasonally-Inspired New American
Bar: Yes
Open: Breakfast, Lunch & Dinner
Phone: +1 970-920-6330
Matsuhisa
Location: 303 E. Main Street, Aspen
Food: Sitting at the chef's counter at Matsuhisa and witnessing the artistry behind one of the world's greatest sushi chefs.
Open: Dinner
Phone: +1 970 544 6628
Aspen Highlands Restaurants
Merry-Go-Round
Location: Aspen Highlands, Top of the Exhibition Lift
Food: International
Bar: Yes
Open: Lunch
Phone: +1 970-544-3083
Cloud Nine Alpine Bistro
Location: Aspen Highlands, Top of the Cloud Nine Lift, Ski-in ski-out only
Food: Alps inspired continental
Bar: Yes
Open: Lunch & Dinner
Phone: +1 970-923-8715