La Plagne offers a great choice of places to eat both on the slopes at lunchtime and in the evening. The emphasis is on casual rather than fine dining and you will find some excellent restaurants serving Savoyard specialties as well as great, friendly pizzerias.
At lunchtime, most restaurants will offer a well-priced 'Plat du Jour' (dish of the day), which is usually a course of locally-sourced meat, potatoes, and a salad or seasonal vegetables. French puddings are renowned but if you're feeling too full (or can't decide which delicious option to go for ) then have a Café Gourmand which is a coffee (usually an expresso) plus a selection of mini-desserts.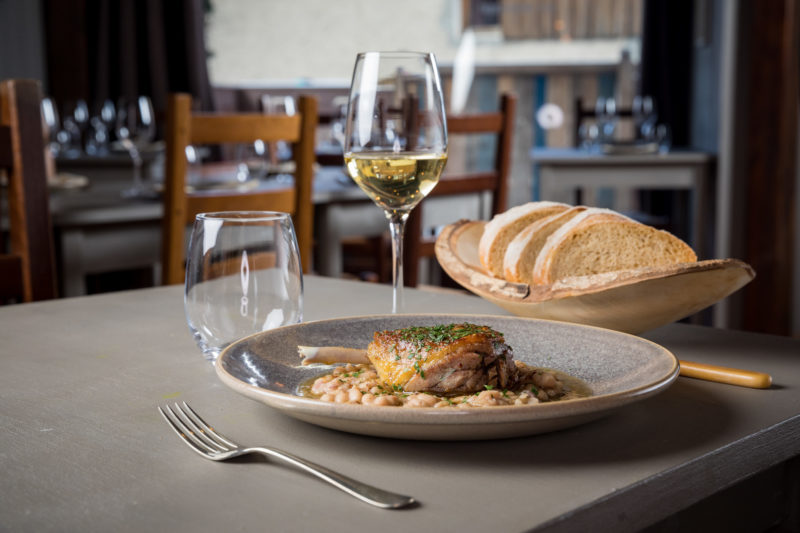 Particular favorites include the family-run restaurant, Le Loup Blanc, in Plagne 1800. It serves traditional Savoyard cuisine in a cozy setting with lots of wood carving and Savoyard-heart-shaped decorations and creative art designs made from French wine bottle corks on the ceilings. A great choice of lunch or dinner
Le Panoramic and L'Arlequin in Aime 2000 both serve traditional French Savoyard cuisine and have the friendliest, warmest greeting in the Alps. Produce is all locally sourced and the views of Mont Blanc for the aptly named Panoramic.  For a special treat try some French fine dining, at the  Hotel Carlina in Belle Plagne where there is a lovely piste side terrace if you want to lunch in style. Or head down to  Montchavin to Les Cavagnes where you'll get an excellent lunch at a very excellent price and try their soup dish which is served in an edible bread bowl. In the evening if you're looking for a pizza head to  La Cantine in Plagne 1800 – thin crust and stone-baked and very delicious!
The resort is not famed for its après, but Belle Plagne is the liveliest of the villages with the popular late-night disco Le Saloon and all of the villages have a good bar or two where you can mull over the day's skiing with a beer or two. The Tourist Office does hold regular events and they publish a weekly guide to what's on in the resort which will list any DJs and live music.