Revelstoke Things To Do, Activities & Tours
There is a good mix of big mountain and family fun activities at Revelstoke Mountain Resort including Cat Skiing, Backcountry Touring, Turtle Creek Fun Park, Terrain Park, First Tracks, Kids' Centre, Nordic Lessons, Snowmobile Tours, Snowshoeing, Paragliding & Dogsledding.
Great Northern Snowcat Skiing
Location: Great Northern and Thompson mountains
Skiers can enjoy 75 Square Kilometres of backcountry terrain accessed by snowcat.
Ph: +1-800-889-0765
Backcountry Touring
Location: Revelstoke and Rogers Pass Backcountry
Description: Backcountry ski or split board touring as well as learning how to use skins and avalanche safety equipment
Ph: +1 250 814 4835
Turtle Creek Fun Park
Location: In the village
Snow tubing, beginner slope, and a bungee bounce
Ph: +1 866 373 4754
First Tracks
Location: Meet at the base of the Gondola at 7:30 am
Get first tracks with a guide for 45mins before the lifts open to the public
Ph: +1 250 814 5060
Kids Centre
Location: In the village
Play structures, crafts, and games for kids aged 6-12 years
Ph: +1 250 814 5060
Snowmobile Tours
Location: Great Canadian Tours is located at Glacier House Resort, at the foot of Frisby Ridge
Ride the mountains of Revelstoke and its surrounds by snowmobile on a short tour, day trip, or multi-day tour
Ph: 1 250 837 5030
Snowshoeing
Location: Daily tours from the top of the Gondola and Friday evenings at the base of the resort
Description: Explore groomed trails while taking in spectacular views and looking for wildlife with an informative guided tour
Ph: +1 604 671 9757
Paragliding
Location: Launching from Mt Mackenzie
Description: Exhilarating tandem paragliding with an experienced pilot whilst enjoying amazing views of surrounding mountains and the Columbia River
Ph: +1 250 837 7929
Dog Sledding
Location: Bookings can be made through the RMR located in the Nelson Lodge area at the base of the Revelation Gondola and in Revelstoke at the corner of 1st and Mackenzie St.
Ph: +1 250 814 3720
Columbia Stars
Location: Revelstoke
Description: An educational program for kids and adults on astronomy and microscopy
Ph: +1 250 814 0087
Revelstoke Restaurants, Bars & Nightlife
With three village dining options and two on-mountain options, Revelstoke Mountain Resort has some warm and welcoming food options for you to choose from.
The Rockford Wok will have you asking is at a bar or is it a restaurant as it does both particularly well for lunch, dinner, après, or a late-night snack. The restaurant will serve you up wok inspired share plates, flavourful pastor, and traditional West Coast Canadian meals with a twist in a warm and inviting environment.
La Baguette in the village serves a variety of delicious food both hot and cold beverages including baked bread and pastries sandwiches wraps and salads etc.
On-mountain dining includes The Mackenzie Outpost atop the Revelation Gondola features a selection of the most popular and delicious grab-and-go treats from La Baguette. The Revelation Lodge features a cafeteria-style restaurant with an espresso bar, deck, and barbecue. Floor-to-ceiling windows open up spectacular views of the valley and the Monashee Mountains and in spring you can enjoy a freshly grilled burger on the 2400-square-foot deck.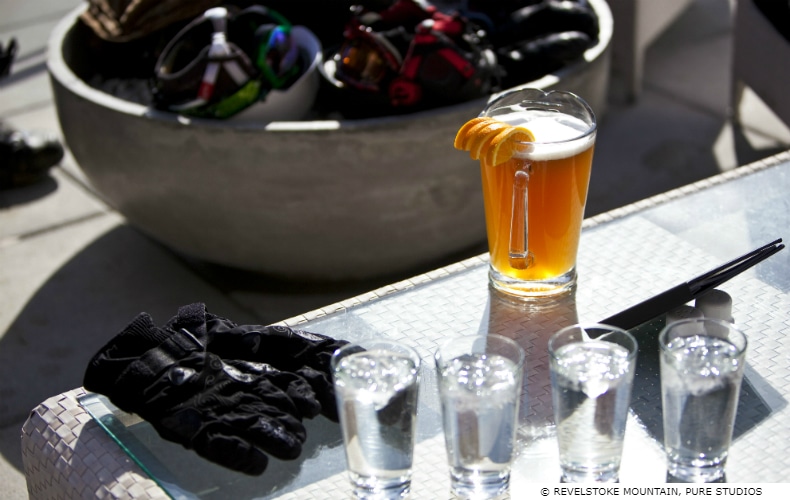 Mackenzie Outpost
Location: Top of Revelation Gondola
Food: Freshly baked breads, pastries, sandwiches & coffee from La Baguette
Takeaway: Yes
Ph: +1 250 814 0087
Revelation Lodge
Location: mid-station of the Gondola lift
Food: Cafeteria style
Bar: Yes
Ph: +1 250-814-5028
Rockford Wok | Bar |Grill
Location: Sutton Place Hotel at the bottom of the Revelation Gondola
Food: Asian fusion- wings, noodles, salads, burgers
Bar: Yes
Ph: +1 250 837 7160
The Mackenzie Common Tavern
Location: Village Plaza
Food: Pizza, bar food
Bar: Yes, best known for its apres and bar games
Takeaway: Yes
La Baguette
Location: 607 Victoria Road Unit 103, Revelstoke
Food: Freshly baked breads, pastries, sandwiches, coffee. Known for its homemade Gelato
Takeaway: Yes
Ph: +1 250-837-3755
Woolsey Creek Bistro
Location: 604 2nd St. West, Revelstoke
Food: Fine dining in a casual atmosphere, wild salmon, venison, elk
Bar: Yes
Ph: +1 250 837 5500
The Modern Bakeshop & Cafe
Location: 212 Mackenzie Ave beside City Hall
Food: Baked goods, artisan breads, coffee & chai. Vegetarian & gluten-free options
Bar: No
Ph: +1 250 837 6886
The Village Idiot Bar & Grill
Location: 306 Mackenzie Avenue, Revelstoke
Food: Canadian bar food, pizzas, burgers, salads, poutine
Bar: Yes
Takeaway/Delivery: Yes free delivery
Ph: +1 250 837 6240
Kawakubo Japanese Restaurant
Location: 109 1 Street East, Revelstoke
Food: Japanese, sashimi, soups, teriyaki. Known for its excellent sushi
Bar: Yes
Ph: +1 250 837 2467
Paramjit's Kitchen
Location: 116 – 1 Street W, Revelstoke
Food: Indian, German, Thai. Vegetarian options are available. Known for its butter chicken spätzle.
Ph: +1 250 837 2112
Main Street Cafe
Location: 317 MacKenzie Ave, Revelstoke
Food: All-day breakfast, eggs benedict, bagels, wraps
Open: Breakfast, Lunch
Ph: +1 250 837 6888
Quartermaster Eatery
Location: 109-111 First St W, Revelstoke
Food: Steaks, smoked meats, burgers
Bar: Yes
Ph: +1 250 814 2565
Chubby Funsters
Location: 114 Mackenzie Ave, Revelstoke
Food: Canadian bar food, burgers, sandwiches, salads. Try the bison burger with goat's cheese and blueberries.
Bar: Yes
Ph: +1 250 837 2014
The Taco Club
Location: 206 Mackenzie Ave, Revelstoke
Food: Latin street food, tacos, enchiladas
Bar: Yes, with an extensive tequila selection
Ph: +1 250 837 0988
112 Restaurant and Lounge
Location: at the Regent Hotel, 112 First Street East, Revelstoke
Food: BC Salmon, roast lamb, East Coast lobster
Bar: Yes including Revelstoke's local Mt Begbie Brewing Company beers
Ph: +1 250 837 2107
Zala's Steak & Pizza Bar & Grill
Location: 1601 Victoria Rd, Revelstoke
Food: Italian pizzas & pastas, steaks, seafood
Bar: Yes
Ph: +1 250 837 5555