Kicking Horse Things To Do, Activities & Tours
The winter activities at Kicking Horse Mountain Resort include Heli skiing, snowmobiling, cross country, tubing, snowshoeing, telemark skiing and ice-skating. Kicking horse Mountain resort is also a stop for the Freeride World Tour in 2018.
Purcell Heli-Skiing
Location: Golden, BC
A massive heli-skiing tenure and abundant powder of approximately 590 inches (15 m) of snowfall per season.
Ph: + 1 250-344-5410
Rocky Mountain Riders Snowmobile Tours
Location: Bases South of Golden and at Kicking Horse Mountain Resort
Ride trails to Wiseman Lake, Quartz Creek or Gorman Lake to open powder play areas and views.
Ph: +1-877-950-7533
White N' Wild Snowmobile Tours
Location: Located in Golden, BC
Smooth-riding snowmobile on the beautiful, snowy mountain trails.
Ph: + 1-800-668-9119
Cross Country Skiing
At the scenic Dawn Mountain Nordic Centre less than 1 km from the base of Kicking Horse Mountain Resort
Gentle beginner loops to the more stamina-testing outer loops with challenging uphills and exciting downhills.
The Tube Zone
Location: In the heart of the Kicking Horse Plaza
A family fun activity where an individual rides on top of a tube.
Ph: +1-866-754-5425
Snowshoeing
Location: At the Dawn Mountain Nordic Centre less than 1 km from the base of Kicking Horse Mountain Resort
Walk on the flat or rolling ground wearing snowshoes.
Telemark Skiing
Location: Kicking Horse Mountain Resort
Free your heels for a fun day on the slopes.
Ph: +1.866.754.5425
Ice Skating
Location: The Village Rink ice surface at the new Learning Centre
Bring your skates and enjoy the natural ice surface.
Ph: +1 (800) 258-7669
Gondola Sightseeing
Location: At Kicking Horse Mountain Resort
Sweeping valley views and breathtaking vistas
Ph: +1.866.754.5425
Kicking Horse Restaurants, Bars & Nightlife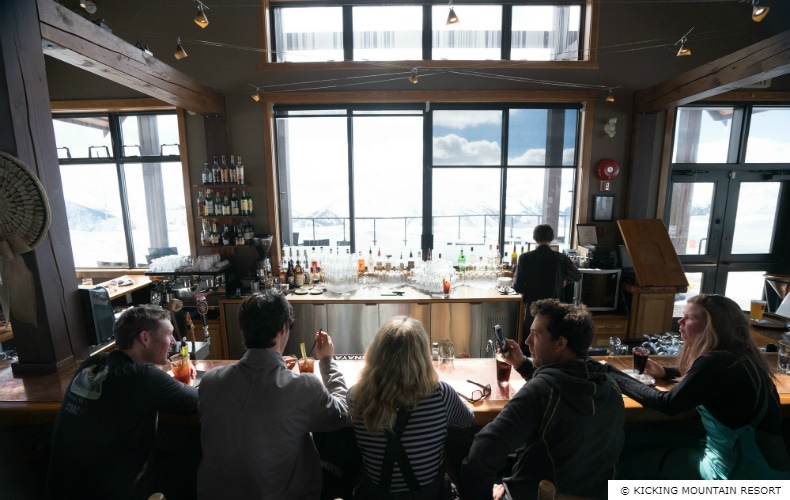 Eagle's Eye Restaurant
Location: Located at 7700 feet; the Summit of Kicking Horse Mountain
Food: Apres-Ski, Mountain Top Caesers, Bacon, Cocktails, Dessert, Wine, Coffee, Beers & Coolers, Appetizers, Sandwiches
Bar: Yes
Ph: +1 (250) 439-5425
Whitetooth Grill
Location: Day Lodge
Food: Homemade Food, Gourmet Burger, Signature Pizza, Cooled Beer, Special Apres.
Heaven's Door Yurt
Location: Located at the base of the Stairway to Heaven chairlift
Food: Hot Lunch, Sandwich, Hot Chocolate
Ph: +1 250-439-5425
Kicking Horse Saloon
Location: 1593 Cache Close in the Winston Lodge
Food: Canadian Pub Style Food, bottled beers, Micro brew draught beers, wines, and spirits,
Bar: Yes
Ph: +1 (250) 344-2772
Peaks Grill
Location: Located in the heart of Kicking Horse Mountain Resort Village
Food: Appetizers, Salads, Burger, Sandwich, Desserts, Fish N Chips,
Bar: Yes
Ph: +1 250.344.4950
Double Black Cafe
Location: At the foot of the Kicking Horse Mountain Resort gondola
Food: Coffee, Ale, Pizza, Salad, Burger, Soup, Smoked Salmon
Ph: +1 250-344-2214
Corks Restaurant – Copper Horse Steakhouse
Location: Copper Horse Lodge
Food: Elk, beef and pork, Wine and Beer
Bar: Yes
Ph: +1 250-344-6201