Of all the wonderful things the European Alps offer skiers and snowboarders, their sheer size is one of the greatest. Here you can seemingly ski forever thanks to multi-resort destinations linked by dozens of lifts, getting more bang for your buck in the process. Along with culture, food, beautiful scenery and superb snow, being able to travel such long distances so easily on skis – often never skiing the same run twice – is a major reason to put the Alps on your must-ski list.
So where to start? Right at the top – in the world's largest ski arena, The Three Valleys in the French Alps. Why? Because as an introduction to multi-resort skiing, this destination is hard to beat. First of all, you don't need expert ability to fully experience this vast expanse of ski terrain. The majority of slopes are graded intermediate including those runs linking The Three Valleys' main resorts. Another big plus is the resort's 180-plus lifts are fast and modern, which make exploring the 600 kilometres (about 370 miles) of linked slopes a breeze. About 85 % of the ski area is above 1800m and there are 25 peaks accessed by ski lifts, including 10 soaring above 2500m. Sign posting is excellent and novices can ski around without fear of finding themselves atop an expert run with no way out. It is even possible to organise your ski day without covering the same run twice.
You will also be able to find the style of town and lodging you desire thanks to the number of base villages throughout the region. Most visitors stay in either of the three best-known resort towns, Meribel, Val Thorens (Europe's highest resort) and Courchevel (one of Europe's most popular with the jetset). Also in The Three Valley's fold are Le Tania, Les Menuires, Brides-les-Bains, Saint Martin de Belleville and Orelle.
Of course there is no need to roam too far from your base village if preferred, but even timid skiers and boarders will find it easy to venture up and over ridges to discover the joy of skiing into different resorts thanks to The Three Valleys' numerous easy, well-groomed runs. For a truly carefree experience that doesn't involve grappling with a trail map mid-slope, enrol in ski school. This way you receive instruction with the added benefit of being guided throughout the entire resort system. Expert and advanced skiers hankering for off-piste can hire mountain guides to take them into the spectacular powdery wilderness around the groomed runs. As well as safeguarding against getting lost and eliminating the need to pore over trail maps, having an instructor or guide also avoids the prospect of ending up in the wrong valley at the end of the day, having the lifts shut then facing an expensive taxi ride or long bus trip back to your lodging.
Meribel
Why stay here: Meribel is both the prettiest and most centrally located village in The Three Valleys. It is also the most accessible – approximately 3 to 4 hours from Geneva and Lyon airports and approximately 30 minutes from the Eurostar and TGV Moutiers Train Station – plus home to the impressive Olympic Centre facility with swimming pool, fitness centre, ice skating.
All the rest: If you're after the quintessential European village in the snow with designer trim, Meribel's traditional wooden chalets and stylish establishments do the trick. You can choose from 5-star spa hotels to bed and breakfast lodges to everything in between, most of which you'll find are cosy, intimate and chic – the sort of places ideal for that dream family holiday, romantic ski trip with your significant other or group trip gilded with genuine European Alps atmosphere. Sleigh rides, snowmobiling and snow shoeing can easily be added on the to-do list, and families should take note that Meribel is a 'Famille Plus' status resort as it does such a terrific job catering for both children and parents.
Meribel's slope network is on the larger side. Good snow is the norm as the main peaks – Saulire, 3 Marches and Mont du Vallon – are particularly high, the Mont du Vallon topping out at almost 3000m. Ski runs are wide, open, sunny, graded easy to intermediate and well-groomed. Most, but not all, skiing is above tree line, and accessing neighbouring resorts is easy. The main lift from Meribel centre is the swift-moving Saulire Express gondola that can carry over 2000 people an hour up to 2700m Saulire Peak in just over 10 minutes.
Like many resort destinations in Europe, Meribel's moniker encompasses several settlements. Its chalet developments extend into the villages of Mussillon, Altitude 1600, Rond Point and Belvedere. At the top of the valley is Méribel-Mottaret, a satellite resort sitting at 1750m, close to Altiport (1,700m). Méribel Village nestles at 1,400m, while below, Brides les Bains (600m) and Les Allues (1,200m) are joined to Meribel by both shuttle bus and gondola.
Like to shop? Then you've found another reason to visit Meribel. Not only are there upscale ski wear and technical clothing outlets but also designer fashion and interiors stores.
On rest days or when the weather closes in, it's nice to know you have The Olympic Centre at your disposal. A legacy of the 1992 Winter Olympics, the facility houses the aforementioned 25m indoor swimming pool, gym and ice rink plus a kiddie's pool, water slide, climbing wall and spa facility.
Courchevel
Why stay here: Ski runs to suit all abilities – not only beginner, intermediate and advanced but also the heady realm of 'expert'. Also the chance to vacation alongside European jetset.
All the rest: Courchevel offers 6 distinct resort villages joined by runs, lifts and road sitting below a slope network that has something to please everyone. Courchevel is renowned for particularly excellent snow thanks to its north facing slopes and is also a top choice when travelling with skiers of different abilities. Its 150km run network has almost as many intermediate as advanced slopes while several are designated 'expert's only'. Beginners will not be bored with 20 green runs on which to practise.
A frequent, efficient shuttle bus service runs between all 6 villages – from the lowest, Saint Bon, up to Courchevel Le Praz and Courchevel Moriond (formerly known as Courchevel 1650), past the turn-offs to Courchevel Village (formerly known at Courchevel 1550), and Courchevel La Tania, before reaching the highest town simply known as Courchevel (having dropped the '1850' from its name).
The rustic village of Courchevel La Praz is connected to Courchevel by a state-of-the-art 10-person gondola, as is Courchevel Village. Courchevel Moriond is renowned for its huge watersports facility called Aquamotion. Not to be sniffed at, Aquamotion is worth a look no matter how passionate you are about skiing: as well as pools, a gym and sauna it offers surfing on an indoor wave, a 3-lane water slide and wild water rapids.
Courchevel La Tania was purpose built for the 1992 Olympics. Its wood-look buildings are surrounded by forest and make a good base for families after a quiet place to stay but still with good access to the entire Three Valleys.
The 5-star deluxe experience is found in the uppermost village of Courchevel. Home to some of the Alps' best and most opulent hotels, this is where you'll rub shoulders with Europe's most monied while staying in absolute luxury. It is the largest village of the 6, and along with a few shops and restaurants there's an ice skating rink plus gym with sauna. Prestigious and classically beautiful, booking your hotel stay in Courchevel is well worth it if the budget permits.
Val Thorens
Why stay here: Highest resort not only in France but all of Europe, located at 2300m. this means excellent snow, which can be virtually guaranteed even at Christmas and Easter. Compact pedestrian village – all you need from the ski lifts to your morning coffee is within a stone's throw – and lodging is ski-in ski-out.
All the rest: After its claim to fame as Europe's highest resort, Val Thorens is next best known for being a purpose-built village filled with modern architect-designed apartments and hotels. One of The Three Valley's most popular resorts, skiers love being able to access the slopes so easily, the high-quality snow plus the convenience of staying in a pedestrian village with all facilities close by. The sheer novelty of holidaying as close to the top of Europe as possible without the need for a tent is also a big drawcard. Transfer time to Val Thorens from Geneva takes about 3.5 hours.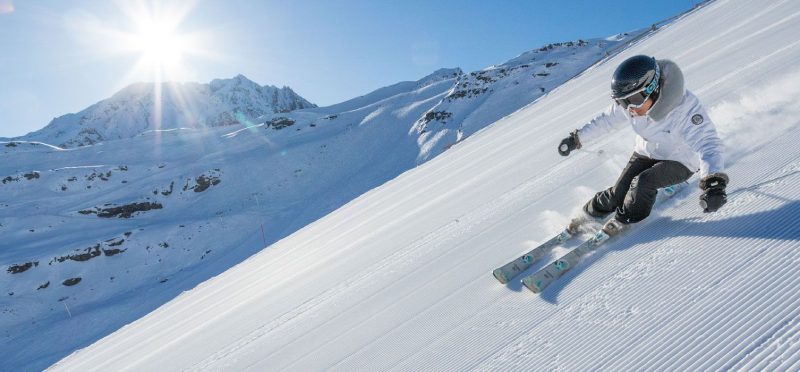 Val Thorens receives a big tick for its terrain mix: effortless sweeping runs abound for learners and novices. Children will love the snowpark and boardercross courses and there is even a dedicated area for families having their first on-snow experience. Advanced skiers also have plenty to choose from, including some especially challenging slopes, while the off-piste is sensational. Hire a guide and launch into incredible terrain with lengthy descents that extend as far as the town of Orelle and into the Maurienne Valley.
By Bronwen Gora
About The Author: Bronwen Gora is a travel writer and fanatical skier who has dedicated almost every trip over the past 20 years to exploring the world's ski resorts, visiting well over 100 mountain destinations in the process.
Hero Photo Credit: © Sylvain Aymoz