For incredible skiing coupled with European ski resort-style glamour it is hard to look beyond the Espace Killy region in France. Espace Killy refers to the 300km of terrain shared by the world-famous resort Val d'Isere and resort villages of Tignes in the Tarentaise Valley. With amazing on and off piste runs serviced by excellent lifts and everything anyone could want between these two bases, it's easy to see why the region ranks among skiing's most popular destinations.
Getting there
Espace Killly – named after triple Olympic champion and Val d'Isere local Jean-Claude Killy – is also one of France's most easily accessible ski destinations. Transport and road links between the major entry ports of Geneva (172km / 106 miles away), Lyon (241 km / 150 miles) and Chambery ( 136km / 84 miles ) are highly efficient and follow major motorways directly through Albertville and into the Tarentaise Valley. Geneva and Lyon airports are closest, while the nearest railway station to Val d'Isère is at Bourg-St-Maurice from where a variety of buses and taxis are available for the 45 minute ( 31 km / 20 miles ) transfer. Once in resort, a bus service runs between the base villages and ski lifts.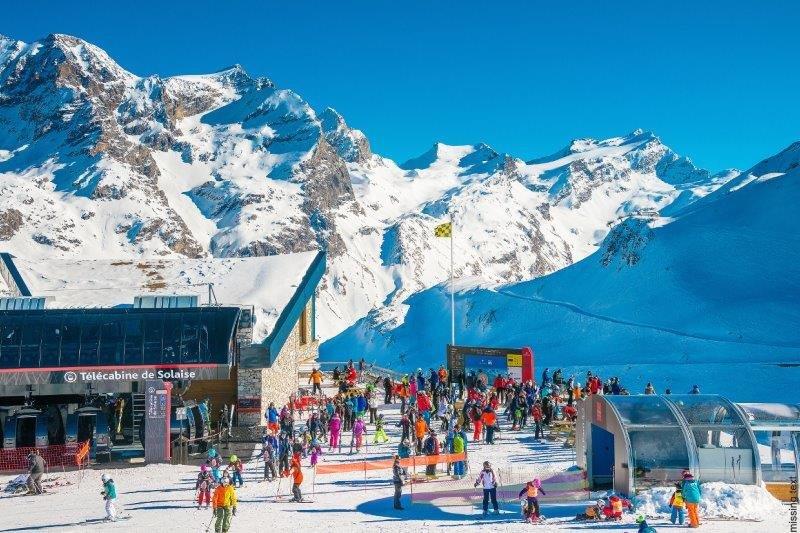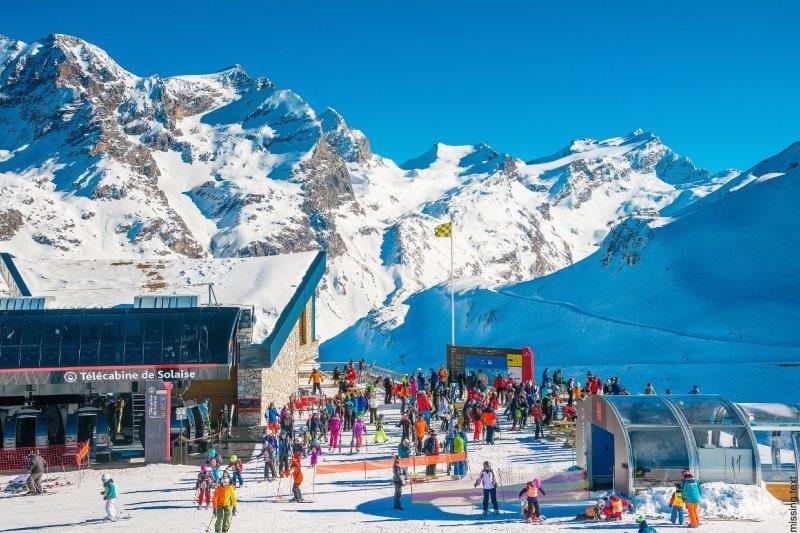 Val d'Isere
The village of Val d'Isere ticks all the right boxes for an international ski resort: sensational skiing, extensive slopes, chic on-mountain restaurants, advanced lifts, a lively vibe plus a pretty village brimming with traditional wooden lodges and ancient stone chalets crowned by a medieval church, the steeple of its 17th century structure rising high above the roofs as if to keep watch. This village looks simply dreamy when blanketed in snow and plays a large part in Val d'Isere's magical appeal. As one of the European Alps' genuine mega-resorts, Val d'Isere is where you go when you want a true world-class experience, to ski the same slopes as past Olympic racers by day and order cocktails in bars feted by such A-list celebrities as Paul Macartney at night. A first-time visitor quickly understands why Val d'Isere is often described as France's answer to swish and sizeable resorts like St Anton in Austria or Verbier in Switzerland. Scenery here lives up to the same standard, too, placing Val d'Isere among the prettiest places you'll ever ski.
The snow across the Val d'Isere/Tignes slopes is particularly reliable, with coverage so consistent and glaciers so high they allow Espace Killy to offer an unusually long season from November through to May as well as summer skiing. The Grand Motte glacier above Tignes is open for six weeks during summer, for both skiing and snowboarding, from June till early August before reopening in September a few weeks before the rest of the resort.
Such consistent coverage and snowfalls are a big reason Val d'Isere was established in the first place: in the 1930s a few lower resorts suffered poor snow years which then encouraged several Val d'Isere hotel owners to open in winter for the first time. A simple drag lift was initially installed on the Solaise until the area's potential was realised and in 1939, Val d'Isere's first major lift, a cable car was built to reach the 2560 metre / 8340 foot-high Solaise peak. After the war the spirit of progress inevitably kicked in and more lifts and terrain improvements were added along with glacier summer skiing.
The 1992 Albertville Winter Olympics led to even more sophisticated infrastructure appearing in and around Val d'Isere. One of the games' most famous legacies is the fearsome men's downhill slope on the Face de Bellevarde – many visitors love challenging themselves here and being able to say they've skied the famous run. (Beware – it can at times be mogulled from top to bottom). Other alpine skiing events held during the 1992 games included the men's giant slalom and alpine combined, and the resort now regularly hosts World Cup alpine events.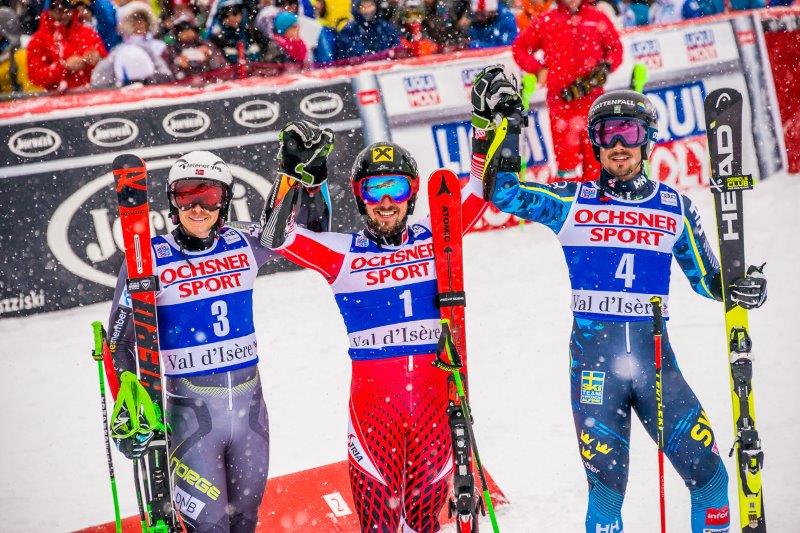 Skiing in Val d'Isère is divided into three main areas. From Val d'Isere, the Bellevarde slopes are on the right accessed by the L'Olympique tramway, and on the left, the aforementioned Solaise, accessed via an 'express' chairlift or the Solaise tram. It is possible to access the slopes of Tignes from the top of L'Olympique.
Major lifts also emanate from the settlements of La Daille – the first village you see when driving towards Val d'Isere along the Tarentaise Valley – and from Le Fornet on Val's other side. These two villages were built in the 1960s and 1970s and, in contrast to Val d'Isere's rustic nature, La Daille in particular offers a few clusters of modern high-rise apartments. All are close, about five to 10 minutes apart, and a regular bus service runs from Le Fornet to Val d'Isere through to the Solaise, Bellevarde and La Daille ski areas.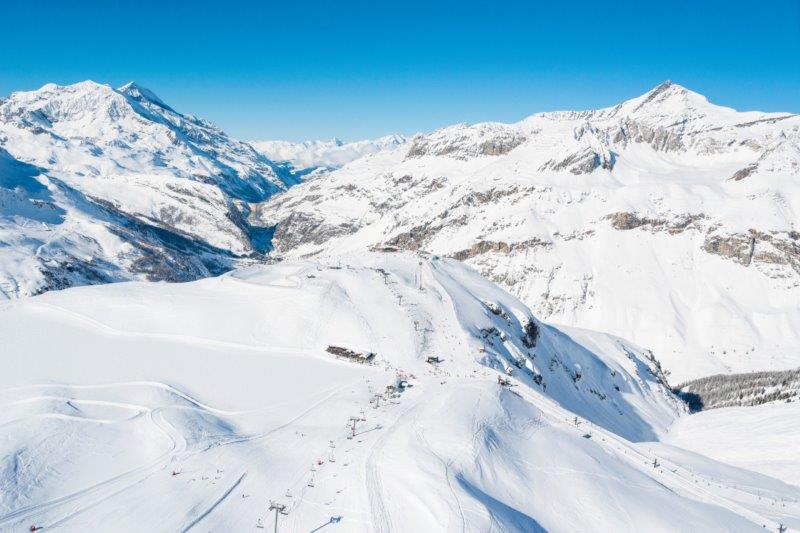 The La Daille gondola and neighbouring chairlift also allow you to ski over into Tignes via the Tommeuses or Borsat chairs. These chairs lead to a selection of pleasant cruising runs on an expansive area of easy green terrain aptly referred to on the trail map as "Ski Tranquille". This area is a good place to warm up before crossing the ridge over into Tignes or continuing back down into Val d'Isere. The easiest, least crowded route to Tignes is usually the blue run from the top of the Col de Fresse reached via the Borsat chairlift.
It is worth seeking out the La Daille gondola simply for the comfortable ride on one of its 51 sleek, 10-seater cabins, all fitted with WiFi and heated seats, as you would expect having been designed by the same Italian company that works for Ferrari and Maserati. Another enticing reason to ascend the La Daille is the unique La Folie Douce (lafoliedouce.com), a mountain top restaurant/entertainment venue complete with lunchtime shows, home-cooked meals, apres ski clubbing, a wine cellar, cigar cellar and cheese cellar, private dining room and much more.
Le Fornet is 5 km / 3 miles from Val d'Isere, a quieter collection of chic chalets fashioned from traditional Savoyard wood and stone. From here two trams and a few chairlifts take skiers up to some of some of Espace Killy's highest slopes located on the 3300 metre / 10, 830 foot high Glacier de Pissaillas. It's worth getting up there for the views as well as the snow. The other high terrain region found on the Glacier de la Vanoise above Tignes, reached by the Grand Motte cable car that lifts to 3453 metres / 11,338 feet.
In the Val d'Isere village there are many distractions: among them 50-plus sportswear and sporting goods shops, pret-a-porter boutiques, almost 100 restaurants and brasseries, four distinctive nightclubs, over a dozen delis and food stores plus jewellers, florists, hairdressers, bookshops, photographic studios and art galleries – the most high profile being the Jane Griffiths' Gallery. There are also several luxurious spas to try, plus a sports complex containing a sauna, steam baths, jacuzzi, sports hall, climbing wall, squash courts, gym, aerobics classes and guests lounge. Kids and families alike love the 3000 sqm outdoor ice rink in the heart of the village. Time your visit for Christmas and/or New Year and you'll be treated to fireworks displays that will rock your socks. The local ski school also puts on torchlight descents for such special occasions.
Val d'Isere & Kids – If you have little ones, take advantage of Val's Val Kids adventure programme. This puts them behind the scenes where they are taught about the mountain, the skiing and the people who work there. Divided into four zones, Val Kids comprises a playground aimed at fostering understanding of different jobs in the ski resort; a fun piste with games; a toboggan run on which to experience first feelings of sliding down a hill and, finally, the 'Little Cross' – a mini ski-cross course on which the kiddies are taught basic ski technique. These zones are found on Solaise and Bellevarde in places convenient for parents to drop off their kids before heading out for the day.
Tignes
Val d'Isere and Tignes are vastly different in style and atmosphere, the chalk and cheese of European Alps' villages. Tignes is the more modern of the two, its villages built in the 1950s after the original village was submerged to make way for a dam. Tignes proper comprises five villages – Tignes Val Claret, Tignes le Lac, Le Lavachet, Tignes Les Boisses and Tignes-les-Brévières, the first three nestling on a picturesque mountain plateau at around 2100 metres / 6890 feet, while Les Boisses and Les Brevieres are further down the valley. Les Brevieres is the only remaining part of the original town and linked to the others via gondola.
After the dam was built it was decided to develop the area surrounding Tignes for skiing which took place throughout the 1960s. If you choose to stay in Tignes it's most likely you'll end up in its most popular highest villages, Val Claret or Le Lac. Close neighbours, they cater to visitors with excellent hotels, shops, a well-equipped medical centre and restaurants. Slightly lower down in Le Lachet there are many ski-in/ski-out apartments which are also serviced by buses to the ski lifts.
Access from Tignes to Val d'Isere is simple – via chairlifts or the gondola emanating from either Le Lavachet or Val Claret which lead to the top of Toviere ridge. From here it's possible to drop over to slopes leading down to La Daille and Val D'Isere beyond, while the advanced will love the satisfyingly steep and challenging run leading back down into Tignes.
Tignes has a valid reputation for good access to the more difficult of Espace Killy's terrain, yet it is also surrounded by intermediate slopes and beginner runs. These easier runs are found on the less adventurous slopes leading lower down toward Tignes-Les-Brevieres, which is linked to the other villages by gondola. During the 1992 Winter Olympics Tignes became the freestyle skiing venue as well as co-host city for the 1992 Winter Paralympics. Tignes is still a magnet for freestyle skiing thanks to a substantial terrain park with courses for all levels, complemented by the largest halfpipe in the French Alps and both mini and expert boardercross courses.
One of the big advantages of staying in Tignes is easy access to Espace Killy's highest region, the Grande Motte glacier. This is reached from Tignes Val Claret via the funicular Grand Motte and then the Grand Motte cable car that lifts to 3453 metres / 11,328 feet. Once on the glacier skiers can access its 20km of pistes via the Grand Motte cable car as well as the surrounding Vanoise chairlift, Termignon ski-tow, Panoramique chairlift when the weather is fine.
When it comes to apres play in Tignes, this as you'd expect is concentrated in the highest hamlets of Val Claret and Le Lac. Dropzone in Val Claret is the place to go if you like the sound of enjoying views of the setting sun while reclining on a verandah deckchair, cocktail in hand. Revisit Dropzone post-dinner (or simply stay a little too long) and the place turns into a nightclub after 10pm. Another funky venue in Val Claret is Couloir Bar, a venue specialising in live music and DJs and serving a large selection of whiskies, cocktails and tapas.
Other off-slopes activities in Tignes extend to ice diving in the lake (yes wetsuits are included!), the Pala'fou – a tobogganing experience down a three kilometre run with a 40 metre tunnel thrown in just for fun, and – for the ultimate thrill seeker – the Bun J Ride , described on the official website as an "adrenaline overdose" combining ski jumping, bungee jumping and zip wire. It involves attaching each side of your waist to a harness tied with two mobile elasticated cords. You then take your place atop a 30-metre high ski jump, zoom down its length and then drop into a 40 metre void (simple!) all in the comfort of knowing you're stabilised and attached to the two elasticated cords. Once in the air, straight line your trajectory or mix it up with a somersault with no chance of crashing and burning thanks to the elasticised cords. Once done with your mid-air feats, travel back to the ground effortlessly on the zip wire.
No matter whether you are here to ski day in day out or take part in every extravagance this part of the world has to offer, at the end of the day, Val d'Isère / Espace Killy is the kind of destination diehard skiers and boarders need to tick off their lists should they wish to lay claim to being experts in art of international mountain riding. We here at SkiBookings highly recommend you either book your next ski vacation in Espace Killly now or pick up the indelible pen and add it to next year's list immediately!
By Bronwen Gora
About The Author: Bronwen Gora is a travel writer and fanatical skier who has dedicated almost every trip over the past 20 years to exploring the world's ski resorts, visiting well over 100 mountain destinations in the process.