Here Is Your 2021 Invitation!
Panorama Guided Ski Week
SkiBookings would like to invite you and your friends on this guided ski week in Panorama British Columbia, Canada February / March 2021. It you like the idea of an organised packaged ski week program where you ski with talented ski instructor guides in a small group of similar standard with like minded skiers, then this ski week might just be for you.
Who This Is For? Intermediate to advanced adult skiers who enjoying skiing in a group with a guide to show them around the mountain and offer tips on technique. This ski holiday is for you if you love your skiing but don't like skiing by yourself. This ski escape is for you if you are a couple or a small group and you enjoy meeting and skiing with like minders skiers.
Who This Is Not For? Sorry, no snowboards at this stage. If you are in your 20's and looking for an endless rave and to party all night – then this ski trip probably isn't for you!
When?
Week 1 – Feb 27 – Mar 6 2021
Week 2 – Mar 6 – 13 2021
Two Week Ski Week – Feb 27 – Mar 13 2021
What Is Included? Here is what is included in the 1 week program (the two week program is double this with a 13 day lift pass and only 1 set of transfers:
7 x Nights Upper Village 4 Star Accommodation (Studio For Singles Or 1 Bedroom For Two People Twin Share)
6 x Day Lift Pass
6 x Half Days Of Guided Ski Coaching With Top Local Instructors (9.00 – 12.00)
6 x Breakfasts At ALTO
Return Calgary Airport Transfers
Group Dinner Friday
Sunday Evening Welcome Reception
What if I don't need Calgary transfers? Yes, we can remove transfers for you.
How do I get to Panorama? We will arrange transfers for you from Calgary International Airport, so you need to get yourself to there if flying. When booking you flight arrival and departure in and out of Calgary, please allow yourself plenty of time to make your connections. Calgary Airport Transfer Pickup & Drop Off Times TBC.
What if I want to arrive a few days before or depart a few days later? Yes, we can arrange this for you. Just let us know what you need and one of our team members will take care of it for you.
I want to come an do the Guided Ski Week, but my partner doesn't want to do it, can I still do it? Yes, we can arrange all of this for you.
What other activities can I do at Panorama? Heliskiing, Snowmobiling, Nordic Skiing, Fat Tire Biking, Snow Tubing, Horse Drawn Wagon Rides, Snowshoeing, Tandem Paragliding, Ice Skating, Kicking Horse Resort Day trip.
Can I do some heli skiing before or after my stay? Yes, we can arrange this for you. RK Heli skiing depart daily from Panorama Mountain Resort.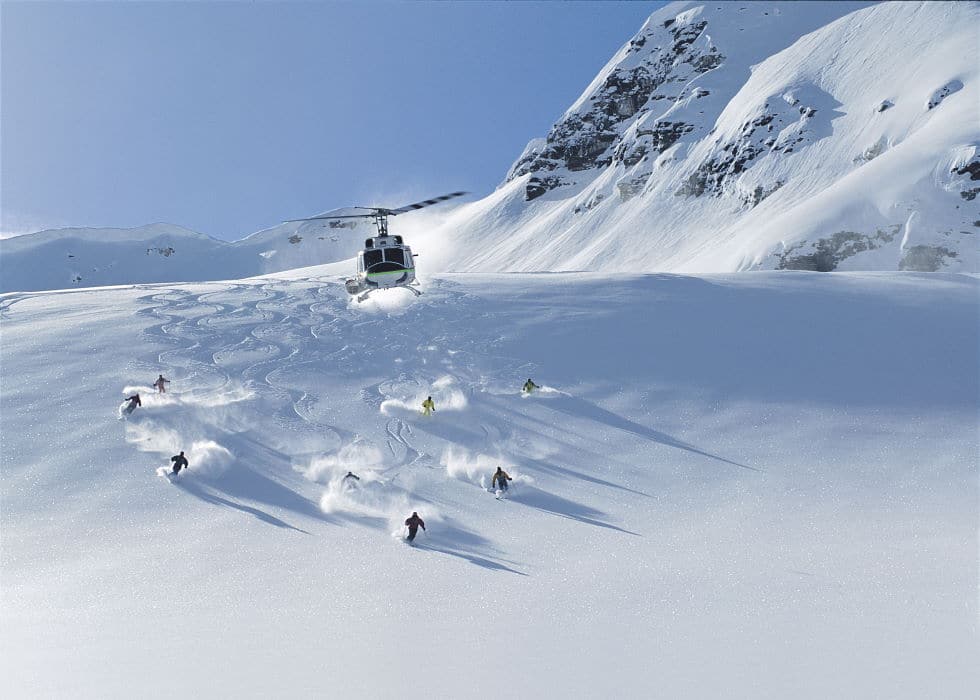 You mention skiing quite a lot, but I am a snowboarder. Can I come? Unfortunately, there are no snowboarders at this time. The program and the ski coaching is designed for skiers only.
How much does it cost?
Pricing Starts From: Twin Share Rate – US$1799
Limited spaces available.
How Do I Book A Spot? You can register your interest / reserve your place by clicking this link below.
What Is Behind The New Panorama Guided Ski Week Experience?
If you have ever wondered what it might be like to join a guided ski week group – then here is a snapshot of what life could be like for you – March 2021 on our SkiBookings.com Guided Ski Week, hosted at sensational Panorama Ski Resort, British Columbia, Canada.
Arriving into Calgary International Airport, there is an air of expectation of what will be the next seven days of skiing adventures. But first things first, it's time to collect your bags and head to the Panorama Resort Shuttle located at the Banff Airporter Desk to check in for your shuttle and to meet the driver. If you need some directional help, the friendly Calgary Airport Greeters, in the white cowboy hats and red shirts will always point you in the right direction. Ideally, it's best to arrive 15 minutes prior to the scheduled departure time and with a Tim Hortons just 50 metres away, there a last chance to grab and go, as you climb aboard and sit back and relax on the four-hour transfer to Panorama.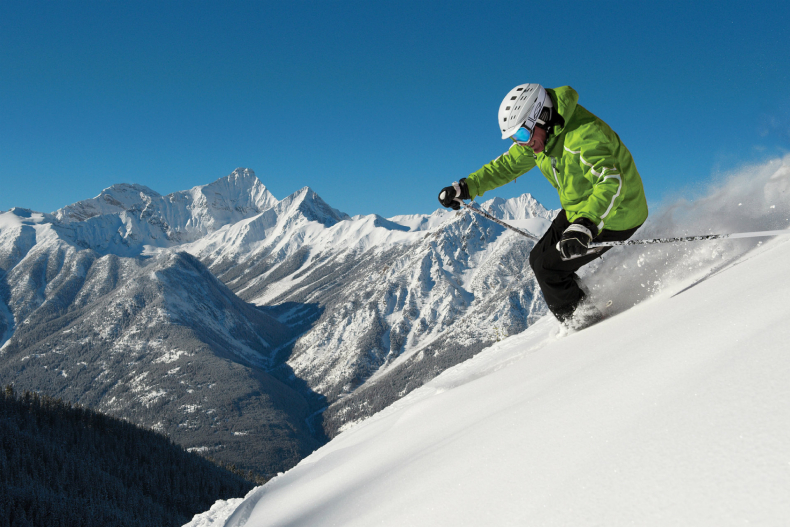 The road out of the city of Calgary is what you expect but as you head further out along Highway 1 that forms part of the famous 4,860 mile (7,821 km) Trans-Canada Highway then the scenery opens up from Dead Man's Flats placing on show the natural Canadian wilderness as you make your way to the spectacular town of Banff that's surrounded by the Canadian Rocky Mountains for a quick stop, where there's another Tim Hortons refuelling opportunity.
From Banff you head south through the wintery wilderness of the Kootney National Park, through the Radium Hot Springs and onto the town of Invemere, where the driver often stops for 15 minutes at the local supermarket so you can stock up on some essential before heading the final 20 minutes to Panorama Ski Resort.
The air of expectation builds as you gently climb up towards your final destination for the next seven days, Panorama. The driver will stop at Panorama's Central Reservation where you will check in and receive your lodging and lift passes etc and then you will be dropped at your lodging.
Once you have unpacked, the evening is yours to stretch your legs and walk around the picturesque Panorama Village. All of the ski week lodging is upper mountain, so you are only a few steps or a short stroll away from the main village. Chances are you are arriving in the early evening, so it's a great time to experience one of the several restaurants in the village. If you are looking to unwind further, all of the ski week lodging has access to the giant Panorama Springs outdoor hot pools, where you can choose from hot and even hotter as you take in the mountain views.
After a good night's sleep, given the base elevation is 3,773 ft (1,150 m) so no altitude worries, it's time to head to breakfast at Alto Kitchen & Bar to meet your hosts and the other members of the group. ALTO's is positioned right in the heart of the village near the Mile 1 Express chairlift, so you can't miss it and with breakfast included every day (breakfast is a set menu – where you have a choice of three options) ALTO's will be your morning meeting point – happy place!
Best to come dressed and ready for skiing because after a hearty breakfast, meeting your hosts and the other members of the group – everyone will head outside to meet the Panorama Ski Week Guides at 9 am. We have handpicked the best guides for you, who literally know the mountain like the back of their hand, so you are guaranteed to be at the best places in the best conditions at the right times throughout your week.
Where you meet your guides each morning, will also be where your guides will drop you at 12 noon each day. This way, you can catch up with anyone from any of the other groups, so you can enjoy lunch and spend the afternoon together.
As for the ski week groups, there will be faster and slower groups for the week, so if you are an intermediate skier or better, we'll have the perfect group and guide for you to ski with for the week.
Ok, so now that you are in your perfect group and heading up the Mile 1 Express, it's time to take a look at this massive skiing opportunity of fun and adventure that lies before you. A first look at Panorama you will initially be struck by the extra wide picture, perfect groomed runs that run for literally miles!
On one hand Panorama is – a skiers who like groomers – paradise because there is every type of groomer run available for you with every type of snow condition given Panorama's amazing vertical drop of 4,265 ft (1,300 m) so you really do feel like on some runs you are skiing forever.
And on the other hand, there are so many off groomer experiences to explore – if that's what you are into – many of which are right next to a groomer option, so Panorama is a great place to build up you all mountain skiing experiences because there is often a groomer one run over that you can always bail out into. And with that said, there is also Panorama's famous Taynton Bowl which is an advanced skiers' playground paradise with 750 acres of simply stunning heliskiing inbounds terrain to choose from.
With so much terrain to choose from, you are going to have an amazing week getting to know the mountain better than most, as you are handed the keys to all of the best skiing and secret sports from your local ski guides who also can help you out with some tips and tricks to improve your skiing because all of our guides are also highly trained ski instructors.
By 12 noon it's time to re group at the ski week guide meeting area at the base of Panorama where you can reacquaint yourself with your ski buddies or your new friends. From here you can keep skiing or head in for a well-earned lunch or you can head back to your condo for lunch, the afternoons you are free for you to do with as you wish. Plus, Panorama offers plenty of other activities including: Snowmobiling, Nordic Skiing, Fat Tire Biking, Snow Tubing, Horse Drawn Wagon Rides, Snowshoeing, Tandem Paragliding, Ice Skating.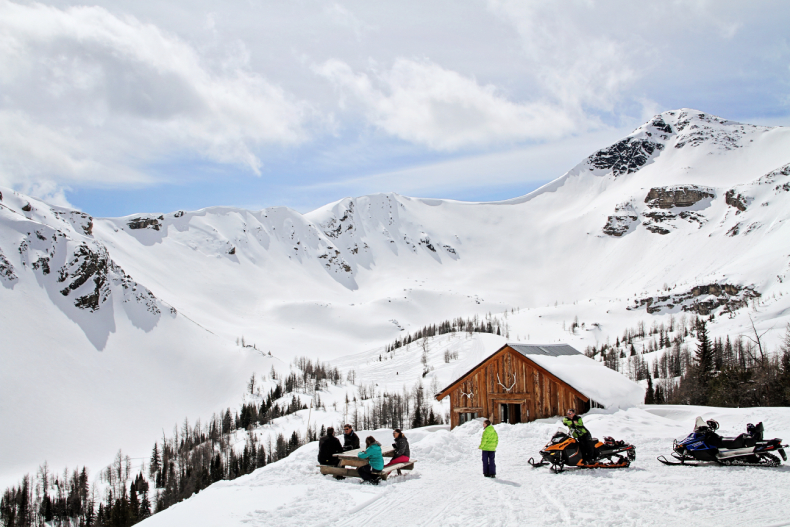 Sunday evening, we will re-group again for the official welcome reception at Fireside, which is right in the heart of the village just past the T-Bar & Grill. Here is where you can catch up once again with the rest of the group and share stories of the great days skiing you have already enjoyed and make plans for the rest of the week.
The best news is from Monday to Friday you get to do it all again, where we meet for breakfast at ALTO's and then head out to explore the mountain with your guides from 9 am to 12 noon. Afternoons are yours to continue to explore, rest and recover and or spend time in the hot pools with old and new friends. You can organise yourselves into groups who go out for dinners where you can sample all the different restaurants Panorama has to offer, or not, it's totally up to you.
For those of you who like to self-cater, I recommend you ride the free shuttle that departs for Invemere around 4 pm from the bottom of the Ski Tip Lodge in the heart of the village. The shuttle will also pick you back up again in Invemere around 6 pm, so you'll have plenty of time to do a full supermarket shop. Or you may prefer the local Panorama Grocery Store option which has more than a few meal options for you to choose from.
Friday night it's time to celebrate the week that was with a group dinner that's included as part of your Panorama Guided Ski Week package. This will be a chance to look back at all that's been achieved, explored and conquered. It will also be a chance to remember all the good times, laughs and relive the great skiing memories that will last a lifetime.
So, if you simply enjoy meeting and skiing with like mined people or don't like skiing by yourself, we invite you to come an experience all that a Panorama Guided Ski Week has to offer.
Register your interest for 2021 below.