When you're serious about chasing powder you head to one of the snowiest places on earth – like Hokkaido, Japan's northernmost island. Once there among your top three destinations would be Niseko, Furano and Rusutsu. The power of these three to attract truckloads of powder is almost magical and guaranteed to have you spellbound.
Niseko
You'll find almost every Western convenience required by skiers has made it to Niseko, both on and off the hill. This is the ski area credited with starting the love affair that internationals have with the country's alpine regions, and Niseko has garnered enormous popularity with snow riders and attracted top restaurateurs, equipment retailers and major hotel chains. From deep snow straight off the chairlifts to immaculately groomed slopes, from izakayas to home delivery pizza, from traditional souvenirs for the folks back home to the latest snow equipment and gear, Niseko has it all dialled.
The Niseko United lift pass grants access to four linked areas – Annupuri, Grand Hirafu, Niseko Village and Hanazono. Beginners and intermediates are looked after with a number of new facilities and great attention is given to children and teaching. But powder chasers will be in their element especially if they are prepared to hike. If so, one of the first go-to's is the Back Bowls off Annupuri Peak. This area is accessed by a short boot pack from the highest lift station and renowned as some of the area's best terrain. For a first timer this is best done with a guide, and only after getting the all clear on snow safety. Gated access to the backcountry is easily found throughout The Niseko United Resort.
After a morning's powder bashing a must when it comes to on-mountain dining is Boyo-so, a small traditional Japanese restaurant beneath the Hirafu gondola. Dry your gear near the fire and warm up with a steaming dish of traditional Japanese fare. Boy-so is famous for its katsu curries, crumbed pork cutlet with rice and gravy. Niseko itself is a food lover's dream, with restaurants galore.
Furano
Just glancing out the window of the New Furano Prince Hotel at the soaring peaks above is enough to tell a new arrivee that Furano's terrain is some of the most expansive and exciting they will find on Hokkaido. Not only does Furano have virtually the longest vertical drop in Japan, it also comes with truckloads of copious light dry powder snow. Another feature unique to Furano is having the fastest gondola in Japan – moving 101 skiers at 10 metres per second.
Gondolas rise from two base areas, Kitanomine and Furano. Kick off with a fast warm up on Furano Zone ropeway before heading out onto the resort's other excellent long runs where you'll find of lot of satisfying fall-line skiing. Seek out the valley between the peak and the resort and look for the gates to access lovely fluffy snow even days after the last storm, especially in the trees from the top of Romance 3 lift.
Furano is a backcountry skiing mecca so if you want to experience ski touring this is the place to come. Alpine Backcountry Guides is the leading operation, the longest established and run by Australian John Morrell, one of the pioneers of Hokkaido back country skiing with introductory courses to day trips for experienced tourers to multi-day excursions.  Furano Snow Tours is another Furano operation that offers local guides and knowledge to get you into the back country powder.
ABG is a one stop shop, with everything from gear hire to
When night falls head for the pub or Country Kitchen for a home-style Japanese meal. Shoppers looking for beautifully crafted wares by Japanese artisans must make a bee line for Ningle Terrace, the ring of cute little cottages housing various crafts in the forested grounds of The New Furano Prince Hotel. Also tucked away in the forested grounds is a lovely cafe selling the curious combination of coffee and cakes as well as curry meals, and further along the path, the entertaining Soh's Bar.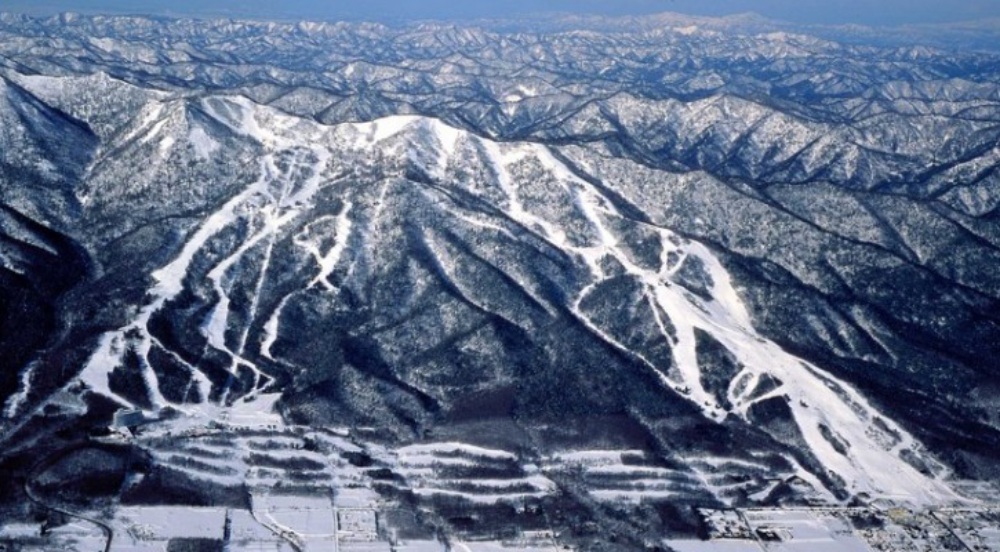 Rusutsu
No doubt you will leave here knowing you have discovered one of skiing's biggest and snowiest playgrounds. Rusutsu is not only the largest ski area on Hokkaido, it is also blessed with an average  13 metres snowfall each season. Its slopes are particularly pleasurable to ski as it's so easy to pop on and off the runs, gliding on the groomed and then diving into deep powder and back again. Topped off by a fast, modern lift system, it is easy to understand how Rusutsu quickly becomes a favourite for many skiers and boarders.
A network of impressively long cable cars link the main resort area and its hotels to the slopes which are spread across three peaks, West Mountain on one side of the resort settlement, and East and Isola mountains on the other. On mountain eating places are never hard to find here either.
Aside from the slopes, Rusutsu's other main claim to fame is the Rusutsu Resort Hotel. This land-based equivalent to a large cruise ship has two wings, north and south, and houses a host of whimsical attractions such as a laughing tree and an elaborate, full-sized carousel just like those at the fun fairs of yesteryear. There are several restaurants, ranging from a sandwich store to fine Japanese cuisine and everything in between. Other amenities in this enormous hotel include an indoor wave pool, onsen and – of course – dancing fountains.