If you like your overseas skiing and snowboarding served with a generous side of jaw-dropping scenery, then visiting Banff and nearby resorts Lake Louise, Norquay and Sunshine Village is an excellent choice. The magnificence of this region unfolds soon after leaving Calgary when heading out on the Trans-Canada Highway (Highway 1) towards the town of Banff and Lake Louise village beyond. Within about 20 minutes, dramatic alpine ranges and soaring peaks surround you, setting the tone for what you wake up to every day in this part of the world: enormous, impressive snow-covered summits towering above quaint towns, expansive forests filled with elk, moose, big horn sheep and more, plus (of course) the choice of skiing at any of three renowned Canadian ski resorts.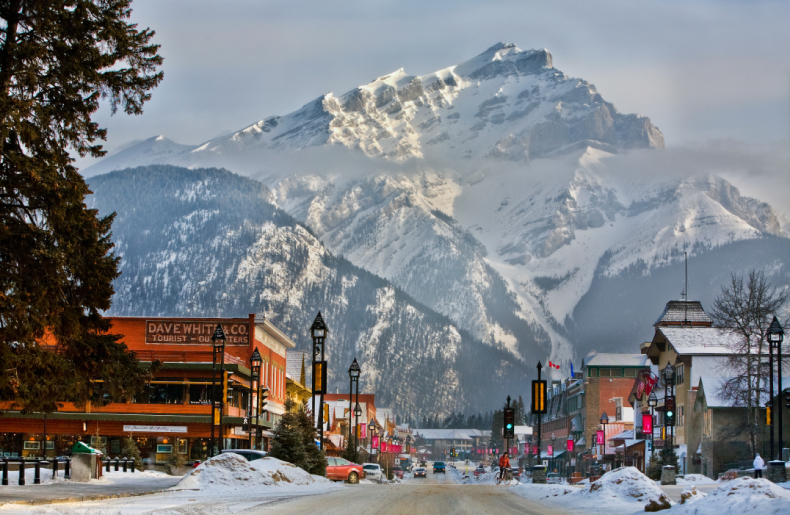 A big plus of the Banff Lake Louise region is accessibility. Firstly, Calgary Airport would have to be one of the easiest airports to navigate and there are almost always super friendly airport reps in the arrival hall, easy to spot thanks to their red and white outfits topped with cowboy hats, helping people with where they need to go next.
SkiBookings.com uses Pursuit shuttles to transfer guests from Calgary Airport to Banff and Lake Louise. Car hire is also available if you intend on taking a ski safari-style trip beyond Lake Louise to the Powder Highway resorts of Kicking Horse, Panorama, Fernie, Red Mountain, Revelstoke and Whitewater.
Once settled in Banff or Lake Louise, your SkiBig3 tri-area lift pass conveniently includes shuttle buses to and from resorts. This bus system is well organised and efficient. Buses stop at regular intervals morning and afternoon at all major hotels throughout Banff and Lake Louise.  Those who are self-driving will find everywhere they want to go is easy to find, all major attractions well sign-posted and located off the Trans-Canada Highway.
The town of Banff is about 90 minutes' drive from Calgary, while the hamlet of Lake Louise and Lake Louise ski resort (located opposite each other on either side of the highway) are about 45 minutes further down the road. Norquay is a quick five to 10 minute drive from Banff, making it as popular with locals and lunchtime skiers as it is with tourists. Sunshine Village is about 15 to 20 minutes by car from Banff and 40 minutes from Lake Louise. All three areas are vastly different – Lake Louise famous for enormous and excellent terrain for all abilities, spectacular views and that "big mountain" feel;  Norquay known as the family-friendly local's hill, though not to be underestimated with terrific groomers and some solid steeps; and Sunshine Village, nestled high in the Continental Divide with the full gamut from true heart-in-mouth extreme ski terrain to slopes suited for rank beginners. (more info below)
When it comes to choosing where to stay, Banff and Lake Louise village offer two completely different experiences – lively town vs quiet picturesque hamlet. Split your vacation between the two for the variety and convenience of having Lake Louise ski resort on your doorstep.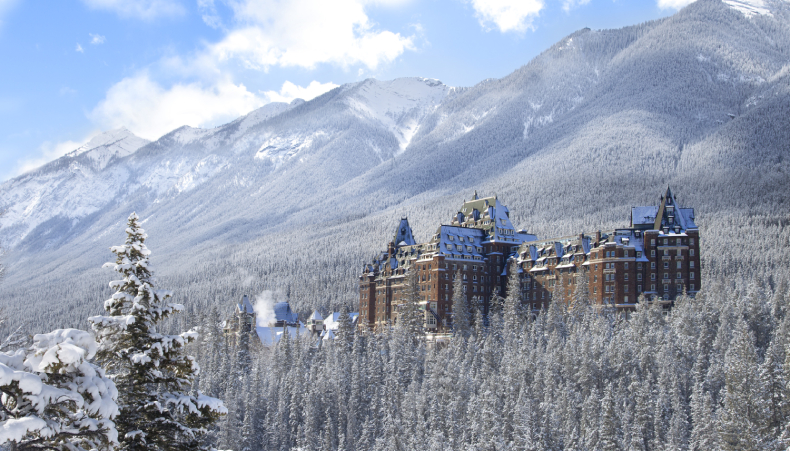 Banff is a busy, purpose-built tourist town of about 8000 people renowned for its spectacular location at the base of towering snowy peaks. Streets are lined with numerous hotels, motels and guest houses, atmospheric bars, restaurants, cafes, shops, outdoor stores and every other convenience. Best of all it's built for fun, the kind of mountain town where you can party till the wee hours of the morning after skiing all day. Hot nightspots include a bowling and beer hall called High Rollers, and no trip to Canada would be complete without indulging in top quality Alberta beef and wagyu at a place like Banff's Chucks Steakhouse.
One of the most charming things about Banff is that despite the crowds and generally hustle bustle it's common to see elk and even moose strolling around even the main streets. DO NOT however approach them – they can cause serious harm. Simply give them a wide berth and all will be fine.
Banff is also home to the famous Fairmont Banff Springs Hotel, a turreted, castle-like property so opulent it makes guests feel they're staying in a royal palace. There are several entirely different wings, many different room styles and even guest suites built into its romantic turrets. The hotel has an exceptional spa facility with wonderful hot pools, and I rate the Banff Springs Hotels' buffet breakfast the best in North American ski country (there's even three types of maple syrup to choose from at the pancake stand).
Lake Louise village is incredibly beautiful, nestling below a multitude of awe-inspiring, spectacular mountain peaks. The village is far quieter than Banff town, being mostly lodges and hotels dominated by the impressive Fairmont Chateau Lake Louise. Shuttle buses run regularly between the Chateau and other main lodges in the Lake Louise village area to the ski resort. Near the entrance to Lake Louise village is a compact retail mall with excellent cafes and bakeries, plus other food outlets, ski hire, a petrol station, visitor centre, outdoor gear stores and more.
The expansive 4-star Fairmont Chateau Lake Louise is one of the jewels of Canada's tourism crown. About 5km from the Trans-Canada highway beyond the main settlement, the Chateau sits at the end of Lake Louise Drive in one of nature's best box seats: right on the shores of the (emerald in summer, frozen in winter) lake stretching towards the imposing Victoria Glacier, another of Canada's most iconic, well-recognised and most photographed sights. Staying at the Chateau Lake Louise is similar to being on a cruise ship. It is very much the self-contained property, offering enough casual food outlets as well as restaurants, lounge areas, outdoor activities and spa and fitness facilities that visitors can easily spend their entire vacation quite happily here.
This historic hotel and its idyllic setting is one of the factors that gives the Lake Louise region its "winter wonderland" reputation. The location is so picturesque it could be drawn straight from a story book, and all the magical winter activities are possible here, from ice skating on the frozen lake,  to walking, cross-country skiing or snow shoeing through snowy forests, to hitting Lake Louise ski resort's fabulous terrain or simply relaxing apres ski in the Chateau's Lakeview Lounge, overlooking the glacier with a cocktail in hand.
Handy tip: If you choose to stay at both Fairmonts – the Banff Springs and Chateau Lake Louise – the hotels will transfer your bags for you on your changeover day, so you can go skiing then return to your new hotel with bags already waiting for you. Historic, opulent, yet surprisingly affordable, staying in these hotels at least once in your lifetime is highly recommended, because as the cliché goes, they don't make them like this anymore.
Real winter temps: We must mention that yes everything you've heard about how cold it can get here is true. But that's what makes such good skiing and winter wonderland magic. So rug up, invest in thermals, good boots, down jackets – anything and everything necessary to ensure being chilly doesn't mar your enjoyment of this incredible area.
Lake Louise Ski Resort
Whether skiing or snowboarding Lake Louise, making turns before the full panorama of the Valley of the Ten Peaks and numerous more jagged peaks is an experience you will remember forever. The ski resort has an almost equal proportion of beginner, intermediate and advanced runs laid out across 1700 hectares (4200 acres), making it the largest Canadian resort after Whistler.  It receives snow galore, often enough to extend the season into May giving it one of the longest seasons in North America. The enormous base and restaurant facility, The Lodge of Ten Peaks, is a huge attractive log structure built to absorb the large numbers of visitors who flock here from all over the world.
Most of Lake Louise's gentler terrain is on the front side while over the back the steeper runs are to be taken seriously, many tending to hide a few sudden drops, so follow the golden rule "if you can't see over it, don't ski over it". Back on the front side, if you like hucking your stuff the Showtime Terrain Park right underneath the main lift is the place to give it what you've got. As one the largest terrain parks in North America with more than 50 features from small jumps through to some of the biggest pro level kickers, it is heavily patronised by both skiers and snowboarders and makes for great spectator viewing too.
The ski resort's torchlight dinner is a weekly event starting with cocktails and appetizers at an on-mountain lodge as the ski field empties, followed by a twilight run down a freshly groomed slope and lavish smorgasbord dinner at another restaurant in the base area.
Sunshine Village
This unique ski resort cannot be seen from road, nestling high in the peaks and accessed by a comfortable 8-passenger gondola ride. It takes 10 minutes to reach Goats Eye mountain at the start of the resort and a full 18 minutes to arrive at Sunshine Village. There's around 3300 acres of skiable terrain, ranging from gentle beginner runs to extreme big mountain runs found in Delirium Dive. This area is not for the faint-hearted and has been named one of the 10 top off-piste destinations in the world. It's possible to ski down to the gondola base and the car park at the end of the day, highly recommended as it's an easy slope that makes for a good finish.
Sunshine Village bills its seven-month season stretching from early November to late May as the "longest non-glacial ski season in Canada" plus the resort can receive up to nine metres (30 feet) of snow in a season.
Norquay
While not in the same league as its bigger cousins, Norquay still delivers a satisfying ski experience with excellent groomers and as we mentioned before, a few runs steep enough to wake you up. There are 60 runs spread over 190 acres with terrain for all abilities and ages. Living up to its family friendly reputation, Norquay has Alberta's largest snow tubing park, a winter sightseeing program and a network of snowshoe trails. As it is Banff's local's hill, try to avoid weekends here when kid's ski racing clinics are in full swing and the base facilities restaurants and cafes are rammed.
By Bronwen Gora