If you love your deep snow as much as I do, you may have eschewed Japan's main island resorts in favour of those further north on Hokkaido where places like Niseko are world renowned for consistently receiving huge amounts of powder.
In the past few years however, the buzz about skiing the 10 resorts nestled in Hakuba Valley located west of Tokyo has become too loud to ignore. This is largely due to the ease of getting there with virtually door-to-door transfers from either of Tokyo's two international airports – combined with the fact Hakuba lies amid the country's highest peaks. Being the country's steepest and most visually dramatic mountains, the region is nicknamed the Alps of Japan, and as you would expect, receive phenomenal snowfalls as a result. Add to this that all resorts are skiable on the one "Hakuba Valley Pass" – and that Epic Pass holders receive five free consecutive days' skiing valid at all 10 resorts – and the combination becomes even more enticing.
(It's handy to know that each resort has designated a specific lift ticket window where Epic Pass holders are issued with their complimentary Hakuba Valley All-Mountain consecutive 5 day tickets – ie you can't rock up to just any ticket window. You may also be asked for an additional form of ID.)
Skiing in Hakuba is simply sensational both for quality and quantity, not to mention variety. Newcomers quickly discover the area's other attributes like stunning scenery and fabulous food with loads of restaurants serving excellent Japanese cuisine of all kinds at affordable prices. There's numerous cultural experiences and day trips in and around Hakuba too, from the legendary snow monkeys to medieval castles.
One of the best things about choosing to ski in this part of Japan is being able to walk straight onto a Hakuba-bound bus soon after alighting the plane. In the winter season, Hakuba Valley transfer buses run  several times a day from both Narita and Haneda Airports.
The Tokyo-Hakuba Valley shuttle takes six hours with two 15 minute to 20 minute breaks for food and restrooms at large facilities selling a variety of snacks and meals. (On our return j Western and Japanese food.) Once in Hakuba Valley, buses deposit visitors at the main terminal from where lodge and hotel shuttles pick up their guests. Taxis are also available.
The slightly quicker way of getting to Hakuba is via train then bus. While this option shaves about 90min off the trip it can prove tricky as it involves finding the local train to Tokyo Station in time to meet the bullet train ('shinkansen') to Nagano City and then transferring to a Hakuba-bound coach. This option also requires hauling luggage and ski equipment on and off transport which can be less than desirable after a long flight.
Once in Hakuba, visitors can reach all 10 resorts as well as the major base areas, shops and restaurants via the valley's efficient and extensive shuttle bus network. There is no shortage of timetables and other information available to help visitors familiarise themselves with the transport network and it doesn't take long to get the hang of getting from A to B whether you're heading out for fresh tracks, to soak in an onsen or for dinner at Echoland.
The majority of skiers bound for the slopes will find they need to take the small shuttle vans from bus stops near their lodging to the Happo Information Centre / Bus Terminal. (Most of the major accommodations and lodging are easy walking distance to a bus stop.) At the bus terminal, skiers transfer to larger coaches for the short ride to whichever resort they plan to ski for the day. The staff at the Happo Bus Terminal are patient, genuinely friendly and only too happy to help point people to the right bus stand or answer any other questions (and practice their English at the same time).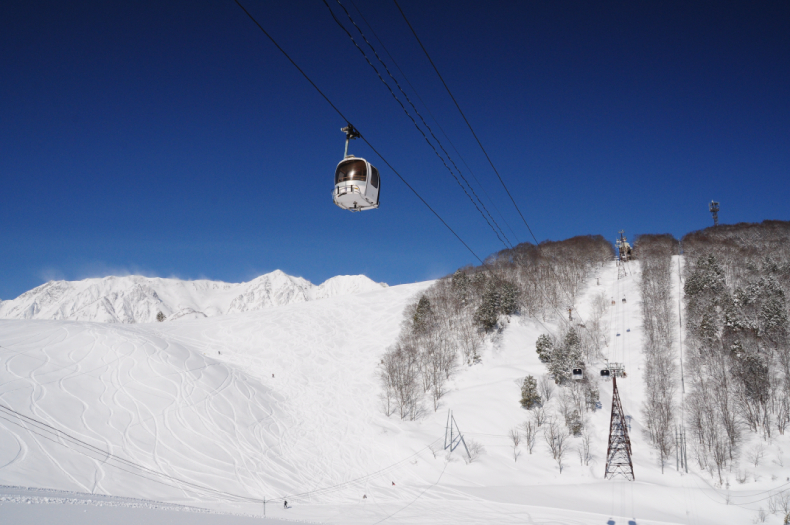 Happo Bus Terminal can be quite crowded in the mornings especially on powder days, weekends and peak season times. But don't despair. Bus stops are clearly marked, staff shepherd people towards the right coach and even when it seems chaotic everyone seems to find the bus they need. There's also no need to fret when the shuttle to your resort of choice reaches capacity and departs while you're still standing on the footpath. Classic Japanese efficiency ensures buses arrive one after the other until waiting skiers are whisked off to the slopes.
As Hakuba Valley's resorts are skiable on the one pass, this also includes the cost of the shuttle buses (the cost without a HV Pass is 500 yen).
Here's a snapshot of what each Hakuba resort holds in store for you:
Hakuba Goryu
A good all-rounder for novices, especially beginners as well as families with small children. It's split into three areas Alps-daira, Tohmi and Iimor, and has Hakuba's largest night skiing area.
Hakuba 47
More advanced riders and skiers will love this place which is now linked with Goryu Hakuba 47 has a Winter Sports Park with a solid half-pipe and jumps.
Happo-One
The most popular of Hakuba's resorts, Happo-One played centre stage in the 1998 Nagano Winter Olympic Games. As a result it has world-class facilities and some of the valley's most modern on-mountain restaurants, cafes, shops. It's also large, with 23km of runs, good beginner slopes and excellent steeps.
Hakuba IwatakE
Good place for panoramic views from the gondola which also makes it a go-to in bad weather. Gentle slopes can be found even up top.
Tsugaike KogeN
Sprawling wide open runs makes this one of Hakuba's best family friendly areas. Visitors love the views from the 5km long gondola too.
kuba Norikura
Less popular due to shorter and less challenging runs, those in the know head here after big snowfalls to avoid the crowds at Hakuba's larger fields. Norikura truly comes into its own after fresh powder with stashes all over. There is also a dedicated mogul field plus a terrain park and a few steeper slopes.
Hakuba CortinA
The most northerly of Hakuba's resorts, more advanced skiers will love Cortina for its long, challenging runs. Cortina has the biggest reputation in Hakuba for awesome snowfalls that create the epic, steep and deep skiing which many people seek in Japan. This also draws the crowds, so for the freshest of tracks either jump on the first shuttle bus of the day or drive there as early as possible. You can also stay at Cortina in the striking, Tudor-style Green Plaza Hotel, a ski-in ski-out property with 250 rooms and 11 baths, steam rooms and saunas plus several restaurants. A sight to behold, this massive castle-like structure dominates Cortina's base area.
JigatakE
Peaceful, calm place for beginners and families who want to get away from any kind of hustle and bustle. The hot spring resort Omachi Onsenkyo is about 10 minutes away.
Kashimayari
This is the first resort you'll spot as you enter the Hakuba Valley. It's another "hidden gem" after fresh snow and has terrain suited for all abilities, a 5km run with views of Aoki Lake, as well as some particularly steep slopes which are good if looking for a challenge. Another reason to visit is for the terrific views of the surrounding mountain ranges from Kashimayari Peak.
There's several other handy things to know in advance of a visit to Hakuba that will make your vacation just that much more enjoyable.
One is that food is so excellent both on and off the mountain, that making restaurant bookings before departing on your trip can be wise especially if visiting in peak times. Highly recommended in the Hakuba valley are Juan Steakhouse for wagyu (our experience here was absolutely sensational, best wagyu ever!), Hie Izakaya (very popular – pre-booking strongly recommended), Emu Okonomiyaki (casual super fun place where you cook your own savoury Japanese pancake 'okonomiyaki'), Shoya Maruhachi and Yamagami Syokudou. On the mountains, Pilar on Hakuba Happo-one serves three course lunches with fabulous views to-boot, and virtually anywhere that looks decent will be good.
If it snows a motza and you're not an experienced powder skier, book a powder clinic quick smart at one of the Hakuba Valley ski schools like Evergreen. You'll be glad you did as the alternative is floundering around in the fluffy stuff wondering why those in the know make it look so easy.
Seek out the onsen – there are many good ones in Hakuba and they are well worth making the effort to visit. A good soak in a hot spring revitalises the body after a day on the slopes. Ask at your hotel or lodge, or at the Happo Information Centre / Bus Terminal for recommendations and read up on onsen etiquette before you go.
Those who are self-catering have a couple of well-stocked supermarkets available to them in the valley. Do not discount shopping for dinner at the few 7-Eleven convenience stores either – the pre-packaged meal selections here are of a high standard and sometimes more extensive than those offered in the supermarkets.
And last but certainly not least, make time for a few day trips. Hakuba's most popular tour is to see the snow monkeys at Jigokudani Yaen Koen (the Snow Monkey Park). While a fair distance from Hakuba, being over an hour's drive away, the monkey park is the only place in the world where you can see  these lively little creatures frolic in the hot springs which are now part of a dedicated conservation area. Also within easy driving distance of Hakuba is Matsumoto Castle which dates back to 1592 – go inside and walk to the top for lovely views and be aware the stairs are particularly steep – and Kanazawa, a town often dubbed Little Kyoto for its large castle, Samurai quarters and stunning Kenrokuen Gardens.
About a 20minute walk from Nagano City train and bus station is Zenkoji Temple. Well worth seeing, this impressive structure is Japan's primary centre for Buddhist faith and its main hall is officially classified a national treasure.
By Bronwen Gora