Val Thorens offers a whole range of activities both on and off the slopes as well as a program of weekly entertainment and events.
Sport Centre – The sports center offers a wide range of activities in a 7,500 sq. m covered space and is open 7 days a week from 10 am to 10 pm. There is a swimming pool with slides, a fun pool, and waterfalls as well as a gym, spa, tennis, squash & badminton courts, and a trampoline center for children.
Ice Diving – Snowshoe or cross-country ski to Lac du Lou and then have an accompanied 20-30 min dive under the ice before the walk back to the resort.
Ice Driving & Karting – Try your hand at speeding on the ice on the specially prepared track
Zip Line & Tyrolienne – Val Thorens offers 2 opportunities to have a bird's eye view of the slopes. The double zip line of 5905 feet (1,800 m) in length goes from the top of the Moutiere chair and the Tyrolienne gives a glide of 4265 feet (1,300 m) at speeds of up to 65 miles per hour (105 kmh) from the top of the Bouchet chair.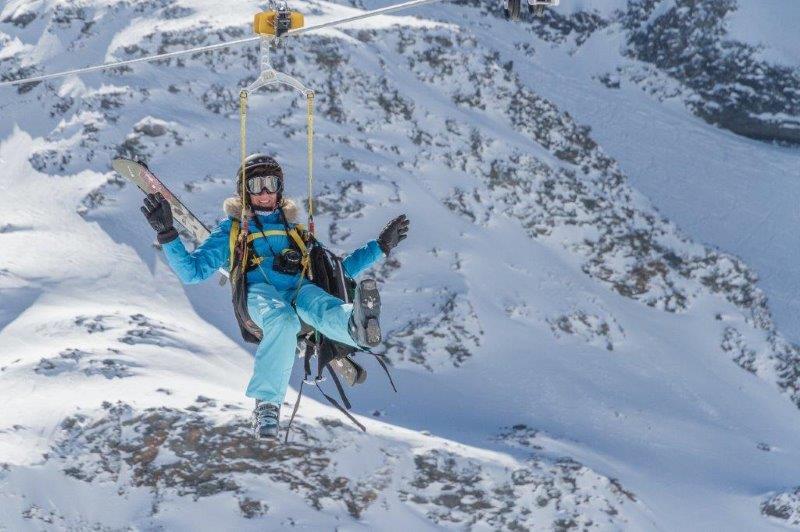 Dog Sledding – This takes place every weekday morning with 2 or 3 sleds pulled by a team of dogs. Book 30 min sessions.
Toboggan Run – Said to be the longest in Europe taking up to 45mins for the descent on the specially prepared track on the Peclet sector going from an altitude of 9842 feet (3,000m).
There is also a cinema (with some films in English), a bowling alley and numerous hotel spas if you want to relax off the slopes.