Mt Hotham Overview
Nestled amongst the Victorian Alps of the Great Dividing Range, Mount Hotham is located five hours' drive from Melbourne. Offering spectacular views, its own airport and 790 acres (320 hectares) of sensational skiing and riding from the top of the Summit area all the way down and around the resort, Hotham is Australia's highest alpine village and a skier and riders favourite destination.
With 13 chairlifts, three terrain parks and a vertical drop of 395 meters there is something for the whole family on a snow holiday to Mount Hotham. Renowned for its powder snow, with 3 meters on average falling across the resort each season, Hotham is the only resort in the southern hemisphere where the village is located on top of the mountain, which ensures fantastic views as well as plenty of ski in and ski out accommodation options.
Riding around the resort you are greeted with a mixture of challenges, terrain and conditions. From the gentle beginner slopes of the Summit and Big D areas, then as you make your way around the resort. Further afield you can head over to the Playground, then down and across to Heavenly Valley, up across to Gotcha and the Mary's Slide area and then over onto the back side, you'll be in powder heaven (on a powder day) in the Orchard, where there are runs for everyone.
The Hotham Airport is only 20 km from the resort and is fully operational commercial aerodrome for commercial and private or charter flights. Hotham is accessible from airports in Victoria and NSW. Approximate flight time of 45 minutes from Lilydale, Essendon, or Moorabbin airports. 30 minutes from Albury and Canberra. 50 minutes from Sydney.
With 18 bars and restaurants and licenced supermarkets, you are sure to find the ideal meal and après experience you are looking for on your next snow holiday visit to Mt Hotham.
Mt Hotham Accommodation, Lodging & Hotel Options
Accommodation, lifts, lessons and package deals will launch in 2019.
Mt Hotham Statistics
| | |
| --- | --- |
| Skiable Terrain | 790 acres (320 hectares) |
| Vertical | 395 m (1295 ft) |
| Top Elevation | 1,861 metres (6,106 ft) |
| Base Elevation | 1,450 metres (4,760 ft) |
| Average Snowfall | 300 cm (120 in/10 ft) |
| Beginner Terrain | 20% |
| Intermediate Terrain | 40% |
| Advanced Terrain | 40% |
| Trails | 72 |
| Parks | 4 |
| Winter lifts Total | 13 |
| Chair Lifts | 3 |
| Surface Lifts | 10 |
| Lift Capacity | 24,485 |
| Longest Run | 2.5 km (1.6 mi) |
| Nordic Cross Country | 35 km |
| Mountain Restaurants | 11+ |
| Snowmaking | 42 ac (16 hectares) |
| Season Opens | June |
| Season Closes | October |
How To Get To Mt Hotham
Driving To Hotham
From Melbourne via Wangaratta travel time around five hours with a distance of 380km. From Melbourne via Omeo its around six hours and 460 km.
From Sydney travel time around 8 hours.
From Adelaide travel time around 12 hours.
From Brisbane travel time around 15 hours.
Tyre Chains
To ensure you and other road users reach the slopes safely, Diamond Pattern Wheel Chains must be carried and fitted where directed, during the declared winter season.
Parking
Once you enter the resort, there are designated areas for day and overnight parking.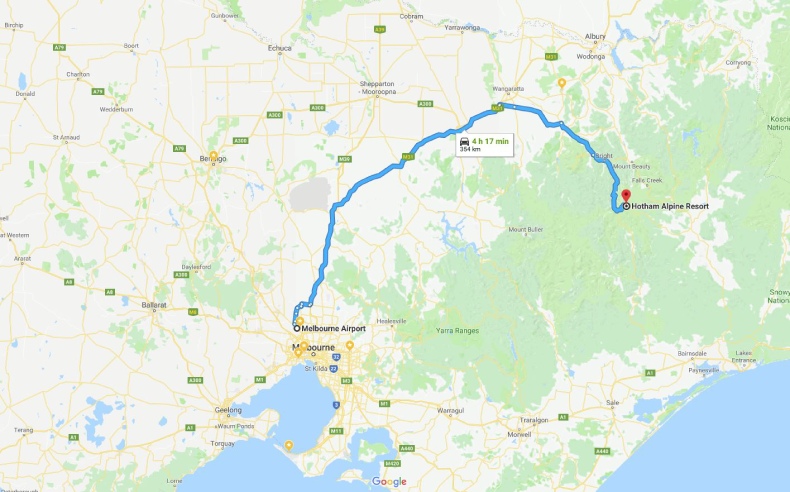 Mt Hotham Things To Do, Activities & Tours
Backcountry Sled Tours
Location: Snowstuffpark
Custom Designed Snowmobile Sled Accommodates 4 People (Ages 5+) Pulled Behind A Large Wide/Long Tracked Snowmobile.
Phone: +61 418 564 338
Night Skiing At The Big D
Location: Big D
Subject To Weather And Terrain Access.
Open: 6.30pm To 9.30pm
Scenic Flights & Helilink
Location: Falls Creek
Description: Fly High Over Falls Creek Or Mount Hotham And Surrounds To Witness The Beauty Of The Alpine Region.
Phone: +1 300 731 450
Heavenly Valley First Tracks
Location: Heavenly Valley Chairlift
Description: Make The Most Of Your Snow Holiday With Our Free First Tracks. The Heavenly Valley Chairlift Spins From 7.30am Every Wednesday Though To Sunday.
Open: From 7.30am
Tobogganing & Snow Play
Location: Wire Plain
Hotham's Designated Snow Play And Toboggan Area Is Fun For The Whole Family.
Open: 9.30am – 3.30pm
Phone: +61 418 564 338
Brown Brothers Sparkling Sunset Tours
Location: Hotham Central
Description: Join Us For A Sunset You Will Never Forget At 1861m Above Sea Level. Majestic Views Include Crosscut Saw National Park, Mt Buller, Mt Stirling, Mt Feathertop, The Bogong High Plains And Even On A Clear Evening, Mt Kosciuszko In New South Wales.
Open: 4.45pm-6.30 pm
Phone: +61 3 5759 4470
Biathlon
Location: Whisky Flat Car Park And Biathlon Range
Biathlon Is The Only Sport That Combines The Two Very Diverse Disciplines Of Cross-Country Skate Skiing And Small-Bore Target Shooting.
Open: Depends On Availability
Phone: +61 409 440 745
Mt Hotham Restaurants, Nightlife & Bars
Miss Mary's
Location: Hotham Central
Food: Asian Cuisine
Bar: Yes
Last Run Bar
Location: Lawlers Apartment Complex
Food: Modern Australian Menu
Phone: +61 3 5759 3796
Hotel High Plains
Location: Big Muster Drive
Food: Burgers
Bar: No
Phone: +61 3 5159 6324
Frankie
Location: Big D Ski Centre
Food: Local Dishes
Phone: +61 3 5759 3437
Blizzard Brewing Company
Location: Dinner Plain
Food: Local Snacks
Bar: Yes
Phone: +61 417 335 548
The Bird
Location: Summit Chairlift
Food: Asian Cuisine
Bar: Yes
Phone: +1 800 659 009
Arlberg Bar & Bistro
Location: Arlberg Hotham
Food: European/American Cuisine
Bar: Yes
Phone: +61 3 5759 3618
Arco Ski Lodge
Location: Arco Ski Lodge
Food: German Foods
Bar: Yes
Phone: +61 3 5759 3941
Zirky's Cafe, Bar & Bistro
Location: Mt. Hotham's Village
Food: European Cuisine
Bar: Yes
Phone: +61 3 5759 3518
The General
Location: Big D It
Food: European/American Cuisine
Bar: Yes
Phone: +61 3 5759 3523
Chill Bar And Café
Location: Hotham Central
Food: European Foods
Bar: Yes
Phone: +61 3 5759 3313
Mt Hotham Shopping
Board Box
Location: Hotham Central
Shop: Innovative Apparel, Footwear, And Outdoor Gear
Phone: +61 3 5759 4437
Onetree Sports
Location: Great Alpine Rd.
Shop: Premium Skis, Ski Boots And High-End Apparel
Phone: +61 3 5759 4424
Hoys Alpine Shopping
Location: Hoys Harrietville Ski Centre
Shop: Outdoor Apparels
Phone: +61 3 5759 2589
Pinnacle
Location: White Crystal
Shop: Snow Gear, Eyewear, Clothing, Footwear
Phone: +61 3 5759 4437
The Alpine Life
Location: Highlander-Dpa
Shop: Ski Equipment, Lift Passes And Resort Entry
Phone: +61 3 5159 6450
Snow Monkey
Location: Jack Frost On Mountain
Shop: Skis, Goggles And Helmets To Hoodies, Jackets And Beanies
Phone: +61 3 5759 3663
Harry's Hq
Location: Ultimate Kids' Hub
Shop: Beanies, Gloves And Goggle To Toys And Harry The Snowdragon Apparel.
Phone: +61 3 5759 4437
Zirky's Sports
Location: Heart Of The Village
Shop: Clothing And Accessories
Phone: +61 3 5759 3518
Photo Credit: